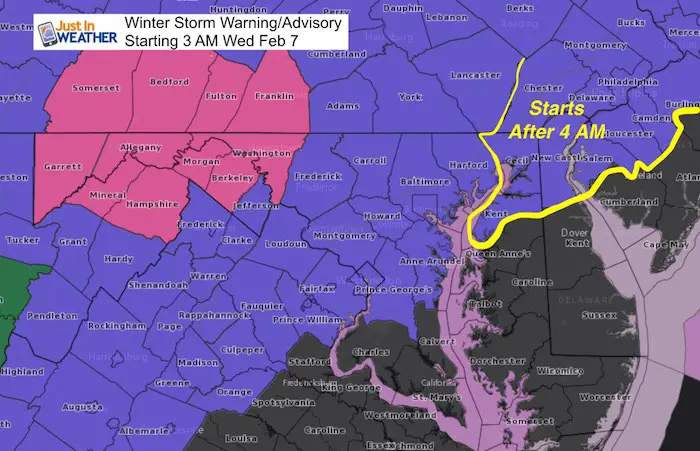 Tuesday Afternoon February 6 2018
We are still under a Winter Weather Advisory Wednesday morning February 7 starting at 3 AM for most of central Maryland west of the Chesapeake, and northern Virginia. Also in Pennsylvania from Lancaster and York, westward. A Winter Storm Warning is the upgrade for Washington, Allegany Counties in Maryland and Berkeley (no relation) Morgan, Hampshire, and Mineral Counties in West Virginia.
A Winter Weather Advisory was just added for northern Delmarva. This includes Kent and Cecil Counties in Maryland and New Castle County in Delaware that starts at 4 AM. There are a lot of similarities to the event we had this past weekend, but not an exact repeat. The difference now is that it is on a school day and many districts have decisions to make…
Snow and Ice Maps Below: The northern areas will get between 1 and 2 inches of snow in the same places the got it Sunday, but the freezing rain and ice accumulation is the key!
The main issue again will be tracking the freezing line, which even the coldest modeling had some trouble with before. Below are a few model comparisons to help with the timing, but first keep these key notes in mind:
Cold Afternoon
Even though many got above freezing, the cloud over has limited solar warming of the pavement.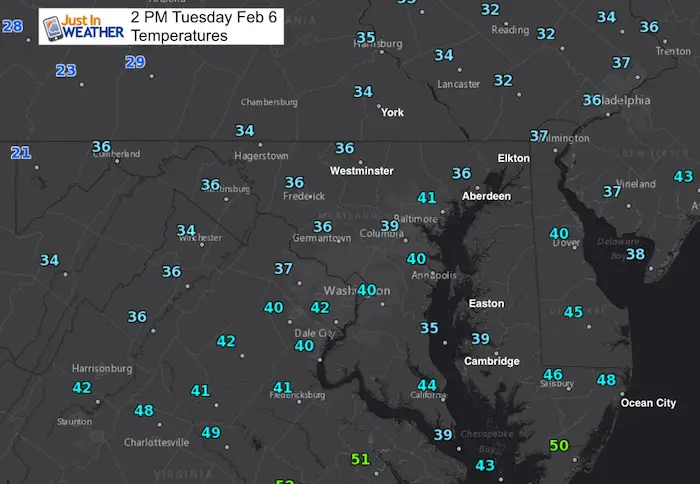 Cold Ground
Temperatures have reached the mid and upper 30s today, but cloud cover has limited solar radiation warming the pavement.
Timing of the first flakes and sleet pellets should be in the dark hours before dawn Wednesday. That will act on the coldest time of the day for the ground.
Temperatures may warm slightly, then chill again with the main batch of precipitation.
Also see: What is Winter Precipitation: Snow, Sleet, and Freezing Rain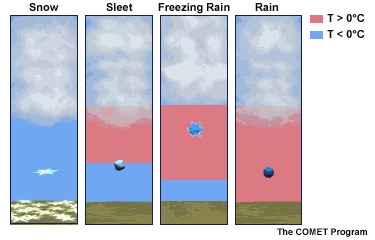 Thawing Can Be A Slow Process
Once the ground is frozen and covered with ice, it can take a few hours to thaw after thermometers are reading above 32ºF. This can vary just enough to not be widespread based on elevation and even exposure to solar energy vs shaded spots.
Valleys Hold Cold Longer
Winter events with mixed precipitation is based on warmer air mixing in. Since warm air will rise, it reaches the clouds first but also hill tops.  So valleys can stay colder and icy longer than surrounding hills.
Weather Set Up
We should have the light snow and sleet arrive before sunrise. That may help schools make their call sooner.
GFS Model: Wide View
The GFS Model (which was too warm this past weekend) has caught on to the cold air… But these are 6 hour snapshots. A more detailed view in the time between is below.
By early afternoon, the modeling shows rain north of I-80 in PA. But the trough seen as a kink in the isobars is shown here.  This is Cold Air Damming, a classing winter set up with cold air holding east of the mountains and west of I-95. This is very hard for models to predict thawing. That is why a wider window of time is needed to be considered here than just noon.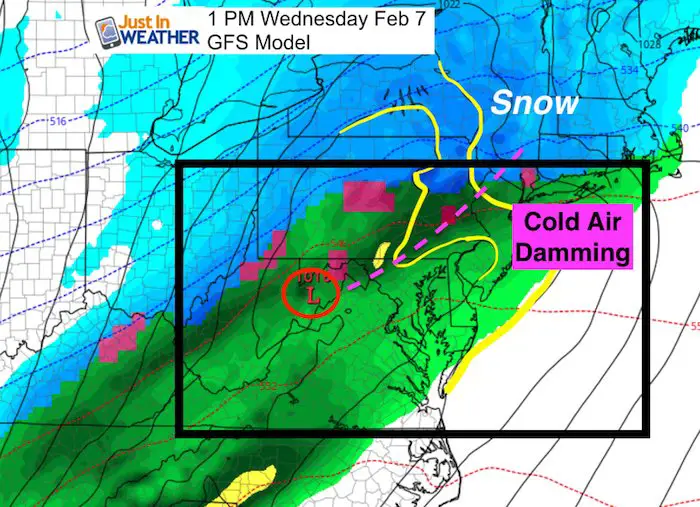 HRRR Model
This high resolution look shows the cold air in place at 5 AM. This is actually warmer than the NAM 3 Km model below. But all it takes is one or two degrees if you live near I-95 and the Chesapeake Bay. This happens to be where the bulk of the population is and the widest margin of error.
I need to point out that as of my time to write this post, 5 AM was the extend of the model run. It is a short term model…
I do see temperatures dropping colder as the main precipitation moves in.
The ground can be frozen at night even when the air at thermometer levels of 5 Ft are a little warmer.  So I still see frozen ground for Baltimore and Washington even though is shows 33ºF here.
NAM 3 Km Model
This model has done the best job overall all winter with our marginal events…
This shows the cooler air at 7 AM after the initial precipitation arrives.
This hints at an initial snow/ice event, then a break for an hour or two before steady ice spreads in. This suggests an upper level warm front that moves the snow north and behind it the clouds warm up while the ground temps may actually get colder between 4 AM and 8 AM… and hold near freezing most of the morning.
Notice 32ºF around sunrise for Aberdeen and Baltimore. Washington on the fence and all places inland N/W colder.
Pre-Dawn Initial Snow/Ice moves north…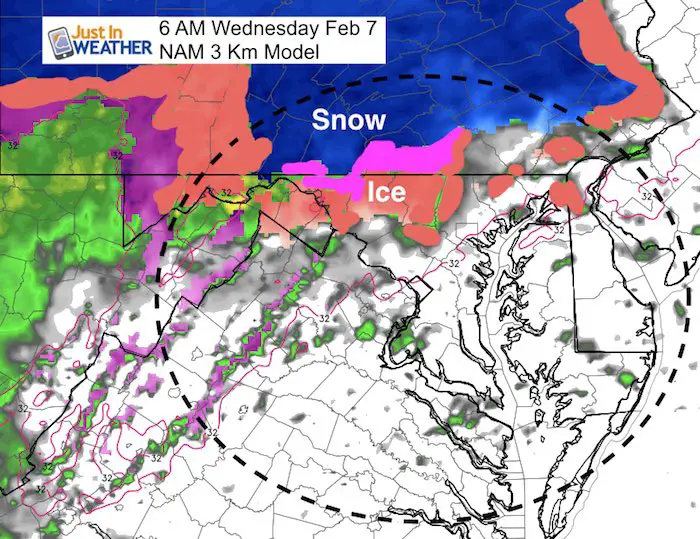 Late Morning
Solid Freezing Rain inland of I-95/ North and west of Baltimore. Bel Air and Ellicott City on the line.  This may not be exact. We have a margin of 20 or so where the freezing line may set up.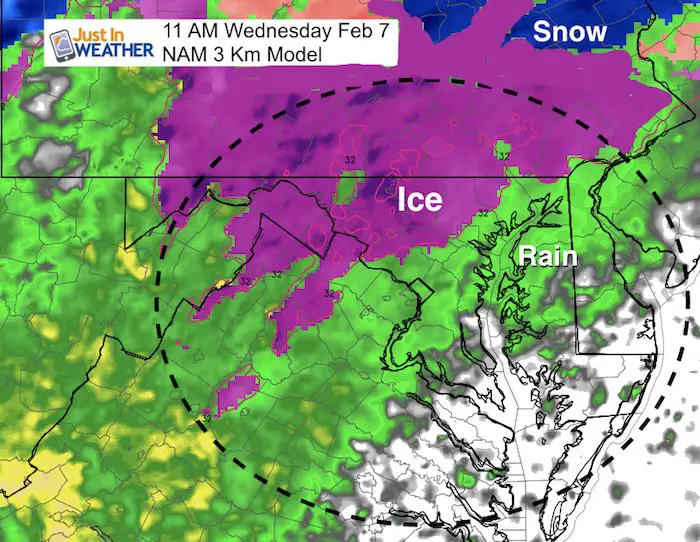 Suggestion but not a promise of mostly rain. This was the issue last Sunday as the cold air hung around longer for parts of Baltimore/Carroll/Frederick Counties in Maryland.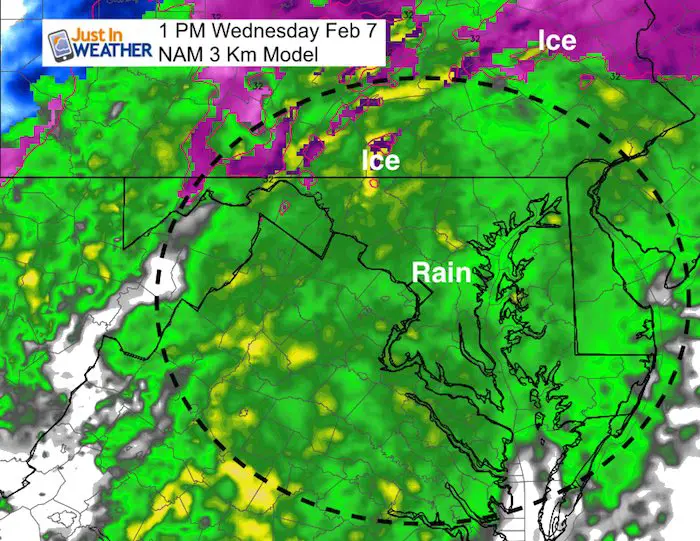 L❄️Ve Snow ❤️
My Fiancée Shannon is showing our L❄️VE Shirt. Order this week and these will arrive in your hands before Valentines Day. Proceeds help  the start-up of our new program for Pediatric Oncology Patients. The big announcement is just two weeks away.  Click here or on the photo to see more…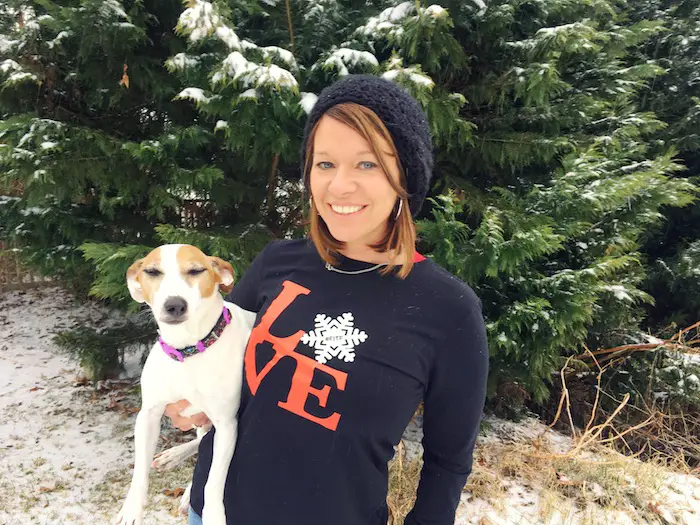 Snow and Ice
I usually make my own maps for snowfall, but I have nothing to add to these graphics from NWS. It's the snow and additional 1/4 inch of ice that will be the problem for the Winter Storm Warning area, but perhaps into northern Frederick, Carroll, and northern Baltimore Counties…into southern PA.
Note: I did not want to leave out PA maps, but the NWS State College graphics did not match up well and I think need to be updated.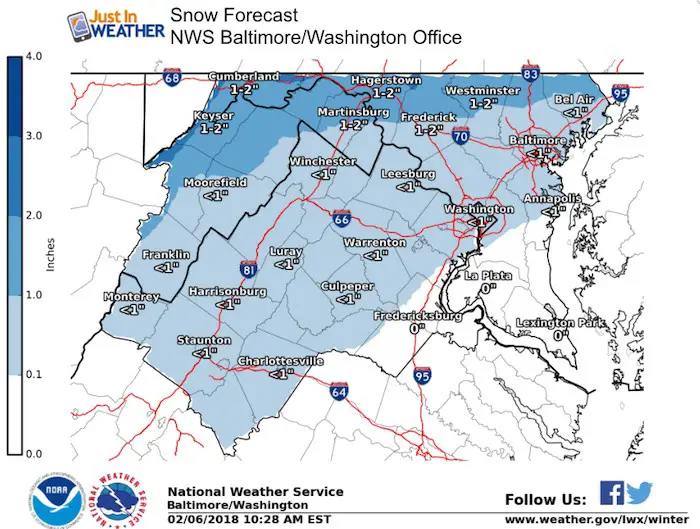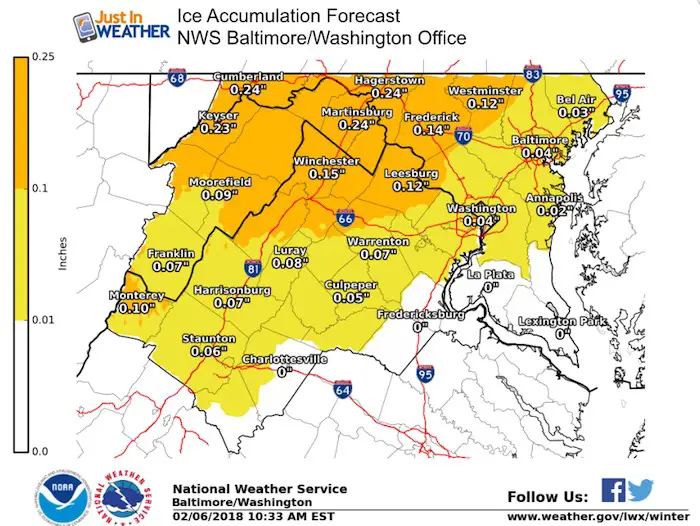 Please share your thoughts, best weather pics/video, or just keep in touch via social media
Keep In Touch All Winter
Click here to sign up for email alerts…. Just in case you don't get the post on your social media feed
Get the award winning Kid Weather App I made with my oldest son and support our love for science, weather, and technology. Our 3 year anniversary of the release and our contribution to STEM education is this November. It has been downloaded in 60 countries, and works in both temperature scales. With your support we can expand on the fun introduction to science and real weather.
Snowstix- We Need You To Measure Snow Too
We are giving 10% of each sale to programs that benefit pediatric oncology patients.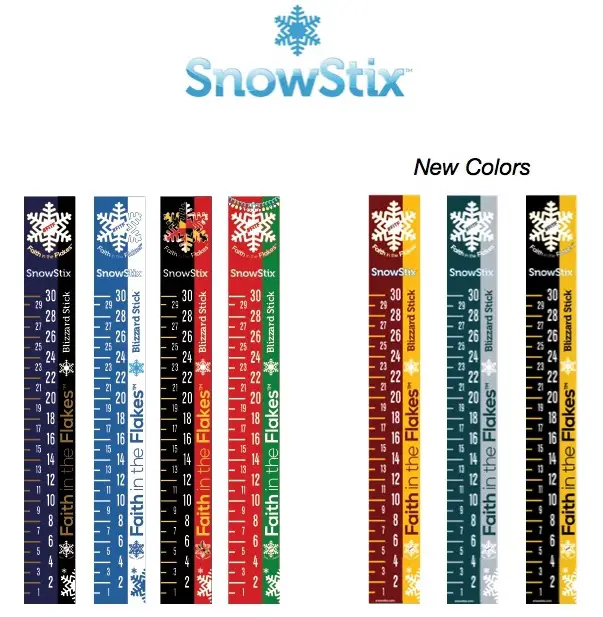 FITF Gear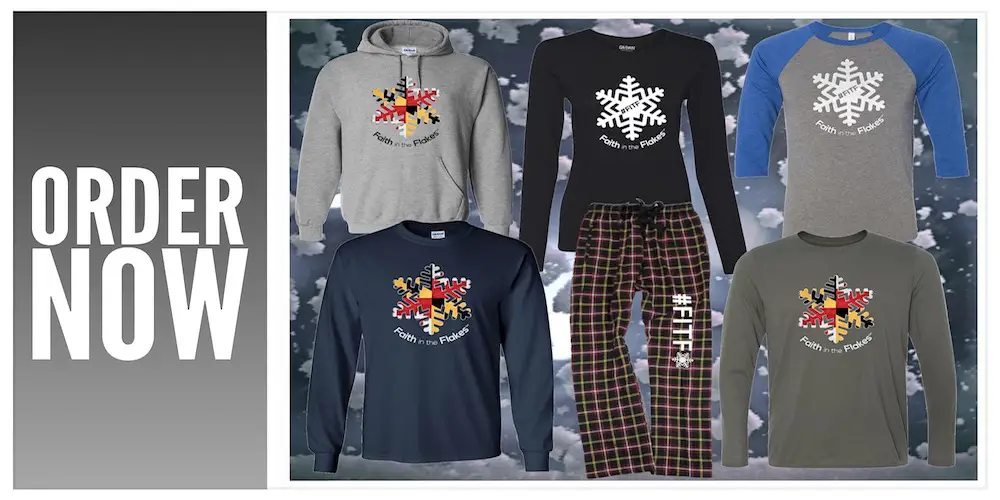 Keep In Touch All Winter
Click here to sign up for email alerts…. Just in case you don't get the post on your social media feed
Also See:
My Winter Outlook 2017-2018 for more snow
La Nina Formed: What it could mean to our winter
NOAA Winter Outlook: Not The Best But Not The Worst For Snow
Two Farmers Almanacs Winter 2018 Outlooks
Winter Weather Folkore: Suggestions from Animals and Crops
First Frost and Freeze Dates For Maryland (southern PA and northern VA)
My Preliminary Winter Outlook Notes
Low Snow Winters In Baltimore: To Repeat Or Not Repeat
NOAA Ranks Blizzard 2016 4th Worst Snowstorm On Record
Blizzard 2016 Record Top Snowstorm: Area Totals