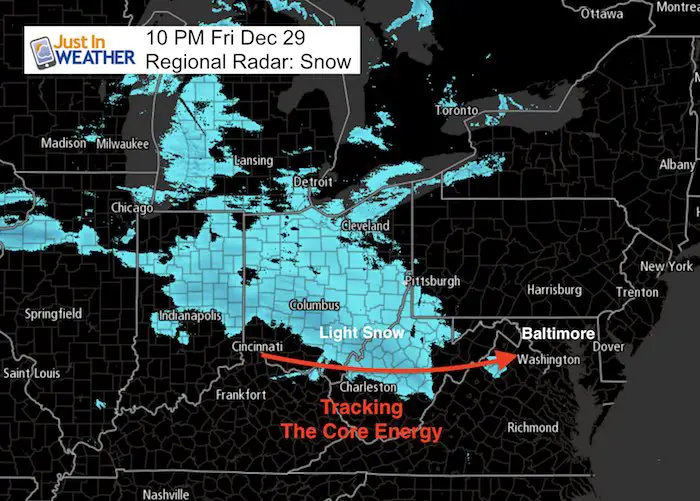 Friday December 29 2017
The wide view radar looks very impressive this evening. This image alone looks like we could have an overachiever, but there is more that could lean this snow on the upside. The core energy I have been mentioning appears to be tracking in a path that will take it over Washington DC and just south of Baltimore en route to northern Delaware. This allows the band of snow to expand father south. When we consider the very cold temperatures, the fluff factor suggests snow ratios could be 20:1. That would produce more snow with the same amount of moisture due to dry, fluffy snowflakes. It may also make for regular road salt not able to work as well, so the morning commute will be slick for a few hours.
I have my call for snowfall map at the bottom of this post. There is no change from what I posted this morning, but compare it to the latest from the HRRR Model and regional National Weather Service Offices
Let's take a look…
Keep In Touch All Winter
Click here to sign up for email alerts…. Just in case you don't get the post on your social media feed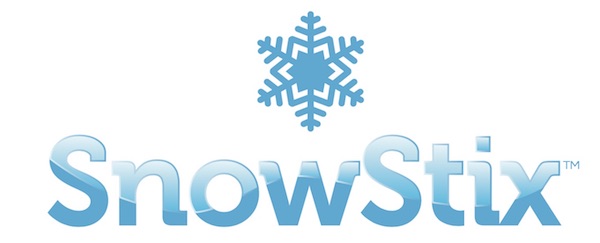 Water Vapor Satellite
I see the core energy tracking into southern Indiana and Ohio, which will cut a path through Washington in the morning as it curves back north. As this rounds the trough, there will be some added spin, that may enhance the snow in the region between Cumberland and Baltimore. The peak snow will be in the mountains and hills on the north side of this circulation.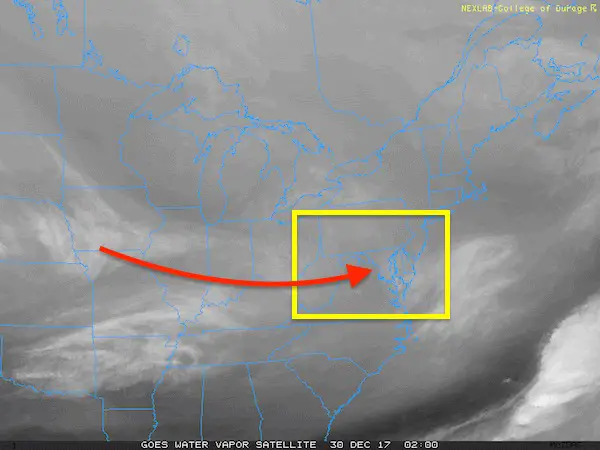 Temperatures
This plays a role in not only stickage, but the fluff factor. Temps in the teens at the surface helps support the dendrite flakes that will form in much colder clouds. That is the type of snow the blows or brushes around. Great for skiing, but not good for packing snowballs.
Daybreak Temps
Noon Temps
The freezing line as the snow ends should remain south of Washington and Annapolis, except by the water.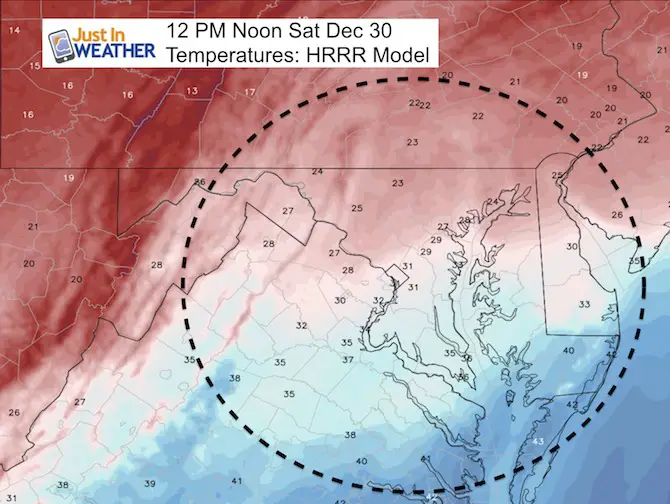 slider—> Snow Simulation -HRRR Model
Arrival time should be between 3 and 5 AM. This does consider the potential virga from the very cold/dry air.
I have annotated the core energy in the red circle track better. The path over Washington keeps the steady snow to the north, but there will be light snow for a few hours in a path along Rt 50 to Annapolis and the Eastern Shore that will leave at least a dusting.
[metaslider id=56322]
Snow Potential From This Model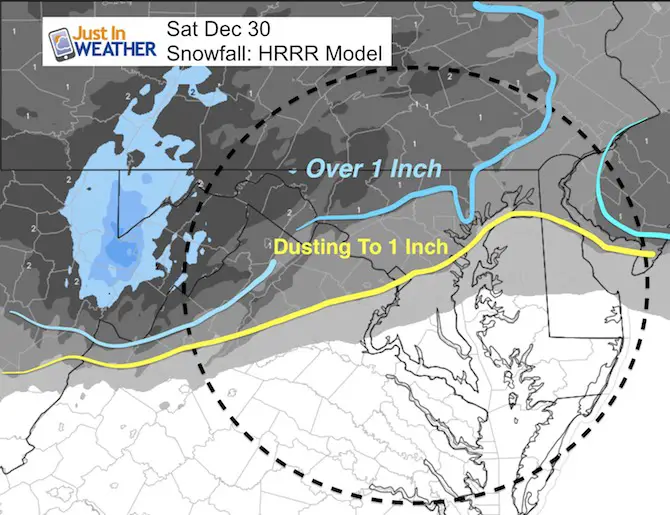 Winter Weather Advisory
This is for the zone that should get at least 1 inch of snow (or more). There will be a dusting up to 1 inch in Washington, Annapolis, and Baltimore. In fact the NWS snow forecast suggests an overachiever.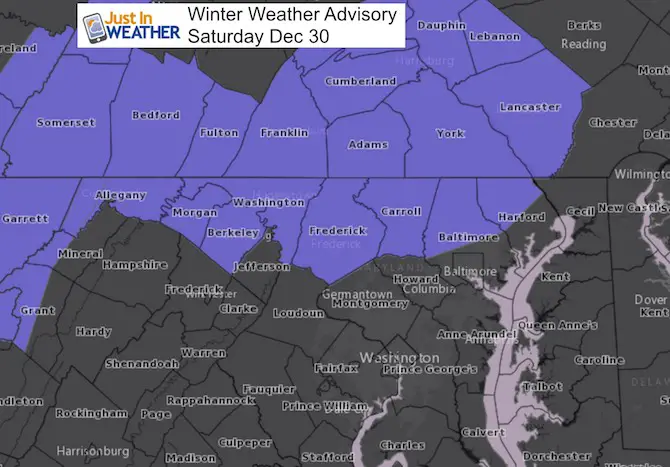 National Weather Service Zone Snow Forecasts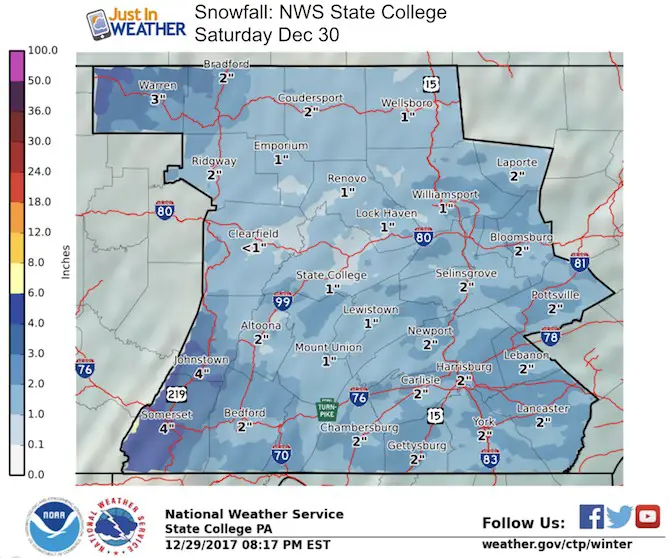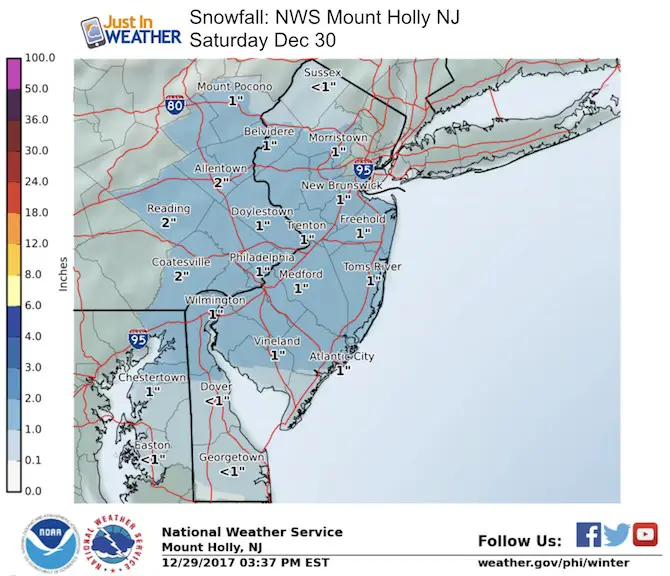 My First Call For Snowfall
The cold air and fluff factor comes into play with wider range up north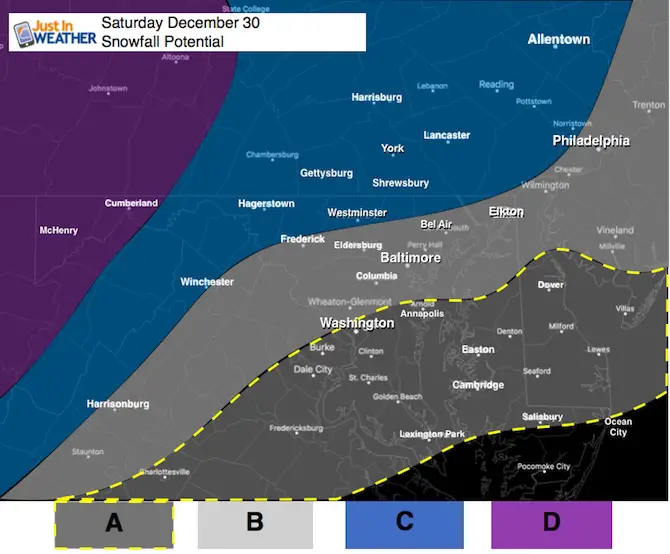 A: Flurries to a Dusting
This area will be on the southern edge of this event. Washington to Annapolis could have some road problems between 5 and 8 AM. Slightly more than a coating possible here… 
B: Dusting To 1 Inch
This area will have light snow in the morning until noon. Temps will be cold and this will be fluffy snow. High Temps should reach 30ºF to 32ºF here. Then drop into the teens overnight. 
C: 1 to 3 inches
This is the typical northern zones that gets more snow. It wil last longer and afternoon snow showers may add a little more. The wide range will be based on hilltops and the fluffy snow with higher ratios. Temps should stay in the 20s during the day. May hit single digits Sunday morning.
D: 2 to 4 inches Plus
The mountains will have snow all day and get more. Great news for ski areas (Wisp, 7 Springs, Snowshoe, WV all on the plus side of this)
Please share your thoughts, best weather pics/video, or just keep in touch via social media
FITF Gear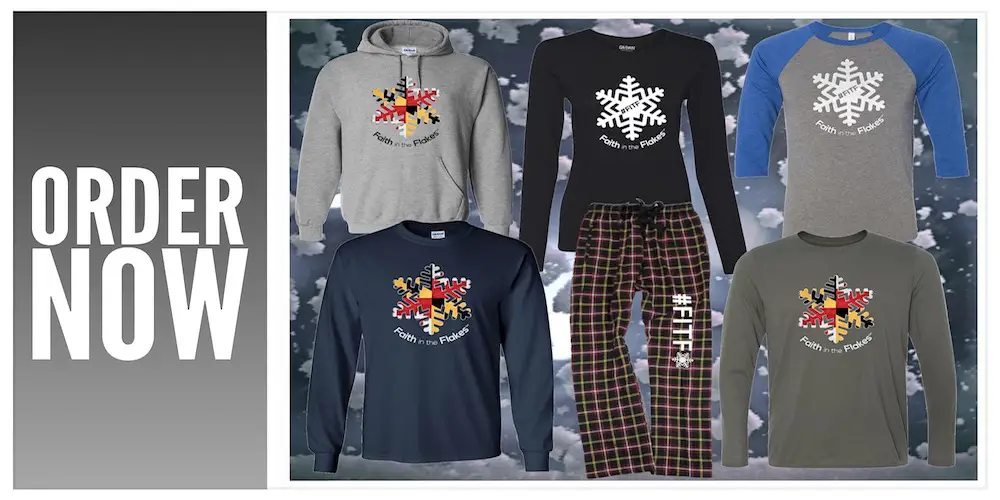 Snowstix- We Need You To Measure Snow Too
We are giving 10% of each sale to programs that benefit pediatric oncology patients.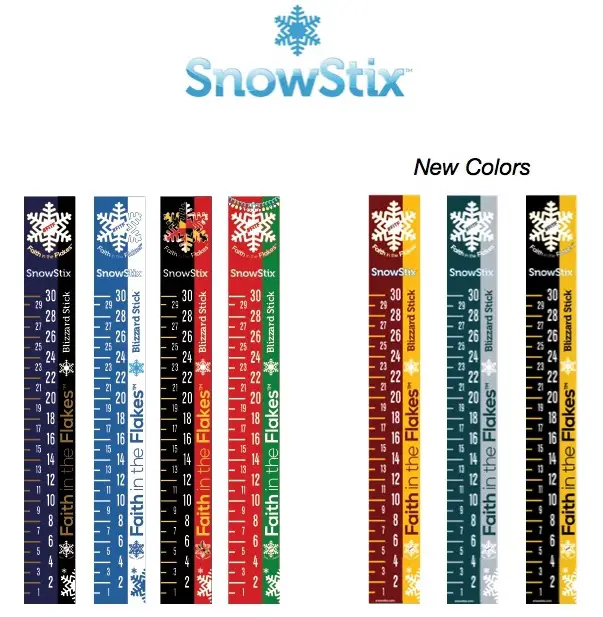 Get the award winning Kid Weather App I made with my oldest son and support our love for science, weather, and technology. Our 3 year anniversary of the release and our contribution to STEM education is this November. It has been downloaded in 60 countries, and works in both temperature scales. With your support we can expand on the fun introduction to science and real weather.
Keep In Touch All Winter
Click here to sign up for email alerts…. Just in case you don't get the post on your social media feed
Also See:
My Winter Outlook 2017-2018 for more snow
La Nina Formed: What it could mean to our winter
NOAA Winter Outlook: Not The Best But Not The Worst For Snow
Two Farmers Almanacs Winter 2018 Outlooks
Winter Weather Folkore: Suggestions from Animals and Crops
First Frost and Freeze Dates For Maryland (southern PA and northern VA)
My Preliminary Winter Outlook Notes
Low Snow Winters In Baltimore: To Repeat Or Not Repeat
NOAA Ranks Blizzard 2016 4th Worst Snowstorm On Record
Blizzard 2016 Record Top Snowstorm: Area Totals