Friday December 29 2017
Temperatures this morning were not as cold as it could have been. Only off by a few degrees, with the southern push of single digits as far south as York, PA. That is important because that may be a hint in how far south the track of our next system may be. There will be light snow racing in overnight, and the arrival should be by daybreak on Saturday. I hesitate with the specific time since the past few systems were a little late, and we have very dry air that may eat up some of the first flakes to sublimation. Below is the first look at the system and the first call for snowfall.
Stats For December 29
Normal High:  42ºF
Record High:  77ºF in 1984
Normal Low: 25ºF
Record Low: 2ºF in 1917
Snow Record: 4.9″ in 1935
Sunrise: 7:26 AM
Sunset 4:52 PM
*Daylight = 28 seconds longer than yesterday 
*Bay Water Temperature = 38ºF at Thomas Pt. Light House
Snow To Date (at BWI): 3.8″
Keep In Touch All Winter
Click here to sign up for email alerts…. Just in case you don't get the post on your social media feed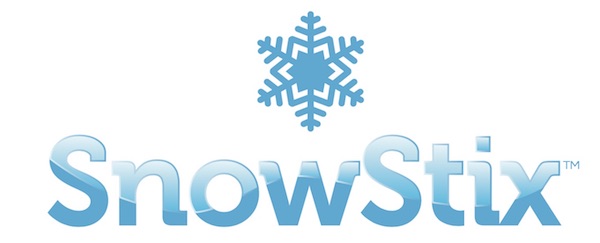 Today: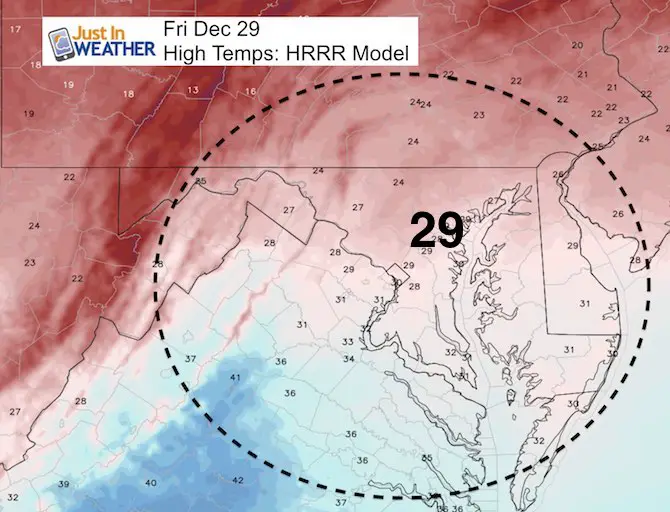 Saturday Snow
We are threading the needle with the storm track. The latest indication by the Canadian has brought it a little farther north. The different between passing the central 'spin' south of Baltimore or by the PA line can make or break the central Maryland snow. That is why many models show a cut off in central Maryland around noon, but keeps the snow going in southern PA.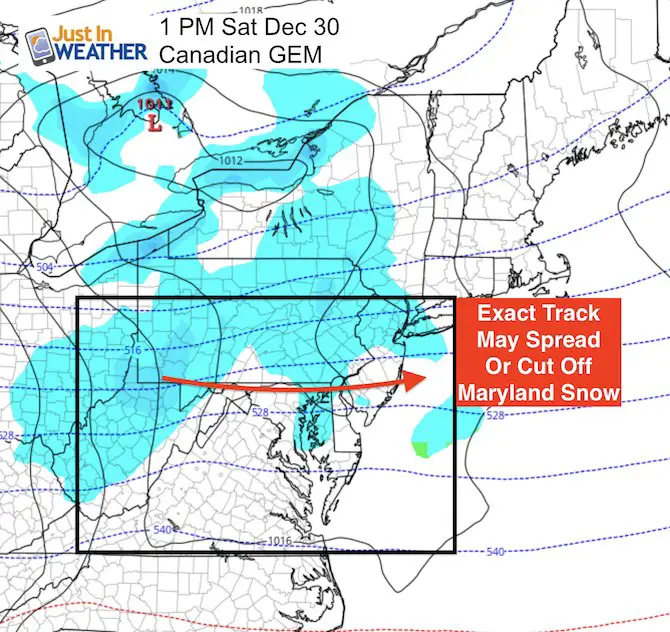 I will have a better idea of the track this evening.
Timing:
This should arrive before sunrise Saturday. But I am giving a 4 AM to 8 AM window. Sound familiar? That is what we had a few weekends ago. I am aware of the delayed onset of the past two events. The very cold air can sublimate the first flakes and lead to a later start for us on the ground. But the models do show it moving in closer to 3 AM. Either way, we should have it snowing by sunrise in most of our region.
My First Call For Snowfall
The cold air and fluff factor comes into play with wider range up north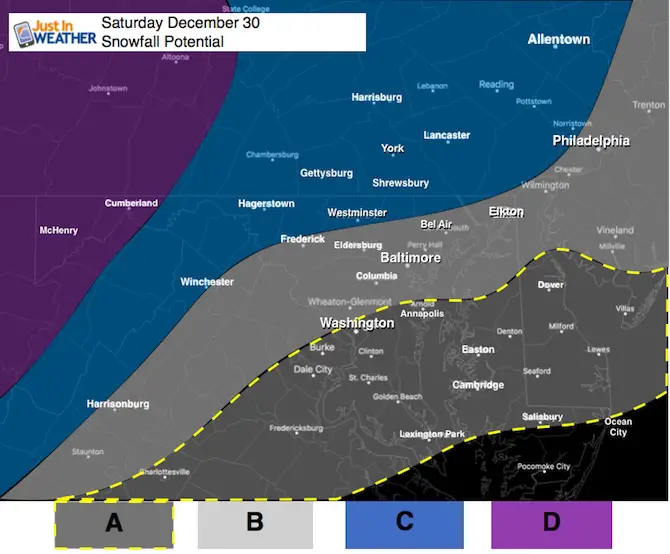 A: Flurries to a Dusting
This area will be on the southern edge of this event
B: Dusting To 1 Inch
This area will have light snow in the morning until noon. Temps will be cold and this will be fluffy snow. High Temps should reach 30ºF to 32ºF here. Then drop into the teens overnight. 
C: 1 to 3 inches
This is the typical northern zones that gets more snow. It wil last longer and afternoon snow showers may add a little more. The wide range will be based on hilltops and the fluffy snow with higher ratios. Temps should stay in the 20s during the day. May hit single digits Sunday morning.
D: 2 to 4 inches Plus
The mountains will have snow all day and get more. Great news for ski areas (Wisp, 7 Springs, Snowshoe, WV all on the plus side of this)
COMPARE TWO MODELS
—> slider: NAM 3 Km
[metaslider id=56273]
NAM 3 Km SNOW POTENTIAL
—-> slider: GFS Model
[metaslider id=56296]
GFS SNOW POTENTIAL
Will An Advisory Be Issues?
Likely, yes…  This afternoon. The NWS regional offices usually wait for the afternoon shift and don't always communicate with each other. Also, the light amounts in southern PA tend to be of less interest to State College that it would be for the Sterling, VA office. Since I can not issue an advisory, I will pass it along when I see them do it.
The only travel concern will be in the morning. Again, this is light snow… but could be a nuisance between sunrise and noon.
New Year's Eve:
It will be cold! Baltimore should have a temperature under 15ºF with wind chills in the single digits
Temperature Outlook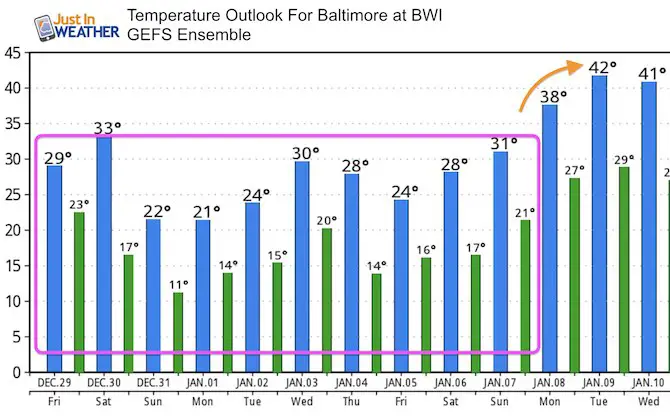 Snow Next Week?
I have been very clear that I DO NOT trust long range modeling. The Canadian Model performs best in this cold environment and was first to show a major coastal Low. It keys shifting the event east… The latest run lost it! See the map below for the same time it had the eve yesterday.
The European Model is the one that gets the most credit for long range outlooks… and this has also shifted events farther east. It barely has us clipped and I think it may follow suit this morning with the Canadian.
If it still has it hanging on, I will reconsider. But for now, my winter outlook is proving itself true…. Long range coastal events will shift farther east off of the coast out of reach.
This is what this same model showed only a day ago… The Canadian Model was already moving this out of range then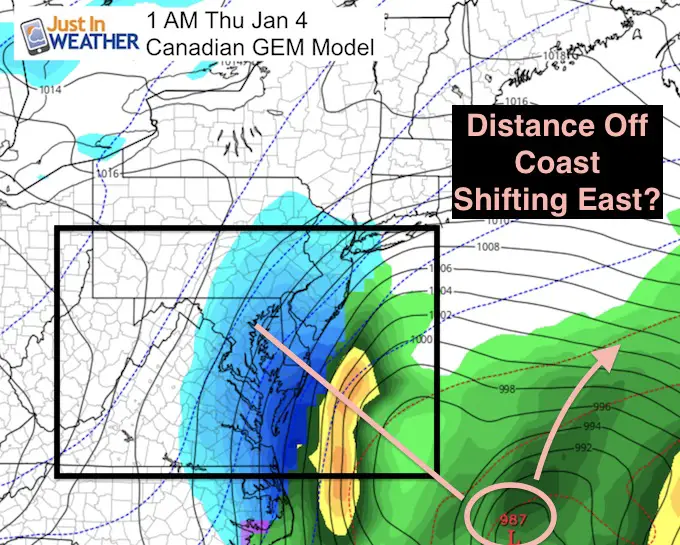 Please share your thoughts, best weather pics/video, or just keep in touch via social media
FITF Gear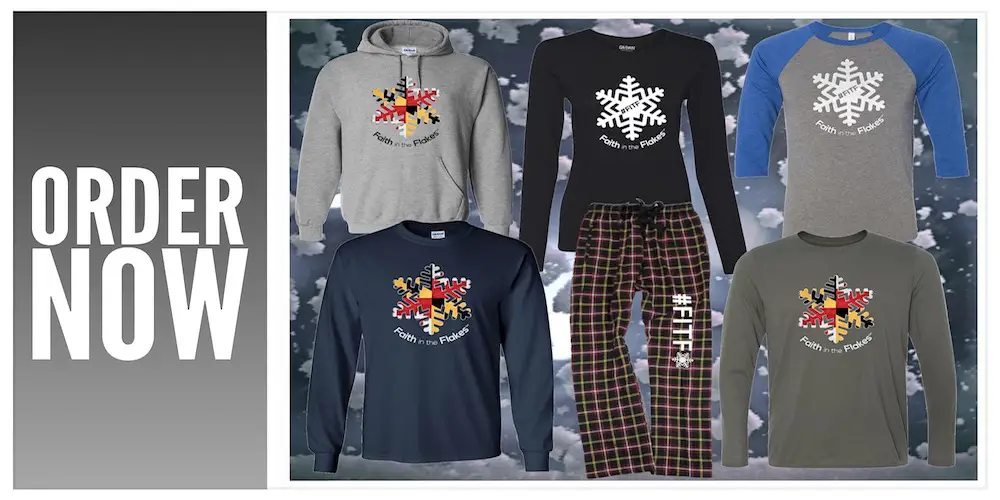 Snowstix- We Need You To Measure Snow Too
We are giving 10% of each sale to programs that benefit pediatric oncology patients.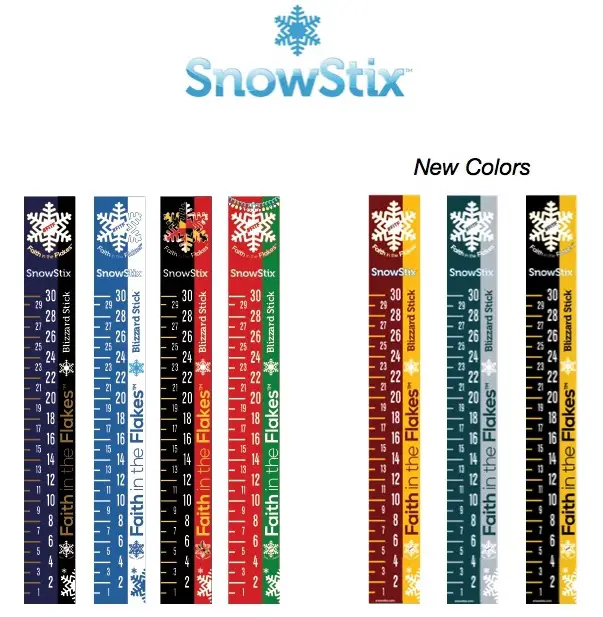 Get the award winning Kid Weather App I made with my oldest son and support our love for science, weather, and technology. Our 3 year anniversary of the release and our contribution to STEM education is this November. It has been downloaded in 60 countries, and works in both temperature scales. With your support we can expand on the fun introduction to science and real weather.
Keep In Touch All Winter
Click here to sign up for email alerts…. Just in case you don't get the post on your social media feed
Also See:
My Winter Outlook 2017-2018 for more snow
La Nina Formed: What it could mean to our winter
NOAA Winter Outlook: Not The Best But Not The Worst For Snow
Two Farmers Almanacs Winter 2018 Outlooks
Winter Weather Folkore: Suggestions from Animals and Crops
First Frost and Freeze Dates For Maryland (southern PA and northern VA)
My Preliminary Winter Outlook Notes
Low Snow Winters In Baltimore: To Repeat Or Not Repeat
NOAA Ranks Blizzard 2016 4th Worst Snowstorm On Record
Blizzard 2016 Record Top Snowstorm: Area Totals