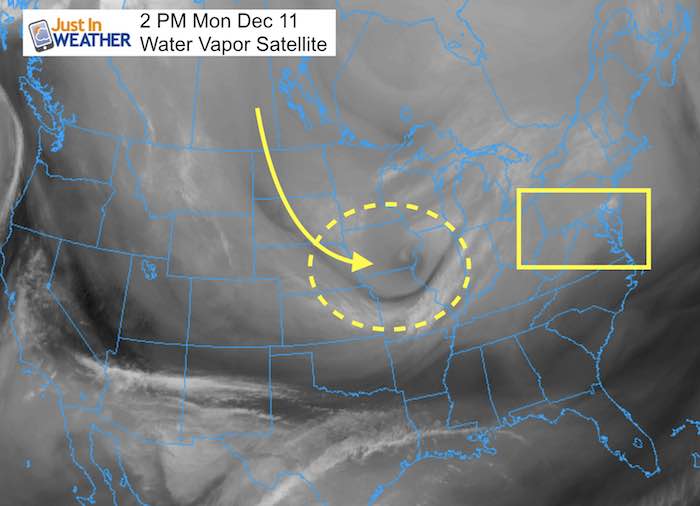 Monday December 11
The clipper system racing across the northern Plains and Great Lakes looks impressive on satellite. This has expanded the snow region and something I mentioned last night and this morning as worth watching. At this time, it looks like southerly winds will stream in overnight and send us mild enough air to not have a wintry weather issue Tuesday morning.Maybe some sleet, but mostly drizzle or light rain early in the day. The main energy will pass to our north anyway. Some wintry showers later in the day mark the next big change. When arctic air spills in on Wednesday, you will feel bitterly cold wind chill. This is a signal to set the stage for two more hits of snow. First on Thursday morning and then perhaps a larger coastal storm on Friday.
Keep scrolling down. The maps and animations help tell this story quickly.
FITF
Satellite Water Vapor Animated Loop
This clearly shows the impressive spin with the upper level feature to our west. As strong as it is and cold air it will drag in behind it… warmer winds are feeding in ahead of this.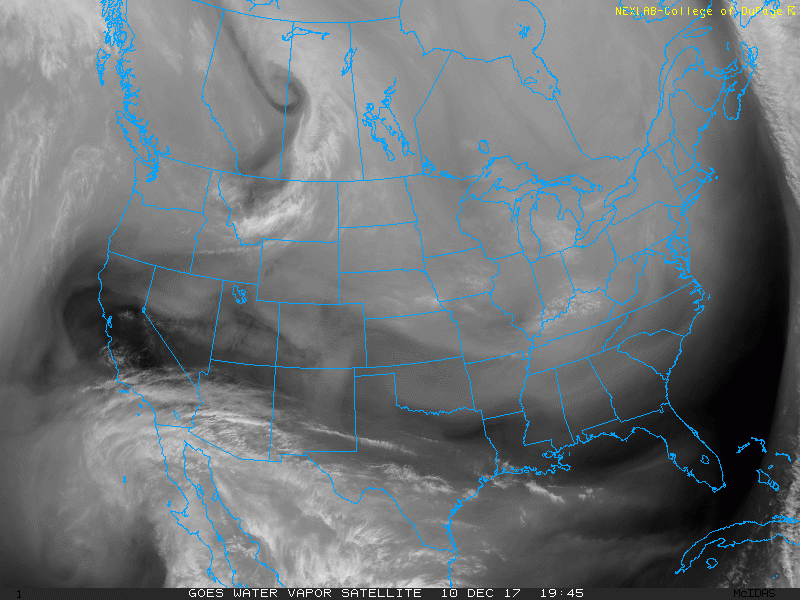 Tuesday Morning:
Mild Temperatures
Light Rain Or Drizzle At Daybreak
Consider all the snow melting that happened today. The ground is still not frozen solid, so with mild air overnight this drizzle or light rain even if briefly mixed with sleet, should not be a big travel problem. If you are traveling, the snow will be light and back west in Garrett County and north of State College PA.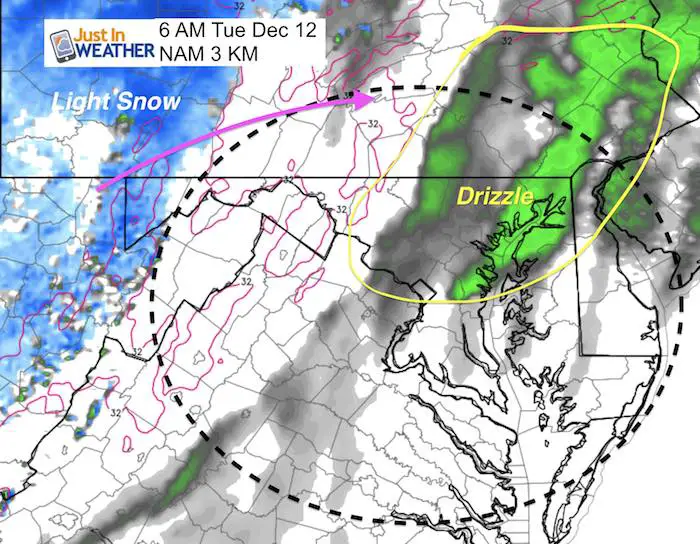 Note: There  may be rain and snow showers Tuesday evening as colder air arrives.
Colder Wednesday
The wind chill is the best way to prove this point. You will feel it waking up Wednesday morning.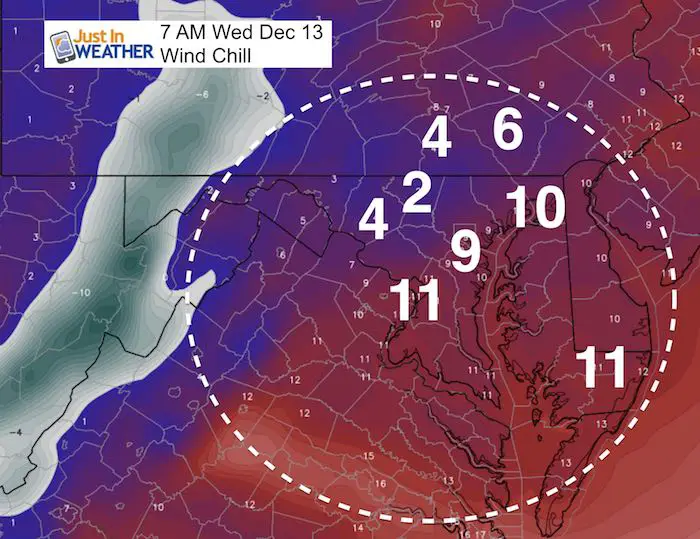 Snowstix- We Need You To Measure Snow Too
We are giving 10% of each sale to programs that benefit pediatric oncology patients.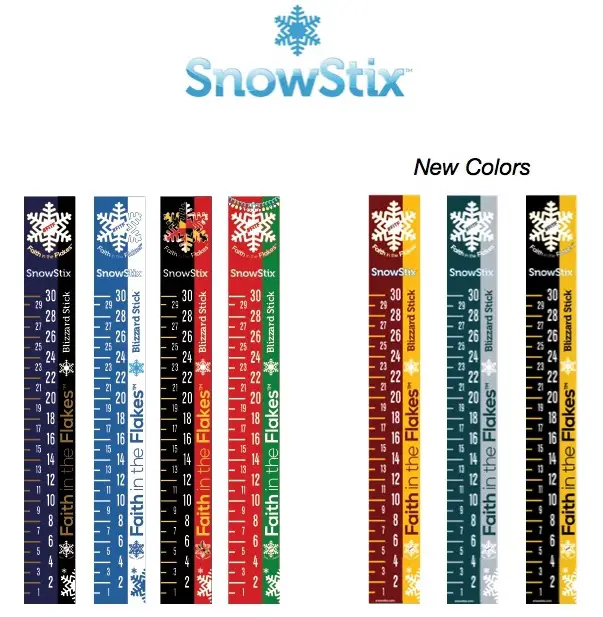 Next Two Systems (animation below)
Thursday Morning
Light snow arriving before daybreak on Thursday could bring minor accumulations…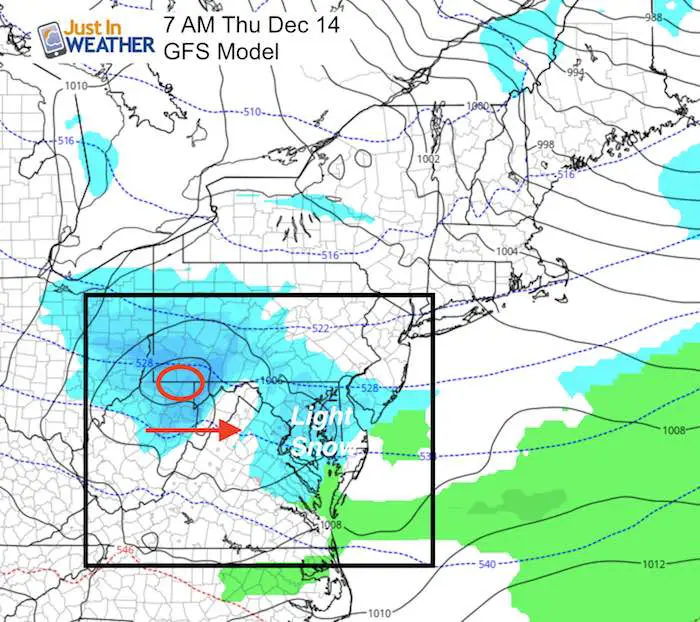 Friday
We need to watch the potential of a coastal storm. This appears just out of reach, but so did the last one. It was the warmer ocean that slowed down the arctic air and kept the storm track closer to the coast.  We need to see if this repeats and pulls this closer… Yes- opposite of my Atmospheric Memory Theory I mentioned in my Winter Outlook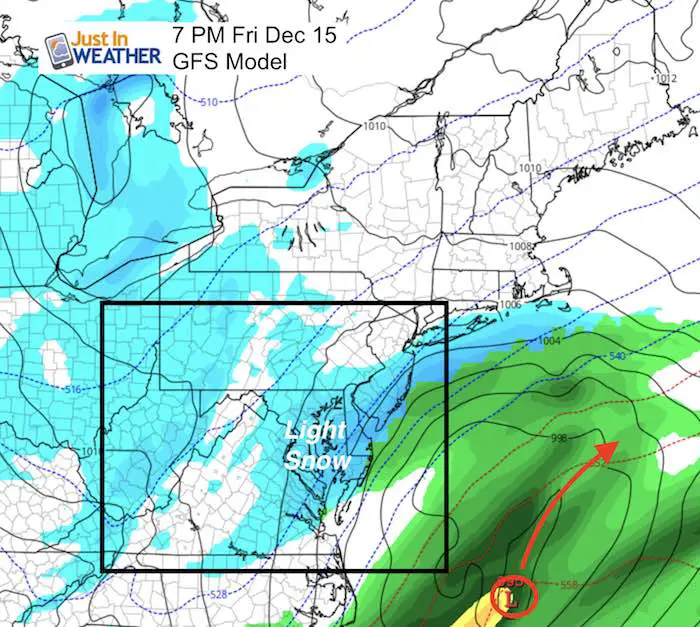 Storm Pattern Animation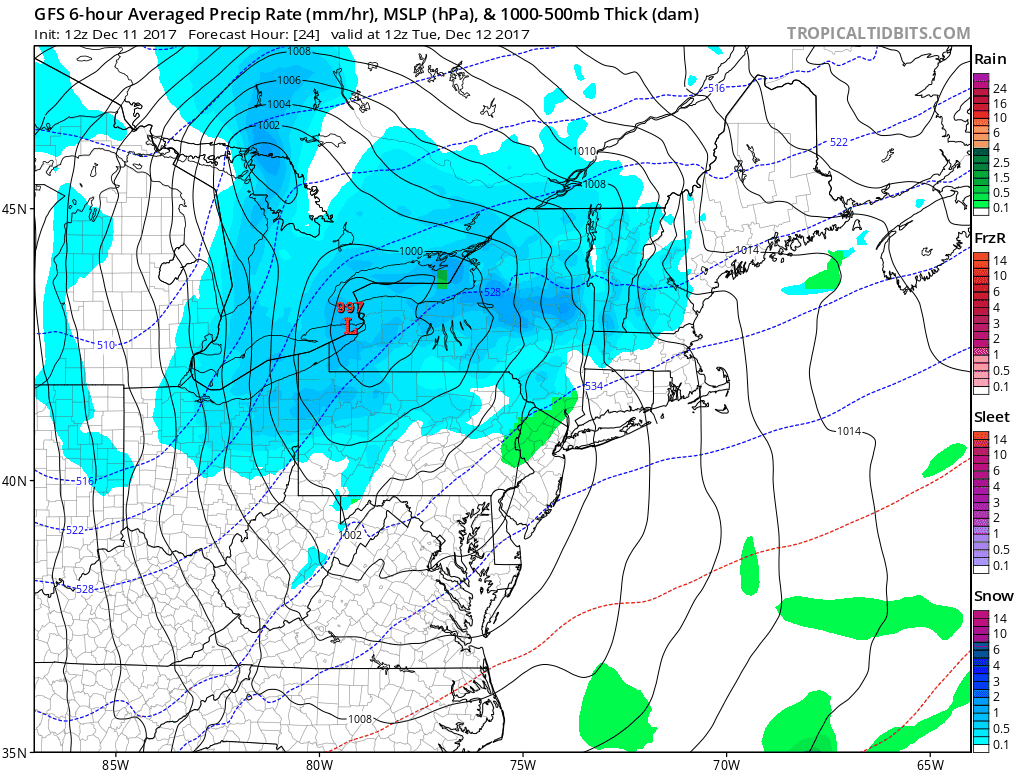 Keep In Touch All Winter
Click here to sign up for email alerts…. Just in case you don't get the post on your social media feed
Faith in the Flakes Online Store
PJ bottoms still inside out- They have to be to help bring on the snow.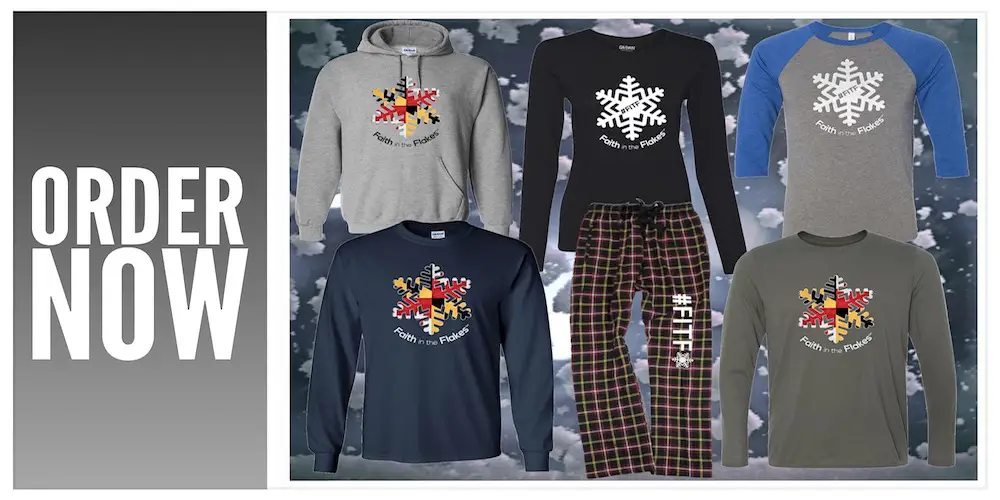 Get the award winning Kid Weather App I made with my oldest son and support our love for science, weather, and technology. Our 3 year anniversary of the release and our contribution to STEM education is this November. It has been downloaded in 60 countries, and works in both temperature scales. With your support we can expand on the fun introduction to science and real weather.
Please share your thoughts, best weather pics/video, or just keep in touch via social media
Also See:
My Winter Outlook 2017-2018 for more snow
La Nina Formed: What it could mean to our winter
NOAA Winter Outlook: Not The Best But Not The Worst For Snow
Two Farmers Almanacs Winter 2018 Outlooks
Winter Weather Folkore: Suggestions from Animals and Crops
First Frost and Freeze Dates For Maryland (southern PA and northern VA)
My Preliminary Winter Outlook Notes
Low Snow Winters In Baltimore: To Repeat Or Not Repeat
NOAA Ranks Blizzard 2016 4th Worst Snowstorm On Record
Blizzard 2016 Record Top Snowstorm: Area Totals