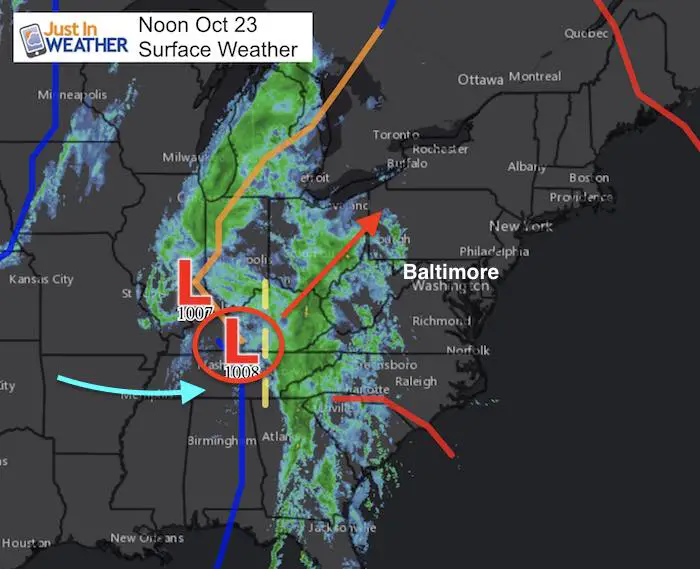 Monday October 23
The storm in Kentucky and the strong cold front draped into Georgia today will be moving east and could bring some showers this evening. There will be some severe storms along it, but weak to our south today, getting as close as Southern Virginia. The best chance of rain locally will be overnight peaking with the cold front early Tuesday morning. The timing sets up around 5 AM for metro Baltimore to get a pulse of rain and wind with some thunder possible. The chance of storms turning severe for our region will be marginal as the timing will arrive at the typically coolest part of the day. But we still have a strong cold front that will usher in a change in our weather pattern. The really cold air will be lagging 12 to 18 hours behind, but definitely in place Wednesday morning.
Here is a quick look at the break down:
In GEEK TERMS the lift is weak ahead of the front. So the dynamics do not support severe weather, which is why you will see below the split of the marginal and slight risk (a little better chance) to our south today and east Tuesday. But with a southeast wind off of the Bay feeding into the front, that boosts the chance of any system we get, in any season. So the most likely thing most of us get will be some rumbles of thunder between 4 and 6 AM Tuesday. However, whatever swings through will be brief on the order of less than half an hour.
Animation: Radar Simulation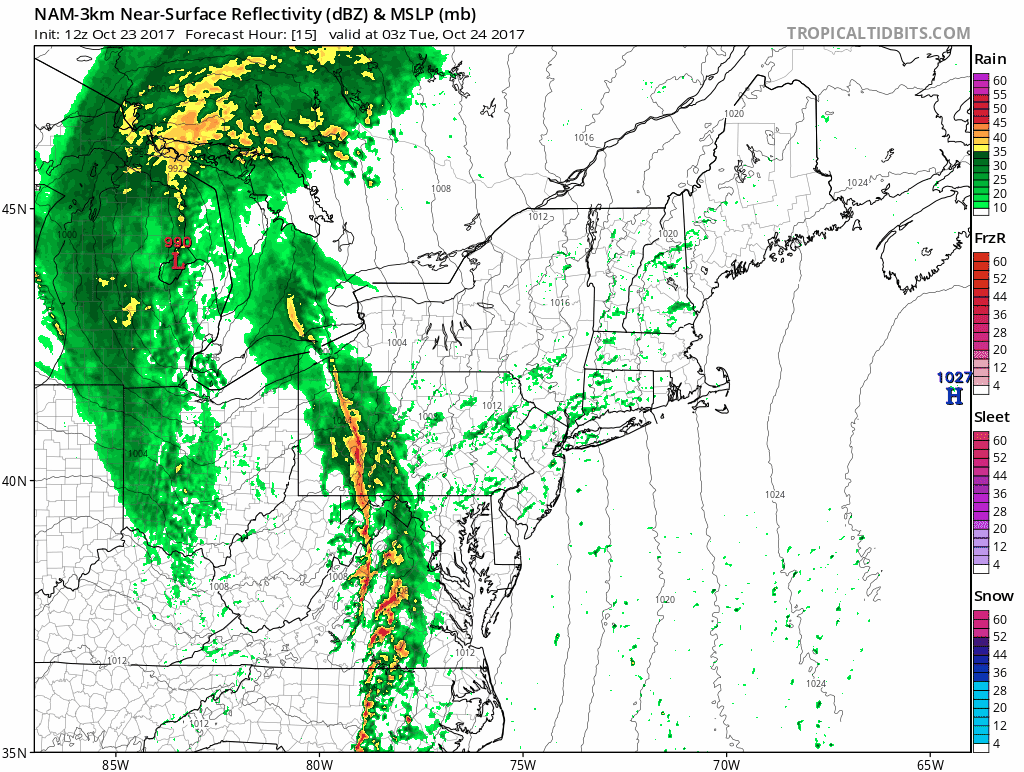 Severe Weather Potential Maps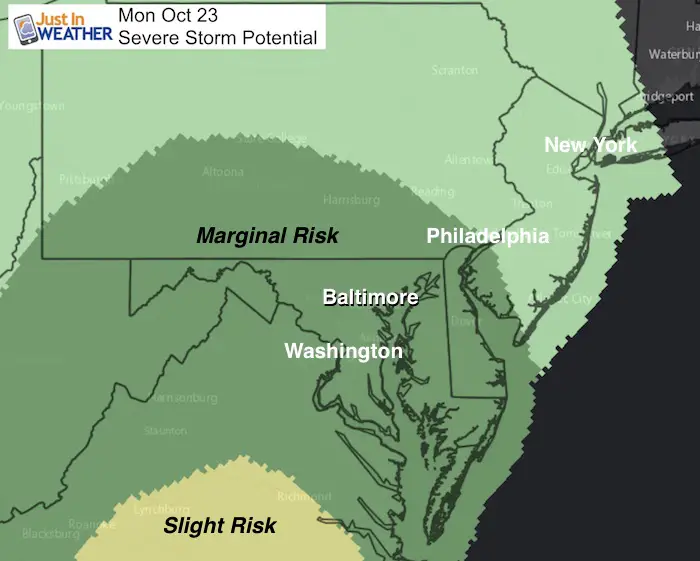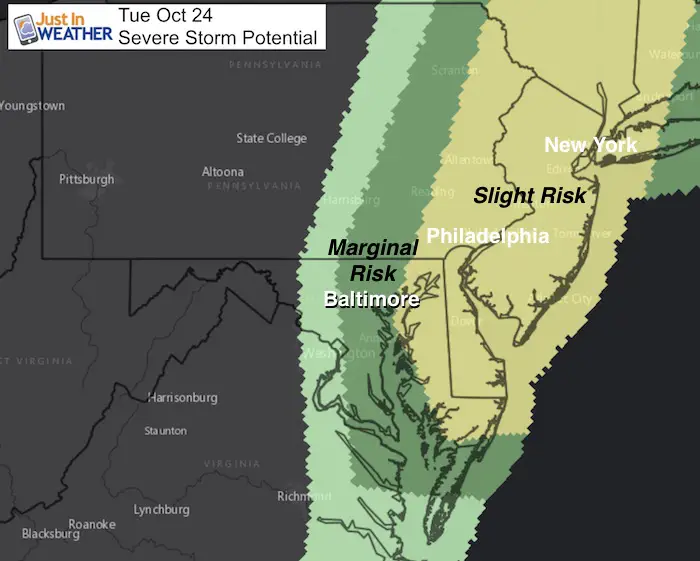 Temperature Change On The Way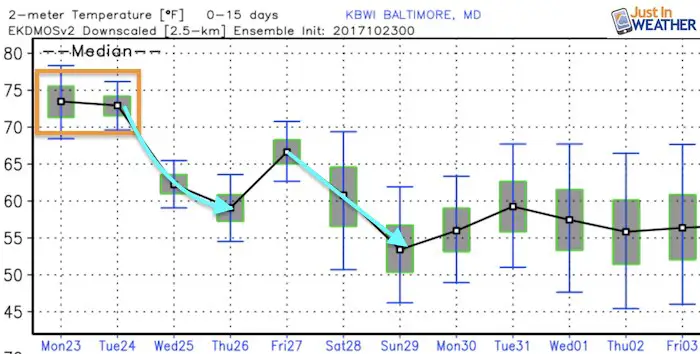 See more in my morning post
Winter Stuff
NOAA Winter Outlook: Not The Best But Not The Worst For Snow
Two Farmers Almanacs Winter 2018 Outlooks
My Preliminary Winter Outlook Notes
First Frost and Freeze Dates For Maryland (southern PA and northern VA)
NOAA Ranks Blizzard 2016 4th Worst Snowstorm On Record
Extreme Weather of 2015 balanced out on both ends
4-Days Left!
Trust in this Bust- Limited Edition Shirt
This is not a forecast, but a fundraiser for breast cancer research at BCRF- the highest rated cancer research charity. This soft Bella T-Shirt is to promote the strength of the 'good bust' and the heart that beats strong beneath it. Proceeds will be donated in honor of my mother Linda Berk, a 3-time breast cancer survivor. Click on the shirt image to join us.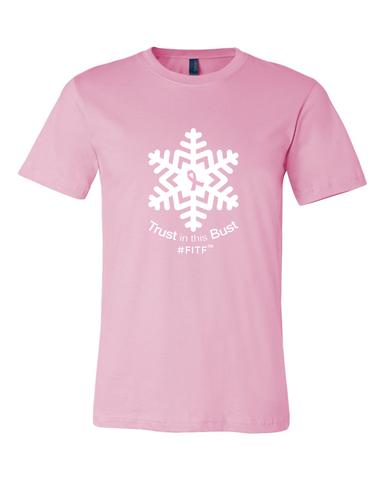 Get the award winning Kid Weather App I made with my oldest son and support our love for science, weather, and technology. Our 3 year anniversary of the release and our contribution to STEM education is this November. It has been downloaded in 60 countries, and works in both temperature scales. With your support we can expand on the fun introduction to science and real weather.
Please share your thoughts, best weather pics/video, or just keep in touch via social media