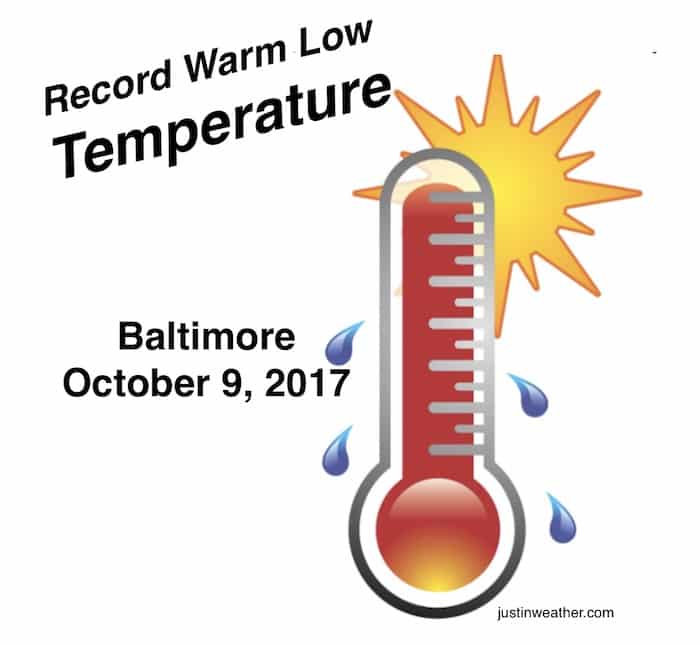 October 10 2017
One sign that the pattern is about to change is that we peaked out with a temperature record again. For the second day in a row, the low temperature recorded at Baltimore's BWI was above the average high temperature and the warmest for the entire calendar day. Monday October 9 had a low of 72ºF which beat the record of 71ºF set in 1959.  While we remain warm again today, we should be done with this type of record for a while.
Contrast the extreme last month: On September 2 Baltimore set the record for the coolest high temperature of 63ºF
Weather Stats For Oct 10
Normal High:  69ºF
Record High:  93ºF in 1939
Normal Low: 47ºF
Record Low: 34ºF in 1979
Sunrise: 7:12 AM
Sunset 6:35 PM
Rainfall From Nate
It may seem like we didn't get enough but radar estimates showed over 1 inch as expected north and west of Baltimore with less south and east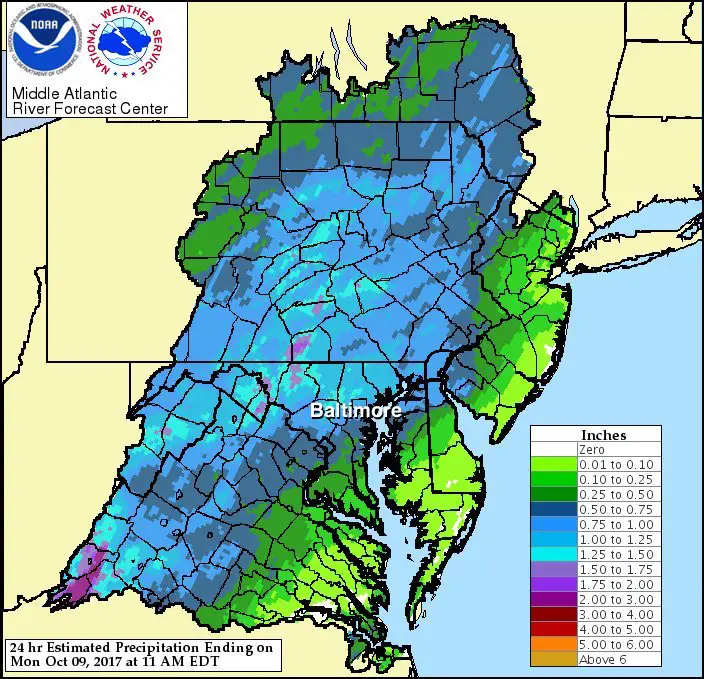 Today:
There is one boundary to our south, but we are still in the warm and sticky air. The chance of rain should stay south, perhaps a few showers in southern Maryland. We will get this back north with more rain on Wednesday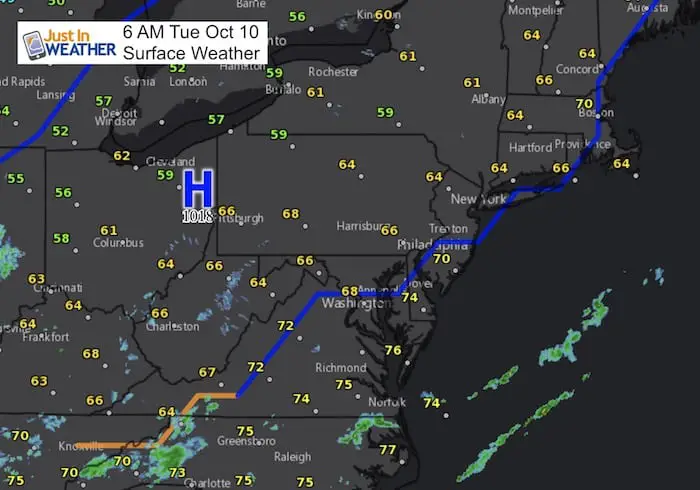 Afternoon High Temperatures
Mid 80s again around Baltimore and southward. Temps may stay in the 70s in the northern suburbs and southern PA.
Wednesday Rain
The arrival of showers in the morning, but steady and moderate rain moves in around lunch time into the afternoon.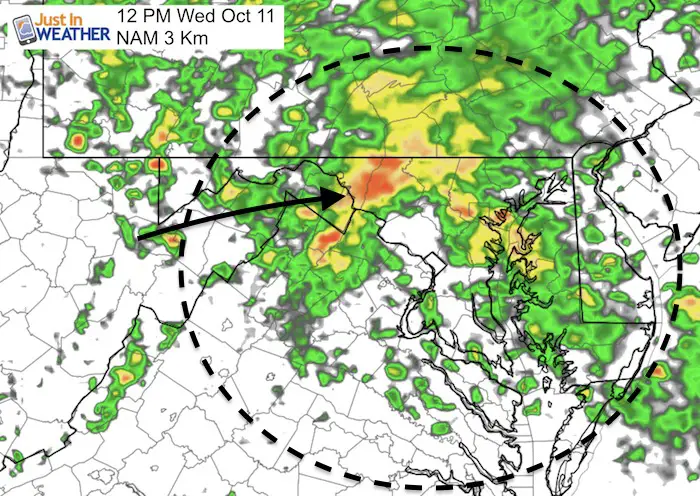 Rainfall Animation
The chance of steady rain will be best Wednesday afternoon. The chance of lingering showers will remain Thursday as we cool down a lot this weekend. Highs will be in the 60s.  Another cold front will bring us the next chance of rain on Monday.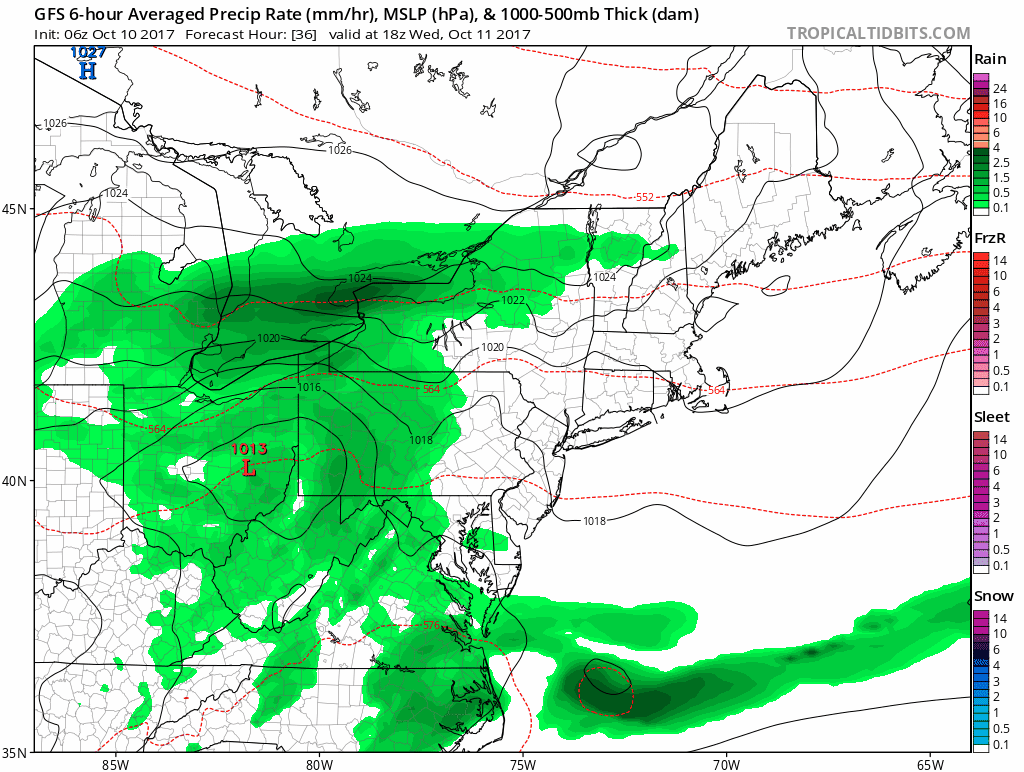 Get the award winning Kid Weather App I made with my oldest son and support our love for science, weather, and technology. Our 3 year anniversary of the release and our contribution to STEM education is this November. It has been downloaded in 60 countries, and works in both temperature scales. With your support we can expand on the fun introduction to science and real weather.
Temperature Outlook
While Thursday and Friday will be cooler, another warm up this weekend. Then we cool down again with the cold front on Monday.
Sign up for email updates on new posts
Since you may miss some posts via social media, click here for email alerts as a way to make sure you don't miss any.  *You may have to refresh that page once for your browser to clear out the images.
Trust in this Bust- Limited Edition Shirt
This is not a forecast, but a fundraiser for breast cancer research at BCRF- the highest rated cancer research charity. This soft Bella T-Shirt is to promote the strength of the 'good bust' and the heart that beats strong beneath it. Proceeds will be donated in honor of my mother Linda Berk, a 3-time breast cancer survivor. Click on the shirt image to join us.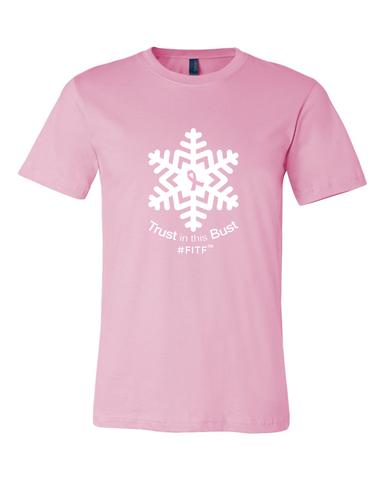 Please share your thoughts, best weather pics/video, or just keep in touch via social media