October 4 2017
We may be a few weeks past tropical season, but there is still plenty of warm water in the western Caribbean to help generate storms. This evening, Tropical Depression 16 has 35 mph winds and appears to be in an environment to strengthen and get named in the next day or two. If the winds reach 40 mph, this will become Tropical Storm Nate. The forecast does take it close to the Yucatan Peninsula near Cancun, and cross the Gulf of Mexico to a US landfall. I've highlighted the GFS and European Model tracks that cover the center and western edge of the forecast cone. See each model animation below.
You may recall my tropical reference in my preliminary winter outlook. I highlighted that error in computer models projecting storm tracks a week ahead of time. This time frame would bring the remnants of this storm our way by next Monday and Tuesday. The model tracks below show hour 120 to 144 as the pass through our region.  That means we are on the edge of the 5 day window. Also, this is already moving north in our direction, as opposed the a westward storm needing to make a turn. However, there is still wide range of the expected landfall I highlight below.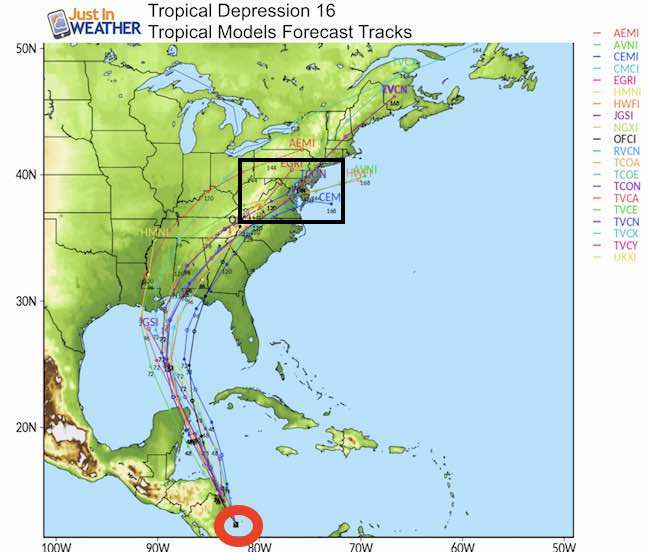 Forecast Intensity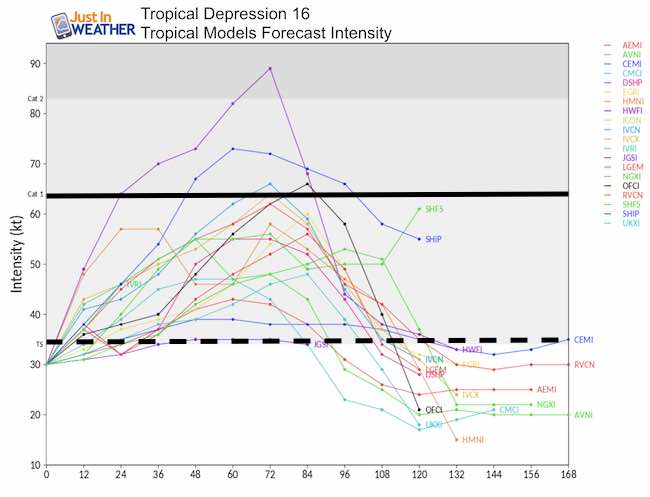 What it does appear to show now is that the storm has a 25% to 50% chance to become a low level Category 1 Hurricane, then weaken as it rides inland to bring us rain.  While the Low appears to track over Maryland, I caution pinning this down now.  The storm will be weaker when it heads our way, and the track is lily to shift based on the forward speed and speed of a series of fronts heading our way from the west.
Forecast Animations
European Model
This is the spin in the atmosphere at 850mb, roughly 5,000 Ft. Look for the dark red highlighting the spin of (soon to be) Nate.  This shows landfall in western Florida on Monday morning. Then Nate passes through Virginia on Tuesday morning and passes into Maryland during that day.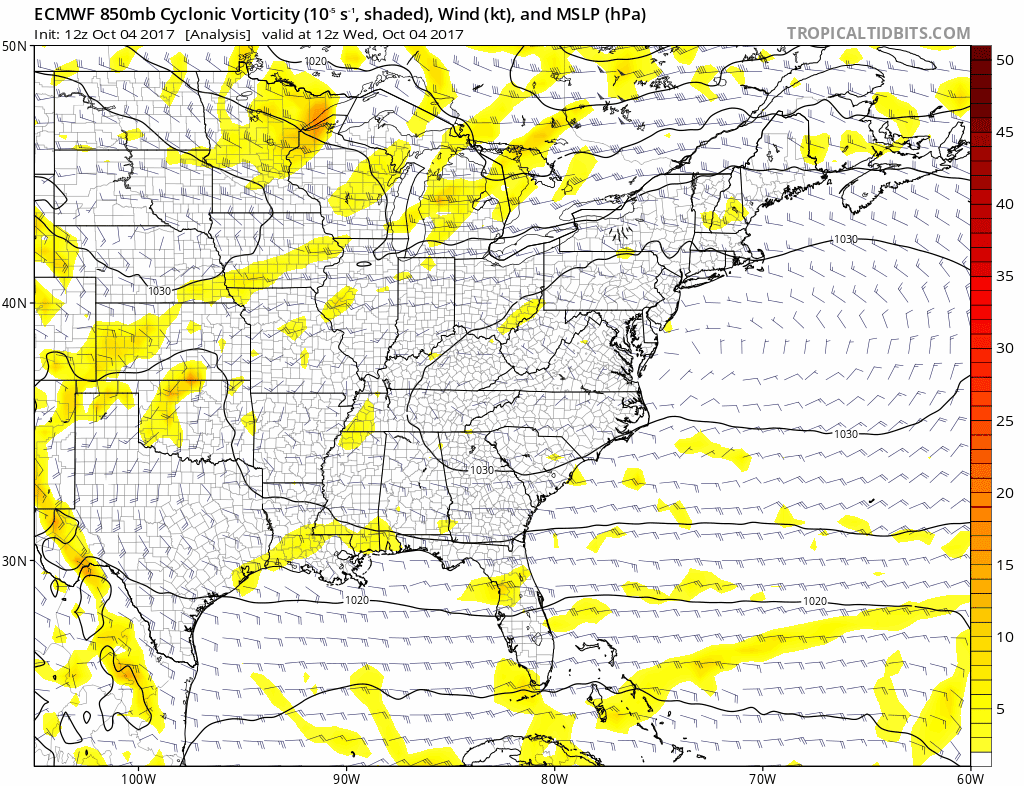 GFS Model
This model shows the same element as the Euro above… but the track makes landfall in Louisiana, west of New Orleans… then makes a sharper curve to reach central Maryland on Tuesday morning. This actually moves farther west then takes the storm on a similar track to what Cindy did back in June.
GFS Rainfall Forecast
We are expecting rainfall beginning on Sunday well before the storm arrives. But a wet pattern (as this model shows) will be with us for a few days. With the Low passing over central Maryland, we could see brief heavy rain Tuesday. However this storm is not expected to be tropical in nature when it reaches us. So breezy but not windy.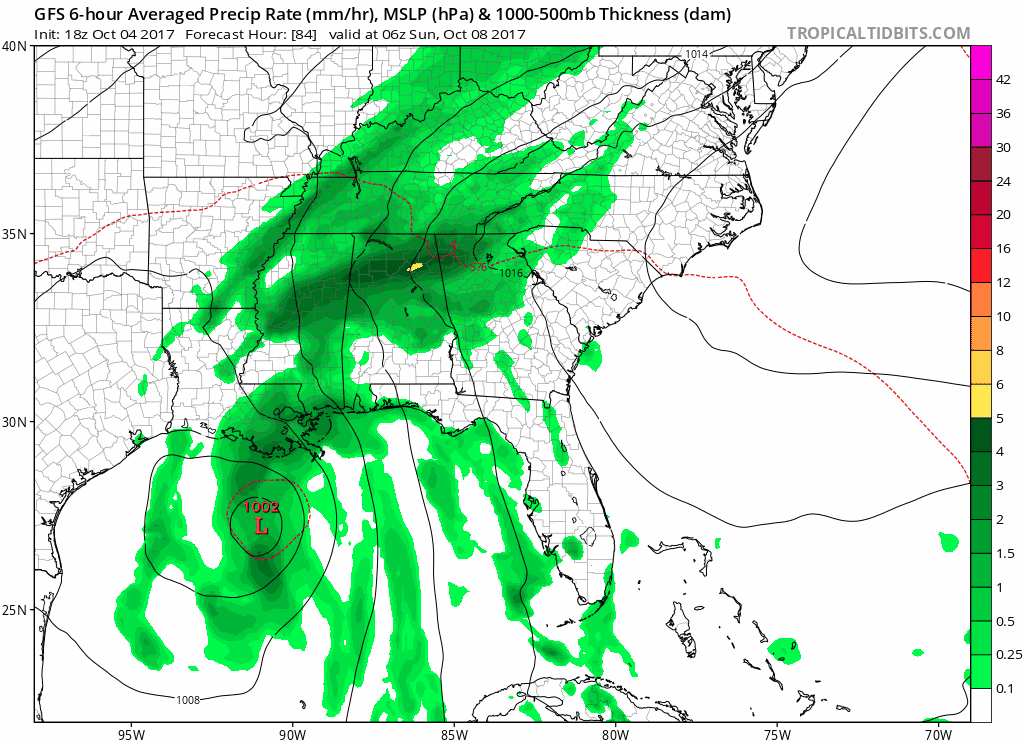 *This was the Mississippi/Ohio Valley tropical tracks I showed in my preliminary winter outlook. Cindy was the storm that reached Maryland.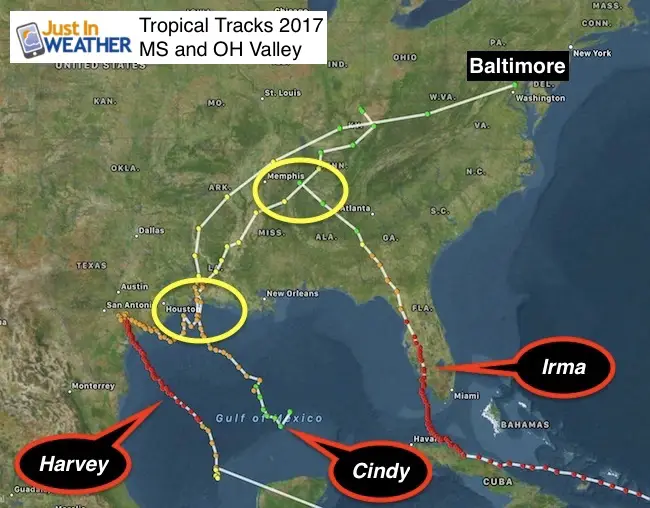 National Hurricane Center Forecast Tracks
This shows landfall form the European Model in the center of the cone… but the time here at 2 PM Sunday is about 15 hours earlier than the model shows (Monday morning). Forward speed is the first element to long range forecasting. The timing of arrival into the US will need to be coordinated with the cold front truing to reach us from the west next week.  I will be keeping these maps to make a comparison for accuracy or error tracking.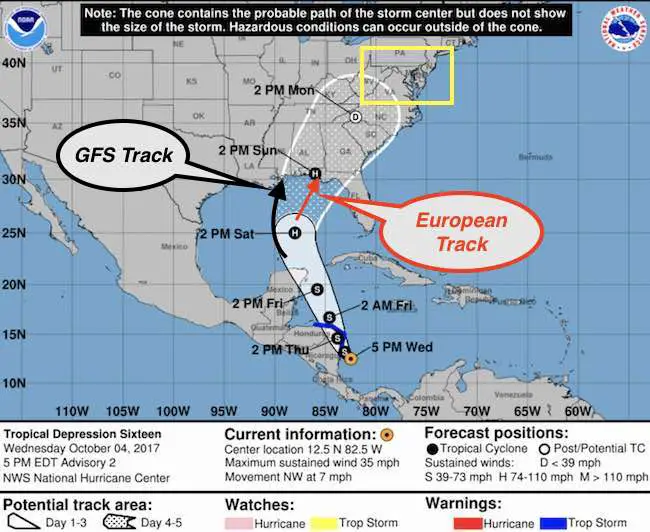 Please share your thoughts, best weather pics/video, or just keep in touch via social media
Get the award winning Kid Weather App I made with my oldest son and support our love for science, weather, and technology. Our 3 year anniversary of the release and our contribution to STEM education is this November. It has been downloaded in 60 countries, and works in both temperature scales. With your support we can expand on the fun introduction to science and real weather.