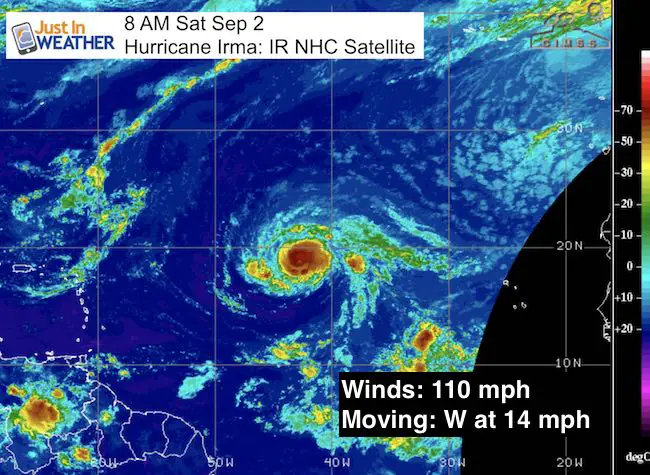 Saturday September 2
Hurricane Irma was measured with 110 mph winds this morning and moving on a steady westward path in the tropical Atlantic. This is still over the open water and at least 3 to 5 days away from threat to clip the Caribbean Islands. The mention of a storm after Harvey will no doubt create a lot of anxiety and I have been trying to downplay any hype this early in the game. If there was to be any impact on the east coast, it would be a week away. How often does a storm forecast work out exactly as shown that far off? Exactly!
But, there are reasons to watch and continue to update the storm. It will be a beast as it is expected to grow to at least a Category 3 and likely a Category 4 major hurricane over the next few days. Waves and rip currents are a guarantee down the east coast to the eastern Caribbean. Check out this close look at the development. There is a wider view and more forecast maps below
Hurricane Model: HWRF
Intensity Forecast
Multiple models supports the steady growth thanks to very warm water and little to no wind sheer. Category 3 is a major hurricane with winds over 111 mph.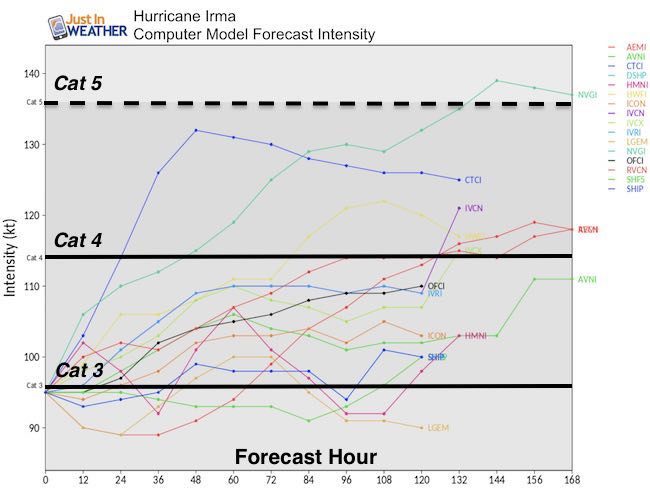 Wide View Forecast
But, what happens next?
The forecast models beyond Day 5 differ quite a bit. The two major models shown below have one distinct difference that will determine if this will be a hit on the east coast or a miss and turn this fish out to sea. It is all based on the High Pressure off of  New England. That is the set up that we have today that is allowing the remains of Harvey to bring us rain but keep up with chilly winds…
Notice the model maps below are over 200 hours away! I do not believe either one is locked into the final result yet… but we need to identify one feature that will determine which one closer to being accurate:
The European Model has a blocking High the would prevent the typical curve of this storm off of the coast and instead force it into the US coast. I am purposely not showing the landfall (in SC) because I do not believe this model as of now. I do not want to show something that could be grabbed and go viral when it is just one model. The GFS Model is missing that blocking High and thus the storm would safely turn away from land.
Vs. GFS = No Blocking High

The Comparison That Adds To Fear Hype
Hurricane Isabel was a similar storm and it was that blocking High that forced it into he east coast. Remember that the storm hit North Carolina and kept going northwest instead of curving along the coast as most storms do… It was the drag of water with the storm surge that led to the flooding up the Chesapeake Bay. The right side or in this case the north side was where that biggest impact was felt. We can explore that if need be as we get closer.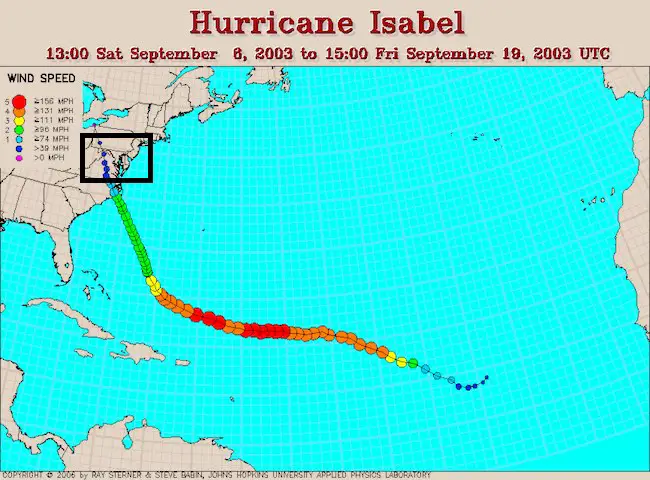 Still A Week To Follow For Adjustments
There are so many moving parts that factor in to a storm developing and where it moves. The tropical models will handle the development. The interaction with the mid latitude features and westerlies will help with the steering mechanism. I will be focusing on that High Pressure across New England as the make or break of our coastline.  Now is not the time to panic or spread rumors. I just wanted to show you the things I will be looking for an point out that computer models are guidance, not gospel. There are errors as the math and algorithms are not perfect. It will be interesting to see how these two and the other models adjust… especially with that High Pressure or another feature we have not considered yet.
National Hurricane Center: 5 Day Track
The variables are one reason the National Hurricane Center does not go beyond a 5 Day Forecast tracking map. Also why there is a cone of uncertainty that grows larger farther out in time. This is how the next 5 days look now and it has changed from yesterday…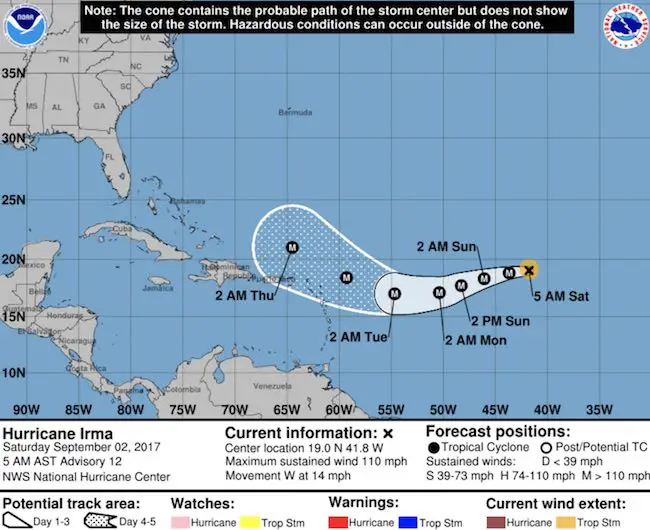 Keep on Trekking
Continue to be part of our Maryland Trek and Support Cool Kids Campaign. This was our best event yet and we want the message to carry throughout the year.
Proceeds go to programs that help children and their families ensuring cancer treatment.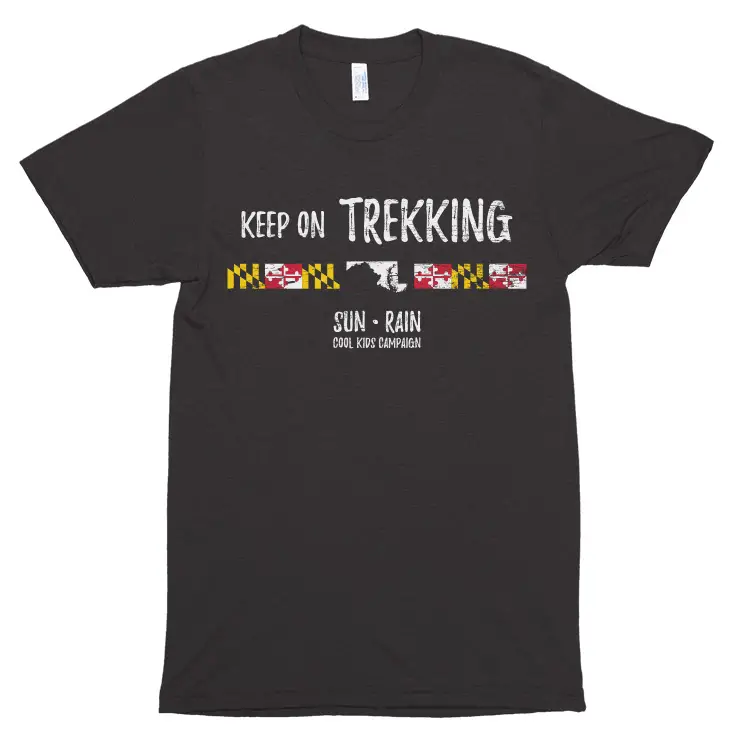 Please share your thoughts, best weather pics/video, or just keep in touch via social media
Get the award winning Kid Weather App I made with my oldest son and support our love for science, weather, and technology. Our 3 year anniversary of the release and our contribution to STEM education is this November. It has been downloaded in 60 countries, and works in both temperature scales. With your support we can expand on the fun introduction to science and real weather.