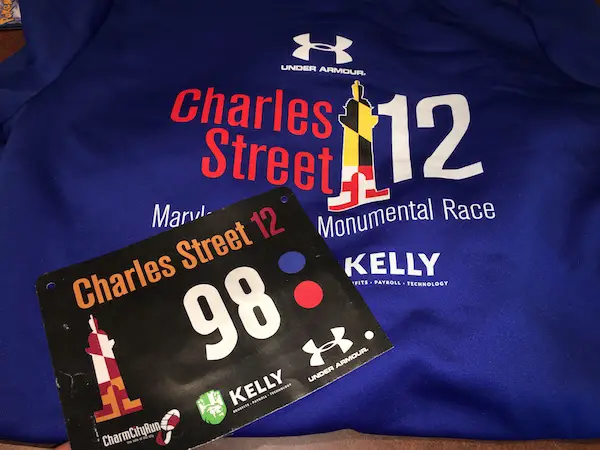 September 1 2017
It is with mixed emotions that I write this weather update for the 3rd portion of Charm City Run's B3. The Charles St. 12 mile race on Saturday is an event that was moved from August to this weekend to avoid the heat of late summer. Instead, it is going to feel like mid autumn. The race that is sort of advertised as being mostly downhill (from Towson to Baltimore) will be counteracted by a chilly cross wind and rain.  The only PRs will be from first timers, but we are all in this together, right? Well, I explain my status later.
Ghost of Harvey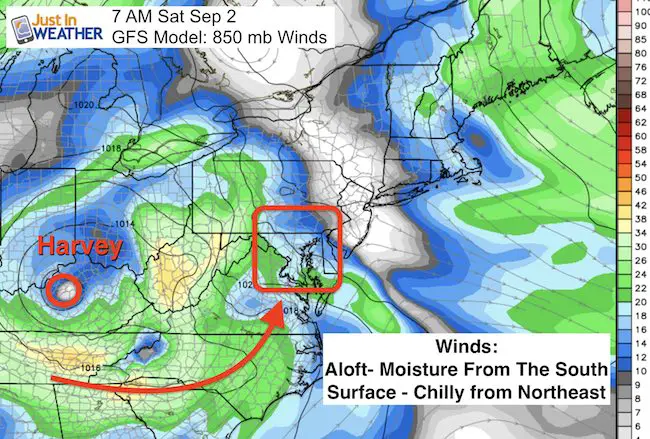 Yes, the remains of the once powerful major hurricane and worst natural disaster in US history is heading our way. The rain will arrive tonight and likely be with us in the morning during the race. The mid level winds will pump in the rain from the south. It will be moderate at times, but there will be breaks in the showers as well as shown in the simulations below. The surface winds will be from a colder direction.
I was at Charm City in Timonium today to get my packet and I am glad to make one key point here: I do NOT expect lightning and thunder.
What to wear?
The other point I spoke about with a few runners was what to wear… I would suggest the main focus should be on your feet. The best possible socks and body glide to avoid blisters!
You can't avoid getting wet, so I would not were too many layers that will get soggy and heavy. Shorts a single layer shirt. If you have a rain jacket, that will help, but it also may catch the wind like a parachute. If you can protect your core, go for it and just deal.
The temperature will be chilly for Labor Day Weekend… In the upper 50s to lower 60s for the morning…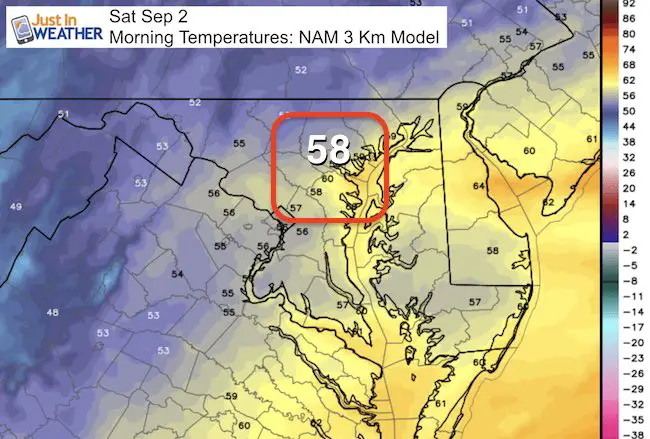 Rain: Radar Simulations
Here are two different computer model radar simulations. This is just for comparison and as you can see both show pockets of moderate rain during the morning. Pinning the precise location on the course at race time is not confirmed, but a good chance you will get wet.
—-> slider: HRRR Model
[metaslider id=52270]
—-> slider: NAM 3 Km Model
[metaslider id=52280]
Winds
While the circulation around the ghost of Harvey will be from the south at cloud level… helping to pump in the rain… The surface winds will be chilly from the Northeast between 10 and 20 mph.  This will be a slight tail wind but more cross wind, and swirling between buildings and at intersections.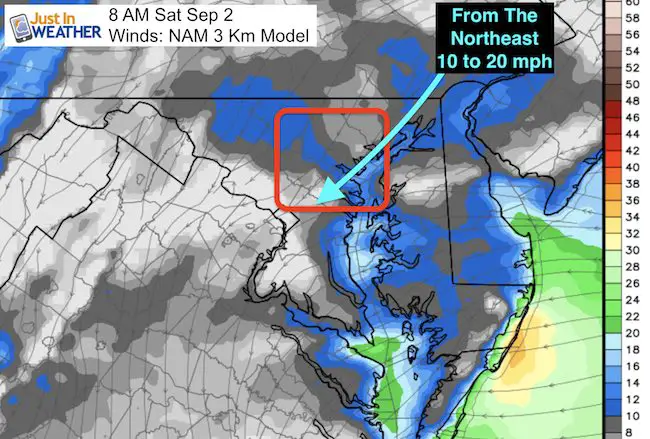 Keep on Trekking
Continue to be part of our Maryland Trek and Support Cool Kids Campaign. This was our best event yet and we want the message to carry throughout the year.
Proceeds go to programs that help children and their families ensuring cancer treatment.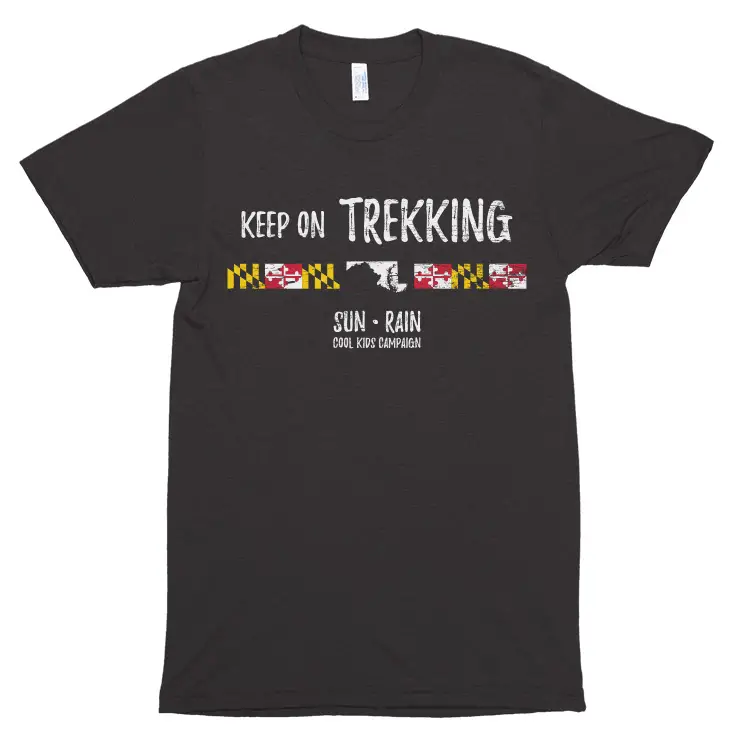 Race Course
My Deal
I know you have your own thing to deal with, but I wanted to explain my situation. As many of you may know, I just finished my 4th Maryland Trek. It was 329 miles in 7 days crossing the state. That included 5 marathons mixed with plenty of biking. We had rain and heat to deal with. The only thing that delayed us was lightning. I would never let the weather get in my way, but I have only had 2 weeks of rest and my legs have not fully recovered. I want to be 100% for the Baltimore Half Marathon in October, so I have to sit this one out. I do hope to make it down and celebrate with many of your at the post part.
I wish you the best of luck and go into this with the notion that it will make you appreciate the nice weather events later on.
Please share your thoughts, best weather pics/video, or just keep in touch via social media
Get the award winning Kid Weather App I made with my oldest son and support our love for science, weather, and technology. Our 3 year anniversary of the release and our contribution to STEM education is this November. It has been downloaded in 60 countries, and works in both temperature scales. With your support we can expand on the fun introduction to science and real weather.