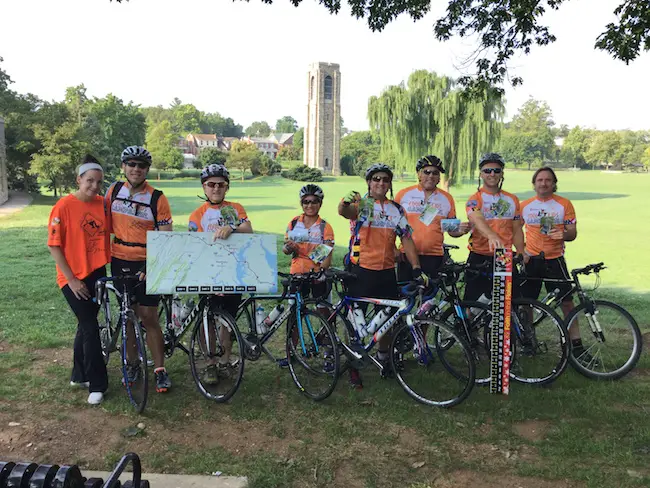 August 16 2017
Today we will stay on the bike all day and I will be part of a dozen riders. Before I get to the honorees Shawn Madden and Cole Kilmon.  The weather should be quiet and typically warm for August. That's just fine for us rolling the wheels.  We will be styling in our Hill Hiller cycle shirts and I must thank Mike Barnes for supplying these for my team for the 3rd year in a row.. These are on sale now with all proceeds going to Cool Kids Campaign. See the link below…
Our team riding today includes Ross Sober with me for the entire week. Sisou Armstrong is back for a second day… and joining her from the Tri Sport Junction team is David Larkin, Robert Holt, Matt Titus. The celebrity of the day is Baltimore Blast champion head coach Danny Kelly.
We will be treated by a street party in downtown Sykesville in front of Tri Sport Junction around 12:30 PM, so if you are nearby please join us.
Maps for today… Track us live on my Trek Page
We are in the middle of my trek and it is bitter sweet. Here are contrasting stories of memory and survival. Three years ago when I began this, I was supposed to have my friend Shawn Madden as my crew chief. He was fitness, winner many shows and owner two Gold's Gym franchises. I became friends with him and his wife Heather. He and I had known each other from our TV days… he was a weekend sports anchor for WJZ.  But that was a small part of him. He has a love of people and life. But on August 1st in 2014 he died suddenly of a heart attack. It was a disease he knew, but didn't know how bad.  Needless to say it was a lot to regroup for my trek and his wonderful wife Heather to carry on with two small children and their two gyms. She embodies survival and the overwhelming positive spirit Shawn had.  That is why I want to focus today to be about survival. It would be what Shawn would have wanted… I do an all day bike today for this part for Heather and their children.  We will have a tribute to him with her at Gold's Gym in Eldersberg around 11 AM.
Then we will pass through Sykesville where our team members from Tri Sport Junction will host a little town festival for our group cycling through. We aim to be there around 12:30 PM, so if you are nearby, please join us.
Cole Kilmon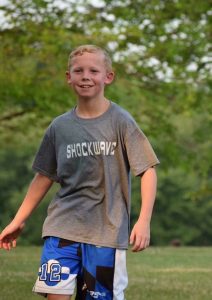 Cole was an energetic, soccer playing 10 year old excited for Christmas and winter break. The week before Christmas he started feeling tired, wasn't eating much and asked to skip soccer practice – which he had never done in the past.  On December 27th he was playing with his team in a holiday soccer tournament when we noticed he just didn't seem like himself. He wasn't running hard, wasn't eating and asked to be pulled from the game. I called the pediatrician that day to schedule an appointment which we secured for the following day. That morning he woke up feeling great and against his wishes we went to the doctors anyway.  His pediatrician, Dr. Pinto, sent us for blood work and said if anything caught his eye he would call later in the day.  Once we left, with Cole still feeling good, we pretty much put it all behind us. Until the pediatrician and an ER nurse from Hopkins called me at that night.  She said they needed to draw his labs again – to compare to the labs from earlier in the day.  Dr. Pinto said it could be Leukemia given his levels but he wanted to be certain.  Just after midnight, the oncologist on duty that evening came into our ER room and told us Cole had Leukemia.  From that day until today, Cole has fought as hard as he could – he is determined to beat Leukemia and I have no doubt that he will. His official diagnosis is T-CELL ALL (Acute Lymphoblastic Leukemia). Two bone marrow checks since diagnosis have reported no detectable sign of Leukemia. He continues to go to Hopkins weekly for either lab work or chemo. He has had about a dozen spinal taps where chemo is injected into his spine. He continues to push through no matter how horrible he is feeling. We have been very fortunate in that he has only had 1 major setback during treatment – and even that he overcame like a true warrior.

Wear our cool cycle jersey from Hill Killer
Click the image…
Also see:
Video: My come from behind track victory 3 years after almost losing my leg
Thanks to our title sponsor Ledo Pizza for being a big supporter of Cool Kids Campaign and feeding our team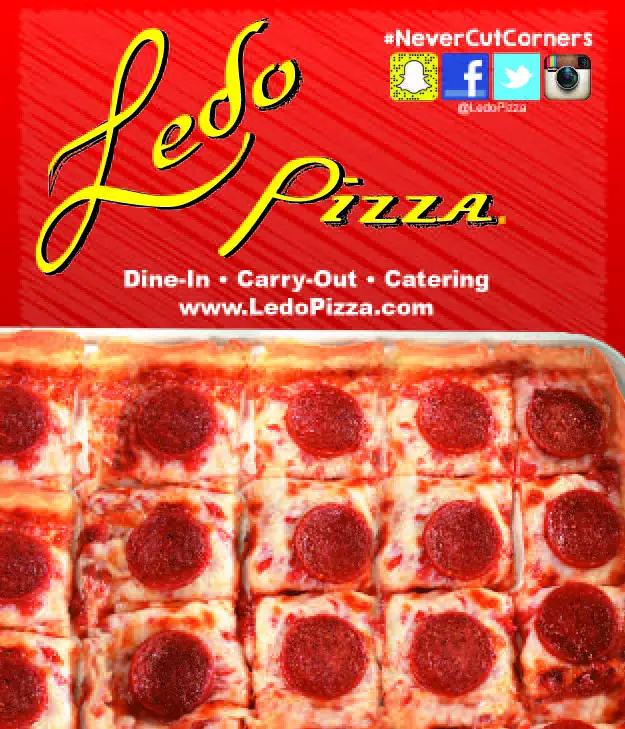 Please share your thoughts, best weather pics/video, or just keep in touch via social media
Get the award winning Kid Weather App I made with my oldest son and support our love for science, weather, and technology. Our 3 year anniversary of the release and our contribution to STEM education is this November. It has been downloaded in 60 countries, and works in both temperature scales. With your support we can expand on the fun introduction to science and real weather.