Saturday June 17
Will it rain or storm by you today? We have started the day with high humidity and warm temps… and we have showers in the forecast. I stand by that. The common question I get this time of year is about timing and tracking storms around particular events. I can identify the atmosphere and the conditions to bring us nice or bad weather. I can say with higher confidence that Fathers Day will be hot with late day storms, and the next chance for widespread rain will be later Monday into Tuesday morning. But for the next few hours… the best I can do is show short range computer models that project the radar simulation for how showers and storms may develop and move. The problem is that they have a problem.
Compare the 8 AM Doppler Radar image (below) to the first image at the same time frame in the two sliders below. Both the NAM 3 KM model and the HRRR Model have shown a band of rain in southeast VA that does not exist. These track that band up the bay… and while not significant, points out the error in the modeling. So how can we trust the plot for this afternoon and evening?
I know saying "chance of showers' is not the specific report you would like… and why I continue to show these radar simulations… But I also want to remind you that they are a guide, not a guarantee. There is a major flaw and it has hindered making plans.  At this point I would just keep the idea in mind and check the radar (which I will post online) prior you whatever you have going on.
Doppler Radar at 8 AM
Today: Simulated Radar
NAM 3 Km Model
—-> slider
[metaslider id=48883]
HRRR Model
—-> slider
[metaslider id=48902]
High Temperatures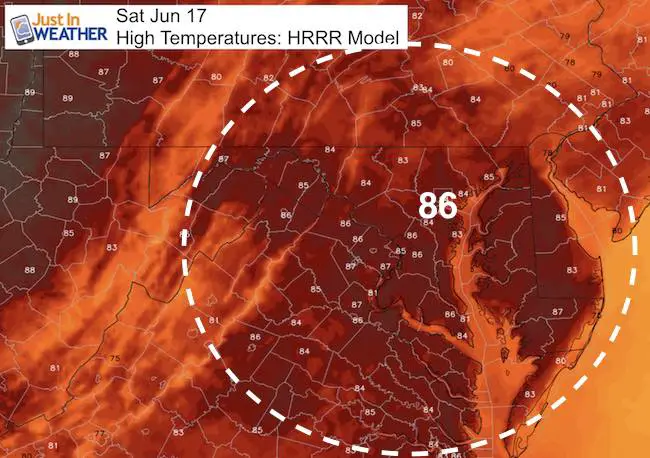 Outlook:
Father's Day we will watch the heat get back to around 90ºF and afternoons storms develop. Typical June… with he best chance west of the Bay. The widespread storms will arrive Monday and depart Tuesday morning with a fresh air mass.
—> Slider GFS Model
[metaslider id=48863]
Temperature Outlook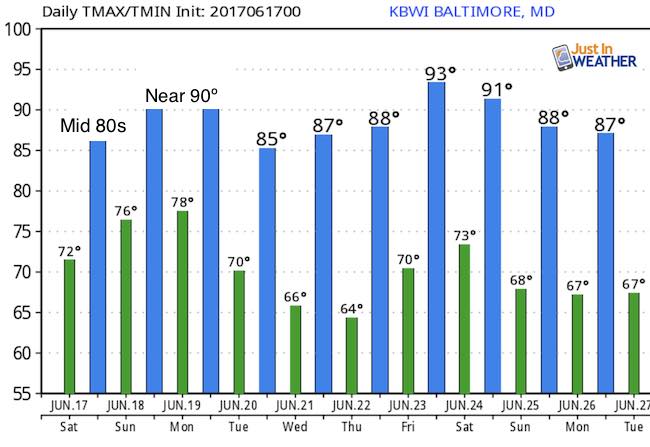 Get the award winning Kid Weather App I made with my oldest son and support our love for science, weather, and technology. Our 3 year anniversary of the release and our contribution to STEM education is this November. It has been downloaded in 60 countries, and works in both temperature scales. With your support we can expand on the fun introduction to science and real weather.
Get $1000 Off LASIK
Plus enter to win free sunglasses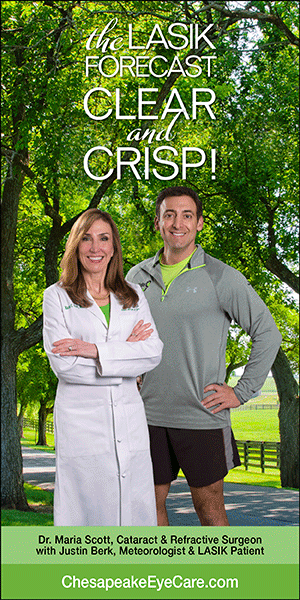 Maryland Trek 2017
Be part of my 4th annual hike and bike across Maryland this August. See my trek page and sign up for information to do one day, the whole week, or even sponsor this great event.
Milestones this year:
I will do my 1000th mile
We aim to reach $100,000 for Cool Kids Campaign
Please share your thoughts, best weather pics/video, or just keep in touch via social media
Faith in the Flakes
The store is closing for the season. Next week we wil be shifting back to spring mode. This will include a severe weather STEM assembly program.
Sign up for email updates on new posts

Since you may miss some posts via social media, click here for email alerts as a way to make sure you don't miss any.  *You may have to refresh that page once for your browser to clear out the images.

 Also See: