May 3 – If you think today is chilly, just wait. We are sampling the cool air with strong winds and making up for lost time. After the warmest February and one of the warmest Aprils on record in our region, it is payback time. The upper level pattern that will develop for the next 10 days is something that would make my mouth water if this were winter. It would be a great set up for snow, but I wouldn't even dare to mention Faith in the Flakes this time of year… Except to prove my point.
Early May should bring Baltimore high temperatures in the lower 70s. The cold air aloft will translate to temperatures for 0ur region more like the upper 50s and lower 60s over much of the net week. That takes us back in time a month to 6 weeks ago.  considering the longer days and higher sun angle, that is impressive.  I should point out that there will be two distinct upper level troughs of cold air, so the core days wil be the coldest, and inland frost may be possible once or twice.
Take a look at this slider showing the trend…
[metaslider id=47212]
Temperature Outlook:
This GEFS Ensemble Forecast I show daily has limitations. It trends to average farther out in time. So the moderating numbers next week may not fully account for the depth of the cool air and what we may actually end up with.  The 60s might last longer…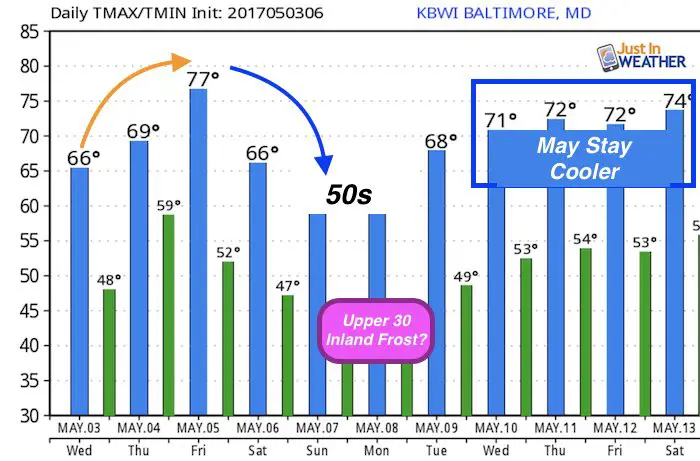 Note: I am working on a map to show the last frost and freeze dates across our area. I hope to have that ready tonight or Thursday.
Storm Smart: My STEM Assembly Program
Click here to see the details and how this educational program is also a fundraiser for schools. We can start scheduling for May now.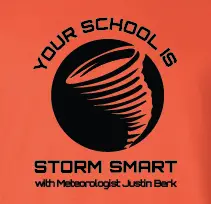 Get the award winning Kid Weather App I made with my oldest son and support our love for science, weather, and technology. Our 3 year anniversary of the release and our contribution to STEM education is this November. It has been downloaded in 60 countries, and works in both temperature scales. With your support we can expand on the fun introduction to science and real weather.
Please share your thoughts, best weather pics/video, or just keep in touch via social media
Faith in the Flakes
The store is closing for the season. Next week we wil be shifting back to spring mode. This will include a severe weather STEM assembly program.
Sign up for email updates on new posts

Since you may miss some posts via social media, click here for email alerts as a way to make sure you don't miss any.  *You may have to refresh that page once for your browser to clear out the images.

 Also See: