April 1 2017 – Today is the 57th anniversary of the first weather satellite. It was in 1960 when TIROS-1 launched and then provided our first glimpse of the clouds from space. To honor that today, I wanted to show you the satellite loop of our recent storm over the past 26 hours. The is the infrared loop from College of DuPage, is not a refined in the day time, but allows us to see the clouds in the dark at night. Notice that circulation passing through Virginia, and it was responsible for spawning the tornado in Chesapeake, VA. This system also brought much needed rainfall for our region and the lingering cool damp weather this morning. Also the heavy snow in New England.
How Much Rain?
The report from BWI was a storm total of 1.45″ of rain. That seems to be the average in our area, but there was higher amounts to the north and east, where over 2 inches feel in parts of Harford and Cecil Counties in Maryland. Notice the over 4 inches reports in coastal New Jersey.
Today:
The storm will be pulling away and the rain is essentially down. Maybe a sprinkle this morning, but cool winds will keep temps down in the 50s this afternoon.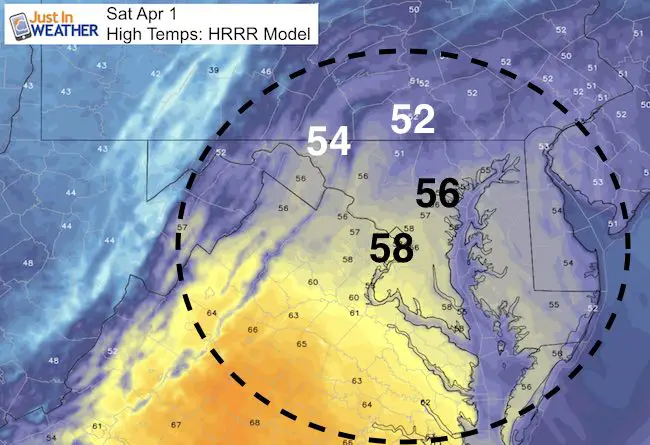 Opening Day Outlook
I still think most of Orioles Game 1 will be dry. But the chance of showers creeping in to Baltimore by evening is possible. The next storm will bring rain mostly on Tuesday
—> slider Storm Track
[metaslider id=46165]
Temperature Outlook
Get the award winning Kid Weather App I made with my oldest son and support our love for science, weather, and technology. Our 3 year anniversary of the release and our contribution to STEM education is this November. It has been downloaded in 60 countries, and works in both temperature scales. With your support we can expand on the fun introduction to science and real weather.
Please share your thoughts, best weather pics/video, or just keep in touch via social media
Faith in the Flakes
The store is closing for the season. Next week we wil be shifting back to spring mode. This will include a severe weather STEM assembly program.