Tuesday March 14 – We still have a mess this morning, but many in central Maryland have less snow. I really wanted to celebrate Pi Day, but forecast was anything but as easy as apple pie. Despite the cold trend I pointed out last night, the warm Chesapeake Bay was still a force for this storm and led to more sleet. That dramatically cut into the snow totals. Thus, a Winter Weather Advisory has replaced the Winer Storm Warning for the counties around I-95 and Baltimore. I have my adjusted and the NWS new snow map below. Less snow DOES NOT mean no problems.  Governor Larry Hogan did put a State Of Emergency in Effect and that remains this morning. While you may scream BUST, there is still a lot of work for crews and icy roads. The contractors I consult with say the sleet is very heavy and takes more time to clear.
I consult with Johns Hopkins and had a call this morning about classes. The contrast of 1 to 2 inches in the city to the 10 inches at my place (near the PA line) was a shocker. But while I suggested the March sun will help thaw the roads, they said there was just too much cleanup on campus and they decided to close.
We will have a mix and snow return this morning. So the accumulation is not done. BUT. I have had to adjust my snow totals down and yes this can be looked as as a bust. This was just not an easy call and there is plenty of frustration to go around. I will have a live Q and A video session on Facebook later this morning so you can vent away and we can chat.
—> slider HRRR Model
The mix will go back to snow again… But how much will lay and stay during the day is difficult to call.
Winds will gust 30 to 40 mph
[metaslider id=45427]
New Snow Maps
The National Weather Service Lowered Snow Maps Updated This Morning. I have to be honest… I think this may be a little too high and I cut slightly under these amounts.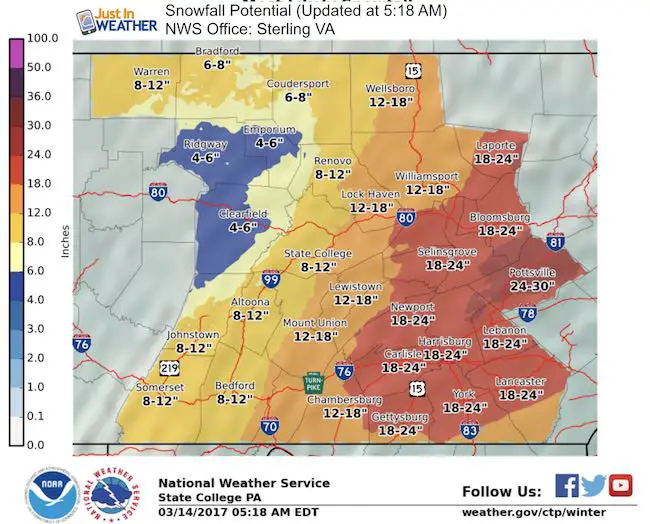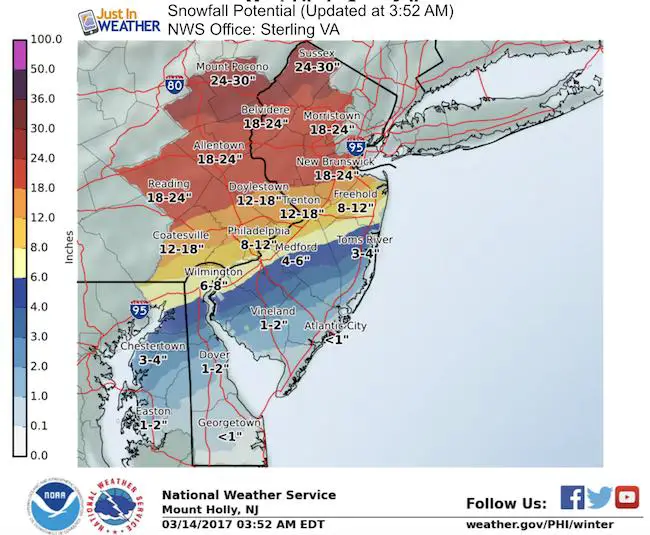 My LOWERED Snowcats Map
I did have 10 inches of snow as of 5 AM near the PA line. So the all snow zone verified, but I realize that this is not the same for everyone.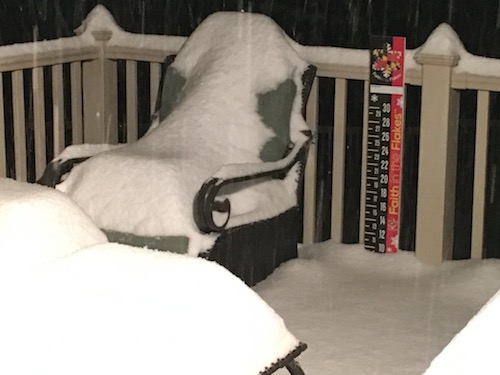 Again, I will have a live video chat session on Facebook later this morning to we can chat and you can vent your frustration.
My flexibility on the maps has been trying to account for sleet and freezing rain weighing down and compacting the snow depth. There will be so much variation that I doubt we will get consistent reports from the same town.
Rare Storm For March?
See my report on March Snowstorm History In Baltimore
#FITF Gear
We are doing a special run of more Faith in the Flakes shirts this week.  Click here for the online store to get yours.
Get the award winning Kid Weather App I made with my oldest son and support our love for science, weather, and technology. Our 3 year anniversary of the release and our contribution to STEM education is this November. It has been downloaded in 60 countries, and works in both temperature scales. With your support we can expand on the fun introduction to science and real weather.
Please share your thoughts, best weather pics/video, or just keep in touch via social media
Faith in the Flakes Online- Flannel PJs Printed Inside Out
Store Now Open