At this stage of the game, writing this post at 10:30 PM on Monday night, this is nowcasting mode. Snowfall rates will increase up to 1 to 2 inches per hour in the snow zone overnight. But the rain line will try to creep in from the south. It will have resistance. Daylight Saving Time actually pushes the model runs one hour later, so just seeing the developments on mesoplots and the Rapid Refresh Model radar simulations point to two things I want to show. First, the storm is trending colder. Slightly, but that could hold the snow/mix zone back a little. Also, there seems to be more moisture left over as the cold air returns later in the morning on Tuesday.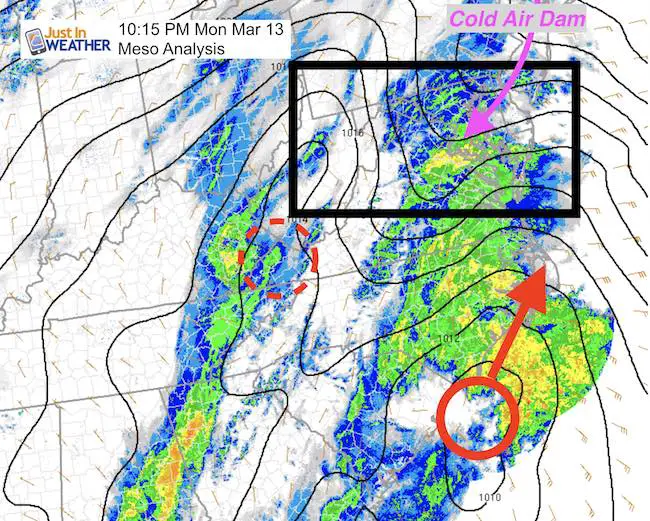 The developing coastal is definitely taking over the energy from the inland storm. There is also a clear cold air dam set up that will make the snow/mix/rain line very tough to move too far north. This is why the simulation below is trending colder.
Basically, if you wake up to a mix of sleet or plain rain, it is NOT DONE! There will be a return to snow that may be moderate to heavy again lunch time through the afternoon. That is why I have stayed the course with my snowcast map from this morning.
Water Vapor Loop Animation
The trough along the Gulf is digging farther south… This coastal is definitely going to BOMB OUT. I described this in my Q and A post earlier today.
—> slider Radar Simulation
Heavy snow rates overnight will be 1 to 2 inches at times.
The rain/sleet may stay a little south of earlier projections.
Snow will return to much of central Maryland between 9 and 11 am. It will remain moderate to heavy into mid afternoon.
[metaslider id=45408]
My Final Call For Snowfall – Staying the same from this morning
For the record, the latest HRRR Model does March my snow zone for central Maryland but goes much higher for the colder northern zones. I decided not to show to confuse you. Just staying the course here.
Will this be a record storm?
See my report on March Snowstorm History In Baltimore
#FITF Gear
We are doing a special run of more Faith in the Flakes shirts this week.  Click here for the online store to get yours.
Will this be a blizzard?
Technically a blizzard is not just a heavy snow storm. Conditions have to be 1 inch of snow per hour for three consecutive hours AND winds of 35 mph. This brings white out conditions that make travel nearly impossible.
Get the award winning Kid Weather App I made with my oldest son and support our love for science, weather, and technology. Our 3 year anniversary of the release and our contribution to STEM education is this November. It has been downloaded in 60 countries, and works in both temperature scales. With your support we can expand on the fun introduction to science and real weather.
Please share your thoughts, best weather pics/video, or just keep in touch via social media
Faith in the Flakes Online- Flannel PJs Printed Inside Out
Store Now Open