March 13 – The winter storm on the way tonight has a lot of questions that come along with it. Below I am showing two computer models to highlight the snow arrival timeline, potential mix over Tuesday morning, and the wider to point out the immense power and extended duration of the storm impact.  With the Winter Storm Warning and Winter Weather Advisory, there wil be a variety of weather conditions for our area.  I am also using this time to show the latest snow maps from the National Weather Service regional offices for their zones. I like for you to be able to compare and contrast snow projections and hopefully realize that the different now maps have a reason behind them.
First, here are the most common questions I have received  recently:
Will The Snow Stick?
Yes! For starters. The arrival overnight in the day, cold part of the day will help. But the past few cold days and nights have cooled down the ground. But… After 9 or 10 AM Tuesday, the March sun angle will help warm the pavement and melt the roads.  Be careful of the cold air and refreeze Tuesday evening… when more snow showers and stickage could add to accumulation.
When will it start?
The snow will arrive from south to north after 9 PM. Most of us should have snow before midnight.  The HRRR model sider below shows the progression
There are more questions and answers below, but this is a prime spot to highlight the snow onset tonight and change over Tuesday morning.
Radar Simulation —> slider
[metaslider id=45357]
Will My Area Stay All Snow?
If you live near I-95, then no. But if you live farther inland, away from the Bay and in higher hills, you have a better change. This temperature maps shows the best chance for a change over by daybreak tomorrow. It is possible to get snow and sleet while the air is above 32ºF. But the best chance for all snow will be in western Howard, Frederick, Carroll, and northern Baltimore Counties in Maryland… plus southern Pennsylvania.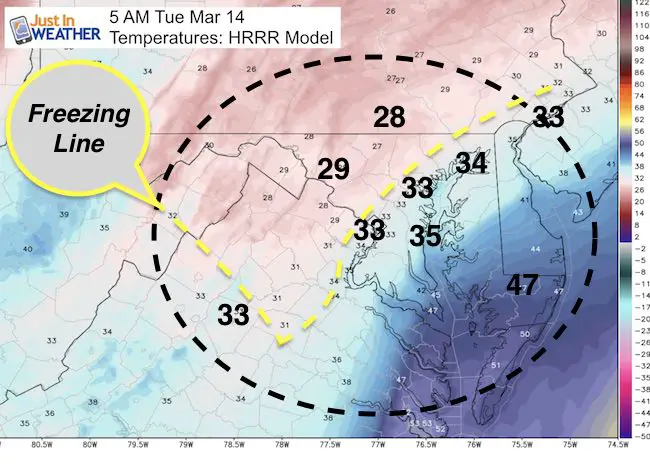 When will this be the worst?
Tuesday morning is when the storm will have the biggest impact on us. But that impact will not be the same everywhere. Heavy snow will dump over 1 foot for places that stay all snow.
But there will be a mix over area with sleet and rain. That will cut amounts.
Other areas will go over to rain, then back to snow during the day.
Will there be school on Tuesday (or Wednesday)?
I can't promise that because it depends on your local administration and road crews. But, I can suggest some hope for areas that will change over to sleet and rain:
Heavy snow will fall overnight, but warming near I-95 and the Bay will change over to sleet and rain by daybreak. The snow that falls still needs to be cleared. So even if the roads can let your car get going, you will also need a place to park that car…. and that could take a while.
Two Parts Of The Storm

Even if your area warms up and changes over to sleet, rain, or just melts the snow during the day…. Snow showers will linger and some accumulation could follow Tuesday night and Wednesday while temperatures certainly drop back below freezing.
Will this be a record storm?
See my report on March Snowstorm History In Baltimore
#FITF Gear
We are doing a special run of more Faith in the Flakes shirts this week.  Click here for the online store to get yours.
Will this be a blizzard?
Technically a blizzard is not just a heavy snow storm. Conditions have to be 1 inch of snow per hour for three consecutive hours AND winds of 35 mph. This brings white out conditions that make travel nearly impossible.
What is Bombogenesis?
If you read enough blogs or watch the true genuine meteorologists on TV, then you heard of the term for a winter storm being a bomb. This refers to the central Low Pressure being measured in mb (millibars). If the pressure drops more than 1 ,b per hour for 24 hours, or 24 mb in a full day, then the storm is rapidly developing. Genesis is the word for the development of a storm.
See the bomb develop on this wider map. I highlighted the pressure.
1009mb at 8 PM tonight. 982 mb at 8 PM Tuesday = an incredible drop of 27 mb in a full day!
—> slider Simulation of the Storm 'Bomb' developing off of the coast
[metaslider id=45372]
Why are the snow maps so different?
I make my own forecast. So do other forecasters. Some apps and TV stations just use one particular computer model or another. Then there is the National Weather Service that makes their forecast. I try to show many for you to compare and contrast.
Another confusing part of this storm is that many snow maps got through Wednesday. Some places may just show through tomorrow morning. It is possible that your area gets snow then mixes over to sleet or rain by morning. But you won't be done yet. There will be more snow on the back side of the storm along with colder air Tuesday evening through Wednesday.
National Weather Service Regional Snow Maps
Click here to see my final call for snowfall map in my previous post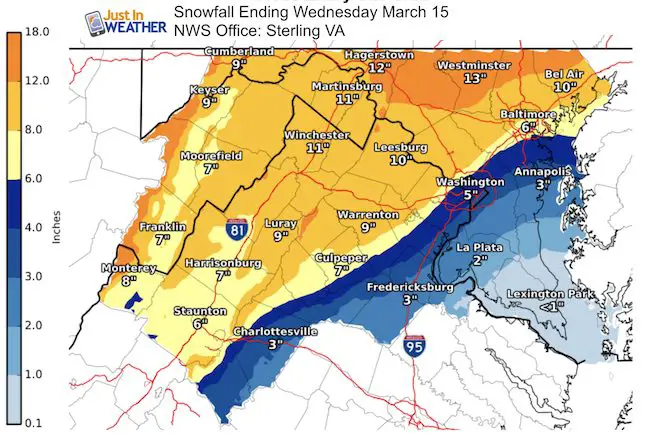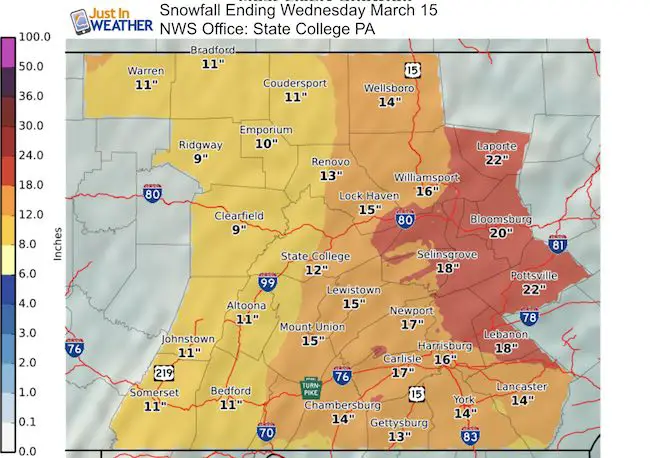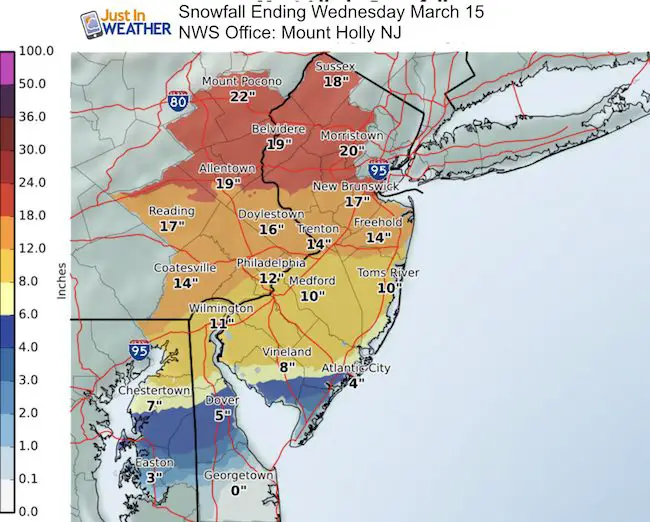 Why Don't You Use The Storm's Name
The Weather Channel started a marking campaign a few years ago by naming winter storms. This is just theirs. It is not sanctioned by the National Weather Service or other outlets.  I'd rather stay with a universal reference… and I do not watch much of TWC these days. However, I have been made away and honestly… I LOVE the name Stella for this.
I will have a more detailed timeline and break down for all snow, mix, and rain places in my next report. 
Get the award winning Kid Weather App I made with my oldest son and support our love for science, weather, and technology. Our 3 year anniversary of the release and our contribution to STEM education is this November. It has been downloaded in 60 countries, and works in both temperature scales. With your support we can expand on the fun introduction to science and real weather.
Please share your thoughts, best weather pics/video, or just keep in touch via social media
Faith in the Flakes Online- Flannel PJs Printed Inside Out
Store Now Open