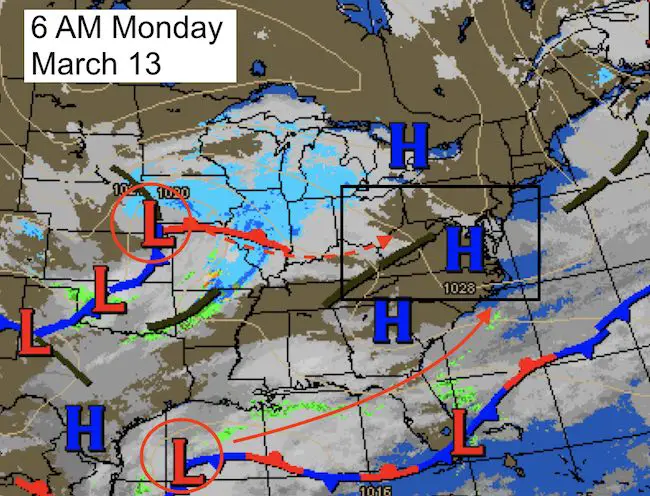 Monday March 13 – The Winter Storm on the way is showing up on the national weather map this morning in two pieces. The primary piece is in the midwest now, but the coastal energy will be the main event by Tuesday morning. The main hesitation I had was where the rain snow line would set up. Considering the late season and warm Chesapeake Bay, there has been some fine tuning to the snow maps. I have bullet point notes, close up and wide view storm maps, and my final call for snowfall below.
Nor'Easter Alerts
Winter Storm Warning – Pink
Winter Weather Advisory – Purple
Wind Advisory- Orange
Coastal Flood Warning – Green
Freezing Line/Rain Line
As I have been mentioning for the past few days…. A shift of 50 miles could make a big difference with snow amounts. The Bay is warmer than a typical winter storm event, plus the track of the storm will add more mixing around I-95.  Also, when places that mix to slush or rain got back to snow, it will be during the day on Tuesday when the sun angle will be higher.
When and where the snow falls heaviest, it may be dropping at rates of 2 inches per hour.
Canadian GEM Model
This brings that mix line along I-95 and metro Baltimore Tuesday morning.
GFS Model –
Compare the same 8 AM time frame to the map above. The freezing line is through Ellicott City, Towson, and Bel Air. But the snow line is south. There may be a period of snow with warmer temps or mixing. This will depend on the specific wind direction and intensity of the precipitation to drag colder air down from aloft.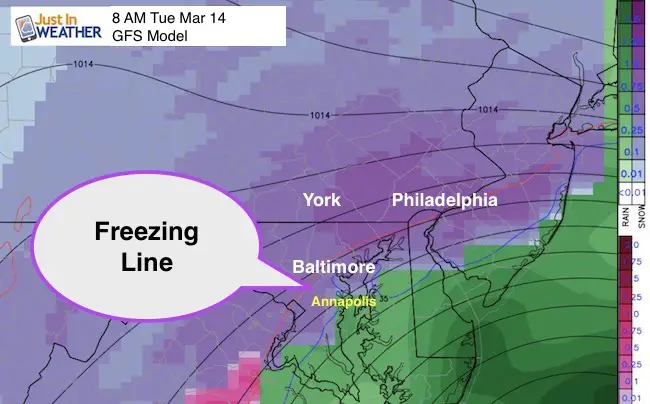 Also See:
March Snowstorm History In Baltimore
#FITF Gear
We are doing a special run of more Faith in the Flakes shirts this week.  Click here for the online store.
Storm Simulation —> slider GFS Model
[metaslider id=45328]
Snowfall Maps
Computer Model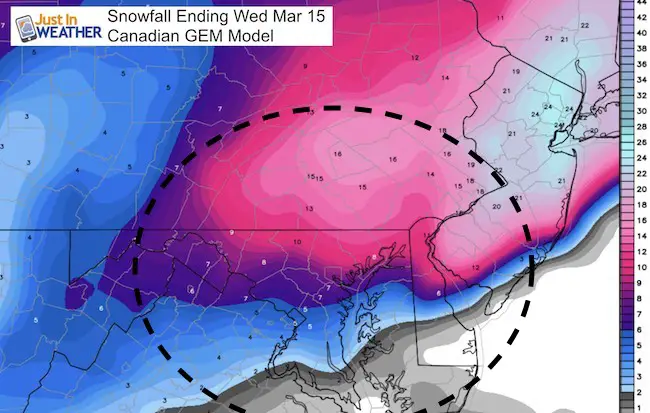 My Final Call For Snowfall
I will add in an arrival time and more maps to compare in my next report
Baltimore– I adjusted the beltway for 6 to 12 inches
Annapolis – I adjusted for 3 to 6 inch range due to more mixing, but will end with snow
North/West Suburbs – I adjusted 10 to 16 inches. I needed to drop just to account for compaction of the heavy snow and possible mixing. But this will be the sweet spot staying all/mostly snow: Carroll County, northern Baltimore County, and southern Pennsylvania.
Eastern Shore – More rain/mixing but will end with snow
Please keep my notes in mind with this major storm:
8 PM Monday to Midnight—> Snow arrives from the south.

Tuesday Morning: Heaviest Snow- Freezing Line/Rain gets closest. 

Winds may be strong enough (35 mph) to warrant blizzard conditions and white outs for some areas

Heavy snow zone will get 2 inch per hour rates at times

Tuesday Afternoon:  Main storm moves north, but snow showers continue

Wednesday Morning:  Snow showers linger and temperatures will be below freezing. 

Canadian and European Model give the heaviest snow. If these verify, it would be the heaviest snowstorm in March history. The GFS model shows a closer track and more mixing in central Maryland. Still a respectable snowfall in any month for any year.

I need to consider the warmer than average Chesapeake Bay to influence the snowfall. 

Snow can fall while temps are above freezing in some areas.

Heavy, wet snow will compact and weigh down final totals. So ratios may be lower than 10:1 snow to liquid.
Temperature Outlook
Cold air and more ice likely to be an issue Wednesday morning. The Thaw/Refreeze cycle will be the case for a few days.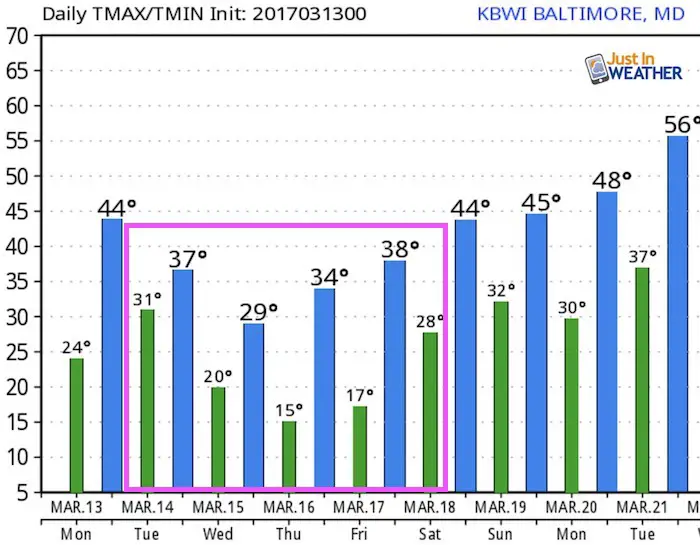 Get the award winning Kid Weather App I made with my oldest son and support our love for science, weather, and technology. Our 3 year anniversary of the release and our contribution to STEM education is this November. It has been downloaded in 60 countries, and works in both temperature scales. With your support we can expand on the fun introduction to science and real weather.
Please share your thoughts, best weather pics/video, or just keep in touch via social media
Faith in the Flakes Online- Flannel PJs Printed Inside Out
Store Now Open