Saturday March 11 – There is so much going on from the deep freeze, clocks forward for Daylight Saving Time, the Shamrock 5K in Baltimore Sunday, and the biggest storm of the year off the coast on Tuesday. Once again I have the model projection maps and I have decided to include the snow totals from two models the morning. But I also want to point out that while the number look high, they are already much lower than just a day ago… and I think more adjusting will be needed when the storm track and freezing line get locked in place.  That is why I do not give my first call for snowfall until 48 hours before an event.  Needless to say, we will have a storm. I have told all of my clients they will be working their plows for the first time this winter… Yes my school clients are on spring break. Murphy's law for them.
Note: The freeze this morning dropped temps to 22ºF at BWI, about 2 degrees off from the forecast I showed yesterday. That buffer could make a big difference in the snowstorm.
Before I show the maps, here are the headlines:
Monday Night: Snow begins by or after midnight
Tuesday Morning: Heaviest snow and closest approach of mix line to I-95
Tuesday Afternoon/Evening: Storm pulls away, temps below freezing
Wednesday: Snow showers continue and staying below freezing
This is the best chance to show off your FITF gear again with reason.
GFS Model —> slider
This is close to a perfect set up for a major snow storm bordering on a blizzard with winds over 35 mph sustained in the heavy snow. My hesitation is the mix/freezing line very close to I-95. A shift of 50 miles could change the totals for millions between Washington, Baltimore, Annapolis, and Philadelphia. See the totals below
[metaslider id=44216]
Canadian Model —> slider
This model is colder, but also not as strong while shifting farther east. This brings heavier snow to the east of I-95 on Delmarva. Just 100 miles east of the GFS Model. See the totals below
[metaslider id=44242]
Snow Potential Maps
Notice the focus of the heavier snow either west or east of I-95.
The GFS Model was showing 24 to over 30 inches a few days ago.  Yesterday it was over 18 inches… The latest is getting shaved back to 14″ for BWI, and this is just the potential. We still need to consider the temperatures and melting before stickage. This adjustment is why I do not like showing amounts yet. At this point I can say we have the potential for a 'foot', but there is still some adjustment for the specifics. 
Canadian Model is farther east with a storm farther off of the coast. This would benefit Delmarva, but but an all snow event with no mixing for the big cities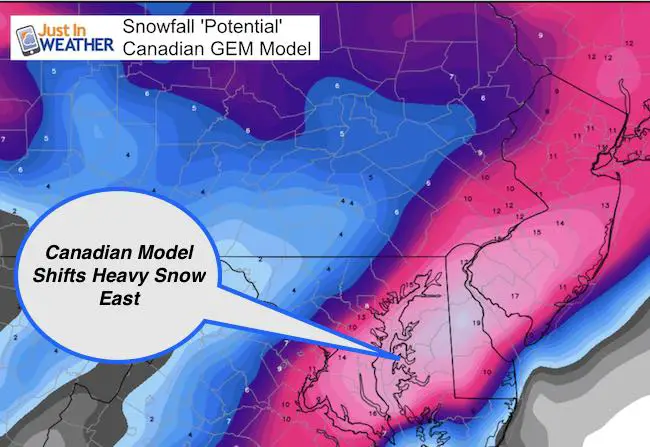 I will post MY FIRST CALL FOR SNOWFALL Sunday morning. 
Jet Stream Shows More: Could there be another storm after this?
—> slider
[metaslider id=44228]
This is what the GFS Model  has in mind next weekend
Temperature Outlook
Again, I see the lag of information included here. The temps on Tuesday look too warm… The cold air may not account for snowpack after the storm passes.
Get the award winning Kid Weather App I made with my oldest son and support our love for science, weather, and technology. Our 3 year anniversary of the release and our contribution to STEM education is this November. It has been downloaded in 60 countries, and works in both temperature scales. With your support we can expand on the fun introduction to science and real weather.
Please share your thoughts, best weather pics/video, or just keep in touch via social media
Faith in the Flakes Online- Flannel PJs Printed Inside Out
Store Now Open
Faith in the Flowers
In a few weeks my friend Lexi Hack and I  will be bringing back these shirts and the fundraiser for Save a Limb Fund at Sinai Hospital. Also stay tuned for my new Storm Smart Assembly program. A STEM based assembly on severe weather for elementary and middle schools.