Friday March 10 – The snow this morning was already showing up in Pennsylvania at 5 AM while light rain is developing in central Maryland. Temperatures were still rather mild (mid 40s) ahead of the front and the lag of colder air will mean that heavy snow will fall from colder clouds, but fall on warm ground and with temps just above freezing for a while. The makes it difficult to determine where the stickage will be. It's one thing to get it on the grass and measure it, but the roads are really the concern.  Heavy snow can cover roads with slush even when the air is still above freezing… if it is heavy enough. Also, visibility will be lowered with big flakes.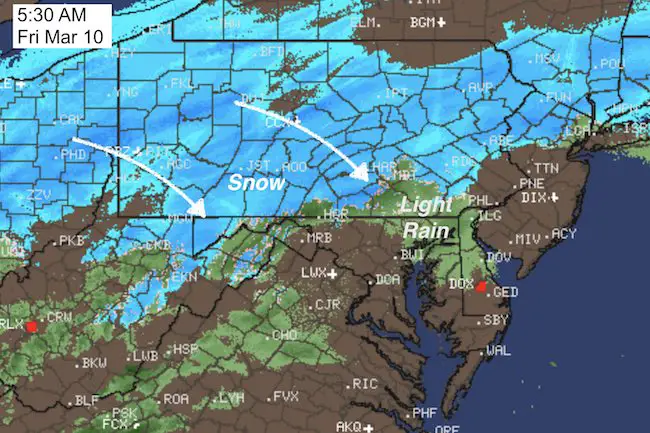 "If it doesn't snow by you, it doesn't mean it didn't happen" – You can quote me on that. There may be three to 4 four of snow from Westminster to York PA this morning, while Towson may only have an hour or two. Meanwhile Baltimore and south may only get a brief band of snow around lunchtime.
Here's the timeline to transition… it looks rain this morning will change over in a few hours.  The snow line will stay north of Annapolis and the heaviest may be between 9 and 11 AM. At that point, traffic is lower and the higher sun angle should help limit stiackge on the roads. The freezing line will stay up in northern Maryland and southern PA where there may be a brief period of snow snow covered roads.   Below is a look at the Tuesday Coastal storm.
Snow Timeline
Radar Simulation —> slider HRRR Model
York get snow between 7 and 8 AM. Westminster by 9 AM. But Towson and north Baltimore might not see the change until 11 AM
[metaslider id=44167]
Temperatures
Still above freezing and snow on the north end near PA line.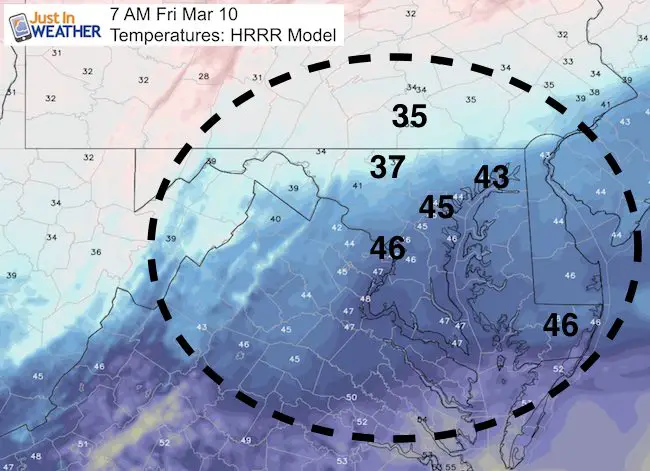 Coldest period of the morning….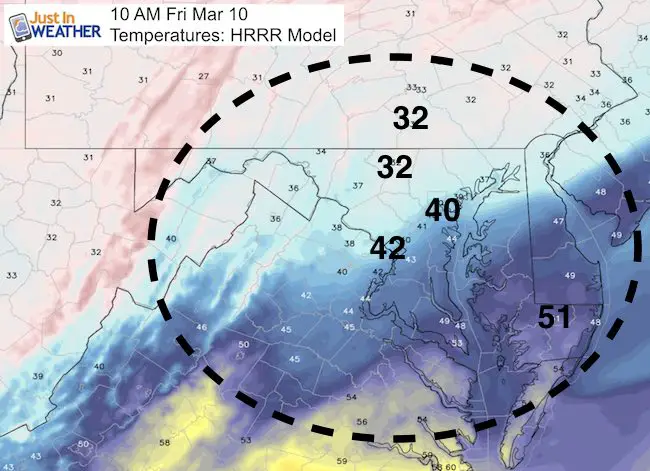 Windy, but above freezing. Temps will crash after dark.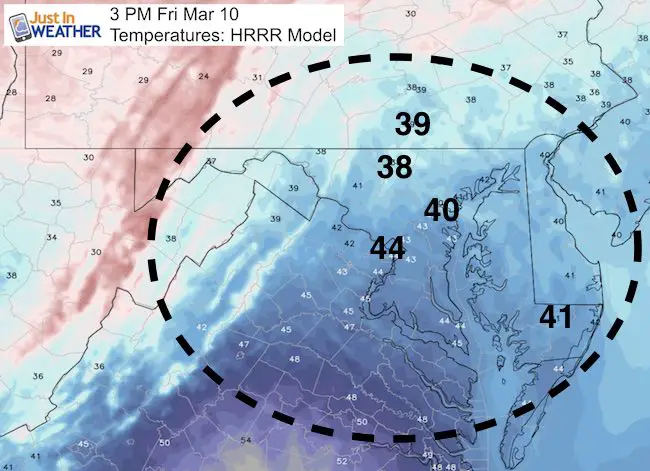 My Final Call For Snowfall
Note- mostly on the grass.
Most roads will be wet.
Most likely travel issues will be 7 to 10 AM north/west of Baltimore.
Snow showers afternoon and evening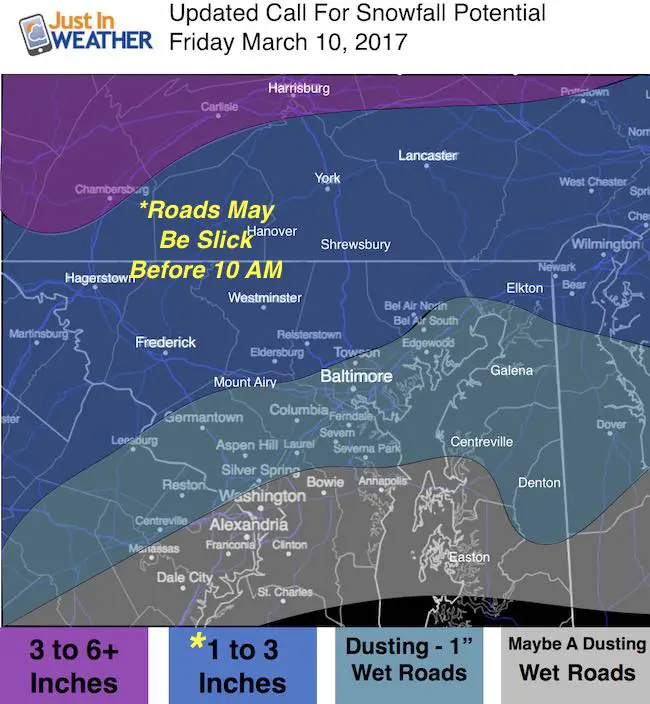 Weekend:
Note the Sunday Storm will stay south… But we will have a bitter hard freeze that will kill early sports and blossoms. Lows down near 20ºF Saturday through Monday morning.
Coastal Storm Tuesday
—> slider GFS Model
This is important to keep in mind: The track is still not a lock. A shift of even 50 miles can make or break the rain snow line that is very close to Washington and Baltimore. So no promises yet and I think posting snow maps for this event now is irresponsible and misleading.
[metaslider id=44180]
Temperature Outlook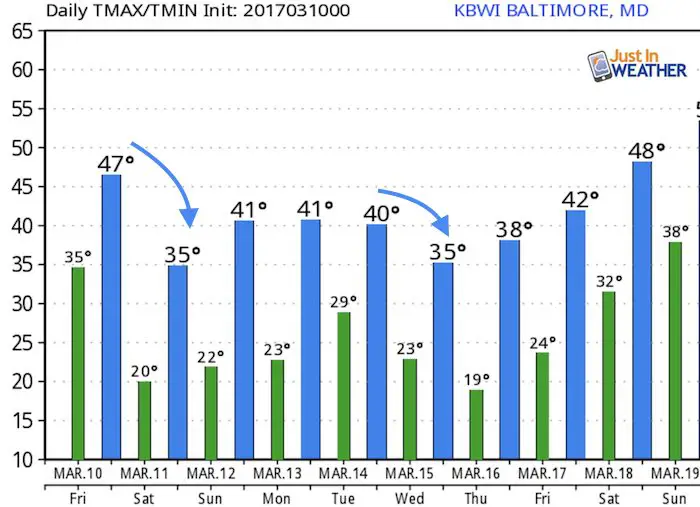 Get the award winning Kid Weather App I made with my oldest son and support our love for science, weather, and technology. Our 3 year anniversary of the release and our contribution to STEM education is this November. It has been downloaded in 60 countries, and works in both temperature scales. With your support we can expand on the fun introduction to science and real weather.
Please share your thoughts, best weather pics/video, or just keep in touch via social media
Faith in the Flakes Online- Flannel PJs Printed Inside Out
Store Now Open
Faith in the Flowers
In a few weeks my friend Lexi Hack and I  will be bringing back these shirts and the fundraiser for Save a Limb Fund at Sinai Hospital. Also stay tuned for my new Storm Smart Assembly program. A STEM based assembly on severe weather for elementary and middle schools.