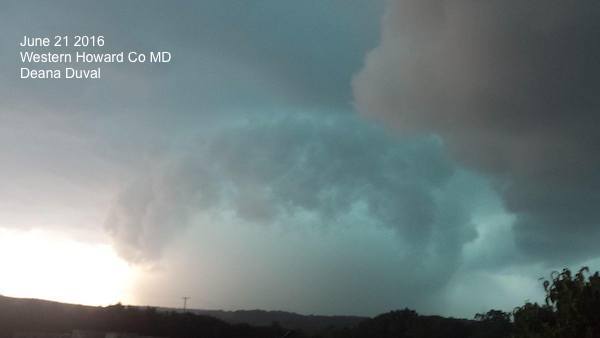 June 23 2016 – The severe storms that hit on Tuesday June 21 was confirmed by the National Weather Service as an EF-0 tornado in western Howard County. Some of the towns affected along the 12 mile path were Lisbon and Woodbine, about 30 miles west of Baltimore. The scenes of destruction included large trees twisted off and roof destruction. That followed numerous incredible cloud formations, many of which I wrote about.  But when I was approached with this photo suggesting that it was the tornado, I was skeptical.
In fact, Vicky Cutroneo sent me a photo from a Facebook page she runs saying just that. This image was taken by Deana Duvall, and I kindly suggest it was just the shelf cloud and turquoise coloring was due to the hail falling from the clouds.  That is often the case, and when there is a tornado, hail can be quite large, but falls from a different part of the storm.  But after seeing the video below, I had to take that statement back.
While we often think of tornadoes as distinct ropes or wedges in a rain free part of a supercell storm. That is what we often see from storm chaser videos. A well structured healthy storm will produce that, and those videos are often with an EF-2 rating or higher.  This Howard County storm was the lowest on the scale. Still a formidable with event estimated winds of 80 mph, but that level system is more likely to be rain wrapped.
Check out this security cam video thanks to Martha Neale who owns Modern Foundations, Inc. They are located at 7860 Kabik Court, Woodbine, MD. 21797. It turns out this was the exact location as Deana's photo. The video camera is on their cement silo and faces SW.  Mrtha asked if this was the tornado forming, and you will see a cloud structure similar to the photo above.  Look closely and you will be able to view the clouds on the left moving away while the clouds on the right are coming towards and wrapping around the structure with some rapid enhancement at the base of the main cloud deck, on the periphery of the circulation.
Video Of Tornado Formation 1:39 PM to 1:44 PM EDT June 21 2016
Is there a tornado in there? It may be camouflaged by the rain in this case.
National Weather Service Tornado Report
...Tornado Confirmed in West-Central Howard County MD...

Location...West-central Howard County MD
Date...June 21 2016
Estimated Time...1:29 PM TO 1:48 PM EDT
Maximum EF-Scale Rating...EF0
Estimated Maximum Wind Speed...80 MPH
Maximum path width...500 Yards
Path Length...12.75 Miles
Beginning Lat/Lon...39.3314/77.1119
Ending Lat/Lon...39.2656/76.8913
Fatalities...0
Injuries...0
See more below
Also See: 
Top 10 Shelf Clouds From June 21
Confirmed Tornado and Damage Photos

Tornado Path Plotted
This ran parallel to but just south of  I-70

If you have storm damage such as dents from hail, RPS can help
More about the tornado path from NWS
Preliminary results: a tornado rated EF0 with estimated max winds of
80 mph...tracked 12.75 miles across portions of western and central
Howard county. Max path width was up to 500 yards. The tornado
lasted from approximately 129 PM EDT until it lifted at 148 PM EDT.

Tree damage from thunderstorm downburst (straight-line) winds was
noted as far west as Schafferville Rd, between Long Corner Rd and
Florence Road.

Initial tornado touchdown was established near the intersection of
Old Annapolis Road and St. Michaels Road just southwest of Lisbon at
129 PM EDT. Properties there sustained tree damage with multiple
trees snapped, uprooted, and topped in multiple directions. A large
garage had its doors bowed by the wind. Small objects were lofted.

The tornado continued towards the southeast, passing through the
areas of Glenwood and Glenelg, before lifting just before Ellicott
City in the vicinity of Manor Lane and Carroll Mill Road. Along its
path, the tornado caused nearly continuous tree damage, with large
trees and tree branches snapped, uprooted, and topped in multiple
directions. The trees downed many power lines and blocked multiple
roads. Some trees and large branches fell on homes and garages.
There were a few instances of minor roofing damage from the wind,
but largely home damage was limited to tree falls. Several small
outbuildings were either damaged or destroyed.

Minor wind damage from strong thunderstorm winds continued southeast
into Ellicott City, but no tornado damage was found.

Limited Edition Flag Inspired Shirts: These Flakes Don't Melt
Click here for our web store to get in on the special. Stars are flakes, and rulers measuring the piles make up the stripes display a few metaphors that might connect with you.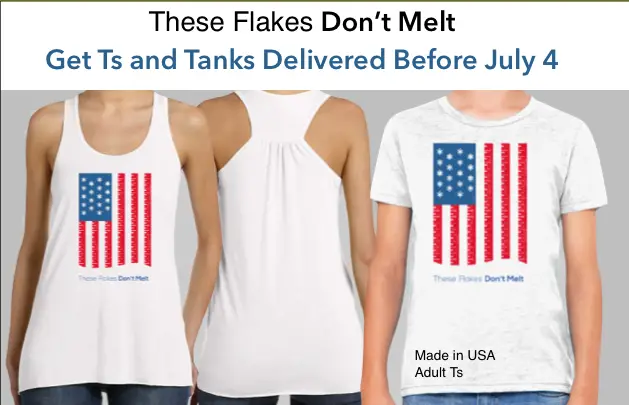 Personal design of our flag with a snow theme to keep you cool in the summer heat. These are available for two weeks, so we can promise delivery by July 4.
I am one flake that will not melt this summer as I train for my Trek Across Maryland Aug 7-13. Proceeds will support the preparation for this event and I thank you ahead of time.
Click on our web store to order yours before June 29. My entire family will be sporting these for the fireworks. Will you join us?
Please share your thoughts, best weather pics/video, or just keep in touch via social media
Get the award winning Kid Weather App I made with my oldest son and support our love for science, weather, and technology. Our 3 year anniversary of the release and our contribution to STEM education is this November. It has been downloaded in 60 countries, and works in both temperature scales. With your support we can expand on the fun introduction to science and real weather.