Thursday June 16 1:30 PM – Watching a line of severe storms to our west move our way, it is easy to expect we will get in on it. Combine the high humidity and easterly wind flow and those storms will have plenty of resources to survive past the mountains. But digging a little deeper, there is a frontal boundary draped across our area, with central Virginia reaching the upper 80s, but a northeasterly wind is holding central Maryland and PA in the 60s. The winds are holding this nearly stationary, but should it budge a little, that can change the track of the worst weather tonight.
We still have a Flash Flood Watch and under the risk of storms turning severe. That is not a promise, but a good chance that some storms could produce a quick 1 inch or more of rain, damaging hail over 1 inch, or winds over 60 mph.  The best we can do now is plot the front and show the hourly radar simulations that basically calculate what is seen now and how it is likely to progress. This shows a few clusters of storms reaching our area, with the most strongest and most likely severe weather dropping just west and south of Washington.
Radar Simulation –> Slider
[metaslider id=37931]
Flash Flood Watch

Large Hail Over 1 Inch Diameter
See the live interactive radar on my home page
Limited Edition Flag Inspired Shirts: These Flakes Don't Melt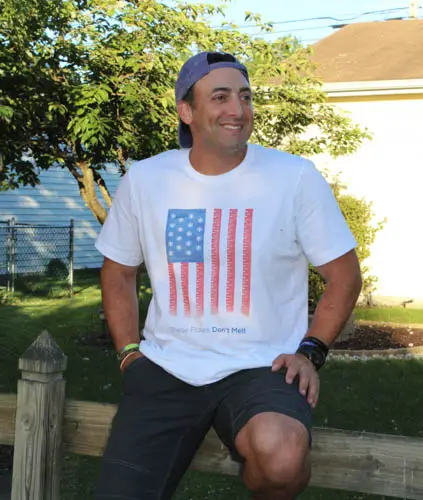 Click here for our web store to get in on the special.
Personal design of our flag with a snow theme to keep you cool in the summer heat. These are available for two weeks, so we can promise delivery by July 4.
I am one flake that will not melt this summer as I train for my Trek Across Maryland Aug 7-13. Proceeds will support the preparation for this event and I thank you ahead of time.
They are available for:
in tank-tops and Made in USA T-shirts. Click on our web store to order yours before June 30. My entire family will be sporting these for the fireworks. Will you join us?
Please share your thoughts, best weather pics/video, or just keep in touch via social media
Get the award winning Kid Weather App I made with my oldest son and support our love for science, weather, and technology. Our 3 year anniversary of the release and our contribution to STEM education is this November. It has been downloaded in 60 countries, and works in both temperature scales. With your support we can expand on the fun introduction to science and real weather.