Wednesday June 15 9 PM – Did you notice the increase in humidity today? After the rain this morning that was more pronounced than expected for sum, a moist wind off of the Bay and Atlantic followed. That southeasterly wind from the water will enhance the disturbance on the way in tonight. This follows the saying I often repeat in set ups like this: Wind from the east will feed the incoming beast. The radar simulation below expands on what I showed earlier as showers will develop across our area tonight. The flare up of some thunderstorms will be followed by why appears to be a stalling of the line of rain for a few hours Thursday morning. I don't expect severe storms, but some loud boomers and locally heavy rain (which we need ) is possible.
First, in case you have not seen this yet…
Limited Edition Flag Inspired Shirts: These Flakes Don't Melt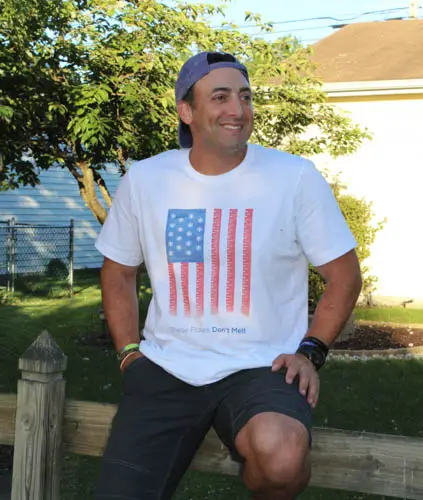 Click here for our web store to get in on the special.
Personal design of our flag with a snow theme to keep you cool in the summer heat. These are available for two weeks, so we can promise delivery by July 4.
I am one flake that will not melt this summer as I train for my Trek Across Maryland Aug 7-13. Proceeds will support the preparation for this event and I thank you ahead of time.
They are available for:
in tank-tops and Made in USA T-shirts. Click on our web store to order yours before June 30. My entire family will be sporting these for the fireworks. Will you join us?
Back to the weather….
Radar Simulation –> slider
You will notice one wave after midnight, then a second around sunrise. This will be the one that stalls between Harrisburg and Baltimore making I-83 to I-95 a wet morning commute.
[metaslider id=37890]
Note: The rain in the morning might stabilize the atmosphere for the rest of the day as the worst storms may pass to our west. We will have to reevaluate that in the morning.
Please share your thoughts, best weather pics/video, or just keep in touch via social media
Get the award winning Kid Weather App I made with my oldest son and support our love for science, weather, and technology. Our 3 year anniversary of the release and our contribution to STEM education is this November. It has been downloaded in 60 countries, and works in both temperature scales. With your support we can expand on the fun introduction to science and real weather.