June 14 2016 – These Flakes Don't Melt!  My labor of love is now ready to debut with this new art design. When I was delivering Faith in the Flakes shirts to schools this past winter, I had this idea for an American Flag. Flakes for stars and snow sticks measuring the snow for stripes. Sounds easy enough, but I must thank freelance artist Lindsey Gemmill for being the person to get it just right. I had initially intended this to be a special edition to launch today on Flag Day, and be ready for delivery by July 4.  It had to be Made in USA, and that was not easy to find. Click on the image or link below to order.
I know… Why do this entering summer?  My purpose, besides my neurotic obsession with snow, was to help with my Trek Across Maryland preparation. There are a lot resources that go into my event in August besides training. In essence, I do my 325 mile training and trek during the hottest time of the year. It is a form of self punishment and reinforces my personal mission to inspire kids fighting health battles.  I am one flake that will not melt! Just getting a shirt for you or a matching group for your family would be a big support building this endeavor.
What better way to show your American pride and your 'cool' at the same time?  We were only able to find this soft, light weight T-shirt made in USA.  We've added a popular ladies' tank, men's tank, and also shirts for the kids that were made by a Maryland work force.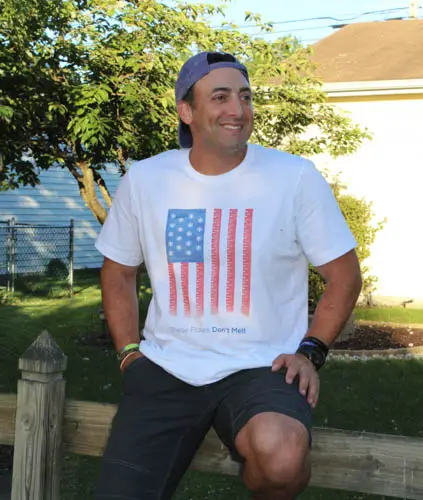 If you want to help support my trek, year 'round work, or just show a unique spin on old glory on this 4th of July,  please check out our web store.  This special edition will be available for two weeks and delivered before Independence Day. If they go well, we will bring this back in the fall on colder clothing options.
Note: The orientation of the union in the upper left corner is proper for a vertically hanging flag. I researched this, and it was a discussion with a few artists and veterans to make sure it was done correctly. I also purposely did NOT make this with 50 flakes and 13 stripes. There is a sense of artistic freedom here, but I still believe that our flag in its tradition form should not be messed with.
Credit to the wonderful Kristin Hollis of Cloudjumper Photography for the impromptu photo session today 🙂
These Flakes Don't Melt™ web store powered by Carroll County Screen Printing and EMS Books (a proud sponsor of Trek 3 Across Maryland)
About My 3rd Trek Across Maryland
On August 7th I will be embarking on my 3rd trek across Maryland for Cool Kids Campaign. This is a 325 mile hike and bike from the summit of Wisp to the Inlet of Ocean City over 7 days. When I was 14 years old I almost lost my leg, but recovered and went back to playing sports. I do this to inspire kids battling cancer today and share their stories.  I am looking for fun and ambitious people to join my team. You can do a single day, the whole week, or provide your own team. There is also a big opportunity for box partners to pledge and get large media exposure in return. Please see this link and contact Victoria at Cool Kids Campaign to signup. The trek route and more about my story is on my trek page.
Please share your thoughts, best weather pics/video, or just keep in touch via social media
Get the award winning Kid Weather App I made with my oldest son and support our love for science, weather, and technology. Our 3 year anniversary of the release and our contribution to STEM education is this November. It has been downloaded in 60 countries, and works in both temperature scales. With your support we can expand on the fun introduction to science and real weather.