The weekend snow was perhaps our last taste of winter for a while. The snow was forecast, but the stickage and extent into southern Maryland was a surprise to many. Here are a few additional photos that I thought needed their own recognition since I only saw them after I posted the top 20 Saturday evening. I think you will find that if you missed these, they were worth the additional post. Below you can see the link to the other pics and my snow forecast map for comparison to what you may have had by you. Note: It appears central Maryland around metro Baltimore missed out as snow did stick north and well south of the city.
I call this, "Lickage and Stickage"
I tweeted this last evening and Jim Cantore had to share it with his followers. Yes, indeed weather geeks come in many varieties.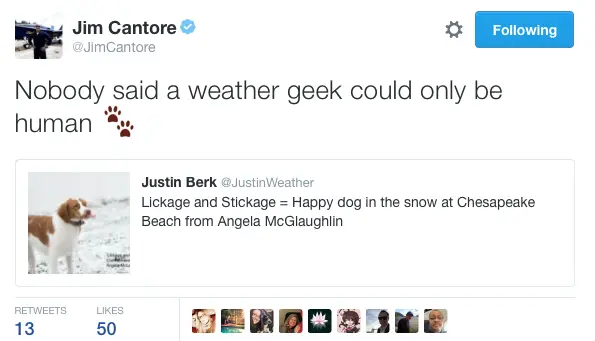 Not all dogs were amused with the snow
The Essex Community College lacrosse team has bragging rights
This Blue Heron in Columbia was just going about his day as if it was nothing different. Great pic from David Sun in the snow.
There was up to 3 inches in Calvert County, enough for another snowman
These trees highlighted the contrast of colors
Some are hardy, but others represented pain inflicted on many farms… what is likely a failed early fruit crop.
Click here to see Part 1: Top 20 Photos.
I still can't get a formal snow map from the National Weather Service as it is a bit out of season. But we know it happened, as seen in these photos. Here was my call for snowfall. Did it match what you got? I know southern Maryland was a surprise with their stickage in Calvert and Prince George's Counties.
Faith in the Flowers- For Lexi Hack and Save A Limb Fund
Order this week and get them in time to wear when Lexi goes back to school. Order 10 or more and shipping will be free!
These shirts (baseball T comes with red or black sleeves) and eco-friendly Tote Bag come with a bracelet to help raise money for 16 yr old Lexi Hack. She is having her 5th and final surgery on April 12 to fix her legs. She wants to give back to Sinai Hospital and the program that paid for the procedures. Please consider joining us: 

Please share your thoughts, best weather pics/video, or just keep in touch via social media
Get the award winning Kid Weather App I made with my oldest son and support our love for science, weather, and technology. Our 3 year anniversary of the release and our contribution to STEM education is this November. It has been downloaded in 60 countries, and works in both temperature scales. With your support we can expand on the fun introduction to science and real weather.
[/fusion_builder_column][/fusion_builder_row][/fusion_builder_container]