With the impending blizzard of 2016 tagged to hit January 22 to 24, I wanted to focus on Baltimore snow history to show how epic this event should be. I have an obsession with snow and I'm a statistics guy. That's a great combination and encouragement for STEM educators. I've compiled the records of major snowstorms plus annual snowfalls. This includes some regional impact storms.  The Blizzard of 2016 will break a pattern for us, or is it starting a new one with more frequent events? Perhaps it is repeating a pattern that was set 50 years ago?  FITF There have been estimates that a top storm today could cost of $1 Billion.  Below are some of those stats and charts for you to compare as the blizzard bears down on the entire region, not just Baltimore. But based on Baltimore and patterns, an example was our December 5th date with destiny, the date of our first snow almost every year for a decade. There are other patterns recently and over longer periods of time. Check it out and Faith in the Flakes.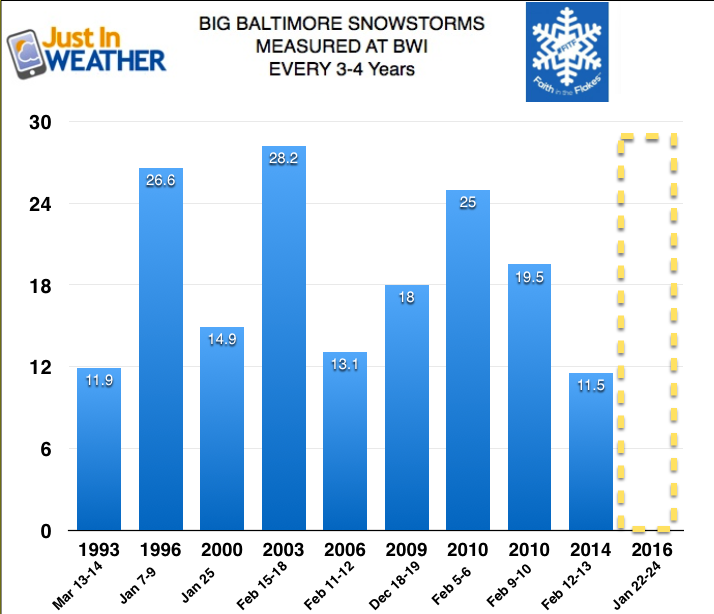 We've also had a pattern of large snowstorms every 3 to 4 years in Baltimore dating back to the early 1990s. That includes events nearly a foot (11.5″ or more). The triple blizzards of 2009-2010 fit that, but also broke it with three events in one season.  Our last one was around Valentine's Day in 2014. That was two years ago, and the reason why I did not expect a major event this season. Well, I was wrong about that.  This storm will surely break out pattern, and give Baltimore 5 major storms in the past 6 years.
Note: The blizzard of Feb 2010 was on the way to the top all time storm… but right before it ended, The National Weather Service changed it. They said the snow measuring procedure by the FAA at BWI (measuring every hour then wiping the board clean) was not accurate compared to NOAA guidelines of measuring every 3 hours and allowing for weight and compression. They went back and lowered snow totals, including the December 2009 event and prior. 
Depending of your visual preference, I've compiled this same in a chart below.
Baltimore To Snowstorms
We need to pile up 19.5 inches of snow to break into the top 10 on record (note all time is poor wording since we only have records dating back to the 1870s)
I made this list a few years ago to show that almost half of our major snowstorm have come in the month of February. Often around Presidents Week.  This breaks that trend as well.
Top Regional Storms: Northeast Snowfall Impact Scale NESIS
Here are the top 2 storms for our region based on size, population impacted, snowfall, and dollar cost. The estimate for a top storm today is over $1 Billion
Baltimore Snowfall By Decade
[metaslider id=33237]
You want to talk extreme weather? Look at the least snowy decade of the 1950s. That was followed by the most snowy decade in the 1960s. Looking at these decades is one reason why I suggested that we were in a upward snow trend after the relative drought. But we have had some of our largest snowstorms in the past decade.
Average And Record Monthly Snowfall
Faith in the Flakes Online- Flannel PJs Printed Inside Out
Store Now Open
We've added Flannel PJ Pants that will be printed inside out. They have to be, to make it snow ?
Free Personal Delivery for orders of 20 items or more to schools and businesses.
Click this image for the online store.
Look for more items to be added soon.
Also see the info for the STEM Assembly Spirit Wear program:  Put your school name on the shirts and raise money for you PTO/PTA in the process.
Sign up for email updates on new posts
Since you may miss some posts via social media, click here for email alerts as a way to make sure you don't miss any.  *You may have to refresh that page once for your browser to clear out the images.
Get the award winning Kid Weather App I made with my oldest son and support our love for science, weather, and technology. Our 3 year anniversary of the release and our contribution to STEM education is this November. It has been downloaded in 60 countries, and works in both temperature scales. With your support we can expand on the fun introduction to science and real weather.
FITF SNOW STICKS
Available in 2 Ft, 30 Inches, and 3 Ft Sizes. Also with Orange/Black or Purple/Black. Click on the image to see the options offered by my friend Thatcher at Signs By Tomorrow in Timonium.
Go to http://www.signsbytomorrow.com/timonium/ to order yours today! Click the 'Request a Quote' button at the top of the page. In comment box include color, size and payment information. Please indicate whether you'd like to have us UPS ship them to you or if you would like to pick up in our store. Snow Sticks will ship or will be ready for pick up in our store 48 hrs after order is placed, Mon-Fri.
 [/fusion_builder_column][/fusion_builder_row][/fusion_builder_container]