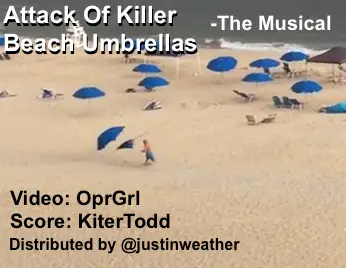 When Kristy Gizinski sent me the original video from an Ocean City, MD wind storm on July 20 I knew it was a talker, but I had not idea how popular Umbrellas Gone Wild would be. Kristy's aunt (still waiting for a name to credit) captured a moment from a high rise on the north side of Ocean City that is priceless.  Two days of storms along the Maryland and Delaware beaches produced flooding along with great weather photos of lighting and rainbows (see links at the bottom of this post). But dozens of umbrellas flying down the beach had a certain charm within the danger it posed.  In less than a day, it was seen via my Facebook post by over 300,000 people and made an appearance on Good Morning America.  Then I found this new version set to the musical score The Valkyrie: Act III – Ride of the Valkyries. One of four operas by Richard Wagner. As KiterTodd mentioned in his version, it was begging for a musical score, a sentiment many shared online.
What you hear may sound familiar. This ballad has been used in many movies and TV shows. A few funny, and few quite somber. Some of the most popular that you may recall include:
D.W. Griffith's film Birth of A Nation (1915)
Apocalypse Now. Helicopter Scene of the Vietnam War (1979)
"What's Opera, Doc?", Looney Tunes. (1957) Buggs Bunny fooling Elmur Fudd
Blues Brothers (1980)
The Simpsons have used it multiple times.
Super Troopers (2001)
Video: Attack of the Killer Beach Umbrellas
There is one edit, a slow motion view of one man trying to spear the beach umbrella with another one. He missed but got out alive.  No one was hurt, which is what allows this to be funny. Umbrellas 1; Humans 0.
I want to make sure proper credit goes to OprGrl for the original version. Hopefully some of the add revenue will be shared or she will license her original when aired on TV. That's how many people make money from their online videos. This is deserving of it.
Also see the original unedited video: Umbrellas Gone Wild
Share your best weather pics/video or just keep in touch via social media
Get the award winning Kid Weather App I made with my oldest son and support our love for science, weather, technology. Our 2 year anniversary of the release is this November and it has been downloaded in 55 countries. With your support we can expand on the fun introduction to science and real weather:
Related Links:
.
.
.
.
[/fusion_builder_column][/fusion_builder_row][/fusion_builder_container]