This morning there was a surprise by the Chesapeake Bay Bridge. I received a few pictures and one video of a waterspout which I included in my first report.  The contrast of a small sailboat, and even a barge looked ominous. In fact, there were multiple funnels in a line of clouds that hovered between the mainland and Eastern Shore of the Bay.  In response on Twitter, Jim Cantore (from TWC) asked me is it reached the water.
Well, indeed it did. There are a few views showing that. Since then, there was a tremendous follow up support the views of multiple funnels from various angles. All of those can be seen below, but first I wanted to answer the question: What the heck happened?
Convergence Cloud!
Look at this long narrow cloud down the throat of the Chesapeake Bay. Warmer air over the water rose and was filled in on both sides from cooler air form the land.  This met mid way, rose with moisture, and created this dramatic scene.


This was noted by the National Weather Service (Baltimore/Washington). They pointed out the convergence seen on satellite, but still the funnel clouds were not expected.  Again, it was ironic that there was a Marine Warning near Virginia Beach at the southern point of the Bay between 7:12 AM and 7:45 AM, but was 200 miles away.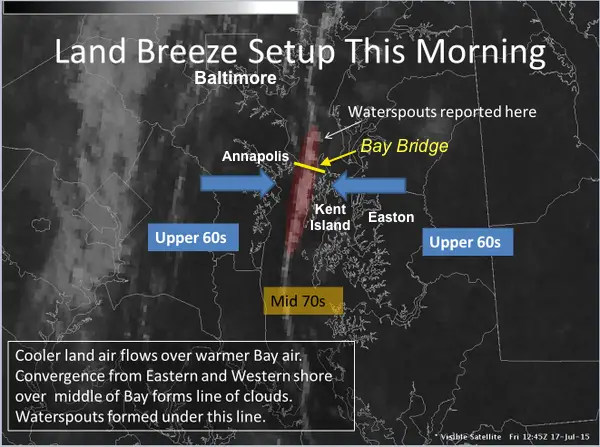 15 Photo Followup Slider
Look closely and you will see many that do show the spray up from the Bay.
See the prior post for more pics and video
[metaslider id=27162]
Must repeat this this photo from my last post from Deborah Sanders showing the multiple funnels.
Keep in touch via social media
Other Recent Waterspouts
April 20: Calvert County off Plum Point
Memorial Weekend: Waterspout video as it comes onshore and lifts a bounce house  with kids inside
Get the award winning Kid Weather App I made with my oldest son and support our love for science, weather, technology. Our 2 year anniversary of the release is this November and it has been downloaded in 55 countries. With your support we can expand on the fun introduction to science and real weather:
Other Posts You Might Like
1 Lightning Strike Captured By 3 Different Photographers in Annapolis
Best tornado video from Saturday and May 17 storm outlook
UFO on video during a lightning storm
Lightning Over Baltimore Early Morning July 15
Heart Lightning Discovered Over Baltimore
4 Inch hail In Baltimore County
27 Flood Photos From June 27 Storm[/fusion_builder_column][/fusion_builder_row][/fusion_builder_container]