October 5 2021
What happened that that Fall weather?  Well, according to the latest NOAA Outlook, it appears autumn is on hold, sort of.  
We closed out September in Baltimore with temperatures running 2.2ºF above average (both Highs and Lows).  However the month only brought 2 days at 90ºF or higher. That was actually less than a normal year.
I wanted to take a closer look at the NOAA outlook maps for the next 6 to 10 days. The temps show a large dark red bullseye one the eastern half of the nation. This gives the impression of heat, but that might be a little deceiving. However, we will be delaying the cool down this month, at least for the next week or two. 
Temperature Outlook
Forecast Days 6 to 10
Yes, this looks like we will be 'above normal'. What is 'normal', nowadays anyway???
This is NOT how hot it will be. Rather, this is showing the ODDS of temps being above average. It could be only 1 degree higher, but PROBABILITY of temps being above average.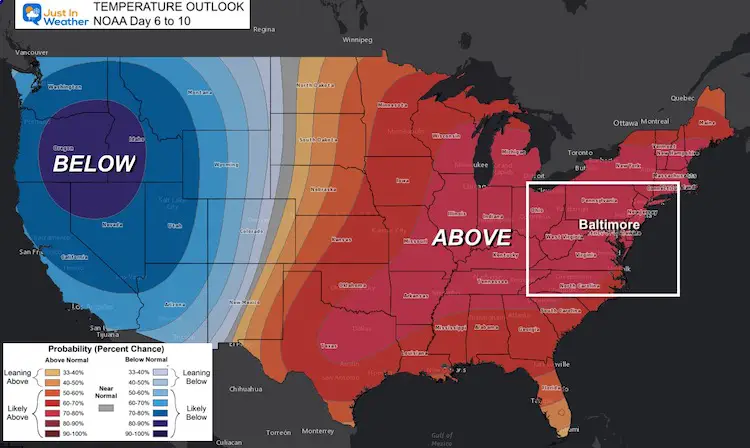 Climatology
Let's take a look at Baltimore's weather records/climate data. This is a collection of weather recorded and calculated averages we can expect on a given day.
Using the BWI official weather station, we can see the TREND for high temperatures actually drops 1 degree every two to three days this month. 
After starting the month with an 'average high' of 73ºF, we should reach 70ºF on October 9th, and 62ºF by Halloween.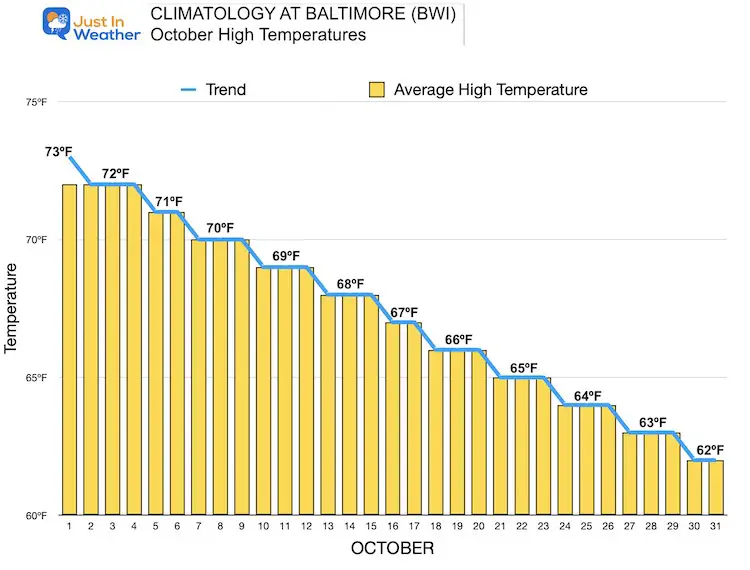 Historic Record Heat Waves
The hottest we have seen during our time frame includes:
1941
5th = 97ºF

6th = 95ºF

7th = 96ºF
1954
11th = 89ºF

12th = 89ºF

13th = 89ºF
Can we expect a Heat Wave?
NO!
In fact, the ECMWF Forecast is showing a steady state of high temps 'expected' to remain in the 70s.  So as temps should be trending down, simply remaining nearly the same is actually a trend above normal. We still could see an 80ºF day or two in the mix.  We are referring to BWI here, after all.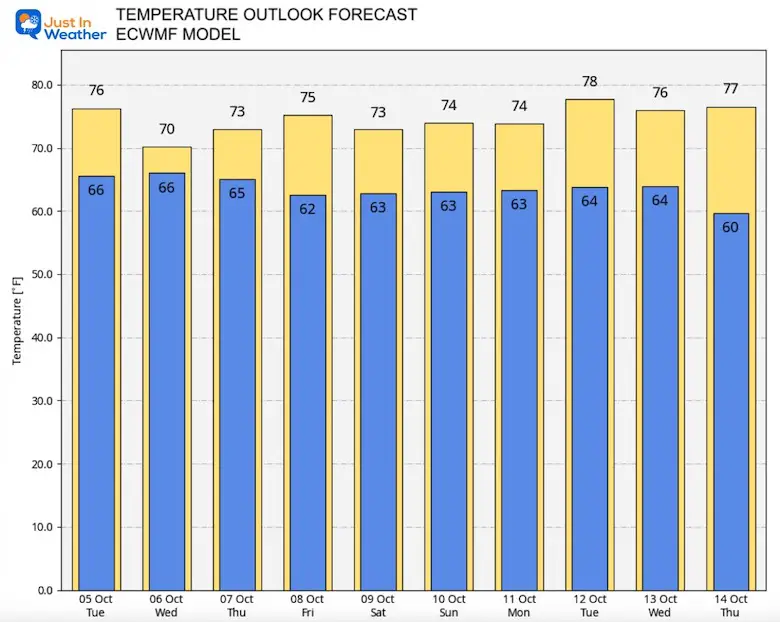 If you ask me, it's too warm for October. However, when we have an extreme pattern on the high side, the flip usually follows. So perhaps we may be ending the month cooler than average to balance this out.
Rain Outlook
The other aspect of weather will be the precipitation. That is important to harvesting crops and your still working your yard.
At this point, the weather pattern appears to hold our expectations to be Near Normal' for rainfall.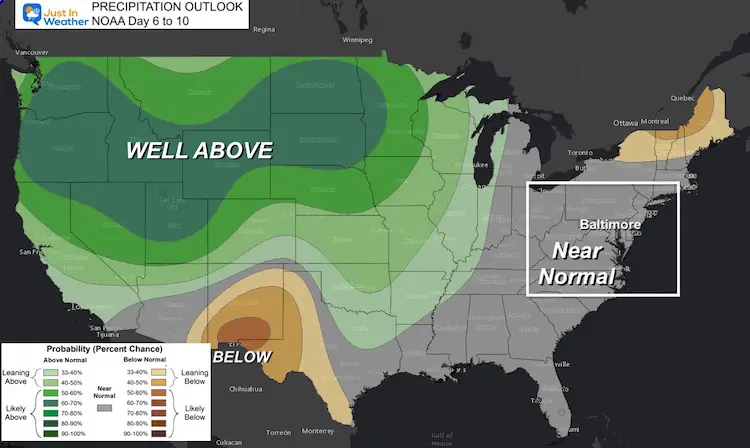 Something Else To Watch For
I just got the work from my web developers that we are now in migration mode for my new website. It should be up and running by the end of this week.   
It will be in the same URL location, but a major step forward in what I will be able to share with you.   Stay tuned….
INTERACTIVE WEATHER PAGES
14 Local Maryland Pages (and York PA)
We have made a page for Maryland Weather which gives you the current conditions for 14 present area locations.
Local Hourly Forecasts and Local Radar
Central Maryland
Delmarva
Pennsylvania
Maryland Trek Gear

Maryland Trek 8 Says THANK YOU!
Running Total Raised $116,438
During 329 Miles From Wisp To Ocean City
To Honor Kids In Cancer Treatment and Support FREE Programs At Just In Power Kids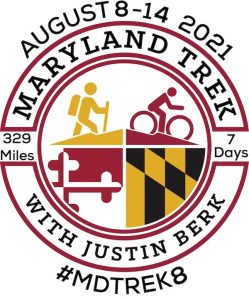 Please share your thoughts, best weather pics/video, or just keep in touch via social media