September 24 2021
This first full weekend of the Autumn Season may seem a little early to talk about fall foliage. However, a full chilly nights and sunny mild days ahead should help accelerate the changing of colors in the mountains. In fact some color is already starting to pop in spots of the nearby inland suburbs of Baltimore and Washington. 
In this post, a report on the leaves in Maryland, plus forecast maps for the rest of the region. 
Fall Sun Facts
7:00 PM Sunset 
Today (Friday September 24) is the last day of the year with sunlight at 7 PM in Baltimore.
2 minutes and 33 seconds
This is the loss of sunlight each day now. This is the fastest loss of daylight each day for the entire year.  The loss of sunlight each day will slow down in the middle October. 
Maryland Report
I said it was early, but the Department of Natural Resources is indicating the leaves are 'just changing' in the mountains of western part of the state. This includes Garrett and Allegany Counties. 
From metro Baltimore this would about a 2 to 3 hour car ride.
We should see a lot more in the next two weeks.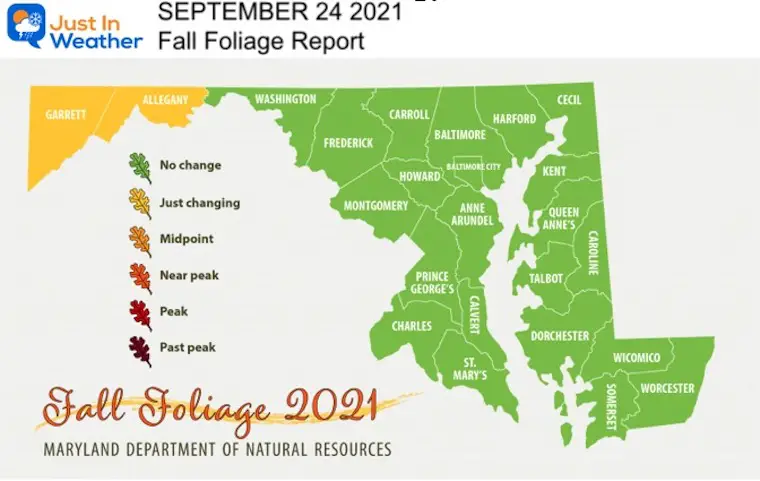 See a live WEB CAM from Garrett County below
West Virginia Leaf Report
Division of Forestry provides this average map for expectations over the next 5 weeks.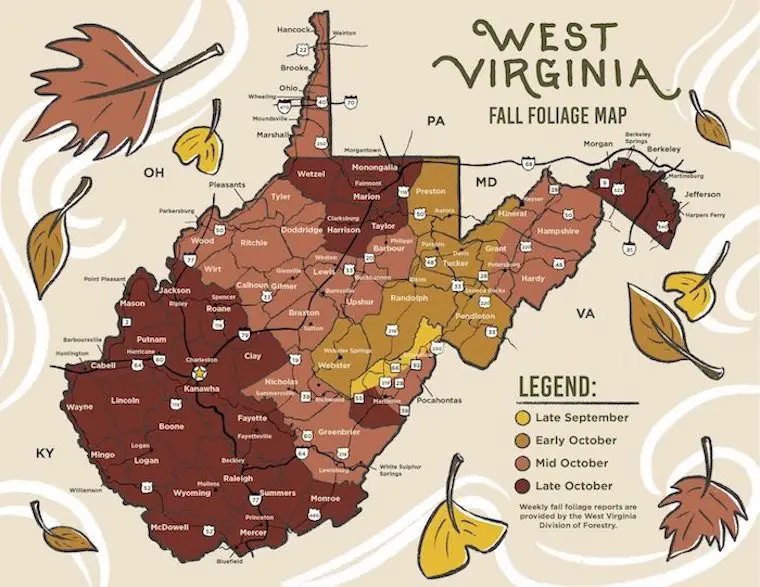 Virgina
Virginia Department of Forestry
A current report is not available for the state. We do have this forecast map for the expected peak color during October.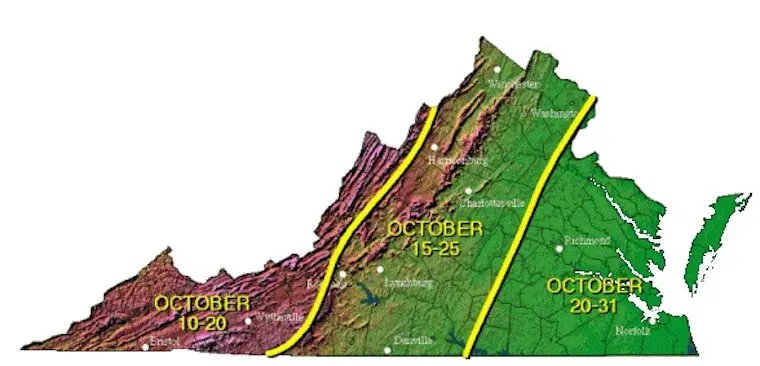 Pennsylvania 
No official reports here,  yet.  I expect to have more info next week in my next update.
Forecast: Mid Atlantic
Assuming normal conditions, this is the expectation of leaf color change into early October. 
Things that can change could be a large rain and or wind event. 
Week Of September 27
Week Of October 4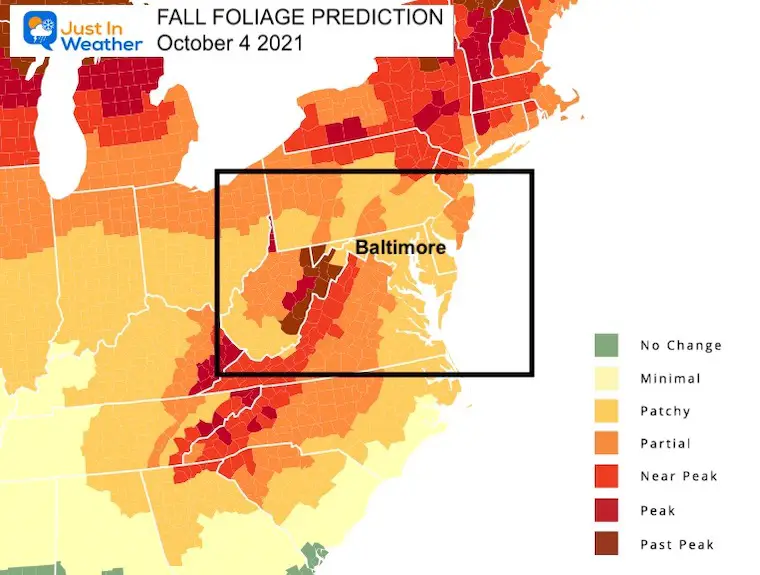 I will have updates weekly to help you plan your day trips.
Also See:
Autumnal Equinox and Fall Facts
Deep Creek Web Cam – From Railey Realty
Here's a look at a live web came from Railey on Deep Creek Lake. The water holds heat longer, so there may be more color in other parts of the county.
This web cam is located at The Greene Turtle Deep Creek Lake. It will pivot to show Wisp Resort, including a zoomed-in view of Squirrel Cage, The Face, the terrain park, Boulder, the mountain coaster, the tubing park and a shot of McHenry Cove at Deep Creek Lake!
INTERACTIVE WEATHER PAGES
14 Local Maryland Pages (and York PA)
We have made a page for Maryland Weather which gives you the current conditions for 14 present area locations.
Local Hourly Forecasts and Local Radar
Central Maryland
Delmarva
Pennsylvania
Maryland Trek Gear

Maryland Trek 8 Says THANK YOU!
Running Total Raised $116,438
During 329 Miles From Wisp To Ocean City
To Honor Kids In Cancer Treatment and Support FREE Programs At Just In Power Kids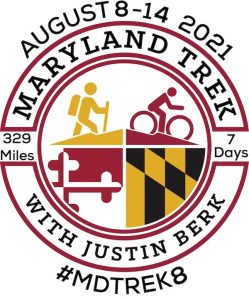 Please share your thoughts, best weather pics/video, or just keep in touch via social media