Monday July 26 2021
As the heat is climbing back up, there has also been an increase in strong storms.  On Sunday evening, a band of rain formed in southern Pennsylvania, and drifted southward into northern Maryland close to midnight.
Radar Recap: 10 PM Sunday to Midnight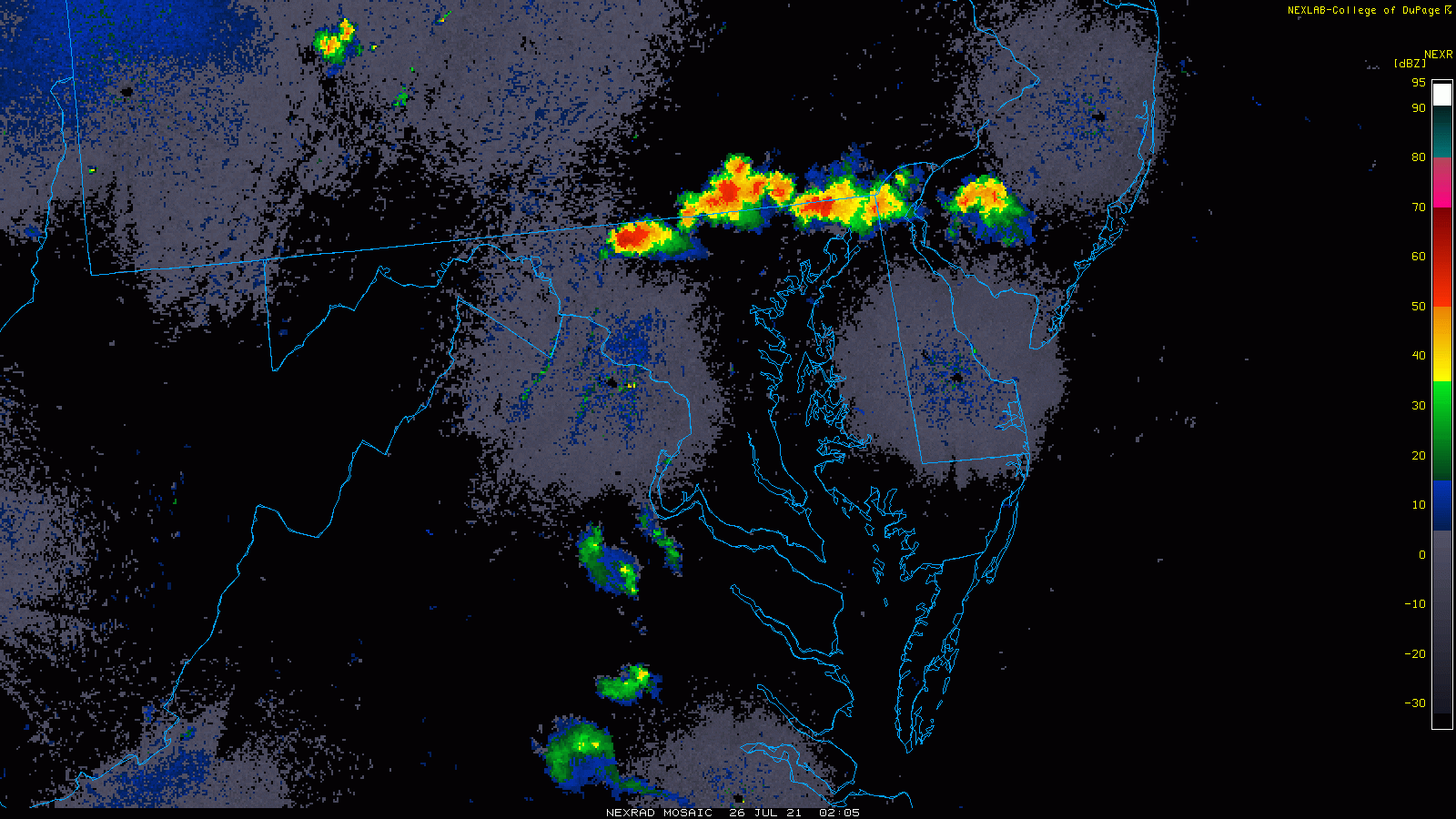 Heat Lightning
From a distance, it put in quite a light show. Sarah Dingle Clippinger saw the tops of these clouds light up in York County. What many call heat lightning, is actually regular lightning from a storm far enough away that you can not hear the thunder or get the rain.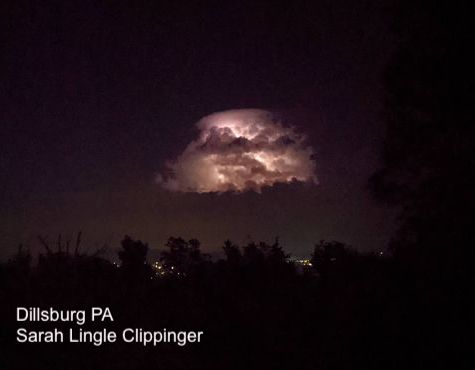 Video: Storm Over Havre de Grace
Diana Coates captured the rain, wind, and light show under one of those storms the reached northeastern Maryland. 
Morning Surface Weather
A cold front is still nearby, which may help spawn more storms later today, but once gain the forcing is low.  So our chance will be about 20%  late afternoon and evening. The sky will be mixing with plenty of clouds with that front nearby.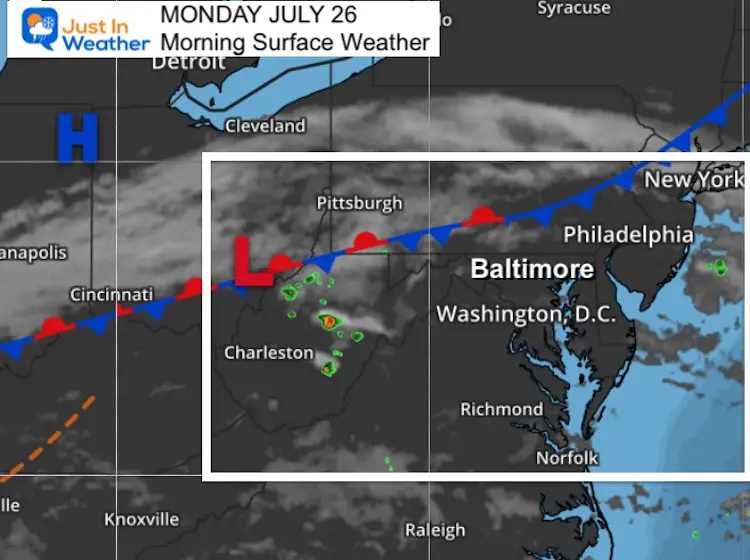 Radar Simulation 
4 PM to 6 AM Tuesday 
The focus will slip south, and may keep the storms active before sunrise by the beaches.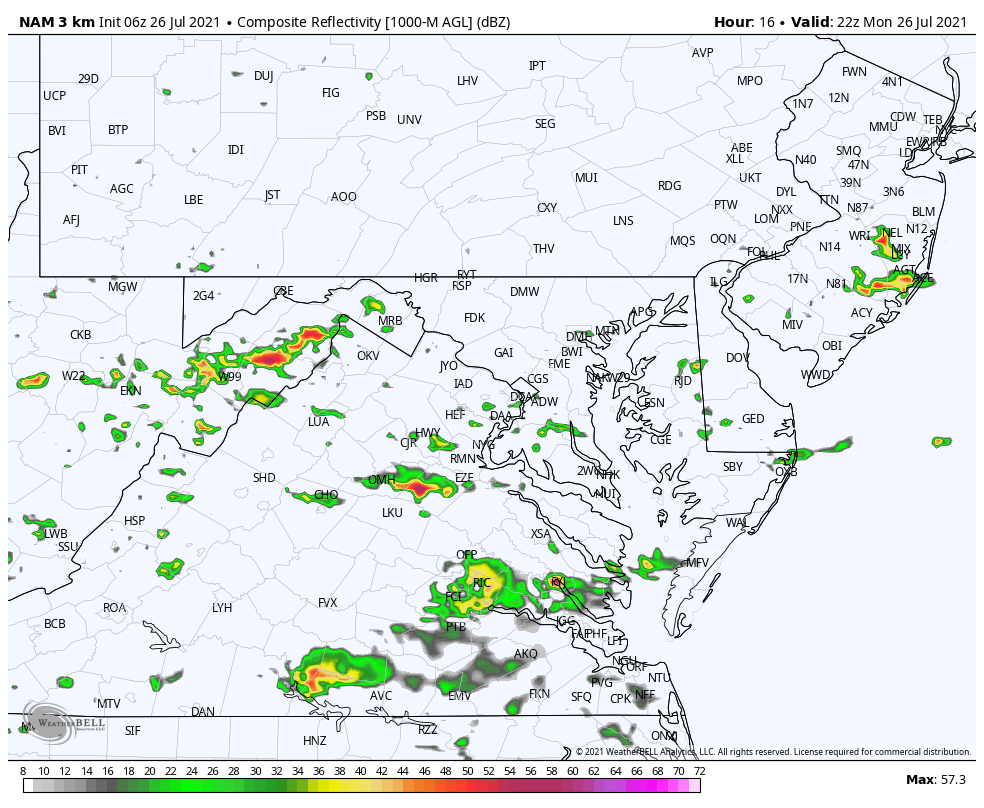 Weather Almanac: Climate Data
TODAY July 26
Normal Low in Baltimore:  67ºF
Record 55ºF in 1976
Normal High in Baltimore: 87ºF
Record 101º F 1940
Afternoon Temperature Forecast
It will be hot, but the sun will be filtered by plenty of high clouds.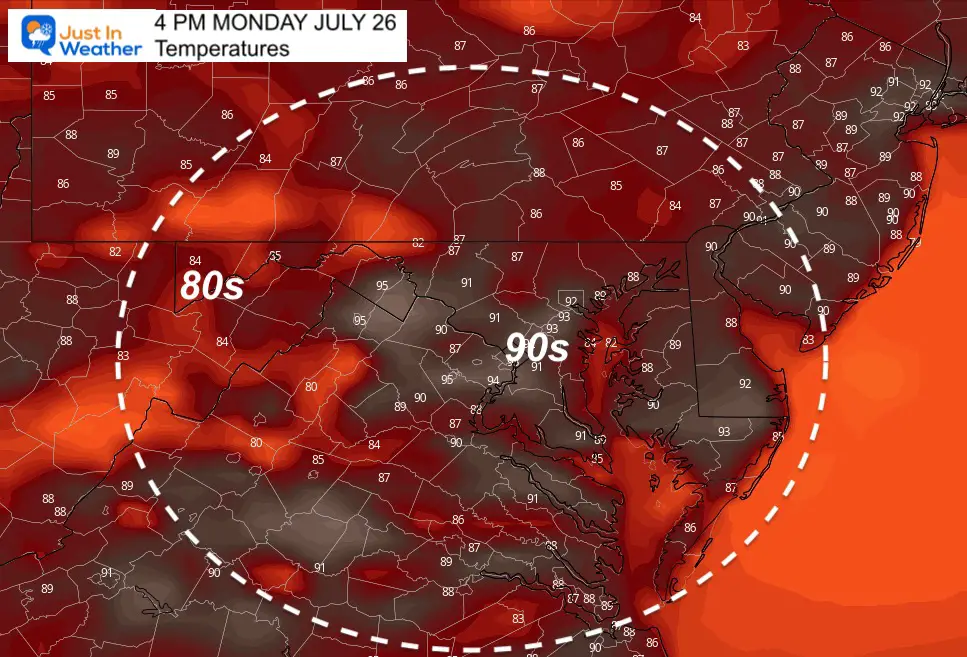 Tuesday Temperatures 
Morning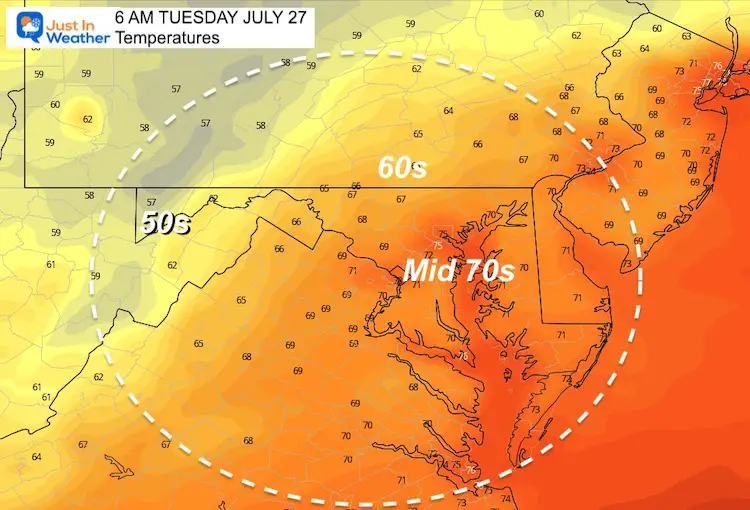 Afternoon
Hotter and more humid tomorrow.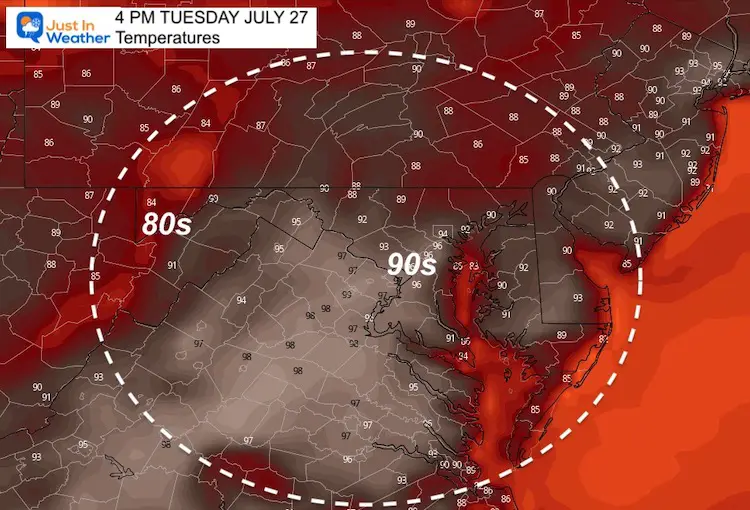 7 Day Forecast
The hottest day this week should be tomorrow, then break with our best chance for storms on Thursday.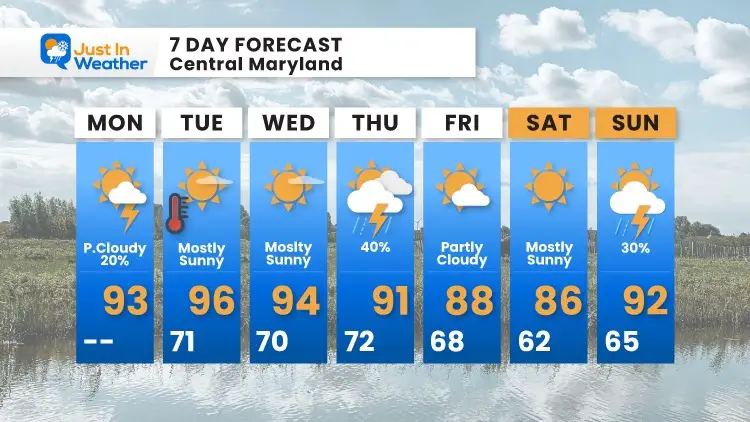 Maryland Trek 8 Begins on August 8
329 Miles From Wisp To Ocean City
To Honor Kids In Cancer Treatment and Support FREE Programs At Just In Power Kids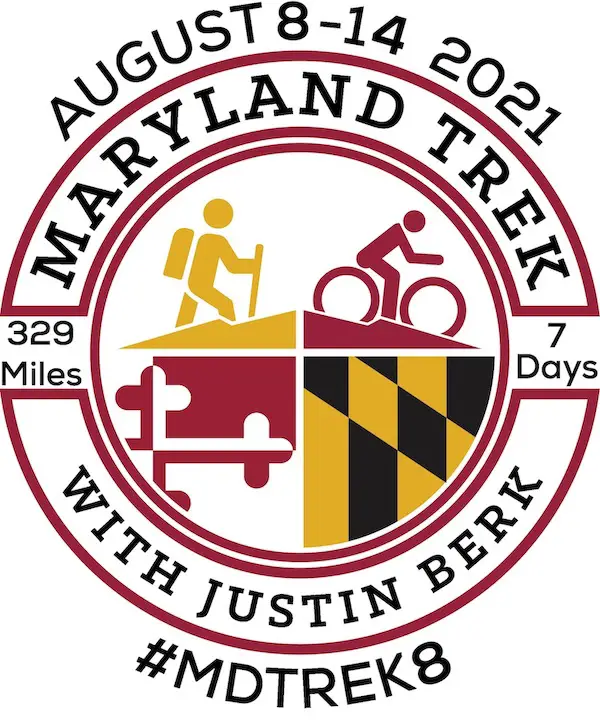 Still Time To Sponsor Our Team
Keep our expenses low.
Click Here to Help with Lodging, Meals, and Fuel
Sunshine State Of Mind
I am done with the cold and snow (for the season). I am embracing my wife's mantra of Sunshine State of Mind.
This was designed by Shannon Berk and we will be wearing it through spring and to the beach.
Double Benefit: Proceeds will be split between our nonprofit Just In Power Kids and the development of my new weather website. That has been scheduled to be ready to launch in May.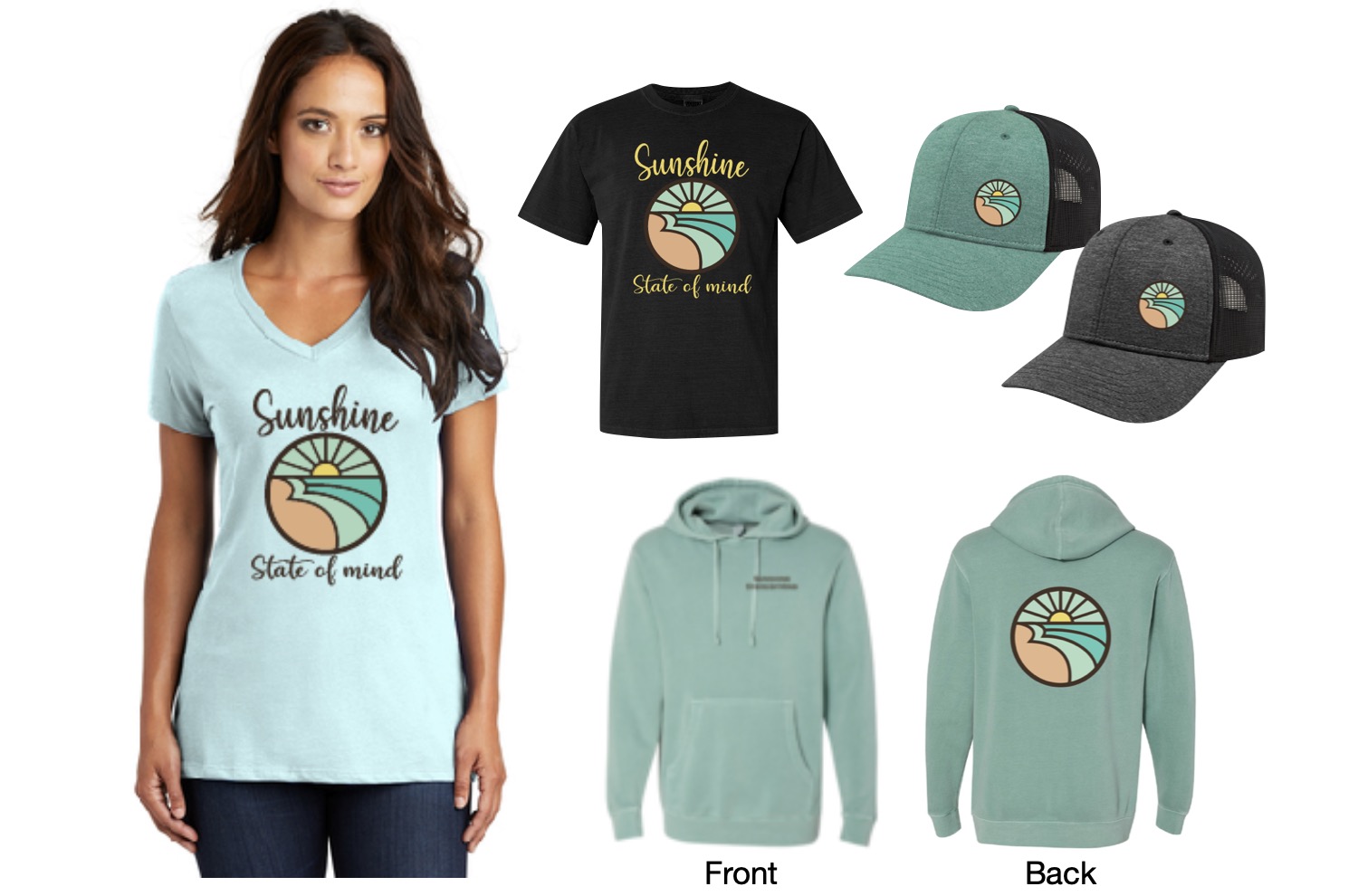 YOUR INTERACTIVE WEATHER PAGES
14 Local Maryland Pages (and York PA)
We have made a page for Maryland Weather which gives you the current conditions for 14 present area locations.
Local Hourly Forecasts and Local Radar
Central Maryland
Delmarva
Pennsylvania

Please share your thoughts, best weather pics/video, or just keep in touch via social media