Monday June 28 2021
The nation has two separate heat waves this week with very different magnitudes. The temperatures in the 90s in the eastern US is typical of our summer. The Pacific Northwest USA on the other hand has surpassed 100ºF,  with some of their highest readings on record on Sunday. Today will be hotter!
High Temperatures on Sunday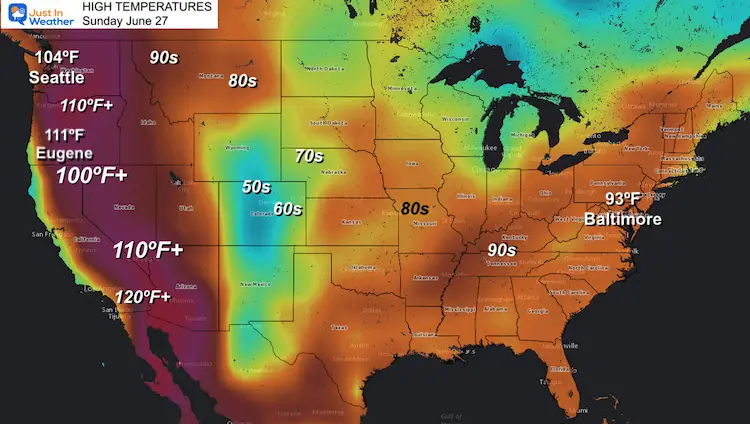 Pacific Northwest: Sunday Highs
Here is a closer look at Washington and Oregon. 
It is important to note that many areas in this region average high temperatures in the 70s. This will be more than 30 degrees 'above normal', and most homes do not have air conditioning.
Seattle, WA: 104ºF

 

This marked their highest temp on record.

 

Eugene, OR: 111ºF The Olympic trials in Track and Field were delayed until evening.

 

Portland, OR: Aiming for 115ºF today, will be hotter than Pheonix.
Mid Atlantic: Sunday Highs
Temps reached the lower 90s, with 80s by the water. It will turn much hotter over the next few days, but still nothing like the NW states. 
Morning Surface Weather
High Pressure continues to pump in heat for us. This also has blocked the pattern with persistent storms in the central US, where more flooding ill occur. 
Weather Almanac Today: 
Climate Data For Baltimore
Normal Low in Baltimore:  65ºF; Record 51ºF in 2007
Normal High in Baltimore: 85ºF, Record 99º F 2010
Afternoon Temperatures 
Monday
Chance of storms will be 20%.
I have been mentioning the poor performance of local model guidance.  Here is a different product, showing the activity mainly in the mountains between noon and 5 PM
Tuesday Afternoon
Looking Ahead
Temperatures 
Heat will peak mid week, then settle back a little by Thursday and Friday. This weekend will be cooler or us. The Northwestern US heat will be pushed farther inland away from their coastal cities.
Heat Wave Watch
Record High (Baltimore)
June 28 (Monday) 99ºF in 2010

June 29 (Tuesday) 105ºF in 1934

June 30 (Wednesday) 100ºF in 1959

July 1 (Thursday) 103ºF in 1901

July 2 (Friday) 103ºF in 1901
7 Day Forecast
In Case You Missed It:
Amazing Video of Baltimore Lightning and Storm Photos
Earthquake in Woodlawn, MD on Friday
Sunshine State Of Mind
I am done with the cold and snow (for the season). I am embracing my wife's mantra of Sunshine State of Mind.
This was designed by Shannon Berk and we will be wearing it through spring and to the beach.
Double Benefit: Proceeds will be split between our nonprofit Just In Power Kids and the development of my new weather website. That has been scheduled to be ready to launch in May.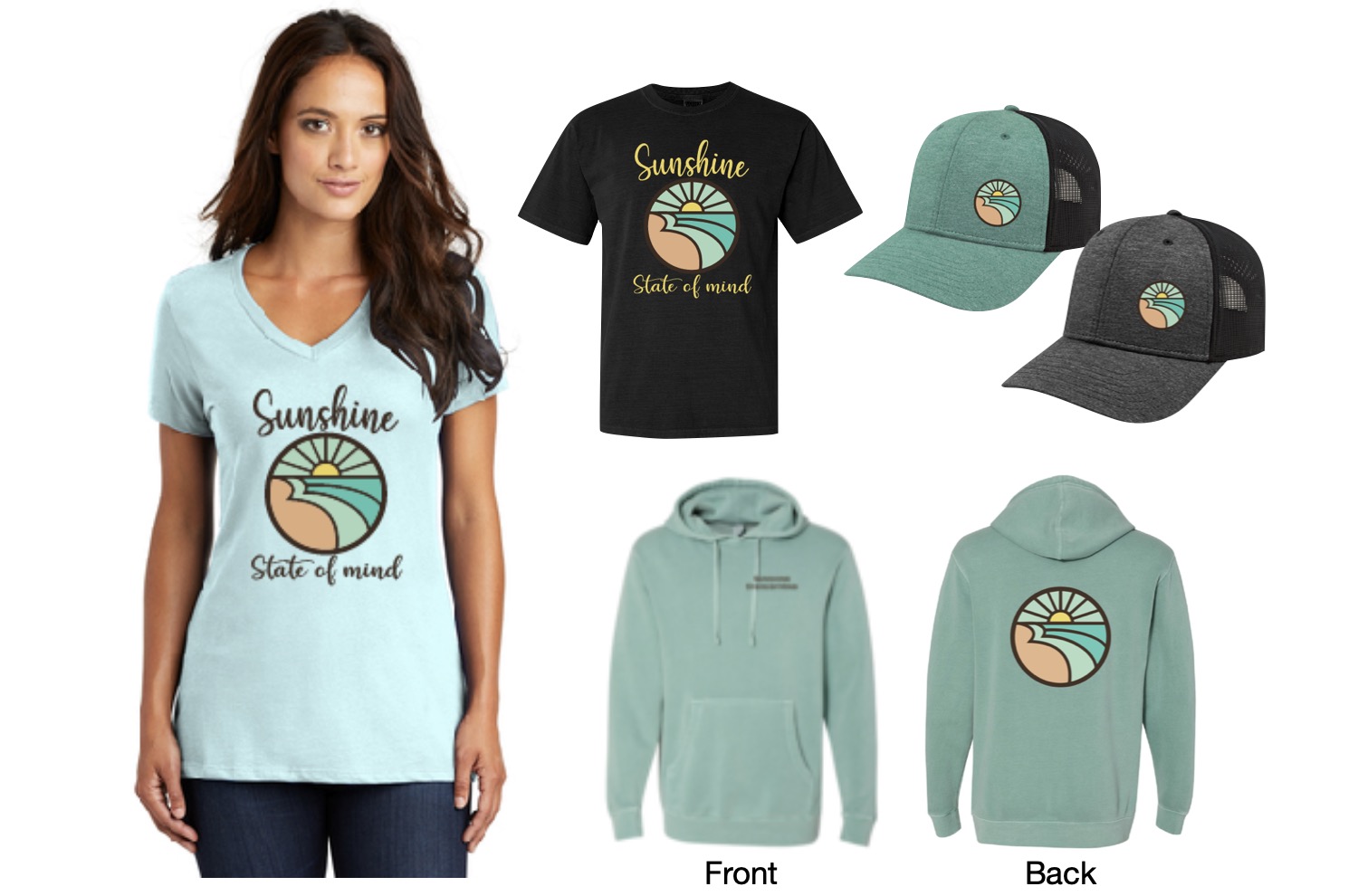 YOUR INTERACTIVE WEATHER PAGES
14 Local Maryland Pages (and York PA)
We have made a page for Maryland Weather which gives you the current conditions for 14 present area locations.
Local Hourly Forecasts and Local Radar
Central Maryland
Delmarva
Pennsylvania

Please share your thoughts, best weather pics/video, or just keep in touch via social media