The storms on June 3 left a trail of destruction across central Maryland. Numerous reports included flash flooding, large hail. And wind damage to trees and power lines.
The cluster of damage in the town of Jacksonville in Baltimore County, MD caught the attention fo the National Weather Service. They sent out a survey crew and determined there was an EF-1 Tornado with winds up to 95 mph.  The storm was on the ground for 2 miles.
Report from NWS
See the detailed account below.
Text Details
* THE INFORMATION IN THIS STATEMENT IS PRELIMINARY AND SUBJECT TO
  CHANGE PENDING FINAL REVIEW OF THE EVENT(S) AND PUBLICATION IN 
  NWS STORM DATA.

A SURVEY TEAM FROM THE NATIONAL WEATHER SERVICE WEATHER FORECAST 
OFFICE IN STERLING, VA DETERMINED THAT AN EF-1 TORNADO OCCURRED ON
THURSDAY, JUNE 3, 2021, BETWEEN 451-455 PM EDT IN JACKSONVILLE, MD.

THE TORNADO INITIALLY TOUCHED DOWN JUST NORTH OF THE INTERSECTION
OF MERRYMANS MILL RD AND JARRETTSVILLE PIKE, WHERE MINOR TREE DAMAGE 
AND SNAPPED TREE TOPS WERE OBSERVED.

THE TORNADO CONTINUED MOVING NORTHEAST PRODUCING MORE SIGNIFICANT 
TREE DAMAGE AS IT MOVED EAST OF JARRETTSVILLE PIKE TOWARDS THE 
SOUTHERN END OF OVERSHOT COURT. 

THE MOST EXTENSIVE TREE DAMAGE WAS NOTED ALONG OVERSHOT COURT WHERE MULTIPLE HARDWOOD AND SOFTWOOD 
TREES WERE UPROOTED AND SNAPPED. 

ABOUT 100 TREES WERE DAMAGED ON OVERSHOT COURT, WITH MANY UPROOTED TREES FALLING IN A CONVERGENT, CROSSING MANNER AND POINTED TO THE WEST-TO-NORTH...GENERALLY ALONG 
AND LEFT OF THE TORNADO TRACK. 

AT AT LEAST 20 HARDWOOD TREES RANGING IN DIAMETER BETWEEN 10 AND 20 INCHES WERE SNAPPED OFF ABOUT 10 FEET ABOVE THE GROUND. 

SOME OF THE UPROOTED TREES ALSO FELL TOWARDS THE 
EAST. 

A HOUSE ON OVERSHOT COURT HAD SIDING DAMAGE, LOST A PORTION
OF ITS EAVE ON THE NORTHEAST SIDE OF THE HOUSE, HAD A SHUTTER BLOWN
OFF, AND A FLAGPOLE BLOWN DOWN. SIDING FROM THIS HOUSE WAS FOUND 120 YARDS TO THE NORTHWEST OF THE HOUSE.

EYEWITNESS ACCOUNTS WERE TAKEN FROM SEVERAL RESIDENTS ALONG OVERSHOT 
COURT AND ALL RELATED TO A SIMILAR STORY OF RELATIVELY QUIET 
CONDITIONS FOLLOWED BY A LOUD AND INCESSANT ROARING SOUND, WITH 
REDUCED VISIBILITY DUE TO HEAVY RAIN AND SWIRLING WINDS. 

ONE RESIDENT TEXTED THAT THEY ENTERED THEIR BASEMENT WHEN THEY HEARD THE 
LOUD ROAR, WITH THE TIMESTAMP OF THAT TEXT BEING 4:57 PM EDT. ALL 
RESIDENTS NOTED THE DAMAGE OCCURRED QUICKLY LASTING WELL LESS THAN ONE 
MINUTE.

AS THE TORNADO MOVED NORTHEAST, IT CROSSED WOODED AREAS SOUTH OF THE 
CARROLL MANOR RECREATION COUNCIL BUILDING ON ROUTE 145, WHERE LIMITED 
TREE DAMAGE WAS NOTED. 

NO DAMAGE WAS NOTED ALONG FOX RUN COURT, BUT 
AS IT CROSSED THE 14000 BLOCK OF BLENHEIM ROAD, SEVERAL TREES WERE 
DAMAGED ALONG WITH SEVERAL UPROOTED AND SEVERAL TOPPED.  ONE LARGE
2 FOOT DIAMETER TREE WAS UPROOTED AND FACING WEST, WHILE A TRAMPOLINE 
FROM A RESIDENCE WAS BLOWN OVER 200 YARDS TO THE EAST, AND 
SEVERAL SOFTWOOD PINE TREES WERE SNAPPED. THE LARGE UPROOTED TREE 
DAMAGED A SECTION OF A COVERED PORCH.

THE TORNADO PRODUCED ONLY MINOR TREE DAMAGE AS IT MOVED NORTHEAST, 
AND MAY HAVE LIFTED BRIEFLY AS IT CROSS SWEET AIR ROAD JUST WEST OF 
MANOR ROAD. AS THE TORNADO CROSSED MANOR ROAD JUST NORTH OF SWEET AIR
ROAD, MINOR TREE DAMAGE WAS NOTED MAINLY TO A FEW LARGE TREE BRANCHES 
DOWN.

FURTHER TO THE NORTHEAST, THE TORNADO PRODUCED TREE DAMAGE TO A 
RESIDENCE AT THE END OF CREMSON DRIVE OFF OF MANOR ROAD. A LARGE 
HARDWOOD TREE ABOUT 20 INCHES IN DIAMETER WAS TWISTED OFF 10 FEET UP 
FROM THE GROUND. A RESIDENT AT THIS LOCATION DESCRIBED HEARING A 
LOUD SOUND AKIN TO A FREIGHT TRAIN AND OBSERVED THE TORNADO CAUSE 
THE AFOREMENTIONED DAMAGE. THE RESIDENT NOTED HE WAS IN HIS BASEMENT 
BECAUSE OF A TORNADO WARNING, WITH THE DAMAGE OCCURRING 5 MINUTES 
AFTER HIS PHONE HAD ALERTED HIM TO THE TORNADO WARNING.

NO FURTHER DAMAGE WAS NOTED TO THE NORTHEAST OF THE LOCATION ON 
CREMSON DRIVE, AND THE TORNADO LIKELY LIFTED BEFORE CROSSING MAPLE 
RIDGE COURT.

EF SCALE: THE ENHANCED FUJITA SCALE CLASSIFIES TORNADOES INTO THE
FOLLOWING CATEGORIES:

EF0.........65 TO 85 MPH
EF1.........86 TO 110 MPH
EF2.........111 TO 135 MPH
EF3.........136 TO 165 MPH
EF4.........166 TO 200 MPH
EF5.........>200 MPH

Another Touchdown?
This same storm crossed over to Harford County, where this video appears to show another developing tornado in Forest Hill.  I have been in touch with NWS and they may send another crew out to investigate this as well. 
Sunshine State Of Mind
I am done with the cold and snow (for the season). I am embracing my wife's mantra of Sunshine State of Mind.
This was designed by Shannon Berk and we will be wearing it through spring and to the beach.
Double Benefit: Proceeds will be split between our nonprofit Just In Power Kids and the development of my new weather website. That has been scheduled to be ready to launch in May.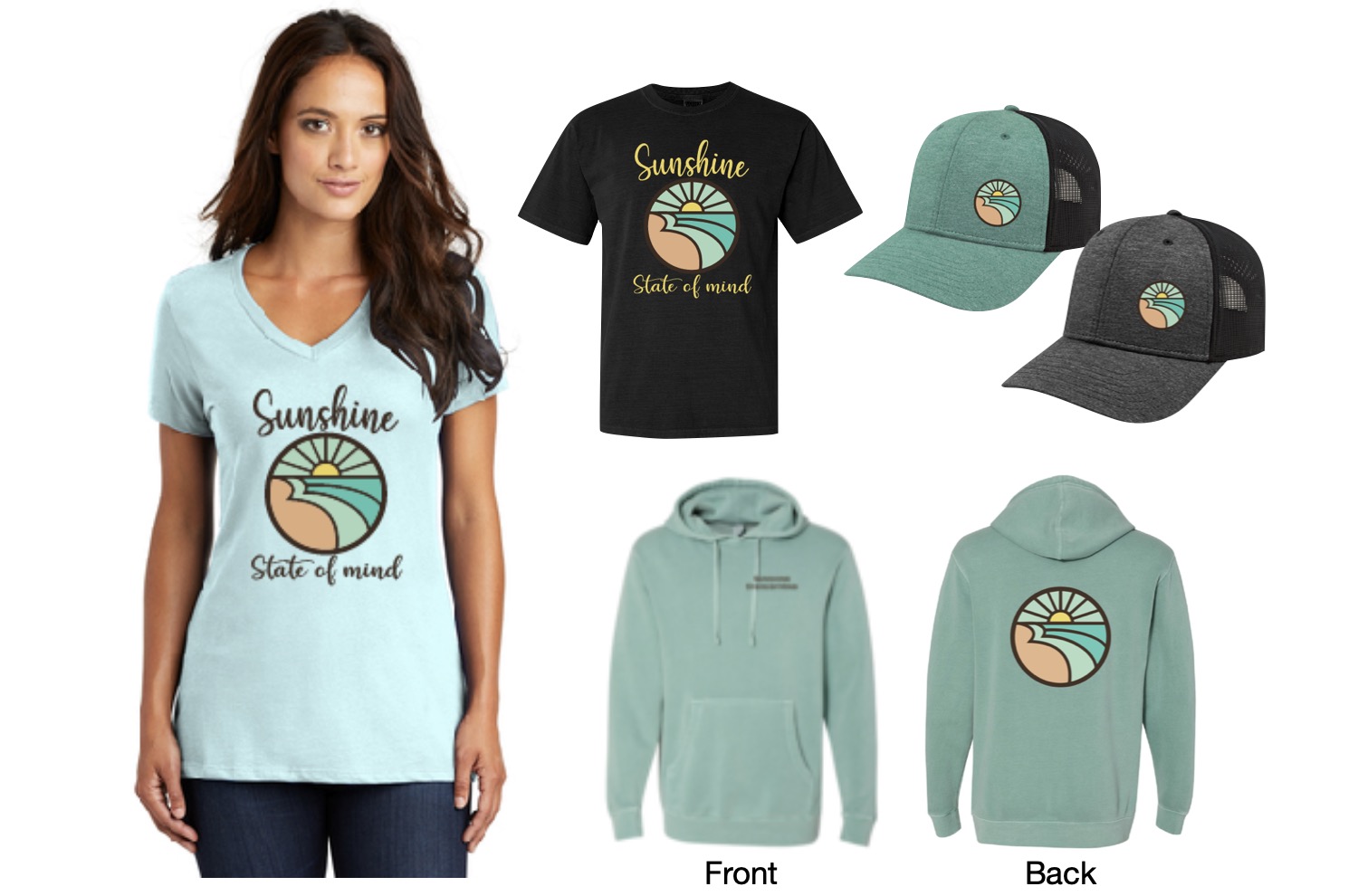 YOUR INTERACTIVE WEATHER PAGES
14 Local Maryland Pages (and York PA)
We have made a page for Maryland Weather which gives you the current conditions for 14 present area locations.
Local Hourly Forecasts and Local Radar
Central Maryland
Delmarva
Pennsylvania

Please share your thoughts, best weather pics/video, or just keep in touch via social media