Sunday Evening May 23
After our hot weekend,  it might sound hard to believe, but the 24 hour temperature change may be 30 degrees or greater!  Baltimore officially hit 95ºF at BWI, and most of the region reached the 90s.  Falling temps all Monday should have the afternoon in the 60s, and even cooler farther inland. Throw in some rain, and compared to Sunday afternoon it will be chilly!
Sunday Evening Surface Weather
A strong cool front will be arriving from the north overnight.  This will shift our winds from the Northeast and East. That will bring in much cooler and moist air from the Atlantic.
Meanwhile a cluster of rain seen near Cleveland Sunday night will ride along the front and reach us in the morning. Then we are set up for more showers as temps fall during the day.
Monday Morning Wind Shift
With the cold front, the winds will swing to the East.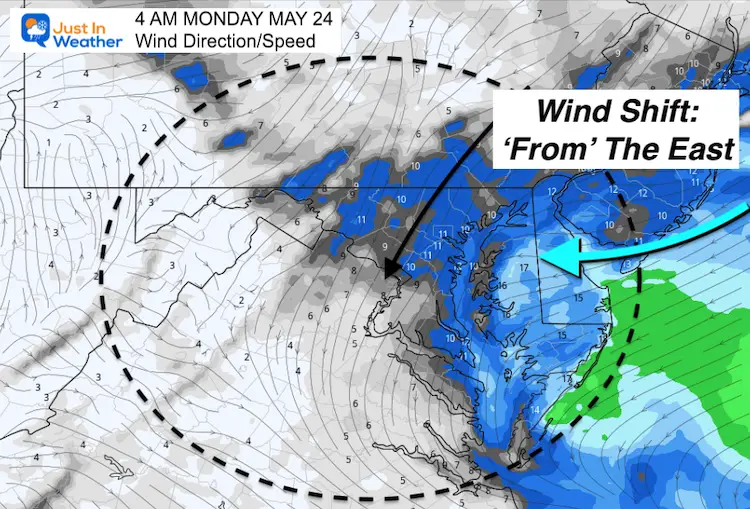 Monday Morning Radar Expectation
With this wind shift, a band of light rain should be detected moving across Delmarva westward. 
Also notice the cluster of rain in western PA moving in from the opposite direction.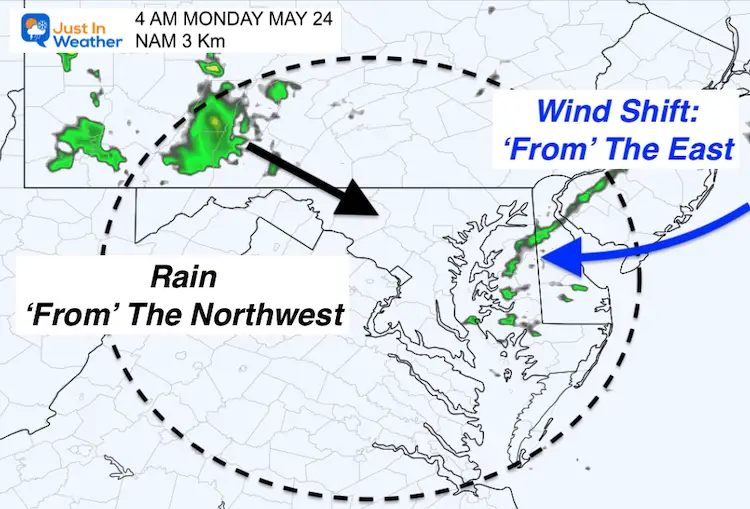 Radar Simulation 
The opposing forces will collide over central Maryland around sunrise, followed by more rain.  Then the dominate rain source will be from the Northwest. That will be at cloud level. 
At the surface we will remain with and chilly East wind.
Monday:  6 AM to 10 PM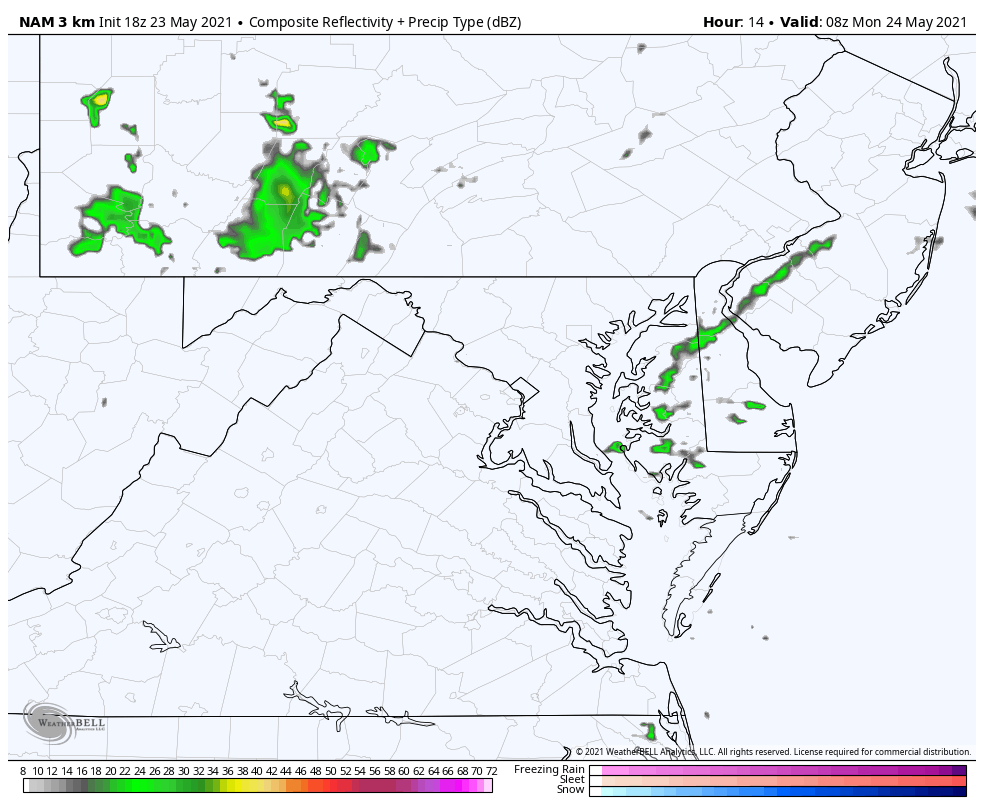 Temperatures 
The climate report tomorrow may show a, 'OFFICIAL' High in the 70s, but that will actually be early in the morning.
Here we see the forecast temperatures at 4 AM, then at 2 PM temps will be 10 degrees cooler or more, which will be more than 25 degrees cooler the Sunday's temps.
Morning Temperatures 
The highs will be before sunrise.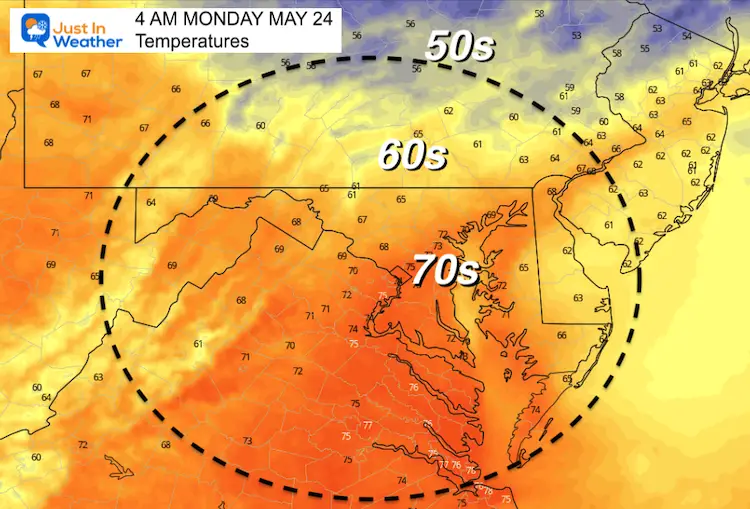 Afternoon Temperatures 
Temperatures will be falling, and may end up even cooler before evening.  It is possible some areas north and west of Baltimore that hit the 90s today may end up in the 50s.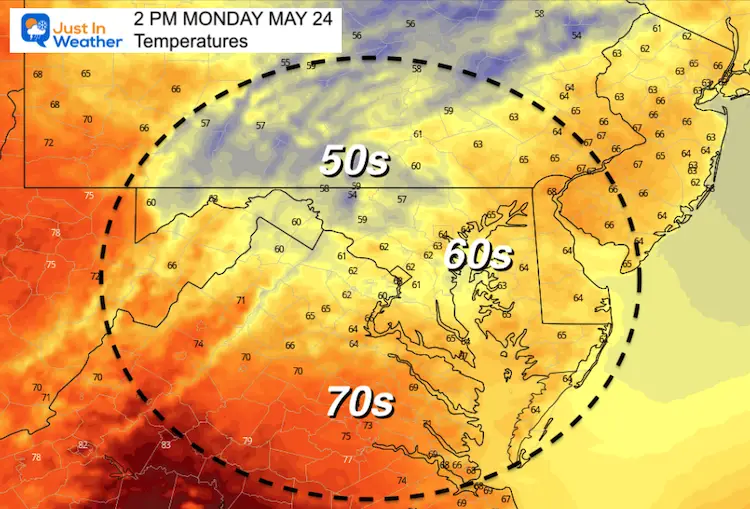 Notes:
The Hoffa Classic Golf Tournament could be a chilly one in northern Baltimore County. 
Many other graduations ceremonies are taking place during the week. I will have a full report in the morning and will do my best to help you prepare. 
Sunshine State Of Mind
I am done with the cold and snow (for the season). I am embracing my wife's mantra of Sunshine State of Mind.
This was designed by Shannon Berk and we will be wearing it through spring and to the beach.
Double Benefit: Proceeds will be split between our nonprofit Just In Power Kids and the development of my new weather website. That has been scheduled to be ready to launch in May.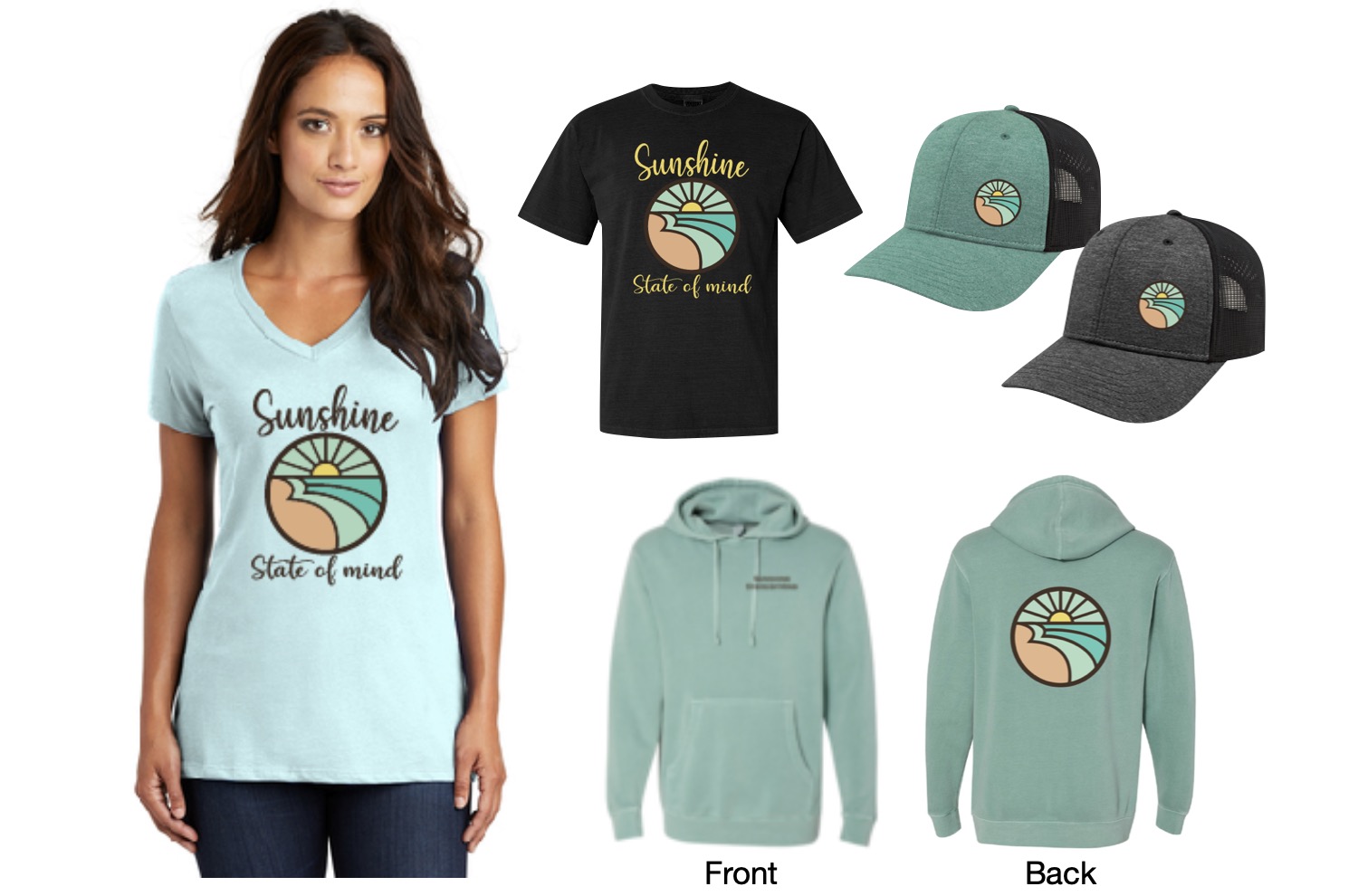 YOUR INTERACTIVE WEATHER PAGES
14 Local Maryland Pages (and York PA)
We have made a page for Maryland Weather which gives you the current conditions for 14 present area locations.
Local Hourly Forecasts and Local Radar
Central Maryland
Delmarva
Pennsylvania

Please share your thoughts, best weather pics/video, or just keep in touch via social media