Monday May 10 2021
Here we go again, for a fourth try.  NASA will attempt to launch a rocket launch tonight at 8:04 PM from Wallops Island, VA. There is a 40 minute window. Now we have a clear sky, but will the upper level winds cooperate?
This rocket is designed to created an artificial aurora high in the atmosphere to test high altitude conditions. Basically for us it will be a display of bright lights more than 200 miles above the ground.
This was postponed Friday, Saturday, and Sunday due to weather. The wind speeds both at the surface and aloft will continue be a concern. I will address the weather here:
Launch Forecast Cloud Cover
The visibility  is NOT a problem for us inland today.  However, while the forecast has clouds breaking up over the launch facility at 8 PM, it was only just starting to do so an hour earlier as I prepared this report.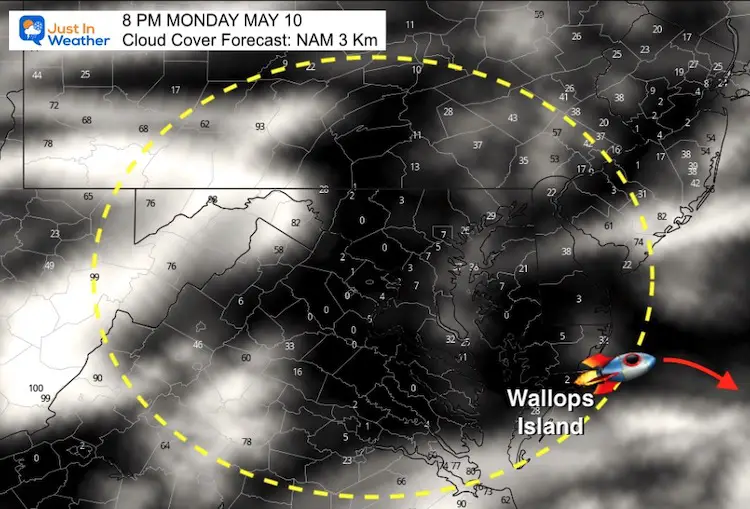 Satellite Loop: Monday Evening
Clouds have broken up over most metro areas. More importantly though, a ribbon of clouds was lingering over the launch sight by coastal Virginia (just south of the Maryland line).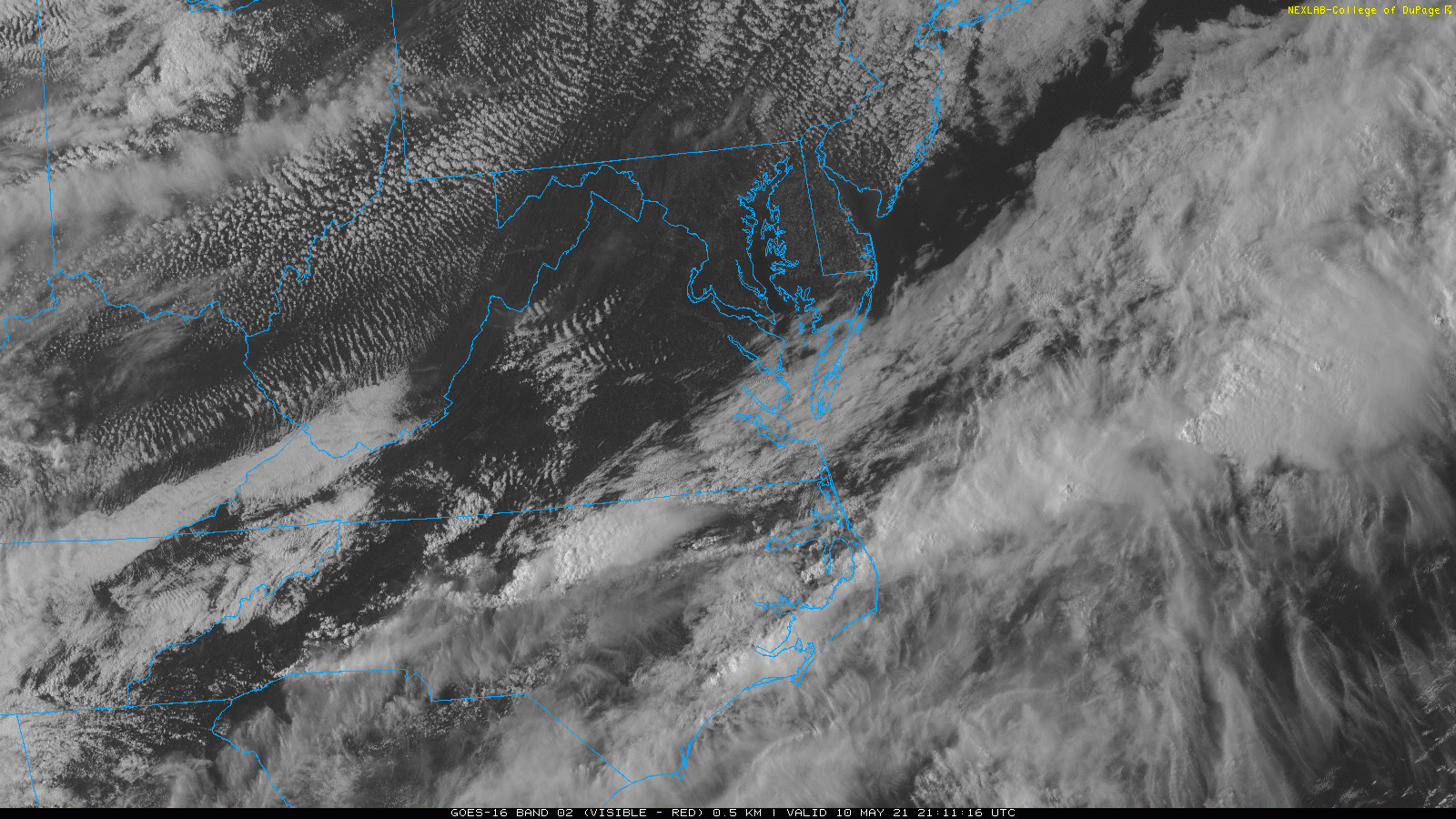 Surface Wind Conditions
UPDATE at 7:54 PM: Launch on HOLD at T-15 waiting for better weather again.  See the weather below…
I set this for Wallops Island Flight Facility. Tap the location arrow and you should get the latest observations.
Upper Level Wind Forecast —> slider
I've included the flight path towards Bermuda.
700mb = 10,000 FT
500mb = 18,000 FT
300mb = 30,000 FT
200mb = 39,000 FT
This looks to be too fast again as well, but I do not know the limits for this mission.
NASA Twitter UPDATE:
The launch was scrubbed tonight for strong winds…
and NASA wins with a STRONG Tweet
We're disappointed too. pic.twitter.com/gb7MWqGwLe

— NASA Wallops (@NASA_Wallops) May 11, 2021
Rocket Viewing (Now set for 8:05 PM Tuesday)
This is the launch, visible shorty after lift off. 
This is a fast sounding rocket. If the sky is clear to your east/southeast, then you may see this within 1 minute across much of our region as seen in this map.
The main show will start 9 minutes later.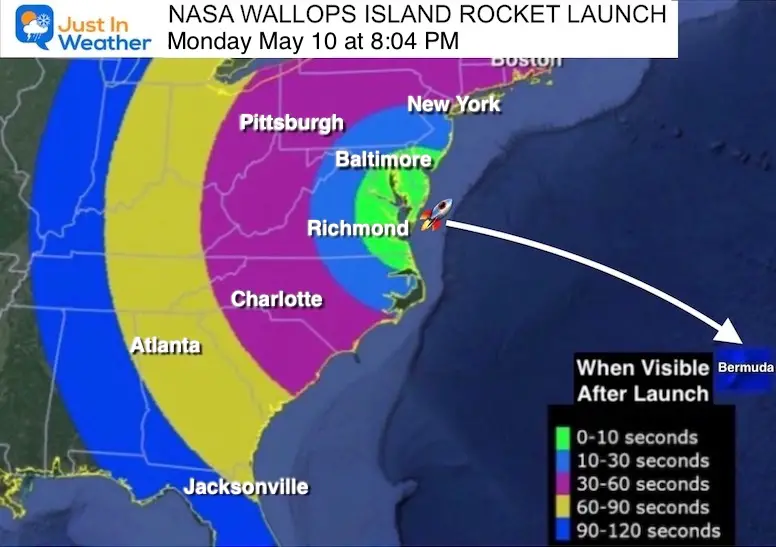 Vapor Tracers: What You May See
About 9 minutes after launch, the payload of vape tracers will be released,

 

217 to 249 miles above the ground of Bermuda.

 

This is made up of the dame material in fireworks.
Barium Vapor: This will form two green-violet clouds that may be visible for about 30 seconds.
Scientists use vapor tracers primarily to study atmospheric winds in upper atmosphere and ionosphere. When released after launch, the tracers make it possible to directly observe the winds.
How To Watch And Track Updates
Live coverage of the mission will be available on the Wallops IBM video site (previously Ustream) beginning at 7:40 p.m. on launch day.  If you see a promotional video and no access to the live feed, then there is likely a delay.
Reminder:
If this does NOT occur tonight, they have more opportunities in the days ahead.  We would want a clear sky for much of the Mid Atlantic (and East Coast) for more to be able to view this.
You May Also Be Interested In…
Morning Twilight Show Not A UFO March 14
Red Cloud Mystery Solved March 3
UFO or Meteor Captured on Security Cam Sep 22 2020
Meteor Fireball Bolide Video: March 21 2021
Sunshine State Of Mind
I am done with the cold and snow (for the season). I am embracing my wife's mantra of Sunshine State of Mind.
This was designed by Shannon Berk and we will be wearing it through spring and to the beach.
Double Benefit: Proceeds will be split between our nonprofit Just In Power Kids and the development of my new weather website. That has been scheduled to be ready to launch in May.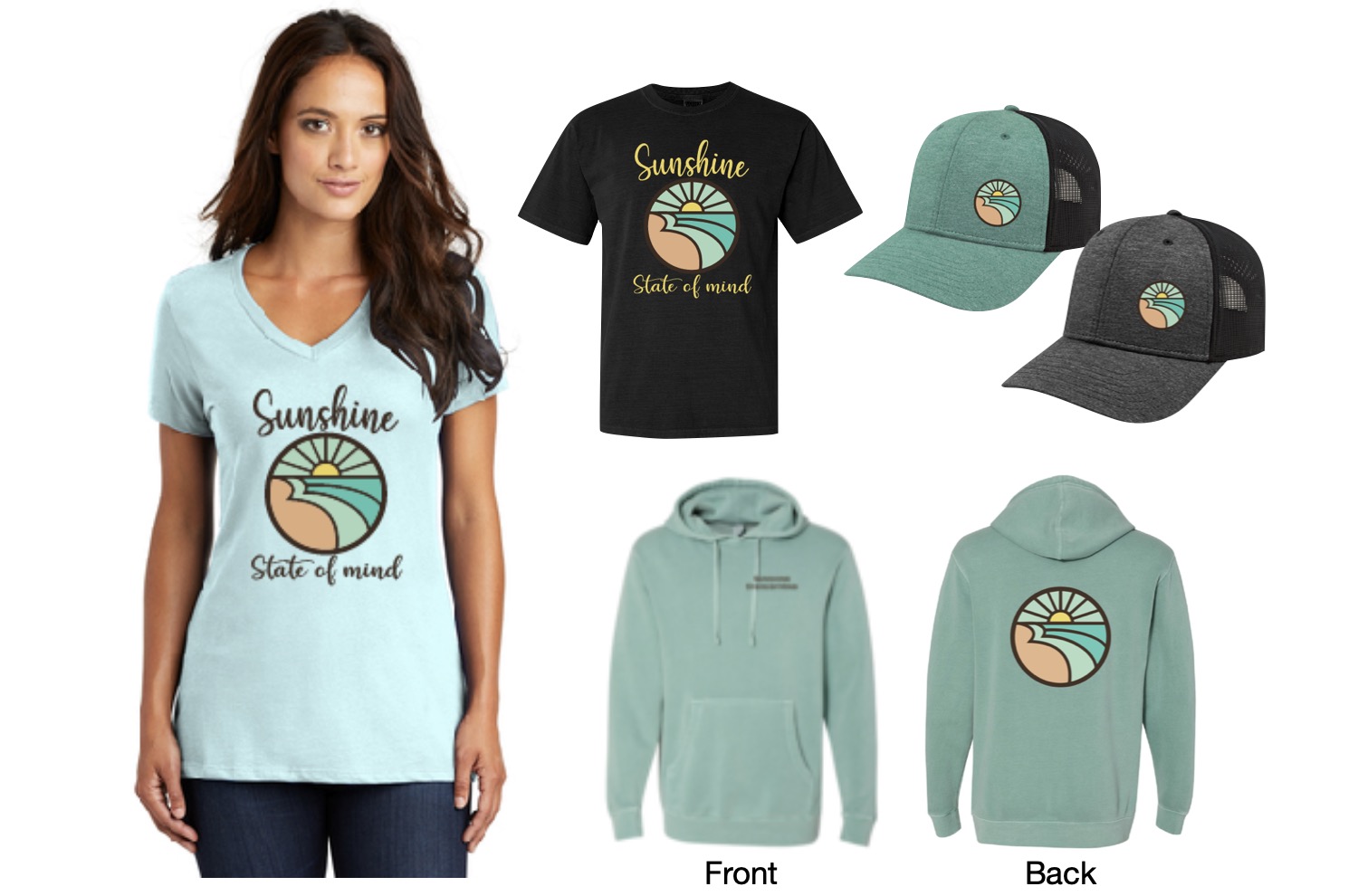 YOUR INTERACTIVE WEATHER PAGES
14 Local Maryland Pages (and York PA)
We have made a page for Maryland Weather which gives you the current conditions for 14 present area locations.
Local Hourly Forecasts and Local Radar
Central Maryland
Delmarva
Pennsylvania

Please share your thoughts, best weather pics/video, or just keep in touch via social media