Saturday Evening April 10 2021
A rapidly developing circulation is moving up the front range of the mountains from North Carolina into Virginia tonight. This will continue to cross through metro Washington and Baltimore, encompassing the entire region with periods of heavy rain, gusty winds, and some thunder into early Sunday morning. This is the type of event that could surprise you and wake you up at night. 
Below is a simulation timeline of when this all may pass through.
The Mesoscale Convective Complex (MCC) is a large cluster of storms that has circulation keeping them going even without the heat the day. When conditions are right, as they might be tonight, they can even enhance overnight, providing the surprising 'booms' and rattling of the windows in the dark of night.
Saturday Evening Surface Weather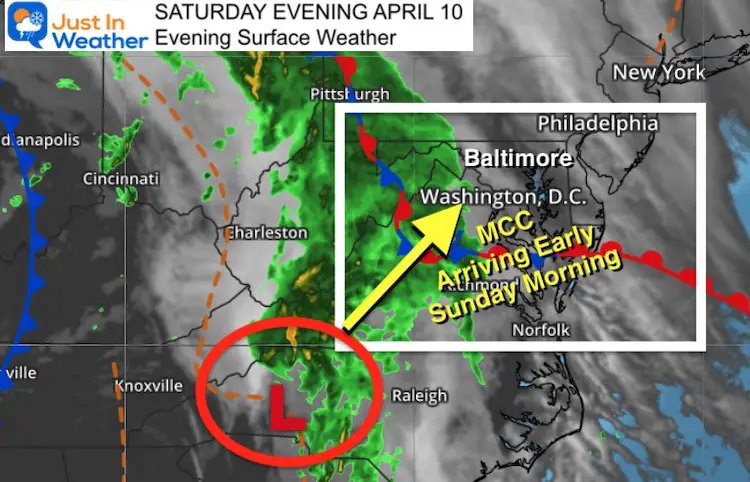 Radar Loop: 8 PM to 10 PM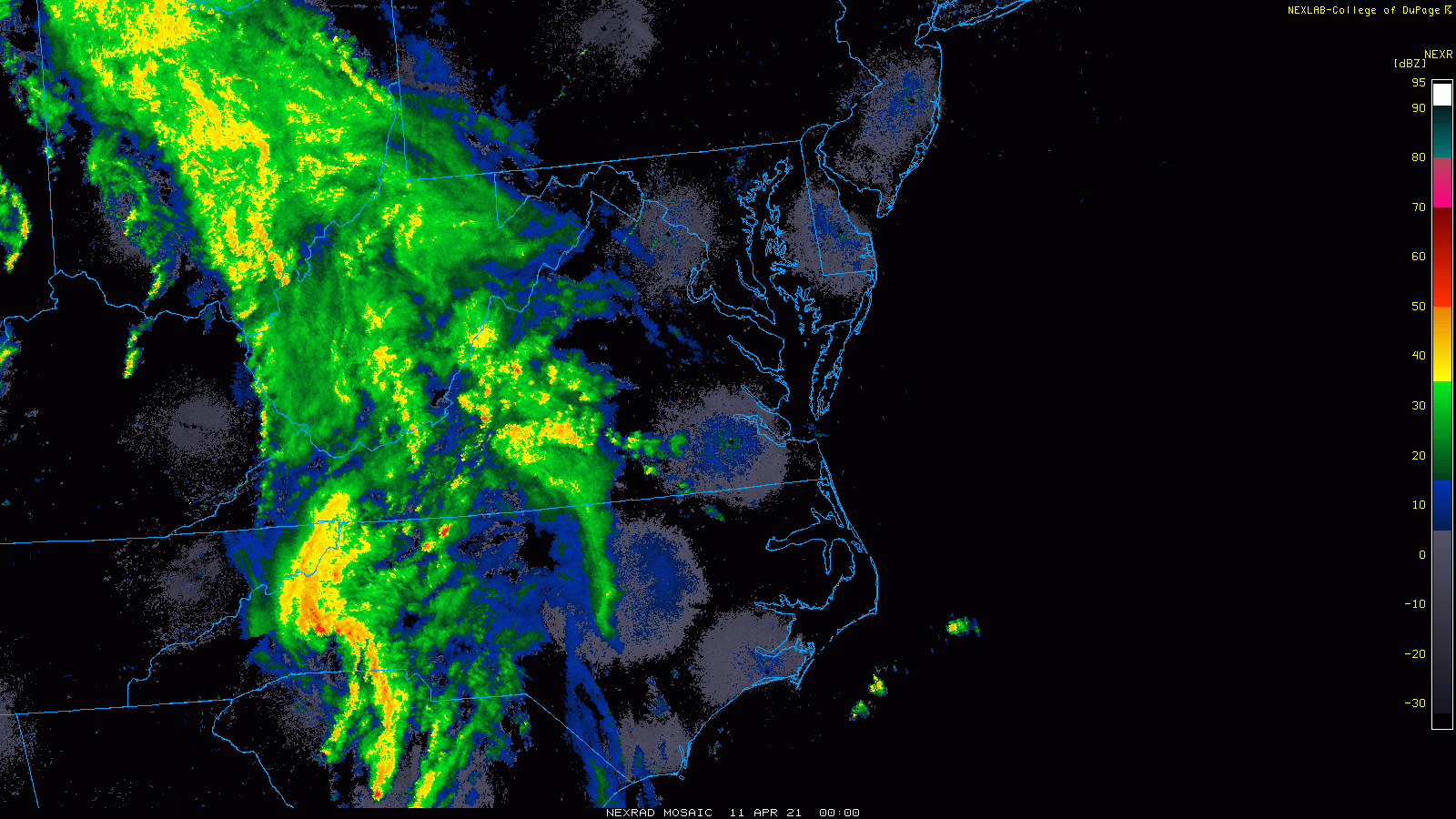 This last image at 10 PM, we can see the tight circulation that may appear like an eye. It is not, but that is the centra of Low Pressure heading our way.
The bands of rain, and some heavier cells are like fingers pinwheeling around the central Low. This is why we may get a few waves of heavy rain after midnight to daybreak.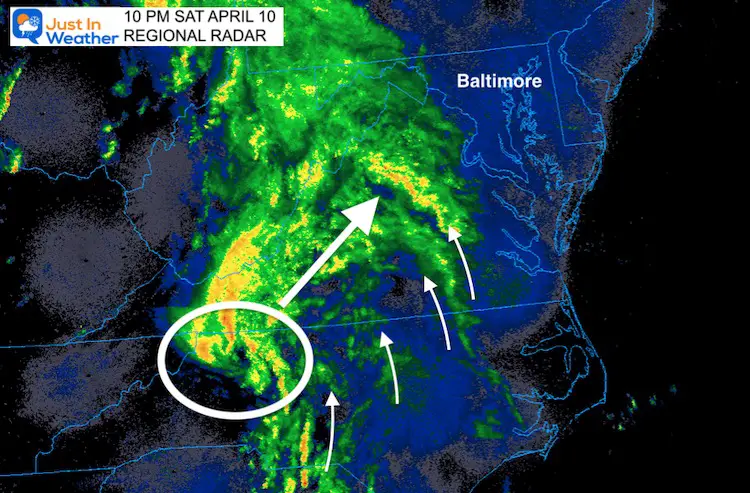 Radar Simulation —> slider
HRRR Model
I've tried to identify where the center of the circulation may be.  It is import to note that this will be pushing a warm front through, with a leading edge of heavy rain and perhaps some thunder.  Then the core circulation arrives around daybreak. 
First push: 2 to 4 AM
Second Bigger Push: 5 AM to 8 AM
NOTE:
If you need to mow your grass, it will be soggy in the morning.
You 'might' have a chance to cut it after noon with some warm sunny hours to dry it out.
Sunday Afternoon Temperatures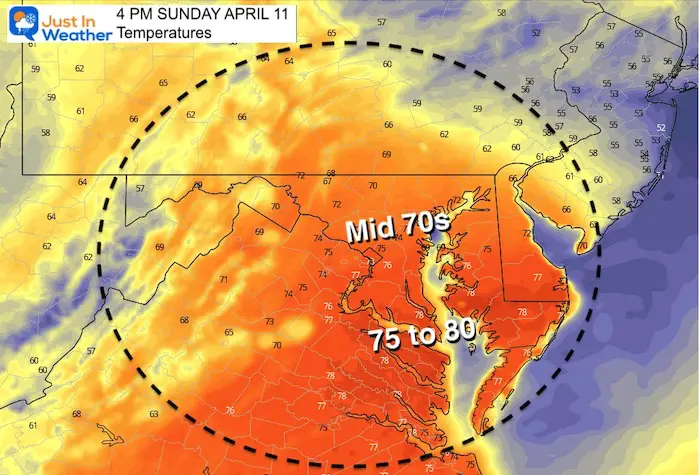 What's Next?
After this MCC passes, the sun will come out and it may actually feel humid.  Then we watch to see if one of two things will happen:
More storms develop between 4 and 6 PM, some being severe, OR
The morning storms stabilize the atmosphere and the afternoon storm threat could be diminished.

 
I will have a full update Sunday morning. See you then.
Sunshine Sate Of Mind
I am done with the cold and snow (for the season). I am embracing my wife's mantra of Sunshine State of Mind.
This was designed by Shannon Berk and we will be wearing it through spring and to the beach.
Double Benefit: Proceeds will be split between our nonprofit Just In Power Kids and the development of my new weather website. That has been scheduled to be ready to launch in May.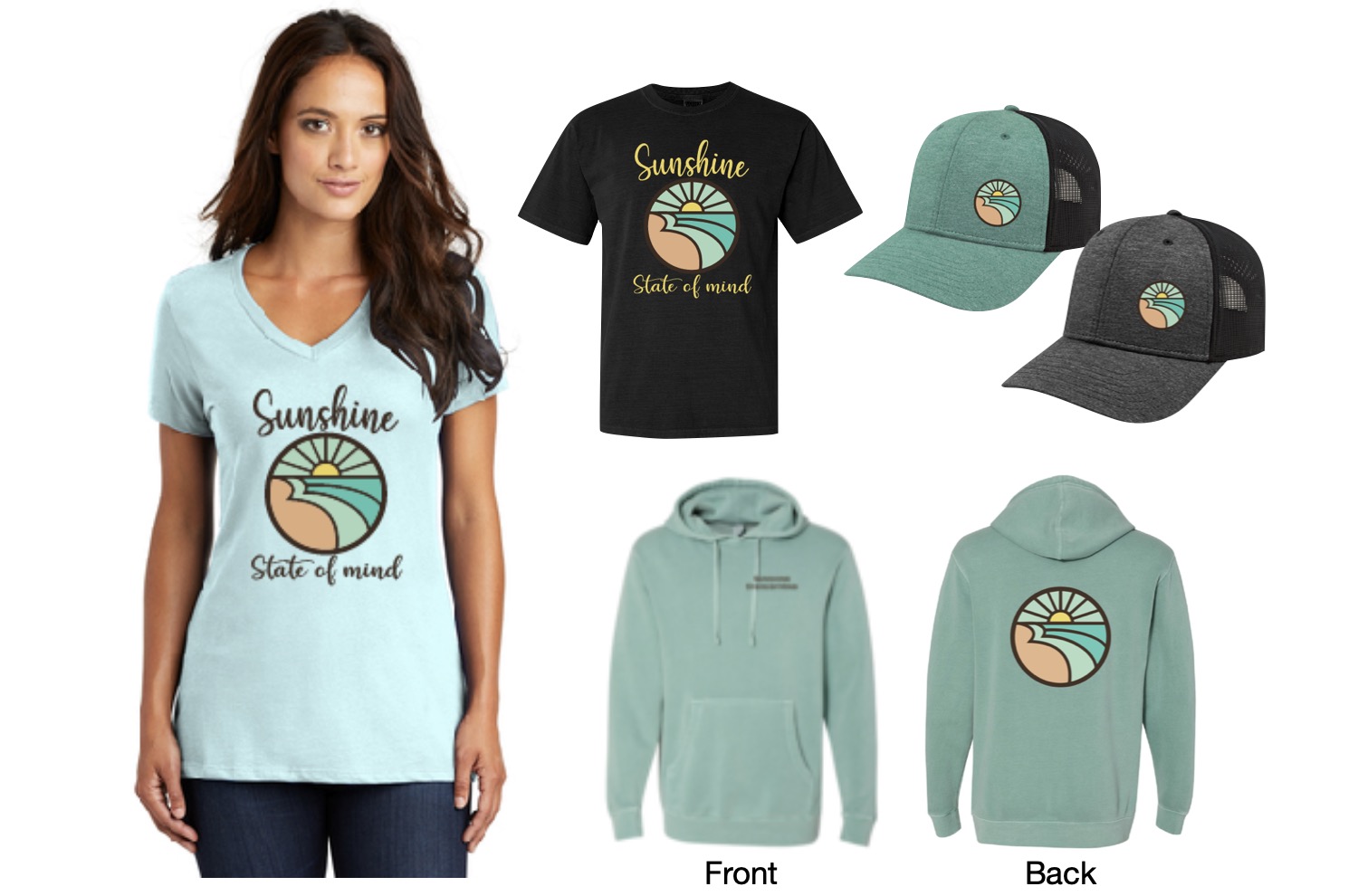 YOUR INTERACTIVE WEATHER PAGES
14 Local Maryland Pages (and York PA)
We have made a page for Maryland Weather which gives you the current conditions for 14 present area locations.
Local Hourly Forecasts and Local Radar
Central Maryland
Delmarva
Pennsylvania

Please share your thoughts, best weather pics/video, or just keep in touch via social media
Maryland Smoothie King Is Now Supporting Our Nonprofit Just In Power Kids