April 1 2021
The strong cold front that moved through early in the morning brought with it heavy rain, gusty winds, and some early snow with the falling temperatures. But it was the unstable air that helped take those winds from the Great Lakes and produce showers through the day that resulted in a rare April snow.
Actually, it's not that rare to get snow falling in metro Baltimore in the first week of April. It happens in about half of all years. The type of snow was rare. More on the Graupel below.
Did you see it? How would you describe it? And, are you ready to close out winter now? Check out what might be our final push of the season.
Doppler Radar
Here was the radar loop between 3:00 and 3:30 PM showing the snow in blue. Temperatures ranged between 36ºF and 39ºF in the snow zone.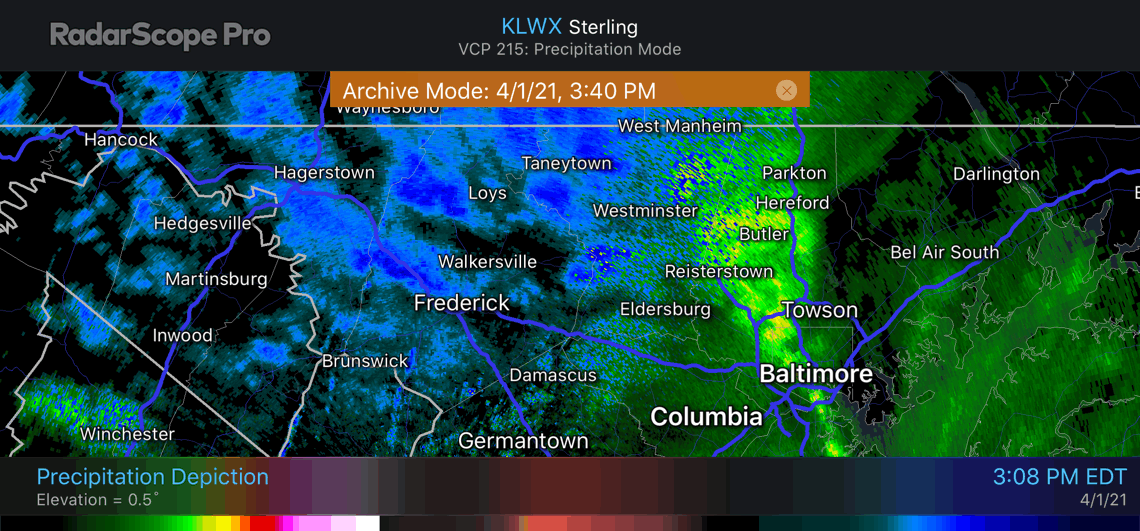 But the type of snow was the rare. Let's start in Westminster with this… Then see video and more photos below.
Mary Lynn Wildisan was one of many that described them as Dippin' Dot snow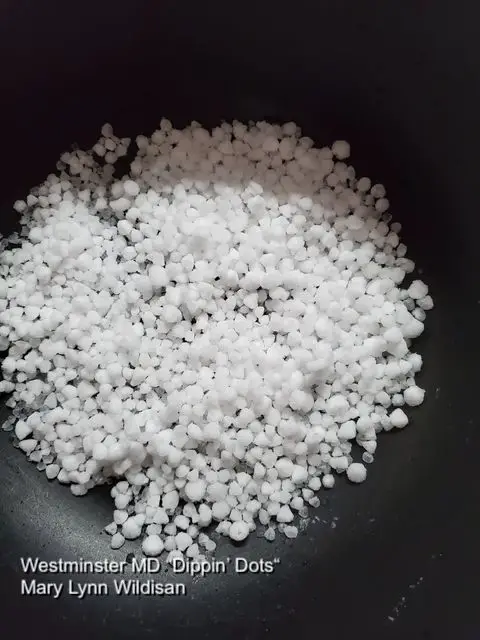 Graupel
What looks like tiny snowballs are snowflakes that have the edges partially melted,  then refrozen on the way down. Think of the edges curling up and then hardening around that nougat center. This has been described as looking like styrofoam balls, Dippin' Dots ice cream,  and Nerds candy.
Here are two more spots in Westminster, where there was enough stickage to cover the ground.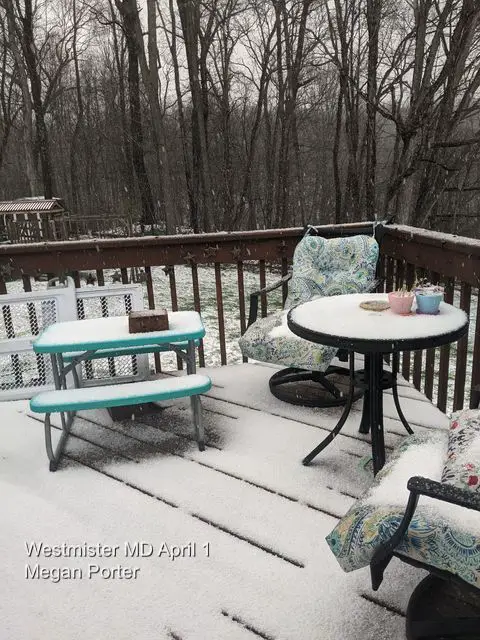 Video: Graupel Snow Falling In Sykesville
Covering I-70
John Waugh captured this traveling between Frederick and Baltimore. There was stickage on the Interstate!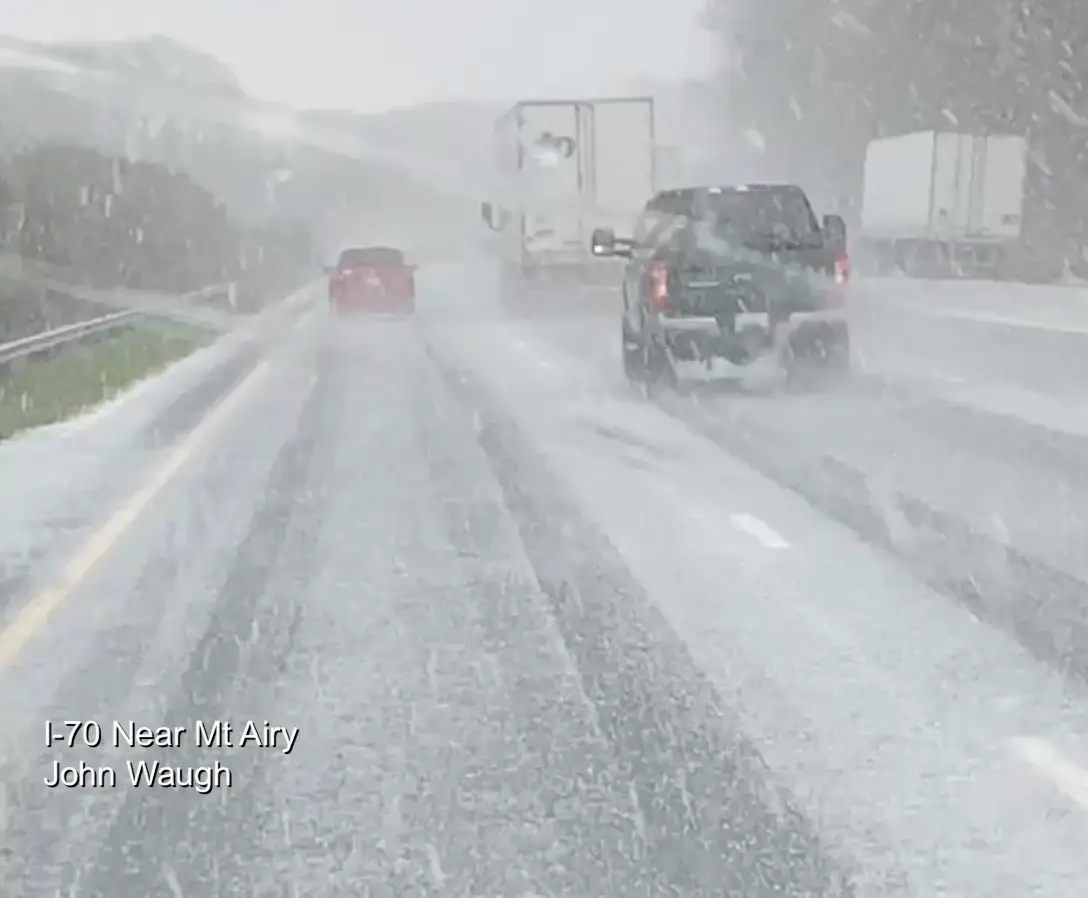 Covering The Flowers
Also in Mt. Airy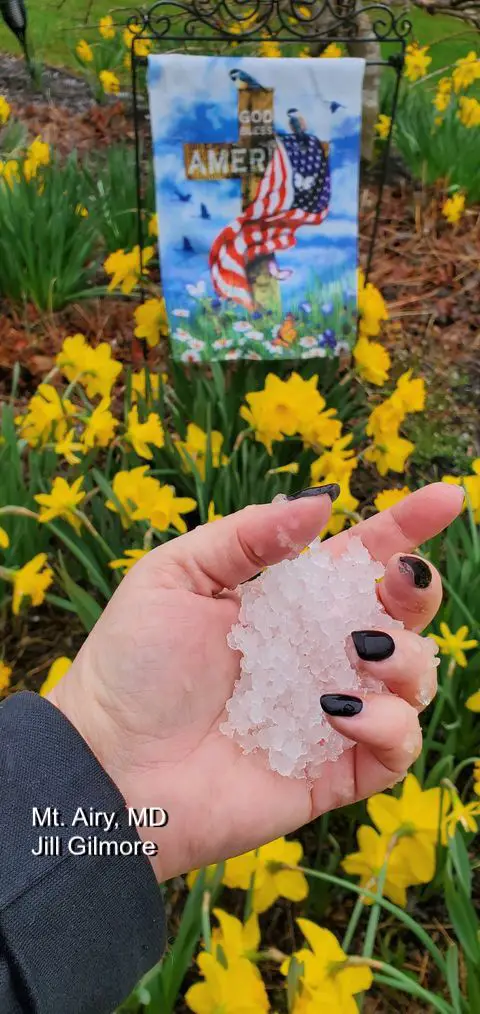 "Snow and sleet" in Gambrills- Near Annapolis
Gettysburg PA
Southern PA also described as Dippin' Dots and also had stickage…
Thanks Christopher Todd.
I'll finish with this from Erica Gageby.   There was a coating on the deck, and it melted quickly when it stopped.
Maybe it's time to hang it up for the season?
Faith in the Flakes…
YOUR INTERACTIVE WEATHER PAGES
14 Local Maryland Pages (and York PA)
We have made a page for Maryland Weather which gives you the current conditions for 14 present area locations.
Local Hourly Forecasts and Local Radar
Central Maryland
Delmarva
Pennsylvania

Please share your thoughts, best weather pics/video, or just keep in touch via social media