Saturday February 13 2021
Freezing rain already began moving in to the region. The air and especially the ground are both cold enough for whatever falls to be able to stick. Untreated surfaces will get icy.
We expect heavy icing to the south, while snow, sleet, and some freezing rain on the north edge will be just enough to impact travel.
This system seems to be fitting a theme this winter, with events arriving a few hours early. The silver lining (shown in the timeline) below is that it should move away before sunrise tomorrow. It's important to know that there still may need to be time for ice to thaw after this ends.
Doppler Radar Snapshot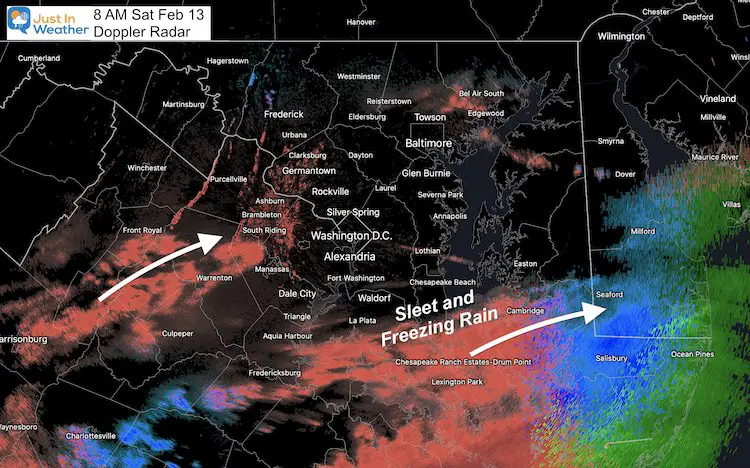 Valentine's Day/Weekend:
Today: Some form of icy travel will develop for most by noon. Snow may start on the north end, but sleet and freezing rain will expand and coat untreated surfaces.
Tonight: Plans might be best to consider carefully.
Sunday morning will start off with leftover ice, but the storm should be moving away by then.  Temps will allow a thaw during the day.
Ice Storm Warning And Winter Weather Advisory Update
The hardest hit areas will be in southern Maryland and SE Virginia.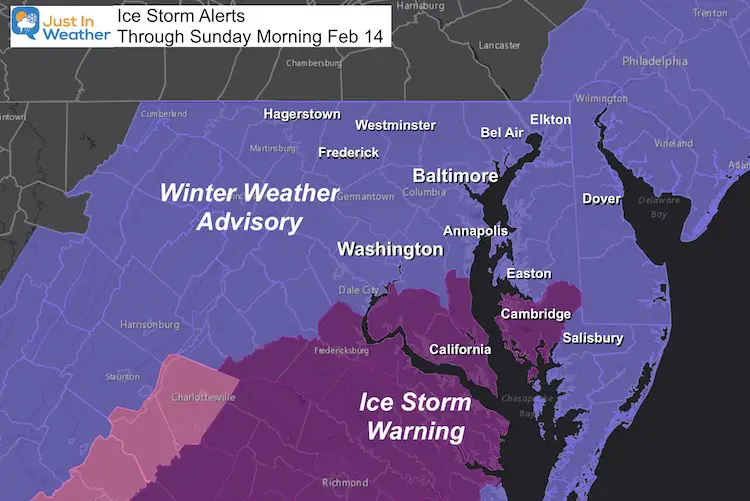 Morning Set Up
Low Pressure off of the coast driving the the storm. Notice the band of snow in the Great Lakes. That disturbance is split and not phasing, but it may try to.  That is why I expect the north end of our precipitation to expand a little farther than models have suggested.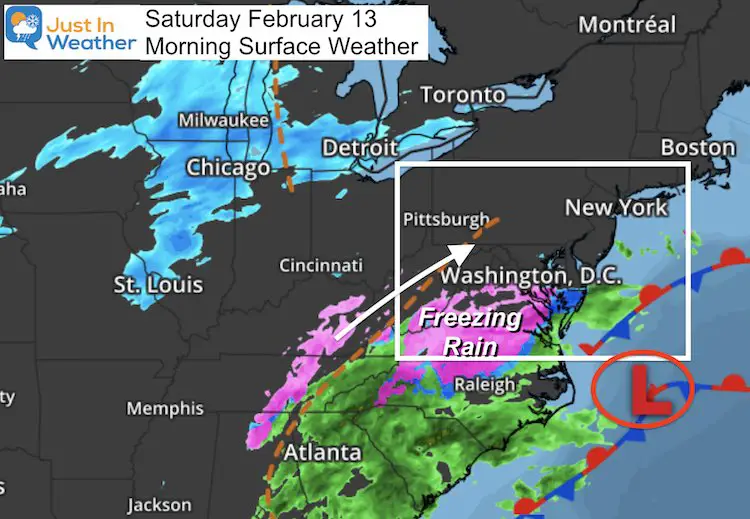 Temperatures at 8 AM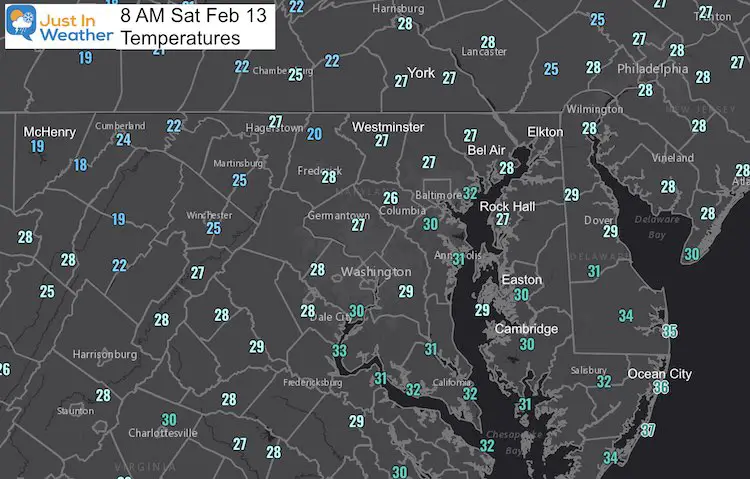 Arrival Today
12 PM
The temperature profile has the northern fringe able to produce sleet or even a ribbon of snow.  If  you get snow, it's only expected to last a short while before switching to sleet.  Totals may be a coating up to 1 inch.
HRRR Model is colder with more snow north… But I do not agree with the plain rain in the south…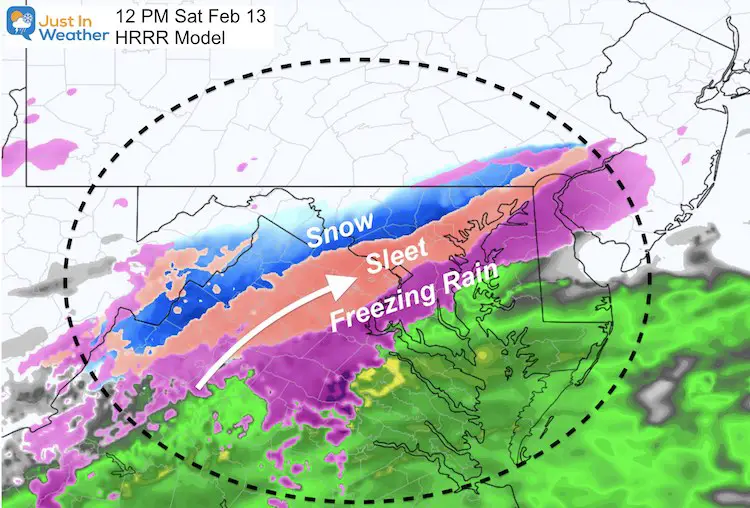 NAM 3 Km appears to be a little more reasonable with the sleet and freezing rain spread on southern edge.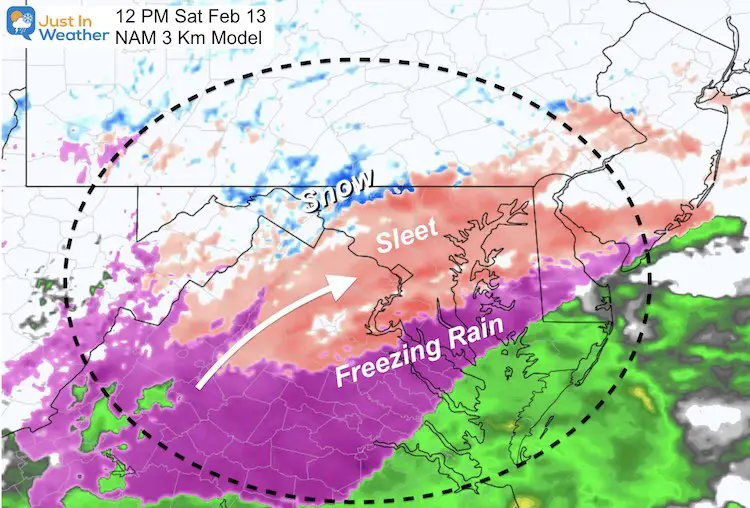 4 PM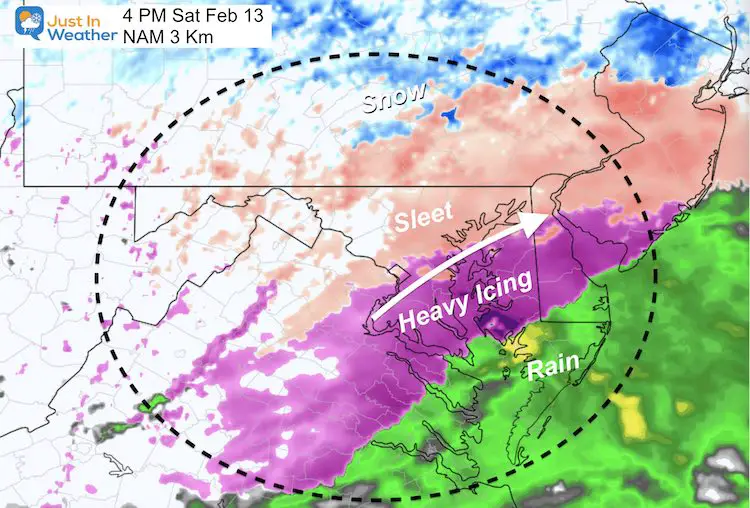 Radar Simulation NAM 3 Km
Time Frame: 9 AM Sat to 2 AM Sun – This does appear to end before sunrise
This is guidance and not perfect. The north end of precipitation may expand farther north. This would be influenced by the other system I mentioned above…
Forecast Ice Total
The faster track and shorter event time looks lower in northern Maryland, but this is still enough to be a concern for icing on roads and walkways.
There is still a large band of 0.25″ or higher.
A lot of this areas still has a few inches of snow from Friday morning. This will add to the weight on trees and power lines.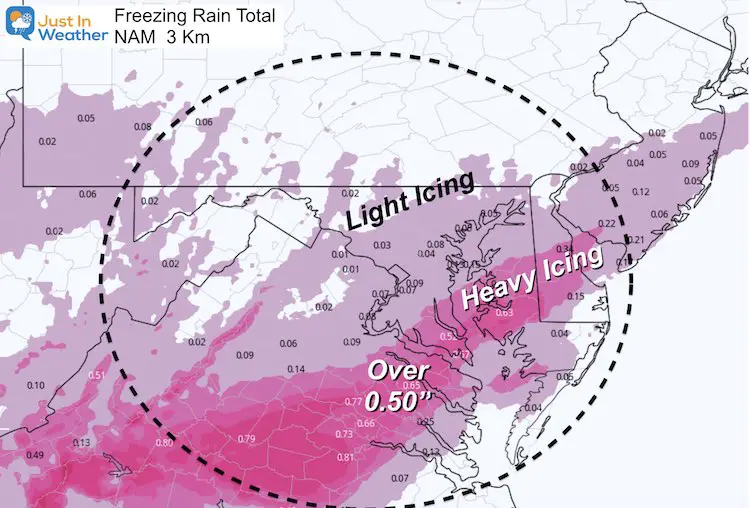 Temperatures —-> slider
Winter Precipitation
The surface air will be cold enough, while warmer air at cloud level allows for rain. This then falls into a closer layer near the surface.
Sleet: Bounces, since it refreezes on the way down.
Freezing Rain: Looks like rain, turns to ice on contact. This is actually more dangerous to weigh down trees and power lines.
Explore More: See all winter precip, more about Freezing Rain, and more winter weather terms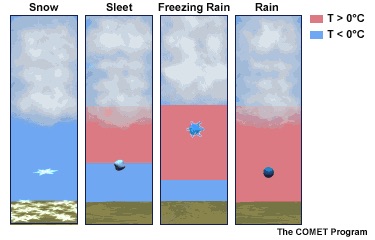 Looking Ahead
Tuesday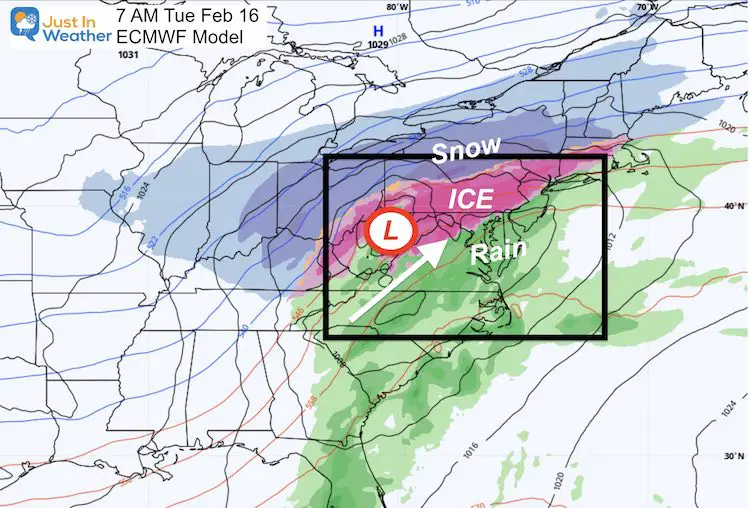 Thursday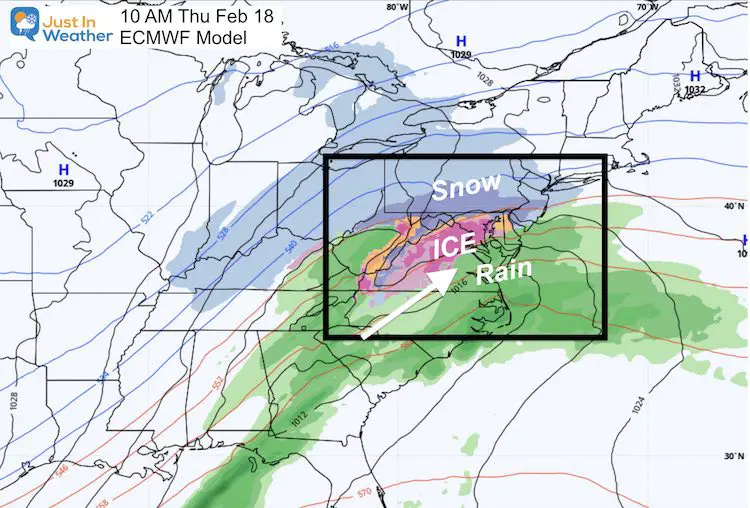 Please share your thoughts, best weather pics/video, or just keep in touch via social media
YOUR INTERACTIVE WEATHER PAGES
14 Local Maryland Pages (and York PA)
We have made a page for Maryland Weather which gives you the current conditions for 14 present area locations.
Local Hourly Forecasts and Local Radar
Central Maryland
Delmarva
Pennsylvania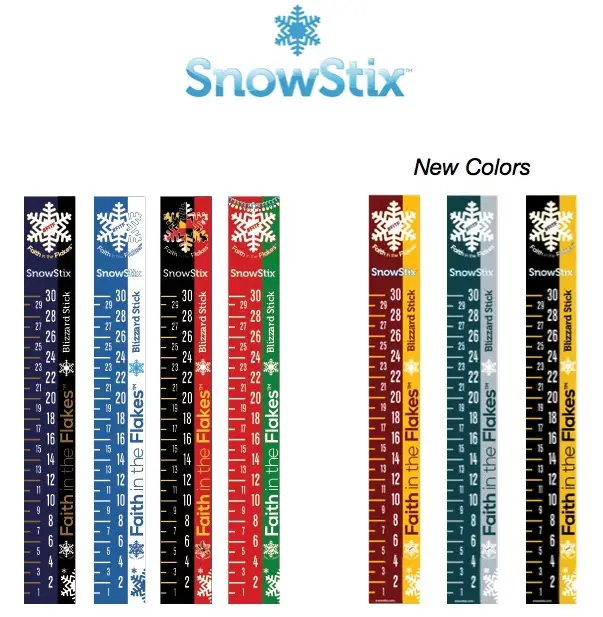 FITF Shop Open
My 'bonus' daughter Jaiden and wife showing off our popular Maryland Hoodies. Unisex and women's items all produced in Maryland.
Click here to see this and many other new items.