Monday January 25 2021 Evening Update
As the snow and wintry mix move in this evening, I've prepared a new update with simulations for temperatures and radar.
The atmosphere is set up The Winter Weather Advisory has been expanded to include metro Washington, Annapolis, and across much of Delmarva. This is because the storm will develop its own cold air. That was expected, but it will cover a broader area. The result:
More of our region in on the action
Slight increase in potential snow
Ice may linger longer Tuesday morning
Updated Winter Weather Advisory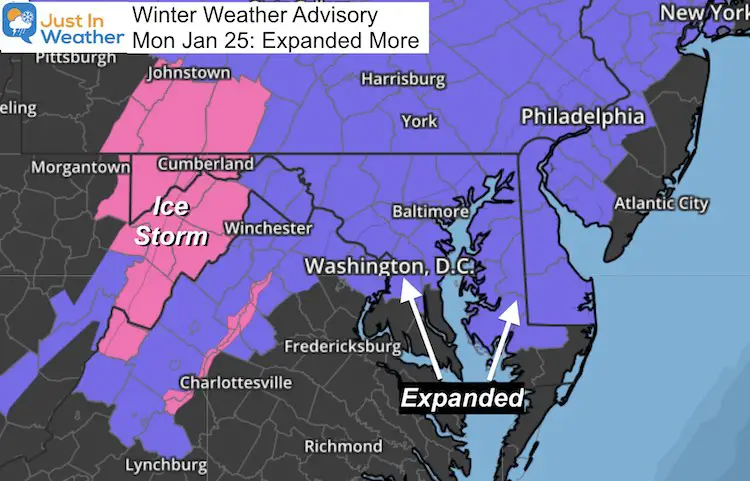 Temperatures
Turning Colder As Precipitation Develops. I discussed this in the prior report how the dry air will allow the falling snow and mix to sublimate/evaporate. That will generate the colder air.
I've highlighted central areas near and below freezing.
—-> slider
Note: The freezing temps may linger longer in the morning depending on where ice and snow has accumulated on the ground.
When Will It Begin?
Here is my original call for the 'arrival' time.  Compare this to the latest simulation below and what actually falls outside your window.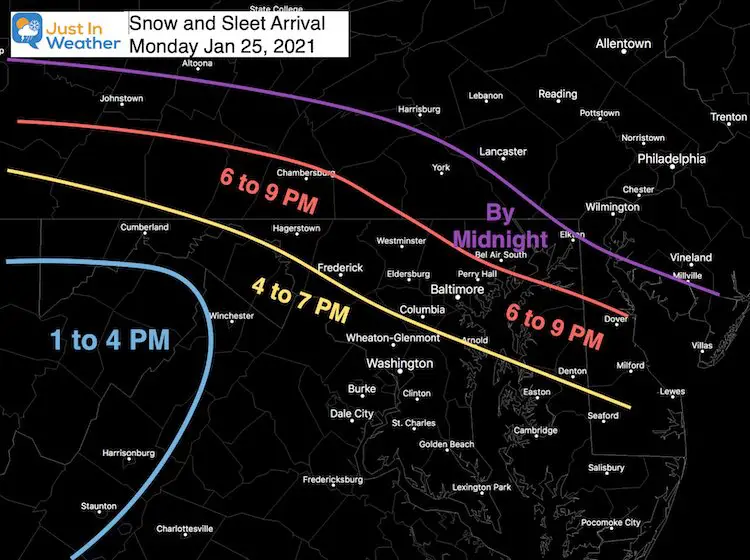 Tracking on local radar?
You can do that on this local weather page.
It is important to note that in winter with dry air, radar can show snow (etc) falling that does not reach the ground. That is VIRGA. The 'stuff' is falling from the clouds that gets measured, but it sublimates or evaporates before reaching the ground. That is what is expected to help cool the air, but the precise time until you see 'stuff' falling is the wildcard.
Radar Simulation —-> slider
This is not perfect, but the latest model update. See how the snow and ice expand after first starting with the cooling temps.
See if you can compare with the actual radar to see if it timing lines up.
*Tuesday morning freezing rain may be spotty, and confined to the inland counties west and north of Baltimore.
My Final Call For Snow And Ice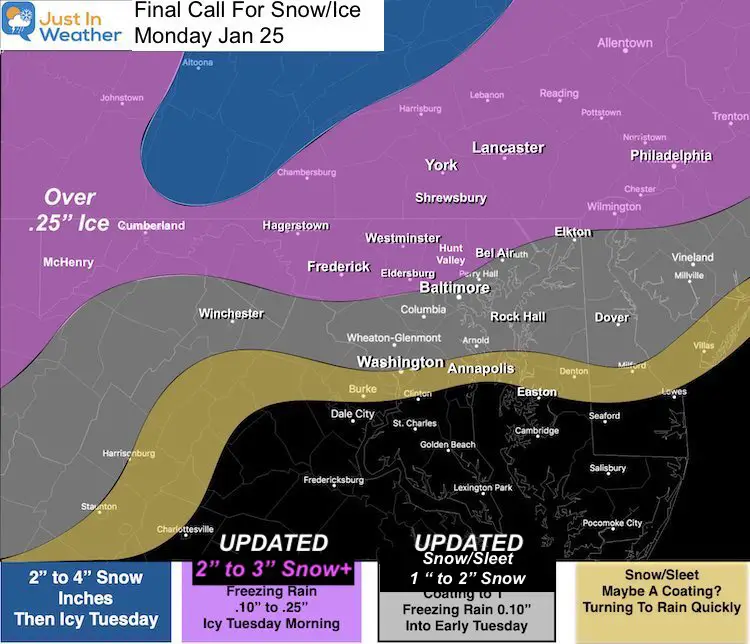 More Info To Explore: NEW PAGE
Everything I could it about our local weather and auto updating NWS Maps
What About The Thursday Storm?
I saw the latest models pushed the snow south. I am not worried about that. I expect this first storm may kick a little north, and the second one may follow, with a display on the models as this passes through.
We can address that next.
Faith in the Flakes – FITF
Please share your thoughts, best weather pics/video, or just keep in touch via social media
YOUR INTERACTIVE WEATHER PAGES
14 Local Maryland Pages (and York PA)
We have made a page for Maryland Weather which gives you the current conditions for 14 present area locations.
Local Hourly Forecasts and Local Radar
Central Maryland
Delmarva
Pennsylvania

FITF Shop Open
My 'bonus' daughter Jaiden and wife showing off our popular Maryland Hoodies. Unisex and women's items all produced in Maryland.
Click here to see this and many other new items.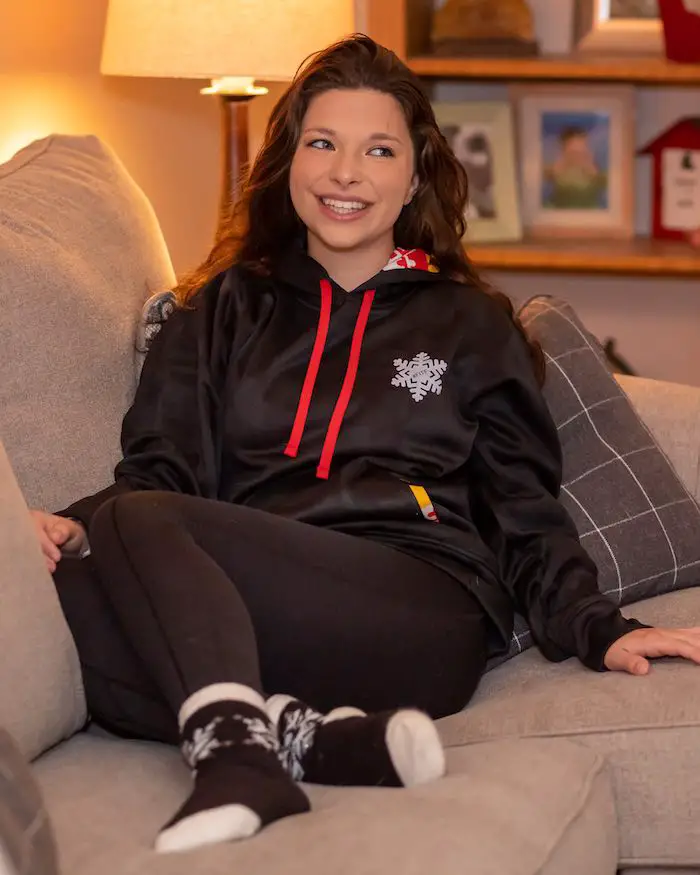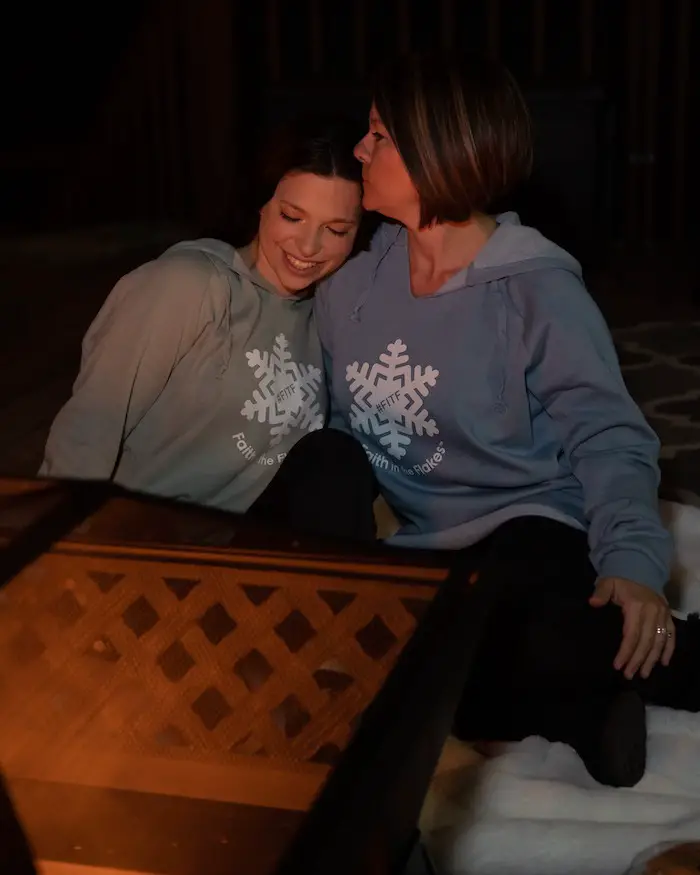 Also see:
Maryland Weather Page
I wanted to keep it simple. Just the basics for a quick view at any time.