January 20 2021
It may not seem like it, but winter is just getting started for us.  There have been some consistent signals that next week may bring us two winter weather events. The second one could be the colder event, or too cold and pushed south depending on which model has it right.
The first weather event is expected on Monday, which is within the 5 day window now, so I believe it is time to talk about it. However, I continue to use caution based on recent poor model guidance AND a split in the outcome.   
The second event slated for next Thursday is worth throwing in for good measure.
Then we will compare extended temperature outlooks. The Polar Vortex continues to be disrupted, but the next wobble is more likely to end up in the Western Hemisphere. But the long range plots are still having trouble with how extensive that might be.
Before we get started, I want to point out that the energy is still over the Pacific Ocean just south of Alaska.
Water Vapor Satellite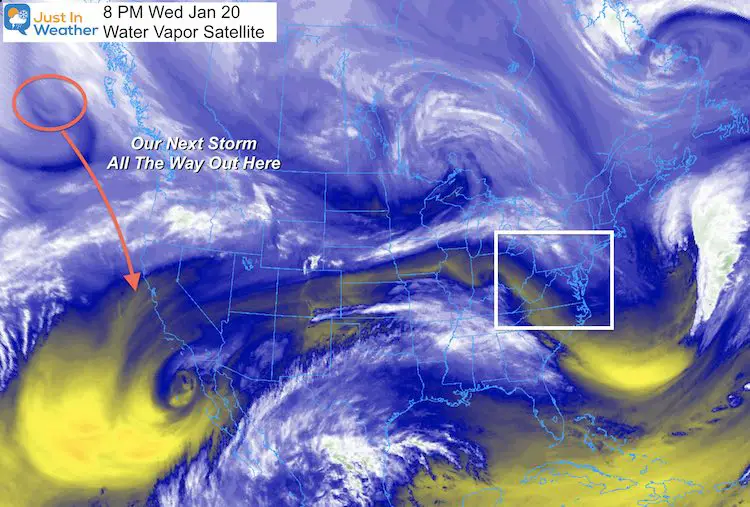 This will slide down the coast to California, then spread eastward across the US.
Let's look at the Jet Stream tracking the flow this Friday evening through next Friday morning.
This is NOT cold and warm, but rather the troughs where cool unstable air aloft can help surface Lows develop.   The two blue 'blips' passing through the Mid Atlantic are shortwaves that will be responsible for the wintry weather.
Jet Stream Animation
if this stops playing, hit refresh
But don't systems from the west dry out over the mountains?
That is a common thought, and mostly correct. This set up is an overrunning event. That is an elongated push of warm moist air over cold air at the surface. That can occur along an arctic boundary and spread a wide area.  The result can be snow, and extended icing. That is how this first event appears to be set up.
Now let's go to the surface features.
Event 1: Monday
The European ECMWF Model is rather aggressive with snow and ice for the first event. This has support from the Canadian GEM, which performs at its best in arctic environments.   
The GFS Model on the other hand has a tendency to keep this and the following feature to our south. I will show that below.
UPDATE: SEE  The GFS Model Has Joined The Party (Thursday)
ECMWF Model —-> slider
Event 2: Thursday
This is father out in time, so less confidence for now. But if you are a winter weather lover, seeing the three main models showing something is promising. That 'thing' is spread out.
ECWMF Model
Our trusty friend is still the most aggressive with a phasing of the northern and southern branches of the jet stream for a moderate snow event, trending to a stronger coastal on Friday.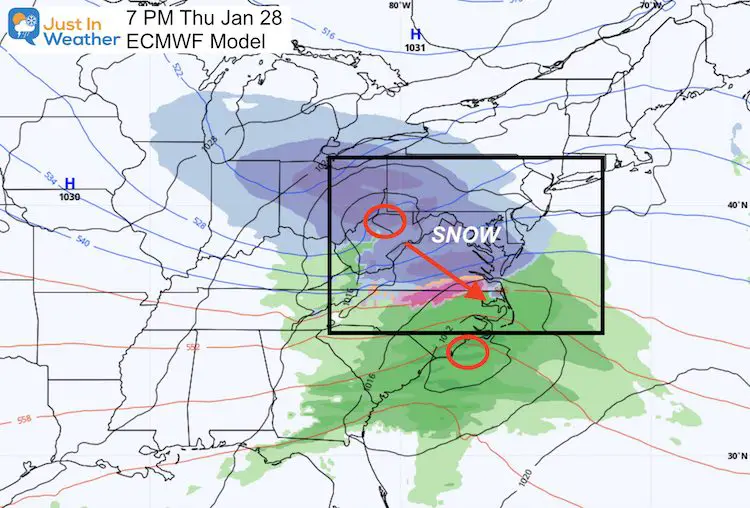 Canadian GEM Model
This is similar to the Euro with phasing, cold air, and widespread snow with developing coastal.
GFS Model
The American model once again is the party pooper. Here we see it suppressing the energy too far south, but brining a moderate snow event to North Carolina. I have a hard time believing in this.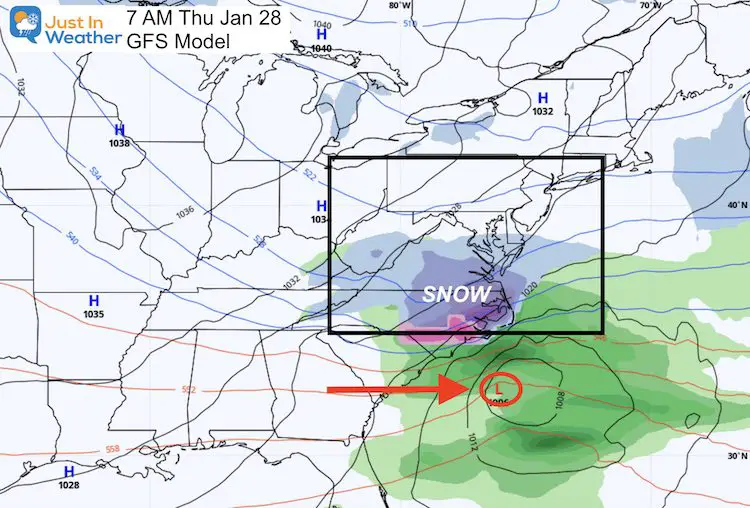 Depending on what model your weather app or favorite local TV weather person primarily uses may determine the icons you are or are not seeing next week.
Here's the GFS Model showing both the Monday and Thursday events as nothing special.  Quite the contrast to the Euro and Canadian.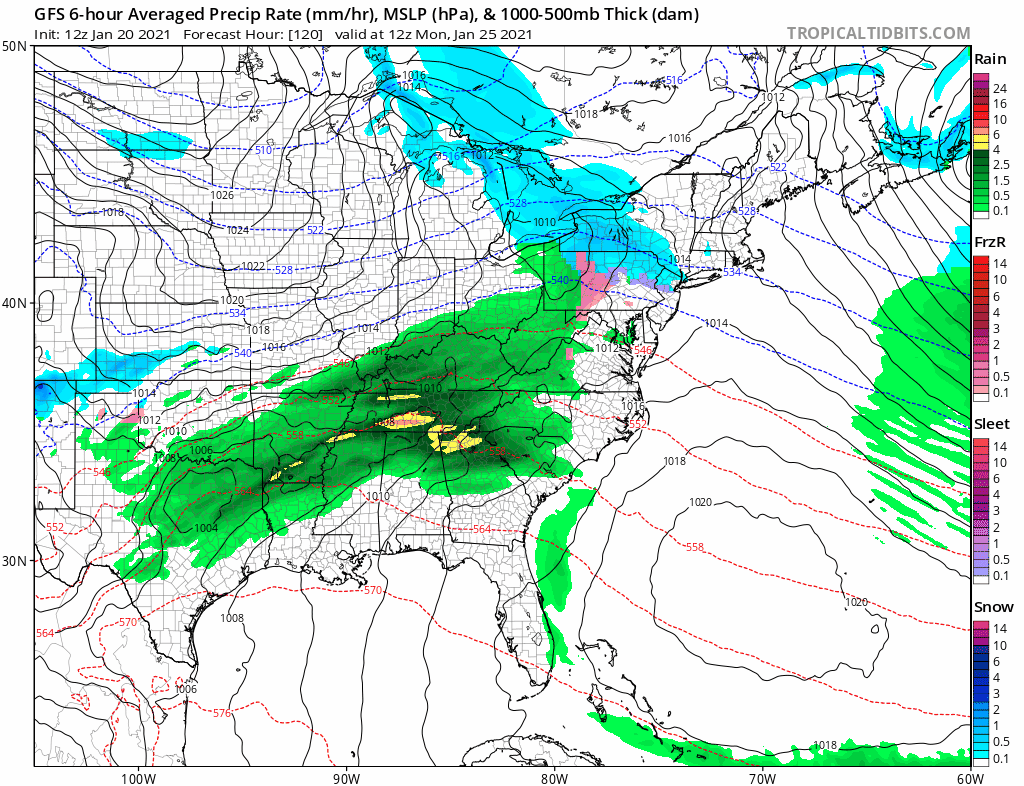 Another Polar Vortex Disruption:
I will share the plots in a follow up report. But the temperature outlooks here do show which is believes we will get in on that true arctic air.
The European Model has the Bitter Cold air mass reaching us following that second strong storm next week. Assuming that verifies…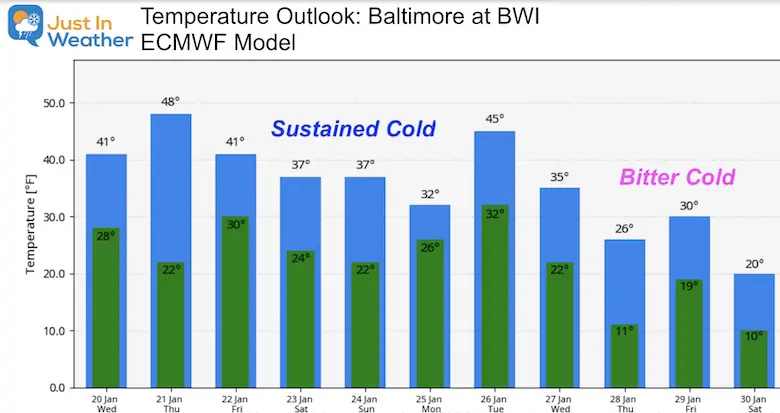 The GFS Model has sustained cold. This is below average, but not nearly as impressive. This longer outlook also brings back some seasonal air for a few days to start February.  Assuming this verifies…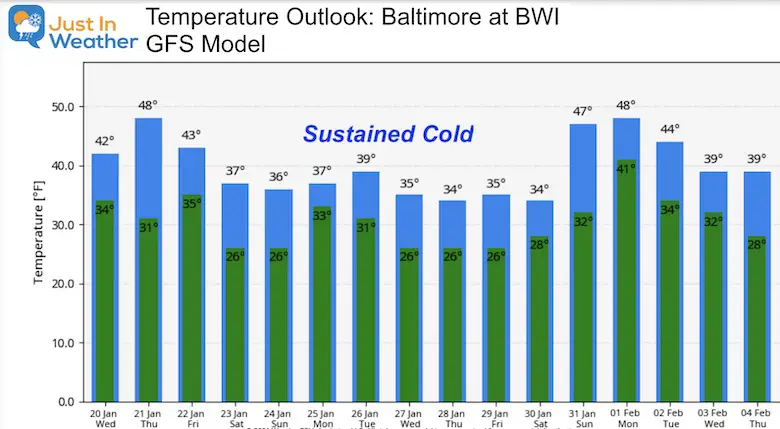 Take Away:
Winter is just getting started. This is the time frame I had in my original winter outlook, and the overall look is promoting more winter events.
Yes, I just shared a bunch of maps highlighting TWO winter events next week, even though I spent the last two months pointing out the poor model guidance long range.   
This first event is within 5 days, and there has been an 'event' on the modeling for a few days.  Something will develop. But I still hesitate to get too excited yet.
Polar Vortex and Arctic Cold:  Yes, I have mentioned this a lot, and this first push was hardly worth mentioning.  But that event did occur, just sent the core of cold air to the Eastern Hemisphere. This next push is more likely to have a bigger return for us.
Faith in the Flakes
Please share your thoughts, best weather pics/video, or just keep in touch via social media
YOUR INTERACTIVE WEATHER PAGES
14 Local Maryland Pages (and York PA)
We have made a page for Maryland Weather which gives you the current conditions for 14 present area locations.
Local Hourly Forecasts and Local Radar
Central Maryland
Delmarva
Pennsylvania

FITF Shop Open
My 'bonus' daughter Jaiden and wife showing off our popular Maryland Hoodies. Unisex and women's items all produced in Maryland.
Click here to see this and many other new items.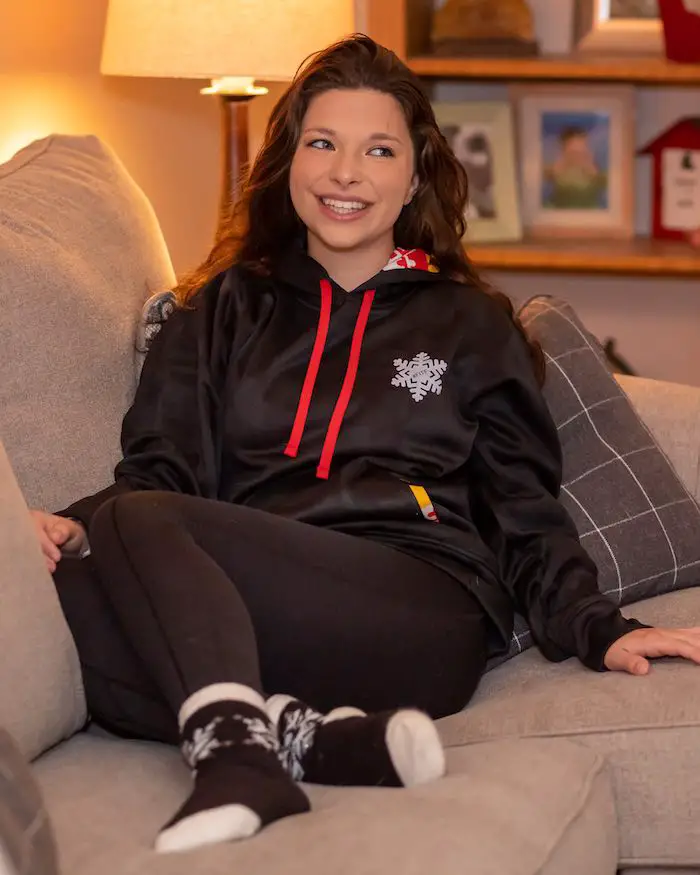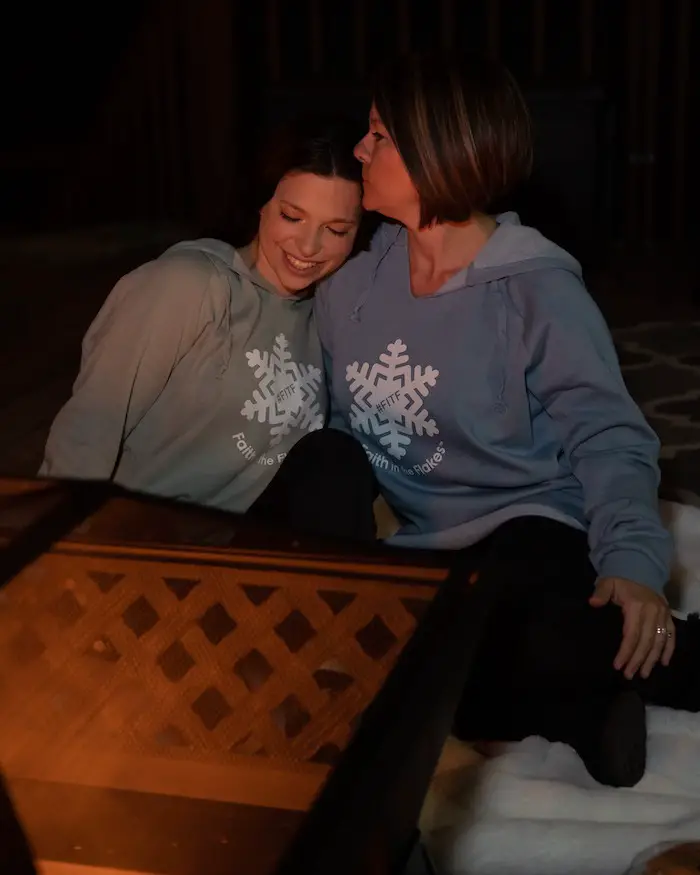 Also see:
Maryland Weather Page
I wanted to keep it simple. Just the basics for a quick view at any time.