Wednesday January 13 2021
If you liked yesterday's weather, we get to try it again today.  But, we have a cold start. Very cold in some places into the lower 20s just north of Baltimore.  Just wait a few hours and we will get a quick jump to a mild afternoon with sun. Enjoy it because we should see more clouds tomorrow.
Morning Temperatures 
A true sign of a clear sky and cold air mass is the widespread range of temperatures.  Hills will be warmer than valleys, as warmer air rises.  There ia also a band of clouds in the far northern Maryland and southern PA region that has kept temps a little more moderate (upper 20s to mid 30s).
Check out Westminster at 36ºF, but Cockeysville is 19ºF. That really cold 'lower 20s' shows up across Harford, Baltimore, Howard, and Montgomery Counties in MD.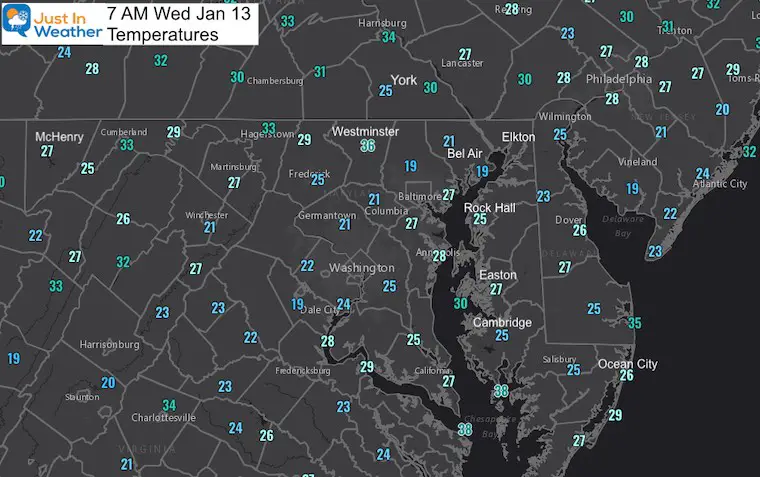 The next weather maker is in the Pacific Northwest now. It will race across the nation and arrive here late Friday as a cold front.  The trend to is keep more moisture around as the colder air spills in Saturday, increasing the rain and snow showers across our region.  I say trend, as there is some disagreement about the impact, but each model run looks more impressive.  But overall, this will be our change in weather pattern for the second half of the month.
Morning Surface Weather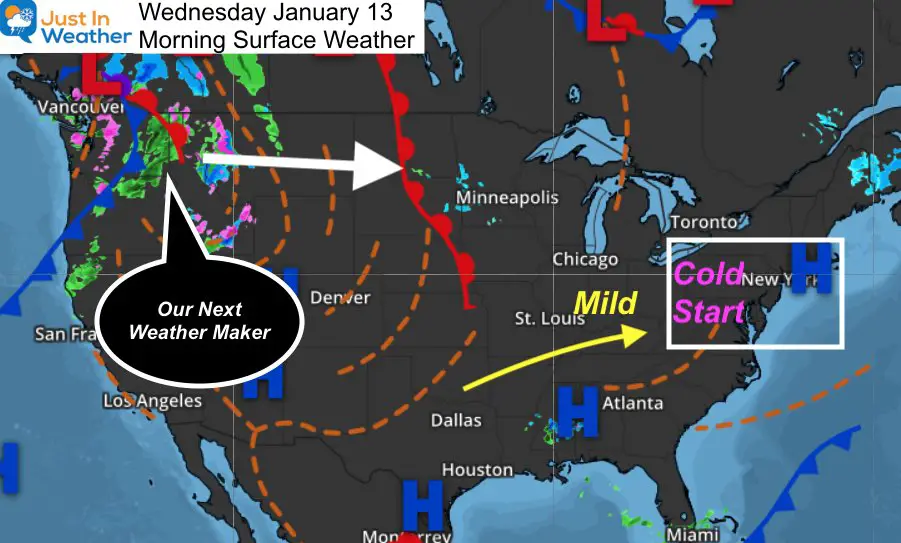 Afternoon Forecast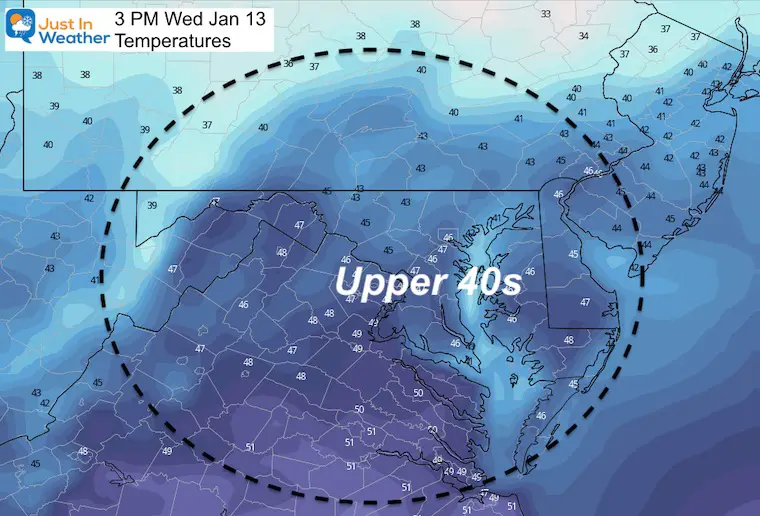 Forecast Snapshot: Central Maryland
This is from the GFS Model. I will compare this and the European maps below.

Thursday Weather
Morning Temperatures: More clouds should prevent our thermometers from dropping as low as this morning.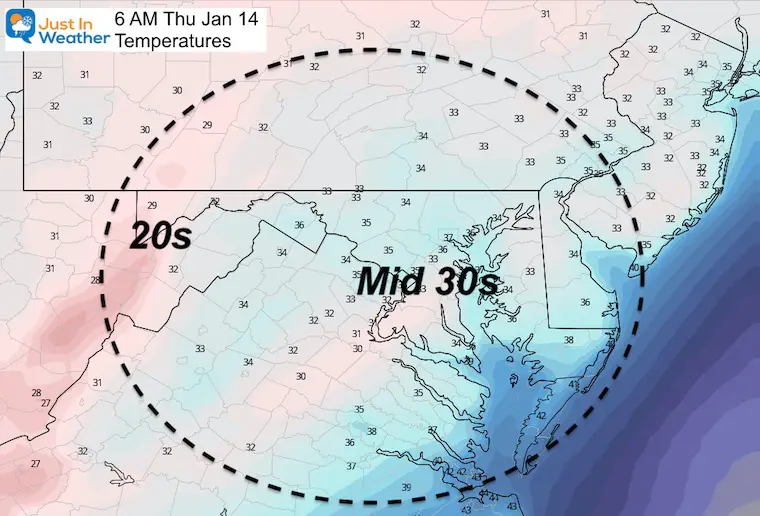 Thursday Weather Map
The clouds are expected from two weather systems to our north and south. We should remain dry.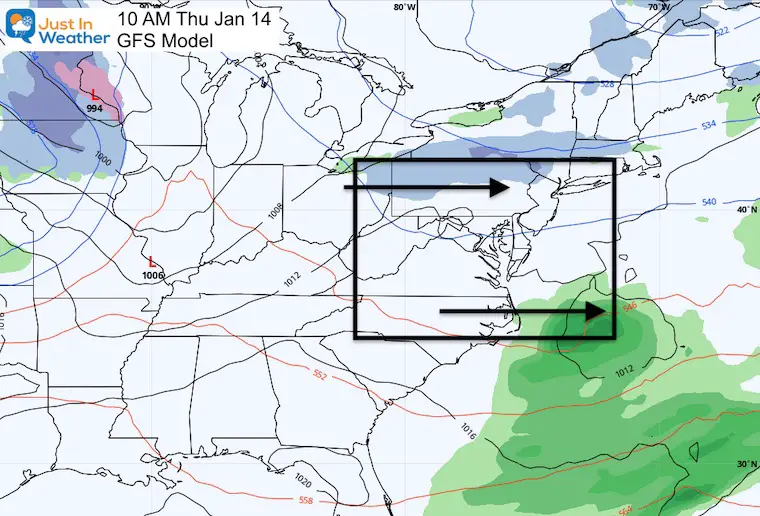 Afternoon Temperatures: More clouds, but warmer afternoon.
Friday Weather: The Cold Front!
This day should become breezy, and more than likely end up warmer than forecast. That is often the case before a front arrives. But the FROPA (frontal passage) itself is treated differently between the GFS and European Models…
Let's Start With The GFS Model
The line of showers may not initially look impressive, but it will bring snow to the mountains earlier in the day.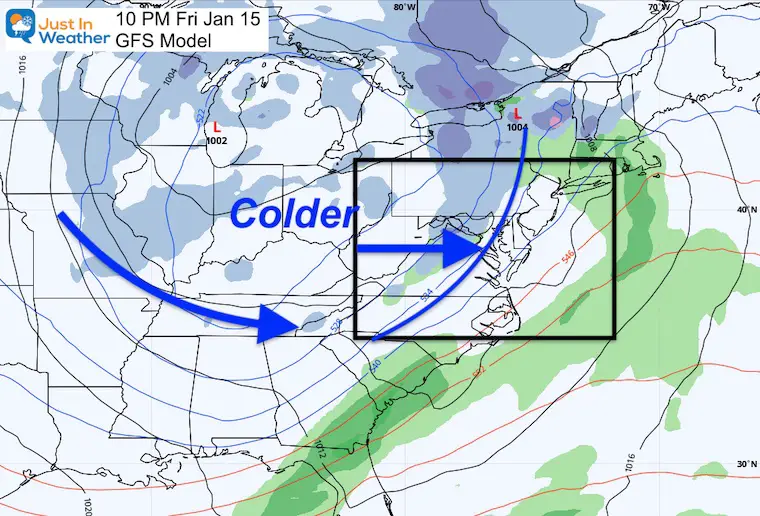 Saturday: Here we see the cold air in place with enough moisture to keep rain and snow showers around.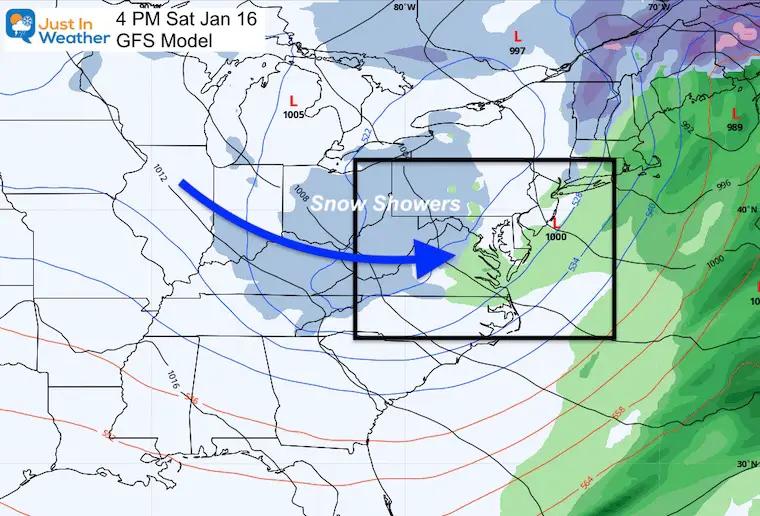 Now look at the European ECMWF
Here we see a more pronounced wave of Low Pressure along the cold front. This would do two things:
Slow the FROPA down
Bring in more moisture
At this point, we see rain for most of the region early Saturday morning. This could last into the afternoon.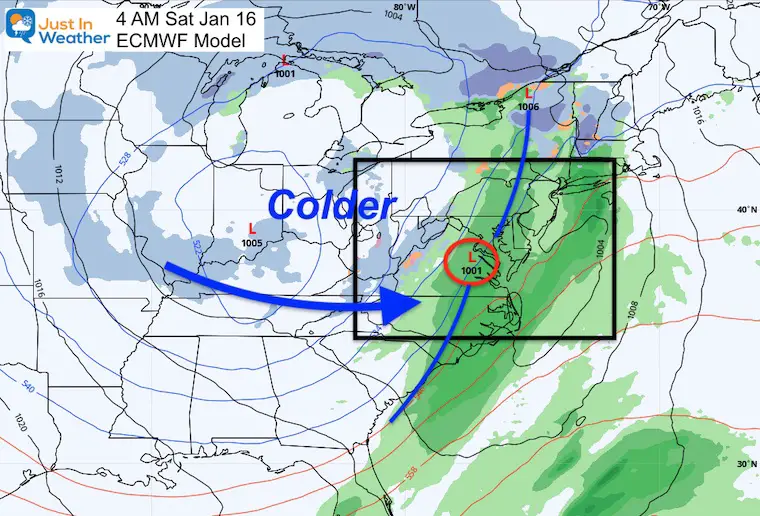 Saturday Afternoon: Closer View
This is where I have some suspicion about the output. Rain (green) appears widespread, but the cold air has already moved in aloft.
I have highlighted (blue box) the 540 Dm Line. This is measure of thickness in the atmosphere that is an indication of temperatures. That line is often when the freezing line is, at least with respect of temperatures aloft.
Should this Euro scenario play out, I would expect more snow, graupel, and sleet to mix in.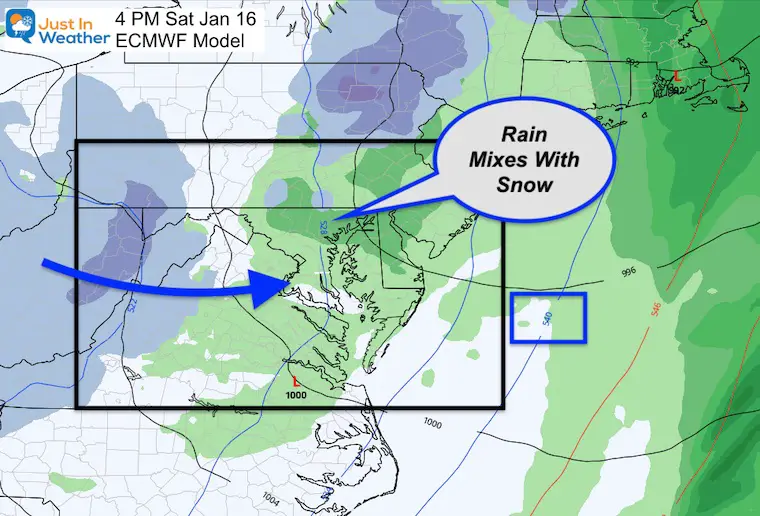 Afternoon Temperatures 
Even with 30s showing up on the thermometers, there may be a delay to reach freezing. This set up only supports stickage in the mountains.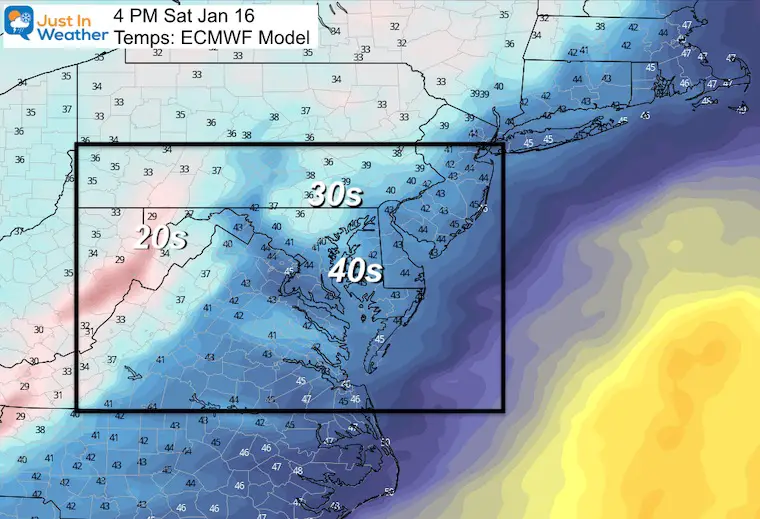 Temperature Outlook
This latest look at the temperature outlook shows the gradual step down with the first two impulses of colder air.
As I mentioned in my last report about the Polar Vortex Update, this is less impressive than initially shown. However, there will be multiple pushes that get progressively colder.
We also have continued to see poor model guidance that is not handling the cold very well.   We will turn cold, and there should be multiple chances of snow over the next few weeks.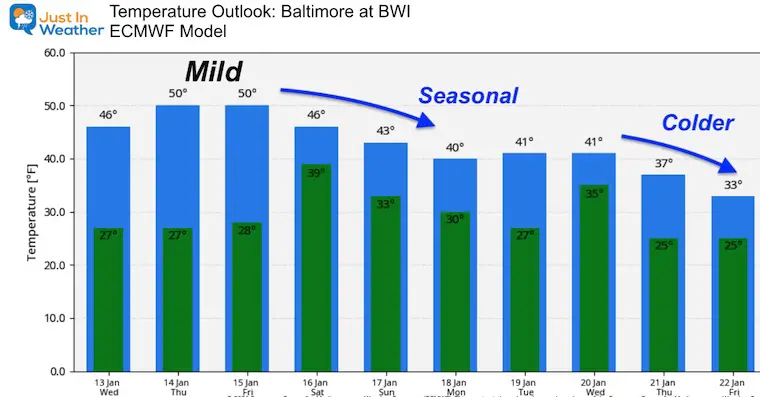 Please share your thoughts, best weather pics/video, or just keep in touch via social media
---
Email Updates
Please make sure you sign up (above or click here to sign up for email alerts…. ) for my newsletter. This way you will get an email to make sure you are notified of each post.
---
YOUR INTERACTIVE WEATHER PAGES
14 Local Maryland Pages (and York PA)
We have made a page for Maryland Weather which gives you the current conditions for 14 present area locations.
Local Hourly Forecasts and Local Radar
Central Maryland
Delmarva
Pennsylvania

FITF Shop Open
My 'bonus' daughter Jaiden and wife showing off our popular Maryland Hoodies. Unisex and women's items all produced in Maryland.
Click here to see this and many other new items.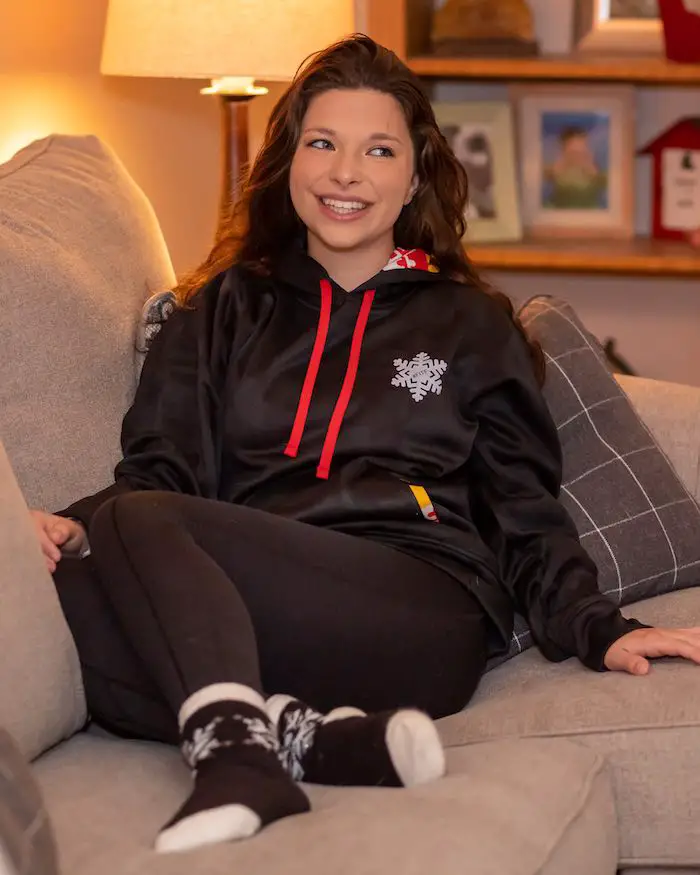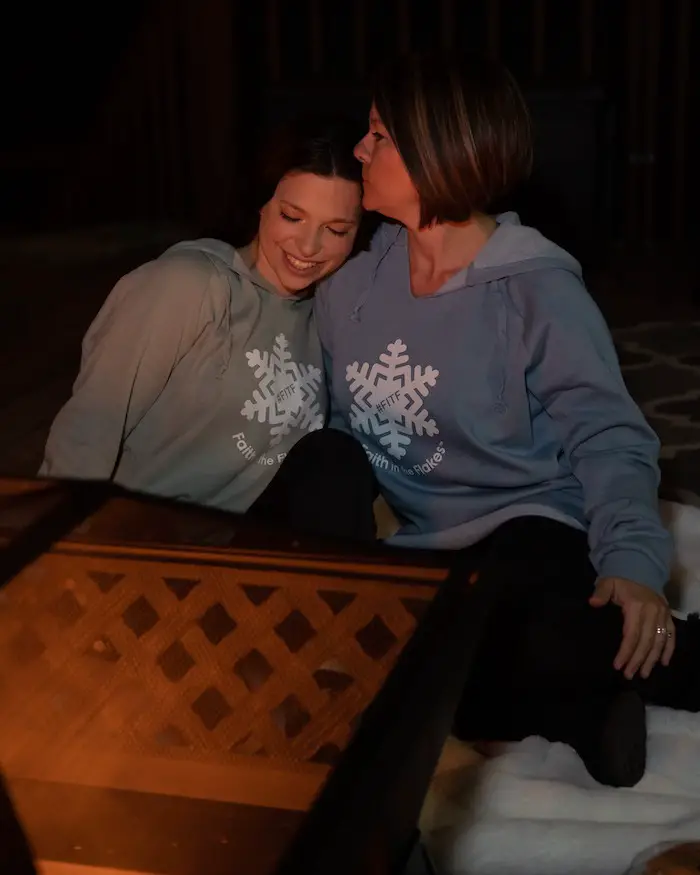 Also see:
Maryland Weather Page
I wanted to keep it simple. Just the basics for a quick view at any time.