If you are a fellow weather geek or friendly with one, you have likely heard the Polar Vortex (PV) come back into frequent conversation.  I am one of the proponents of that.  I know it's a buzz term bordering on cliche now, but the PV is being disrupted and will send much colder air our way. That is almost a given promise over the next two or more weeks! Calling individual snow events are a different story.
Make sure to scroll to the long range temperatures at the bottom of the post.
The jet stream will get a few impulses of arctic air, that show up well on jet stream maps like this.  The computer model forecasts may not have caught up to it yet.
JET STREAM
Here is a look at when we should be knee deep into the arctic air. But it is not the initial hit. There is an animation showing the trend below.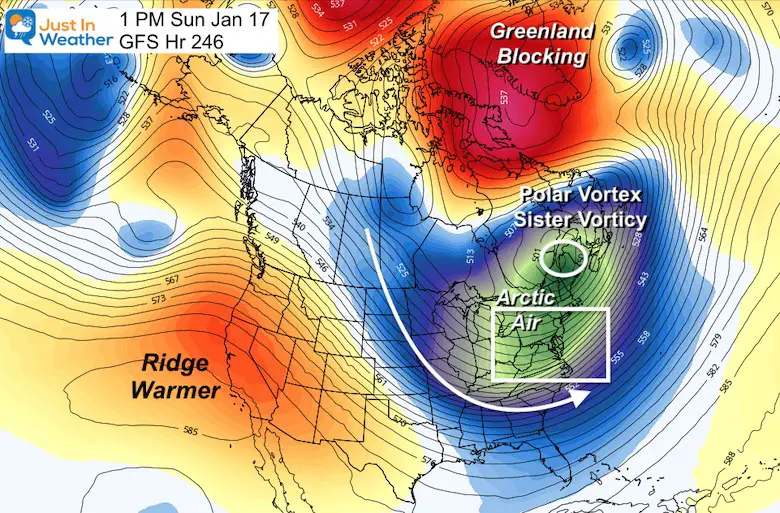 We have very good confidence in the long range pattern, which is why I even suggested in an earlier report that icing of local water ways is likely in the weeks ahead.  But the smaller waves, otherwise known as storms have much less certainty.
In Short: The Computer Model Guidance keeps flipping from snow to no.  I will show you in a moment. But first, I LOVE this graphic that NWS in Kansas City posted this week. It compares long range forecasts to a game of Plinko (which us old schools know best from Bob Barker)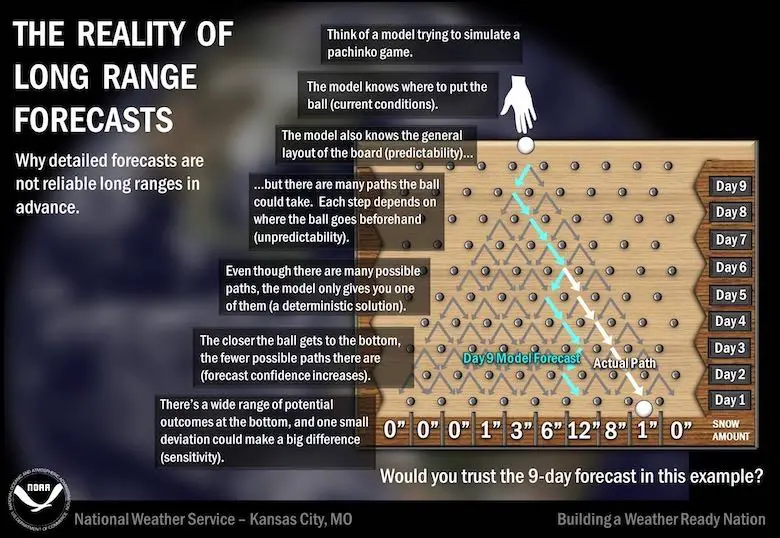 Please note that computer models has many versions of possible outcomes. There are also the collaboration 'ensemble' and most likely 'deterministic' version that are shown.  Still, these don't always get it right.
The father out in time, the more variables and optional results are possible. That is why I DO NOT like to show storm forecasts beyond 7 days (this graphic suggests 9 days).  But recently I have for the purpose of this point.
This is also why I DO NOT give snow forecasts more than 72 hours ahead of a storm. Often I only start with the low end number I have most confidence in. The expand as we get closer.
Now, check this out.
The American GFS and European ECMWF Models are the most used, well know, and reliable.  BOTH have continued to flip about a storm for next week, roughly around Tuesday.
The models get updated every 6 hours, but it truly is the 12th hourly updates that are best used. Those are the morning 12Z (7 AM EST) and evening 00Z (7 PM EST) run times. This is when weather balloon data provides the most complete information into the grid/system.
GFS MODEL FLIP
Here is a look at the 'potential snow' the GFS Model was tracking for next Tuesday.
These are just the last 3 model runs (from the 12 hour marks). I've compared the same exact time fame (4 PM Tuesday January 12).  Note how far out the forecast time frame is, and the flip from no storm, to snow, to none again…
Left: Most Recent plot this morning
Middle: Plot last night
Right: Plot yesterday morning.

Now the European Model.  This is known for being more reliable, and yet has had the same problem.  I've made a point to identify that lack of confidence when I post.
So why post it? To show you perhaps what your weather app or local TV person might be basing their forecast from.
EURO SNOW (MANY) MODELS
Most Recent Plot: Not impressive, but a little light rain with snow in southern PA.  But wait…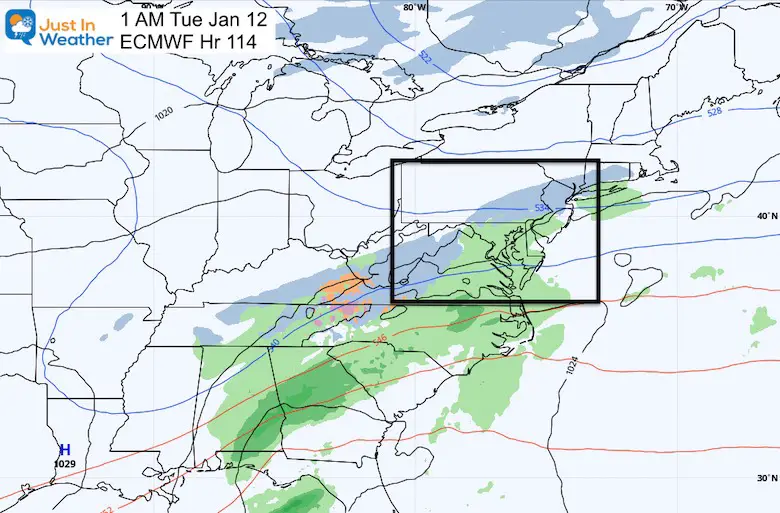 This is the plot from overnight, which I shared on my morning weather report.
This shows a significant weather event next Tuesday morning.  But wait…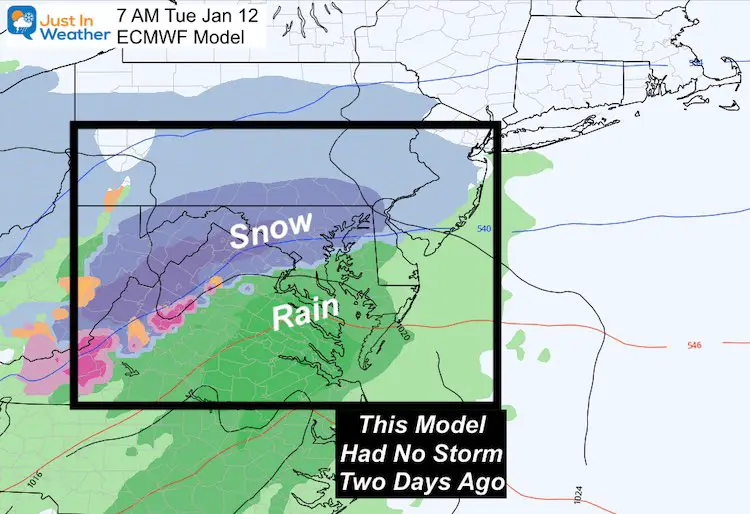 Here is the wider view (later in that morning) to maintain perspective with the other maps. But wait…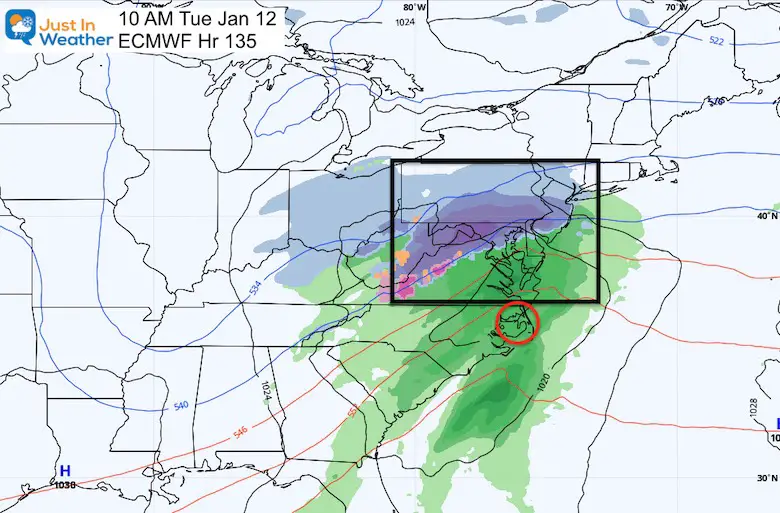 Here is the SAME MODEL, showing that storm arriving 12 hours later, with mostly rain overnight.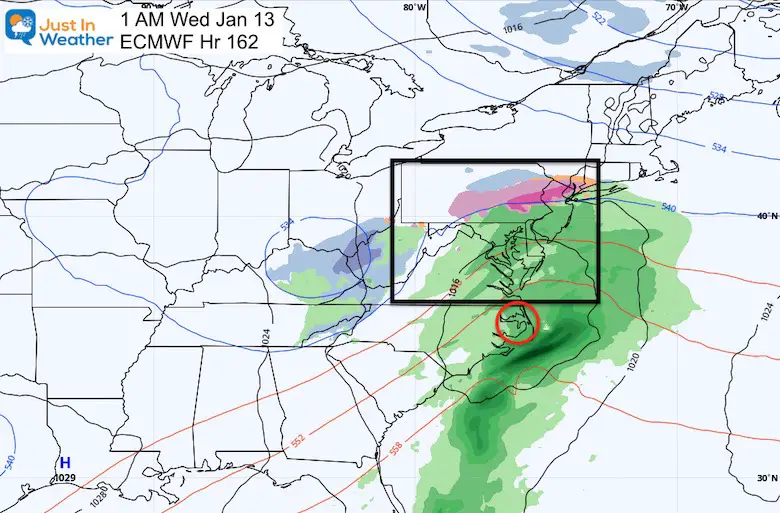 So Many Questions
What are we supposed to trust?
What are we supposed to show you? The genie is out of the bottle (figuratively). There are so many weather apps and novices with access to models blogging and showing long range forecasts, that it needs to be addressed.  That is, even if I or other professionals don't completely believe in the computer models.
What are we supposed to think?
Will it snow in the next week? Perhaps, but the guidance has not been supportive consistently.
Wille it snow soon?  I believe there is a HARD YES on that! That is all based on the pattern.
I have more confidence in the long wave or global forecast of the jet stream adjustment, than the specifics when we get into the 1, 2, and 3 week forecasting time.
Jet Stream Animation
This speaks for itself. The BLUE represents the trough and upper level low of cold air at the 500mb level. That is around 18,000 Ft.  Notice the persistent surges beginning next Wednesday and Friday, then through the weekend of January 23… with more to follow.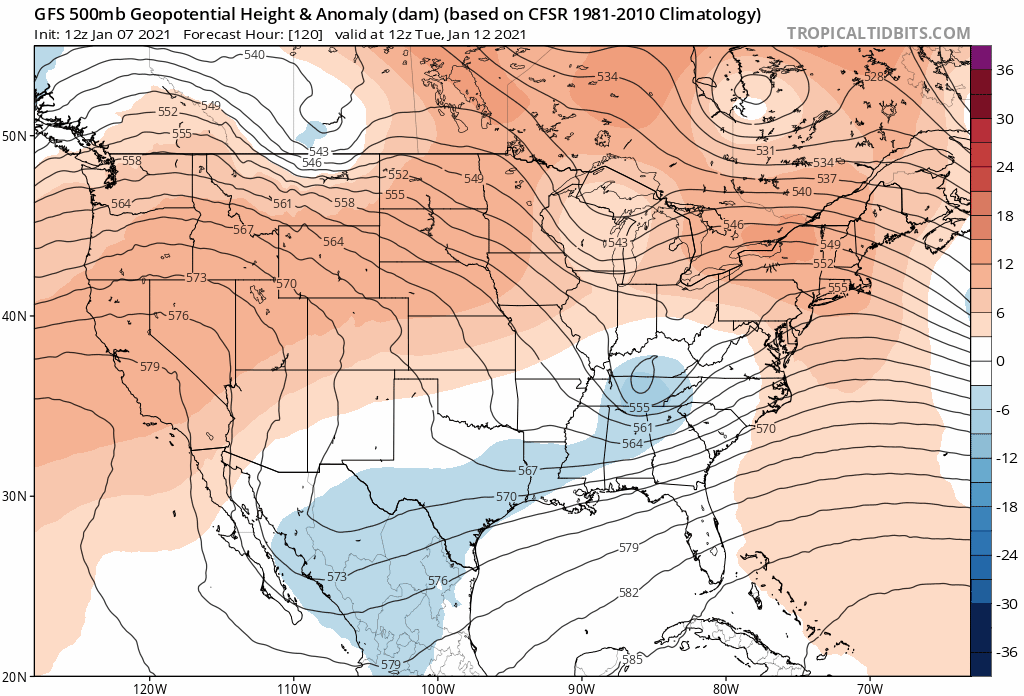 How Cold Can It Get?
The modeling is starting to catch up to the upper level suggestions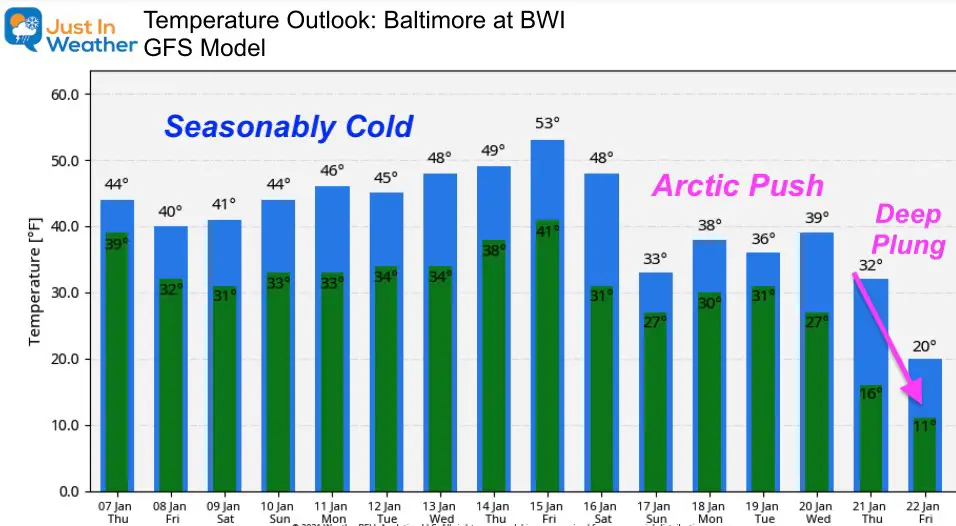 In Summary:
It will get much colder!
The jet stream supports a very active flow with many chances for storms. In the cold air that can play out to many snow opportunities. More than we have had in a few years.
When will it snow?
I still play cautious with that with little model guidance, as we have seen next week.
But, it will happen this month! I have Faith in the Flakes.
FITF
Tl;dr: Too long; didn't read:
I still believe it will get much colder and we will have many chances for snow this month.  However, I am still not sure about the system next Tuesday.

YOUR INTERACTIVE WEATHER PAGES
14 Local Maryland Pages (and York PA)
We have made a page for Maryland Weather which gives you the current conditions for 14 present area locations.
Local Hourly Forecasts and Local Radar
Central Maryland
Delmarva
Pennsylvania

FITF Shop Open
My 'bonus' daughter Jaiden and wife showing off our popular Maryland Hoodies. Unisex and women's items all produced in Maryland.
Click here to see this and many other new items.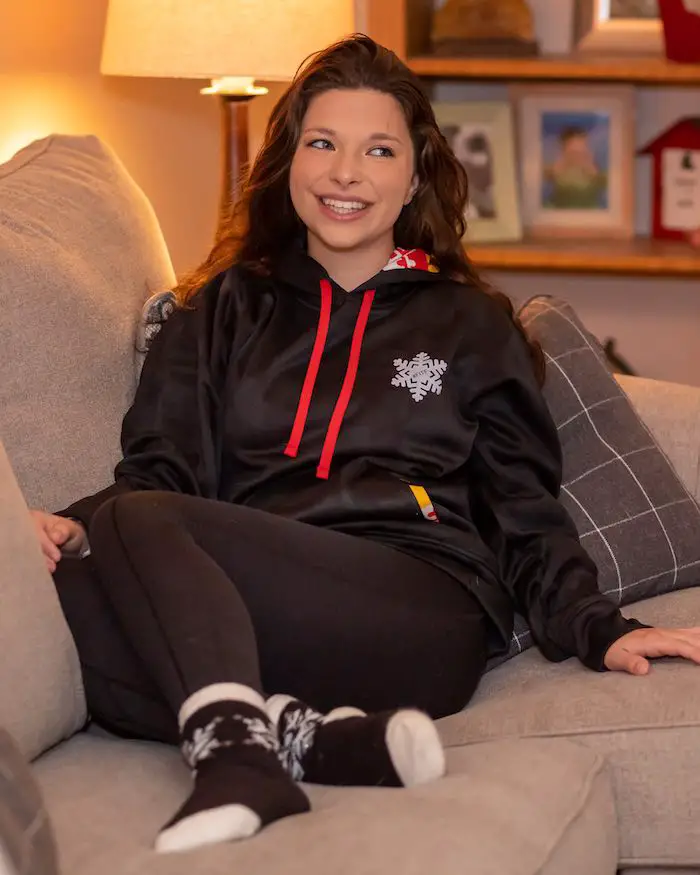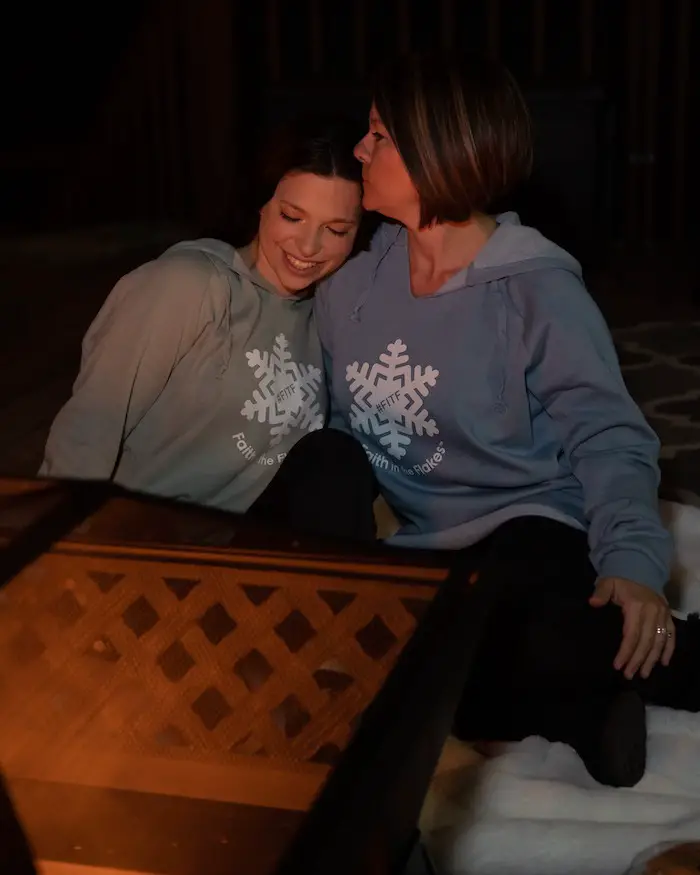 Also see:
Maryland Weather Page
I wanted to keep it simple. Just the basics for a quick view at any time.
Please share your thoughts, best weather pics/video, or just keep in touch via social media
---
Email Updates
Please make sure you sign up (above or click here to sign up for email alerts…. ) for my newsletter. This way you will get an email to make sure you are notified of each post.
---
Just In Power Kids:
A portion of proceeds go to our programs Providing FREE holistic care for kids in cancer treatment and up to 5 years post treatment and caregivers.
New Caps and Hats