December 7 2020
I know this talk of light snow or flurries may seem like a tease or a waste, but I have good reasons.  First, seeing the 'first flakes' of the year in December brings a lot of excitement for a lot of people. So if we can find them ahead of time, even better to make sure we can see them.
My second reason is academic.  I like to give you the inside scoop into what I research.    This morning's system, and the prior Nor'easter ended up south and east.  There was light snow this morning, which barely clipped Salisbury and Ocean City.  I got video from Snow Hill, and saw media posts of the first measurable snow (in ages) in Richmond, VA.
If the next system has that same southeast validation, it could put bring a better chance for flakes into central Maryland. It would also help confirm model bias for the future storms this season.   We will have a few warmer bumps in the road, and I will show them below as well.
Wednesday Morning
Jet Stream
The vorticity os showing a flow of energy pushing into our region. There is a little clipper way to the north, but I wanted to focus on the vort max for this image.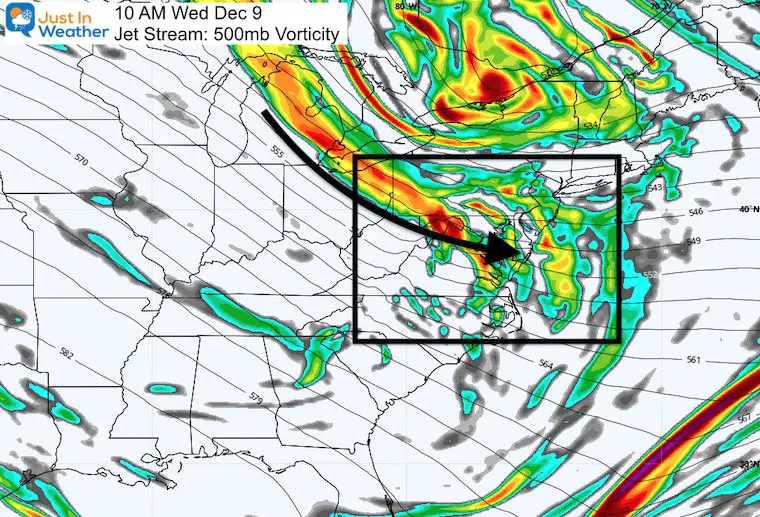 Surface Weather
The clipper (red circle) will be well to our north in Canada and heading towards New England. Under normal circumstances this would barely get a notice.  But there is a zone light snow or flurries that straddles the Pennsylvania and Maryland border.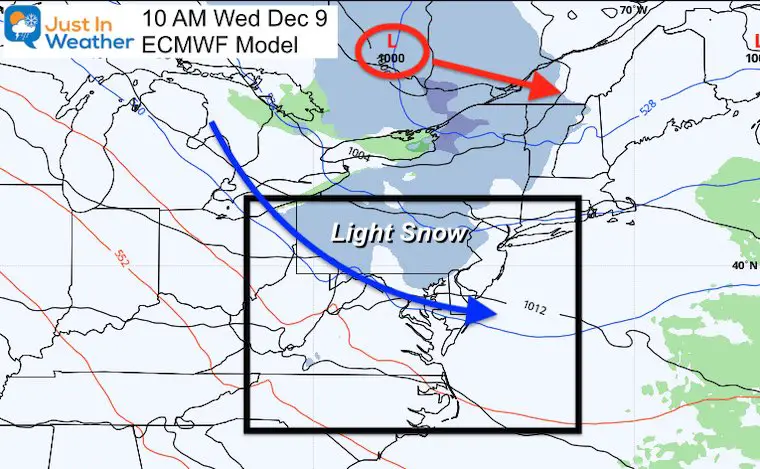 Closer Look at the European Model 
This model shows light snow or flurries reaching Carroll, Baltimore, Harford, and Cecil Counties. IF the model bias continues, there may be a trend a little farther south and faster.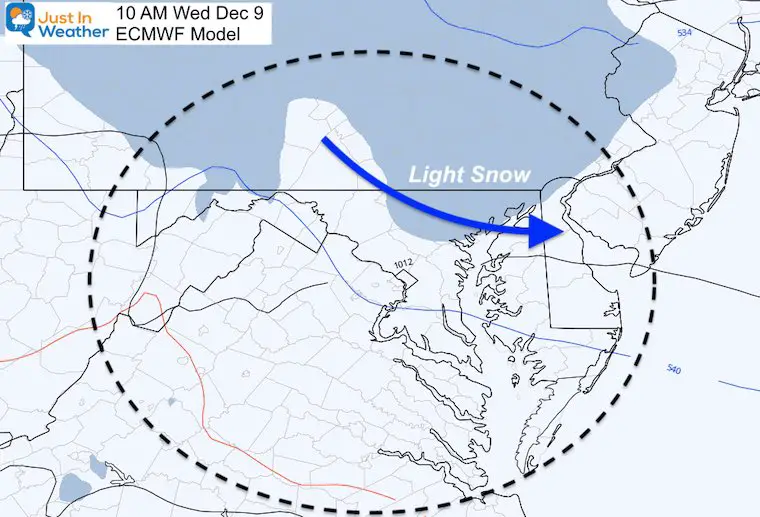 NAM 3Km Model
Here we see a cluster of snow in northeastern Maryland, at 7 AM. This is 3 hours earlier than the Euro above.
I want to point out that this model was the farthest south with this morning's snow event. It performed the best.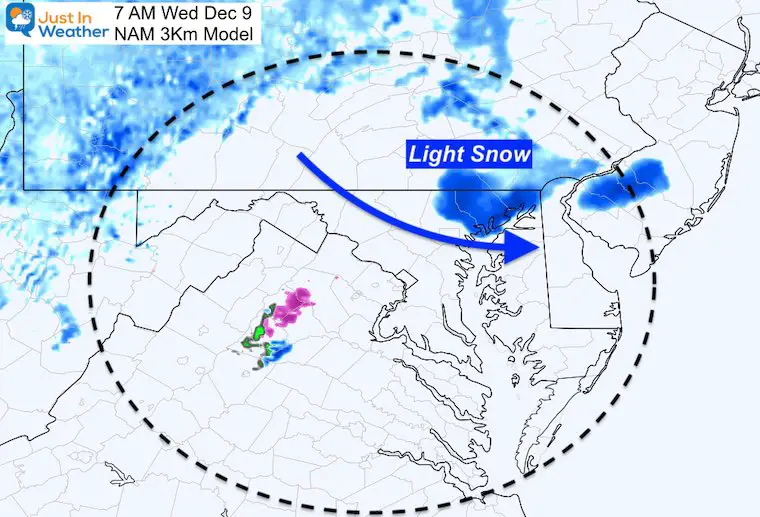 Note: This is NOT a big event. But, it's an event of interest. It will be interesting to see if the models trend south with this like the other events.  Also, there will be a lot of happy people i=f any light flakage verifies flying through the air on Wednesday.
Warming Trend
This will be the edge of the cold air mass, and we will begin to warm up after this passes.
The next storm will track well west, and we will be on the warm, rain side. Only to be followed by yet another cool down.
Storm Animation
Fellow snow lovers, I am not upset about this track. I wrote about this in my Winter Outlook. I expected a few early season tracks west and warm. We will get more favorable storm tracks in January.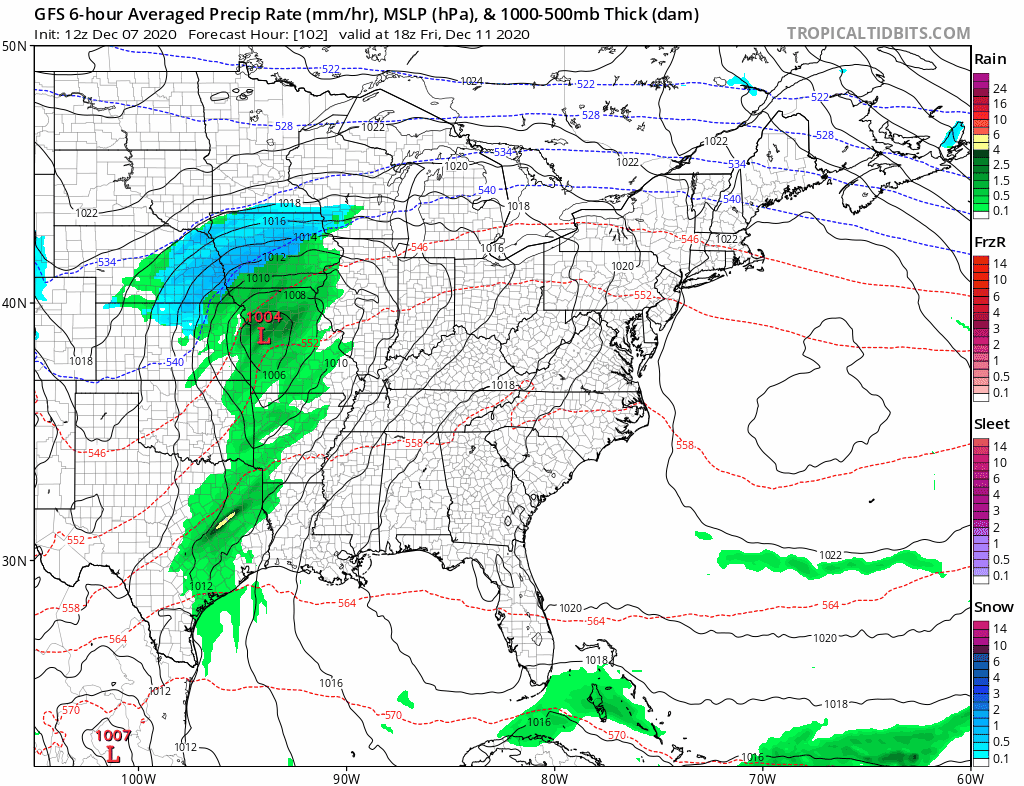 Jet Stream Roller Coaster
The pattern of warming with storms, followed by cooler air seems to repeat. Here is the pattern through December 22.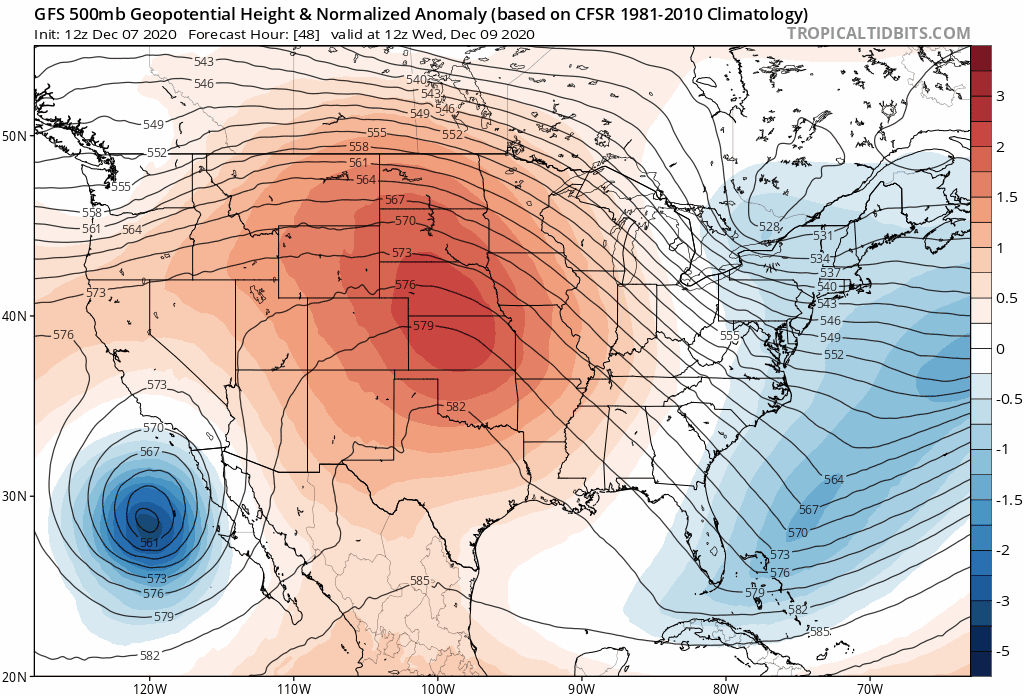 Warmer Outlook?
There are a lot of Outlooks, including this one from NOAA that show a warmer than average trend for much of the US.
This map is for December 15 to 21.  But this kind of map can be deceiving. There will be a few warm days, but most of this period will be near or slightly warmer than normal.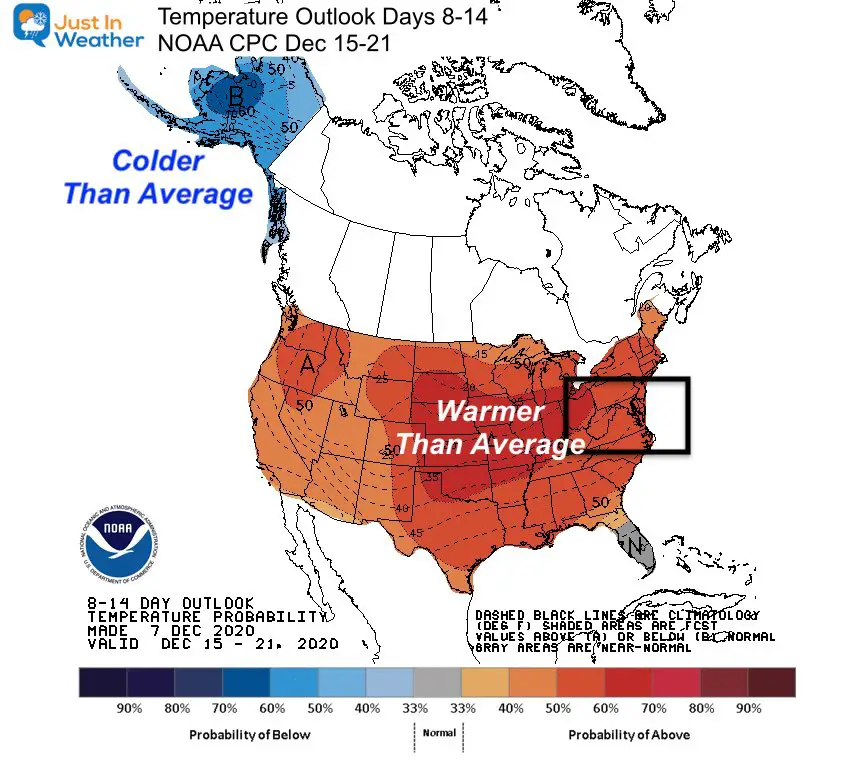 Temperature Outlook Forecast
There will be a few warm days, but most of this period will be near or slightly warmer than normal.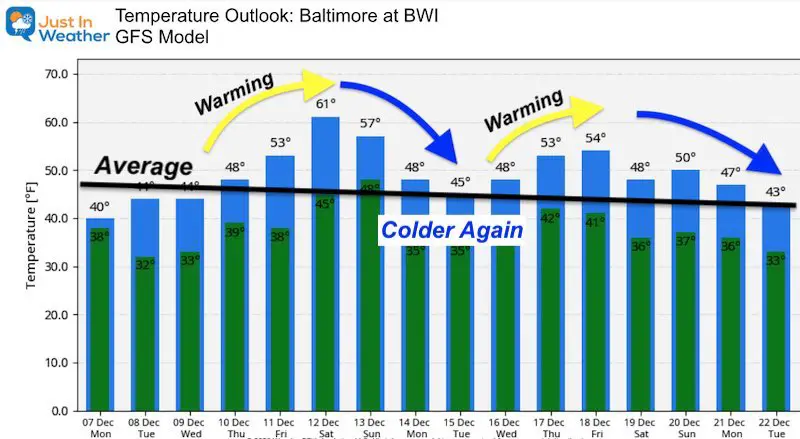 The Arctic Oscillation
This continues to show a negative signal.  That is good if you want a source of cold in the eastern US. This does not show where that cold air will go, but it gives us a shot.
There is good documentation that supports a surge of colder air and a real winter pattern for our region either later this month or into January.
Have Faith in the Flakes.  Our winter weather will be here soon enough.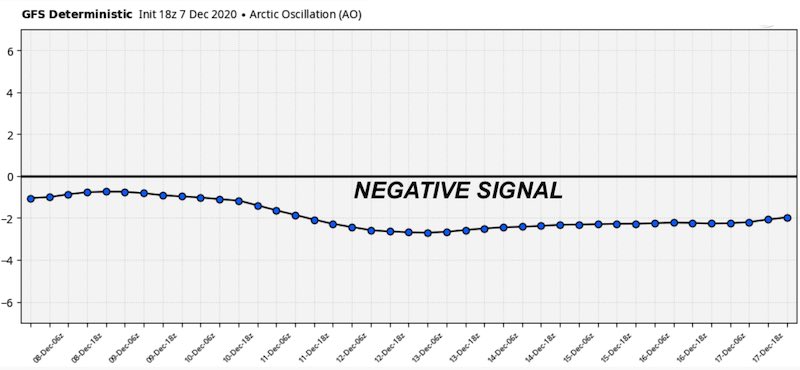 FAITH IN THE FLAKES STORE OPEN
My 'bonus' daughter Jaiden is showing off our popular Maryland Hoodie. Click here to see this and many other new items.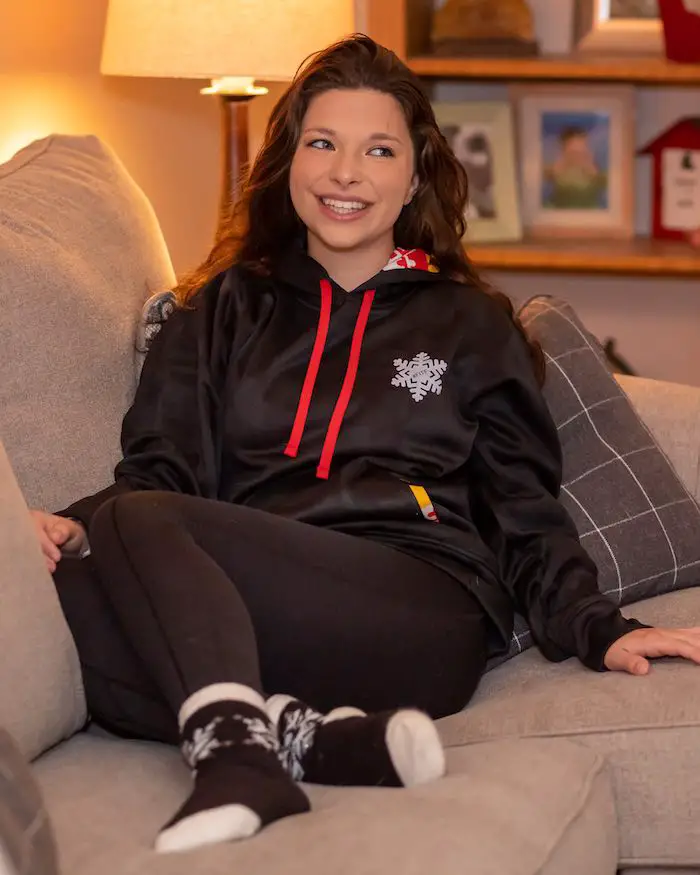 Most items are unisex, but the women in my life make the new ladies' hoodies look so good.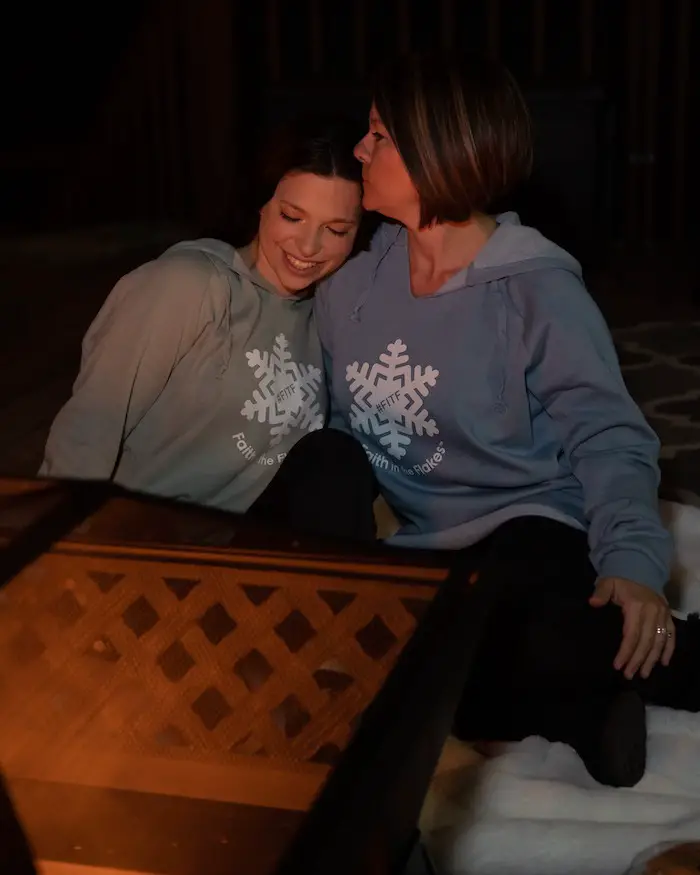 Also See:
December Climate, Sun Data, Solstice, ISS Flyovers, Moon, Planets, and The Great Conjunction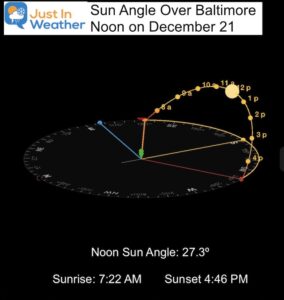 YOUR INTERACTIVE WEATHER PAGES
14 Local Maryland Pages (and York PA)
We have made a page for Maryland Weather which gives you the current conditions for 14 present area locations.
Local Hourly Forecasts and Local Radar
Central Maryland
Delmarva
Pennsylvania

Maryland Weather Page
I wanted to keep it simple. Just the basics for a quick view at any time.
New Caps and Hats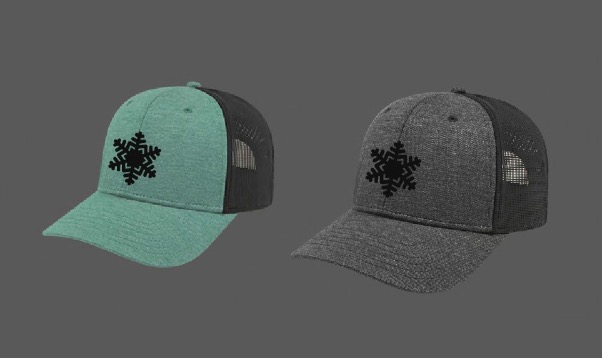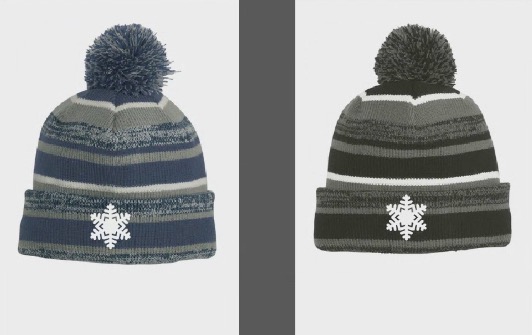 My Final Winter Outlook: Snow Forecast

Please share your thoughts, best weather pics/video, or just keep in touch via social media
---
Email Updates
Please make sure you sign up (above or click here to sign up for email alerts…. ) for my newsletter. This way you will get an email to make sure you are notified of each post.
---
SNOW DAYS ARE STILL A THING
(Outside of Howard County, MD in COVID Distance Learning
Just In Power Kids:
A portion of proceeds go to our programs Providing FREE holistic care for kids in cancer treatment and up to 5 years post treatment and caregivers.