December 5 2020
The storm may have departed this morning on time with the forecast, but the rain totals overnight overachieved. These numbers are beyond impressive with two heavy bands, and a sharp cutoff to the north and east.  The unexpected rain band over Baltimore Friday morning, added to the northern bullseye. But Anne Arundel County appears to be the winner (or loser) with over 5 inches of rain and local flooding.
We will take a closer look at the rainfall estimates in the slider, along with the set up for the storm today.  As we get colder winds, we may see flurries develop in the afternoon to evening. Southern New England will get a sturdy snowstorm.  Then w3e set our sights on next week.
Closer Look At Local Rainfall –> slider

Morning Weather
Happy FITF Day.  I will have more on the December 5 snow history and how Faith in the Flakes began in my next report today.
Low Pressure is moving northeast of Ocean City towards New England.  The cold air is on the move and on time.  If you recall my earlier forecast for sleet and snow at the end of this storm, it is not happening because the storm moved away too fast.
But, the cold air will be unstable. It wil redevelop clouds and perhaps some flurries this afternoon.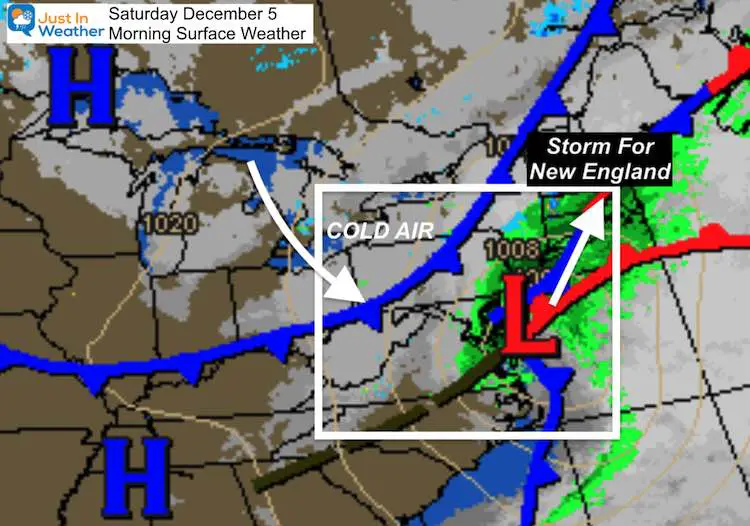 Satellite
The hook on the wide view of the clouds is a signature of a rapidly developing storm. It will bring moderate to heavy snow for parts of New England. We missed out on this one, but it is hope for others this winter.
The back edge of the clouds is moving through, but will fill back in as the colder and unstable air arrives.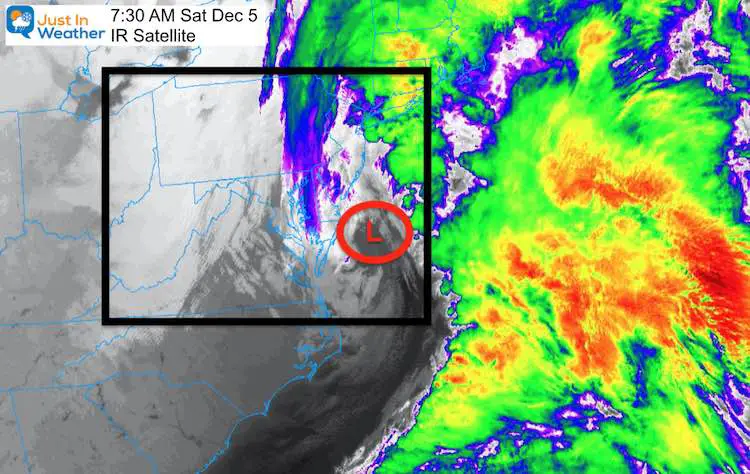 Afternoon Forecast
We can watch the snow in New England, where Winter Storm Warnings are in effect.  But the best we can hope for will be flurries as the colder air arrives. They are not on most forecasts, and may not get picked up on radar.  But, let me explain why I am pointing this out.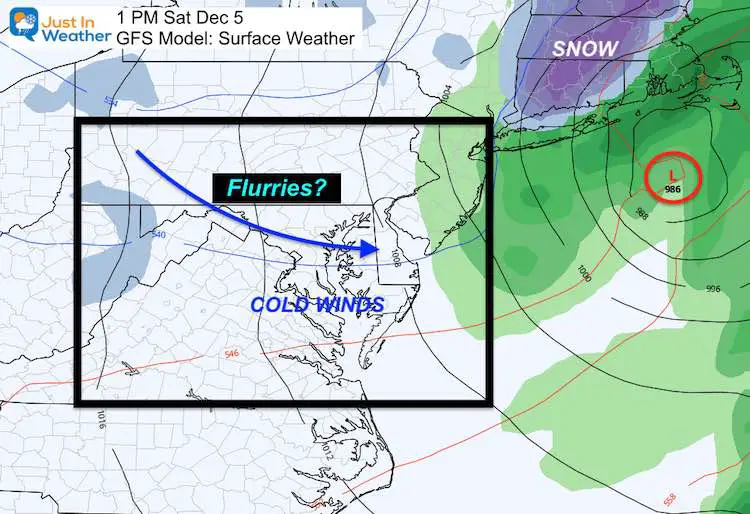 Strong Winds
Winds will be 15 to 30 mph for most of us.  Gusting to 40 mph along Delmarva and the coast.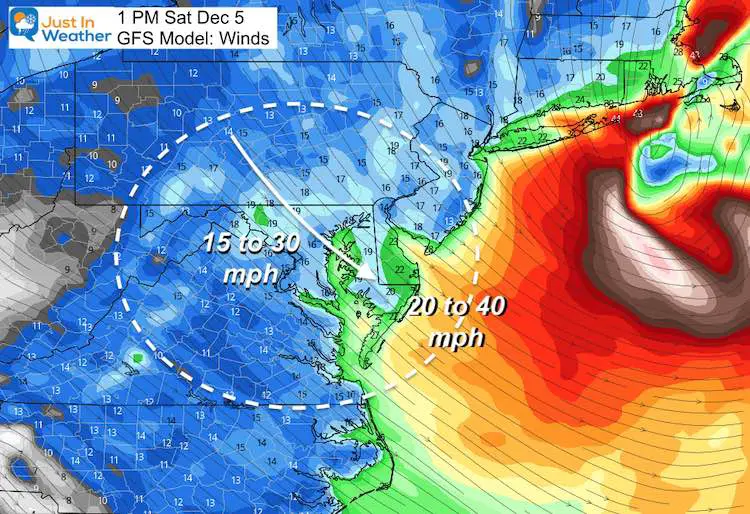 Jet Stream: Vorticity
This is the product I showed you earlier in the week that explained those snow bands.
Here we see a flow of energy aloft this afternoon and evening. This is what will help the clouds to form, and drop some flurries.
It will be hit or miss, but perhaps enough to remind you of the December 5th snow magic. I will have more on that in my next report today.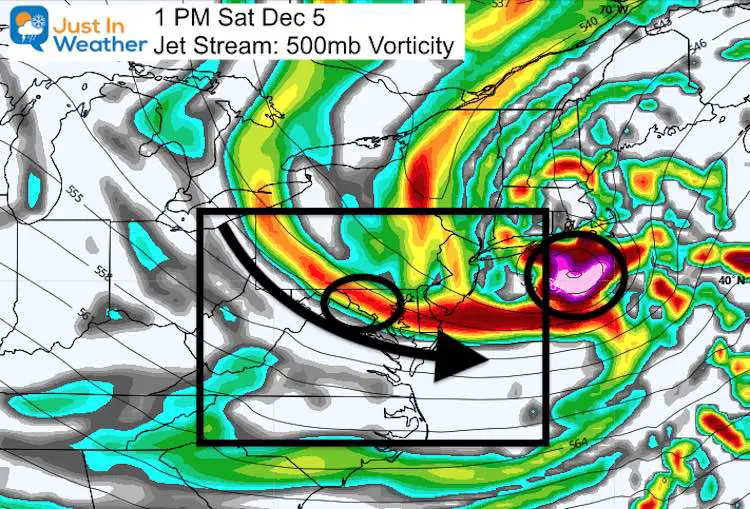 Colder Sunday: Temperature Forecast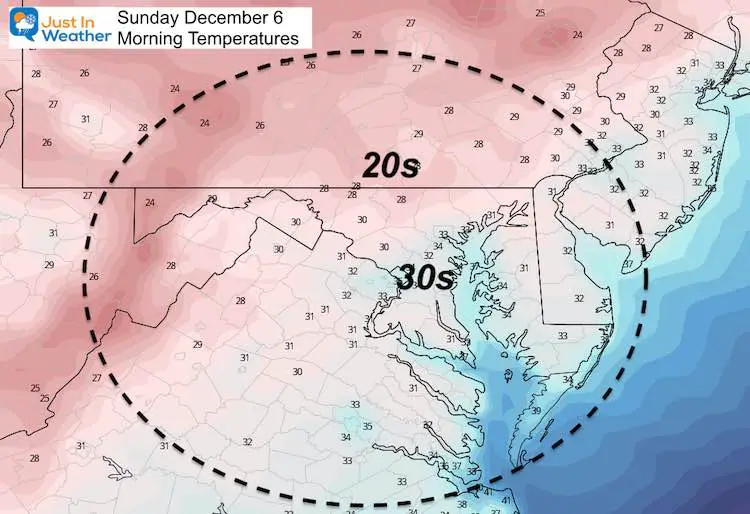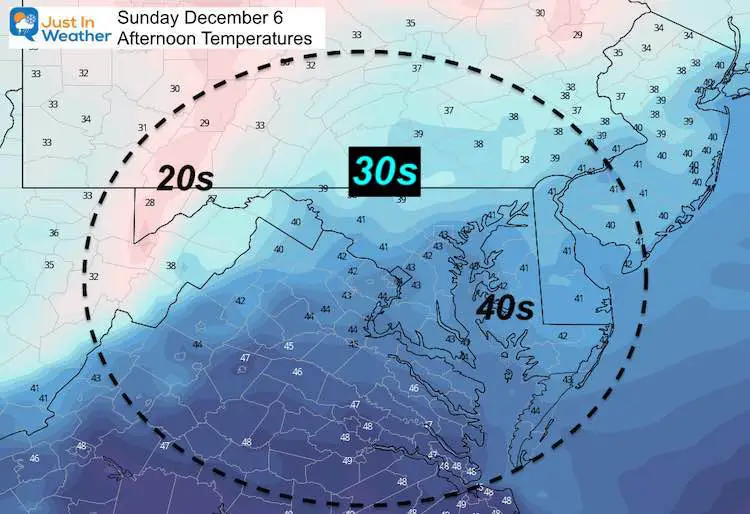 Forecast Snapshot

Will There Be Light Snow Monday?
The European ECMWF still has it, for southern Maryland. The GFS is Dry!  The trend I have noticed with this system, the one that just passed, and the prior storm: It appears that weather systems are verifying SOUTH of earlier forecasts. This will be an important factor to watch all winter if the trend continues.
So all is not lost now. It is already colder than even my aggressive winter outlook. I believe we are in good shape, and learning how things may play out in the months ahead.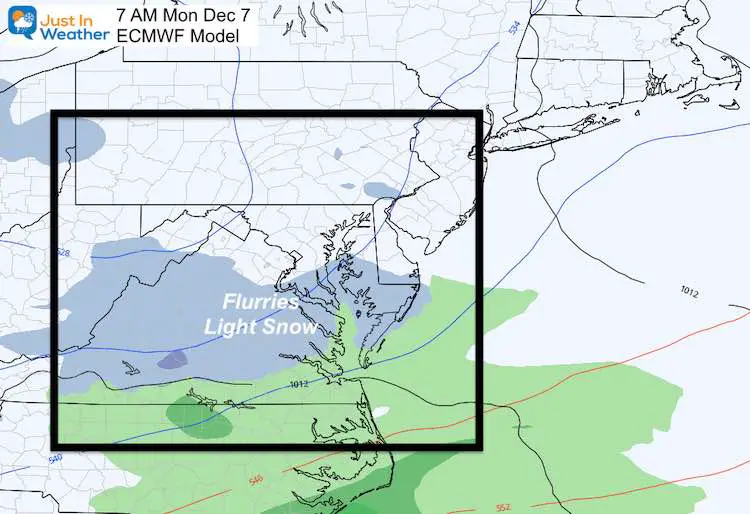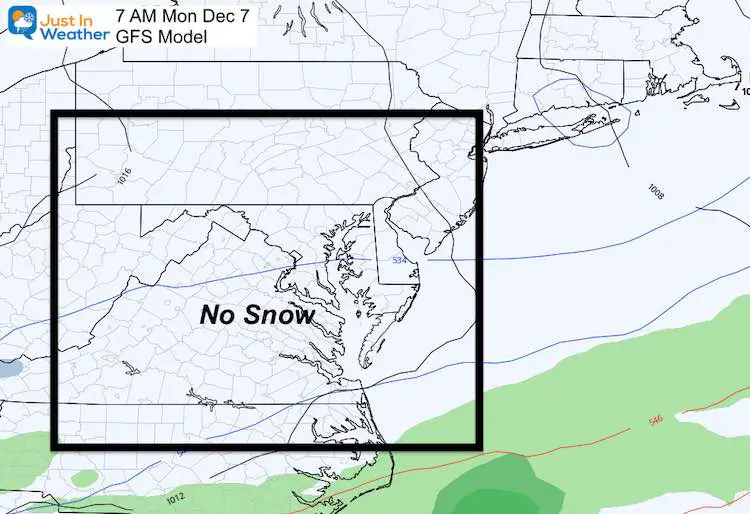 Temperature Outlook
In this cold start to the week, there may be anther chance for flurries.  The next warm up may come with the next storm. That is again subject to track and timing.
Stay tuned and FITF!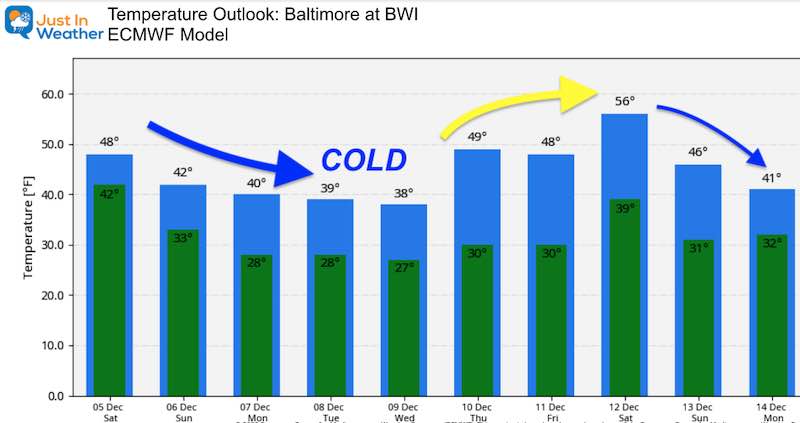 December 5th is FITF DAY
ONE DAY SALE 20% OFF ALL APPAREL
USE Code: FITF20
My 'bonus' daughter Jaiden is showing off our popular Maryland Hoodie. Click here to see this and many other new items.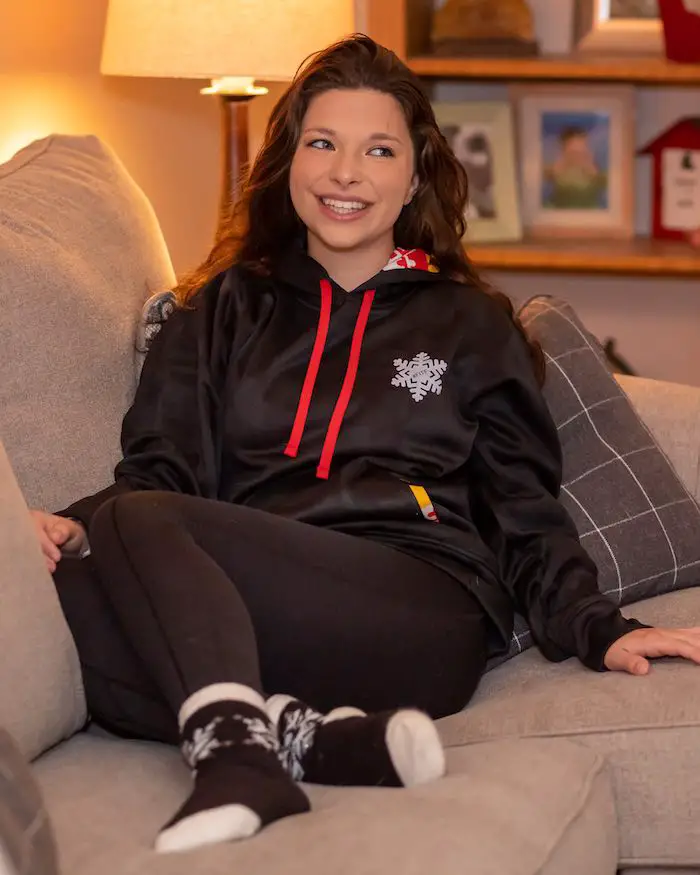 YOUR INTERACTIVE WEATHER PAGES
14 Local Maryland Pages (and York PA)
We have made a page for Maryland Weather which gives you the current conditions for 14 present area locations.
Local Hourly Forecasts and Local Radar
Central Maryland
Delmarva
Pennsylvania

Maryland Weather Page
I wanted to keep it simple. Just the basics for a quick view at any time.
Please share your thoughts, best weather pics/video, or just keep in touch via social media
---
Email Updates
Please make sure you sign up (above or click here to sign up for email alerts…. ) for my newsletter. This way you will get an email to make sure you are notified of each post.
---
Just In Power Kids:
A portion of proceeds go to our programs Providing FREE holistic care for kids in cancer treatment and up to 5 years post treatment and caregivers.