December 2 2020
The storm that cleared out today left us with chilly air and a thick fresh blanket of snow from western Maryland and into the Ohio Valley.  The next storm will come from the Gulf of Mexico and arrive on Friday. This will bring our region heavy rain!  To give you some perspective, here is the rainfall forecast from the European ECMWF Model:
Storm Forecast: Heavy Rain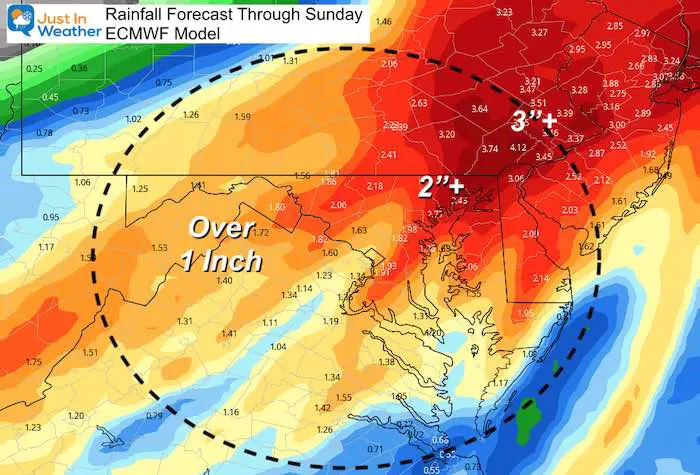 But before winter lovers get completely bummed, there are signals of colder air I want to show you.
To do that, we must first look at the snow on the ground reported this morning.
Click here to see the complete snow report.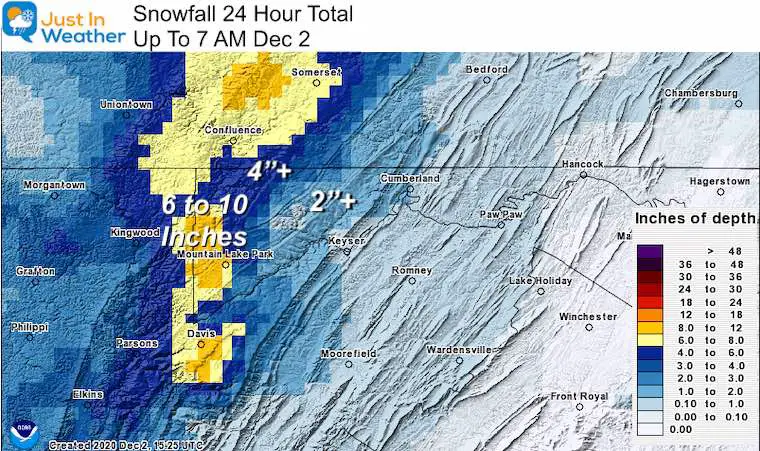 The snow that fell, overachieved. The top total in Garrett County was 10 inches in McHenry. But there was a large region on the other side of the mountains with 4 to 6 inches of snow. When we get our next source of cold air, it will be supported by whatever snowpack is left over.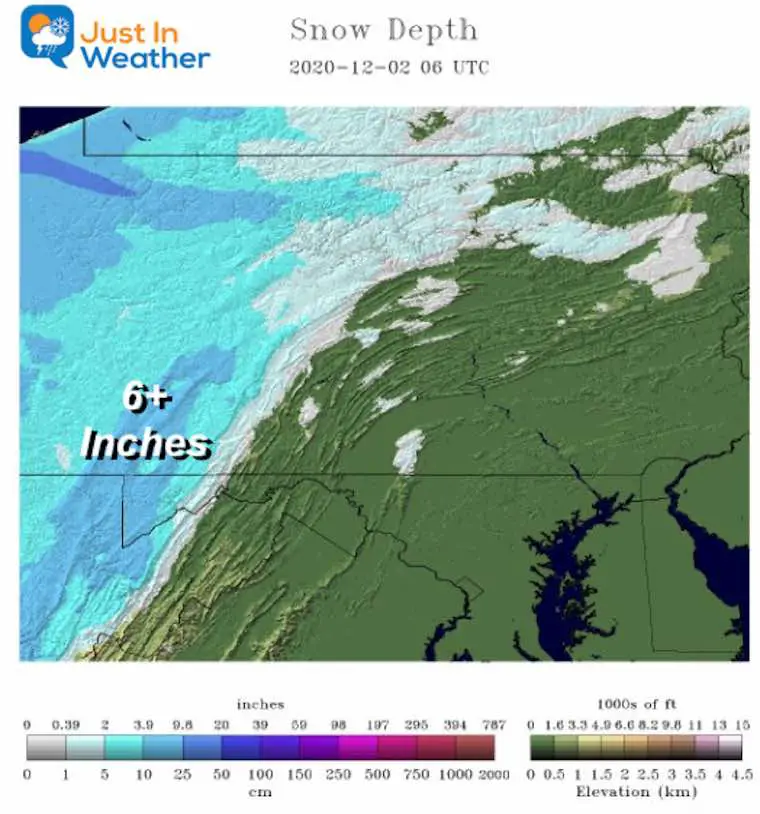 USA Snow Coverage
Snow reached northern Georgia, the mountains of Tennessee and North Carolina, and up to the Great Lakes.   While some of this will melt over the next two days, the northern snowpack will hold on.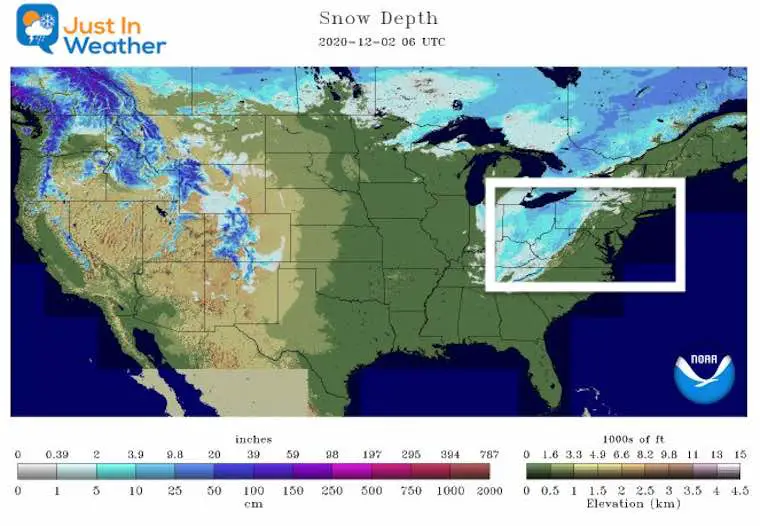 Why is this important?
The next storm will track south of Baltimore. Under normal conditions in the winter, this would be a colder snow track. But the air in place is not cold enough.  There will be COLDER air racing in to catch up to the storm.
As of now, the modeling supports this to develop a snowstorm 'after' passing us and reaching New England.
But, we need to watch that cold air. There will be marginal cold that can provide a mix with snow at the very end of the storm on Saturday.  But I do not think the models are handling this well.  I also think the snow pack will play a role with the cold air available, and the speed it arrvies.
Storm Simulation
Here's a look at the Surface Low coming out of the Louisiana Gulf region, and reaching the East Coast. I've highlighted the leading edge of the COLD AIR, which is represented by the 540 dm Thickness Line.  This is often used in the winter for where the atmosphere can support frozen precipitation.
—> slider
Does this mean we will get a snowstorm?  Not exactly. However, I think there may be a chance for some snow on the back end.  I am also trying to decipher any model bias.  Computer modeling is not perfect, and often shows errors that repeat themselves. If we can identify them now, it may help do a better job with real winter storms in the months ahead.
As for that long range pattern:
This may not fit with the long range forecasts you see on your phone apps.  I don't trust those.
The North Atlantic Oscillation is a leading feature to show if we will be in a cold and possibly storm pattern. Here we see the Negative signal lasting into mid month.
If we do not get coastal storm, I do see a few 'clippers' that could head our way with this.  FITF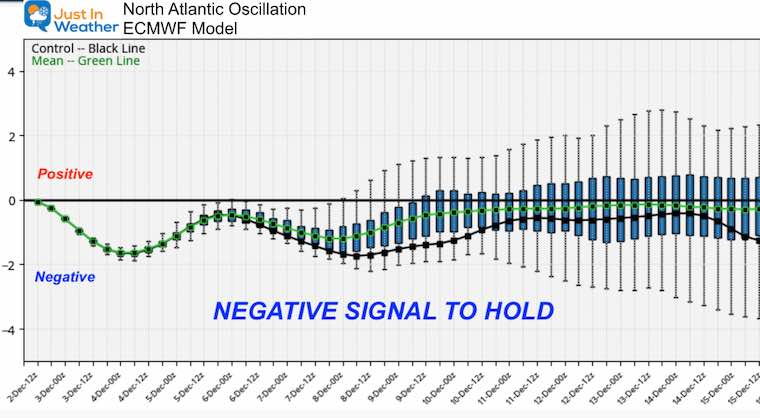 YOUR INTERACTIVE WEATHER PAGES
14 Local Maryland Pages (and York PA)
We have made a page for Maryland Weather which gives you the current conditions for 14 present area locations.
Local Hourly Forecasts and Local Radar
Central Maryland
Delmarva
Pennsylvania

Maryland Weather Page
I wanted to keep it simple. Just the basics for a quick view at any time.
New Caps and Hats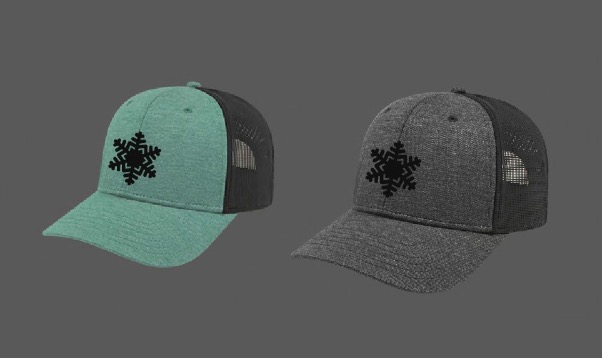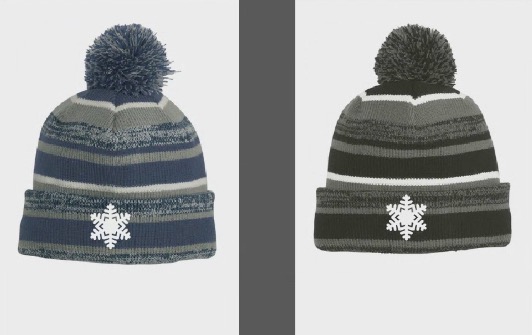 Also See:
My Final Winter Outlook: Snow Forecast

FAITH IN THE FLAKES STORE OPEN
My 'bonus' daughter Jaiden is showing off our popular Maryland Hoodie. Click here to see this and many other new items.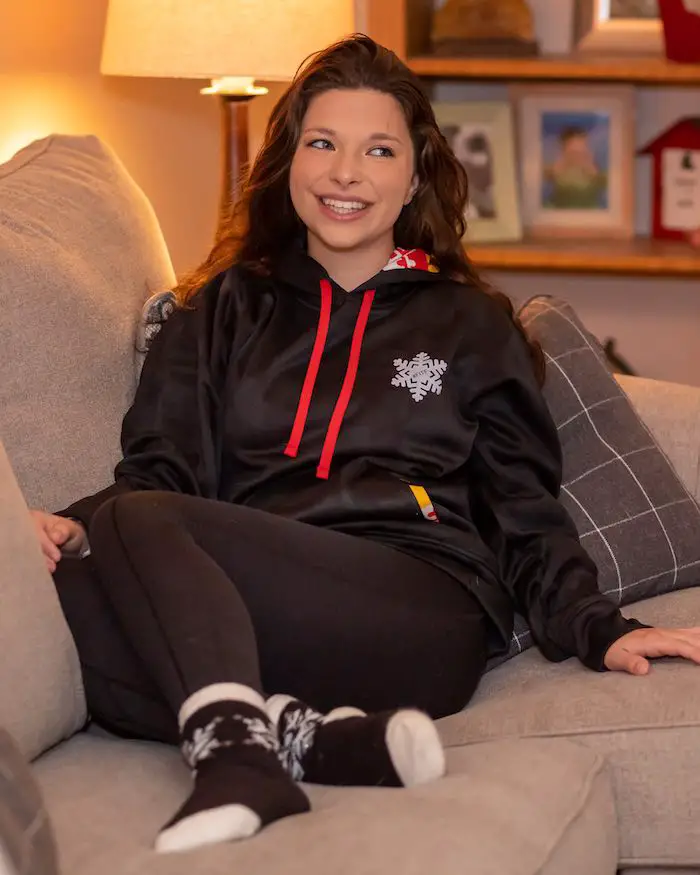 Please share your thoughts, best weather pics/video, or just keep in touch via social media
---
Email Updates
Please make sure you sign up (above or click here to sign up for email alerts…. ) for my newsletter. This way you will get an email to make sure you are notified of each post.
---
Just In Power Kids:
A portion of proceeds go to our programs Providing FREE holistic care for kids in cancer treatment and up to 5 years post treatment and caregivers.