December 1 2020
Before the winter air arrived, severe storms moved through Maryland yesterday. We had the risk for some of those storms to produce large hail and low based circulation. I received numerous messages along with some photos and video. That will be included below.
The National Weather Service in Baltimore/Washington has it's hands full with their 2 new Maryland Counties.
Doppler Radar at 2:35 PM
This split screen shows the Doppler Radar Surface Reflectivity (top) and Wind Velocity (bottom). There was a comma/hook shape, but the winds were marginal from this view.
At this time Doppler has estimated the winds to be 65 mph, but it appears to have increased with the brief touchdown just minutes later.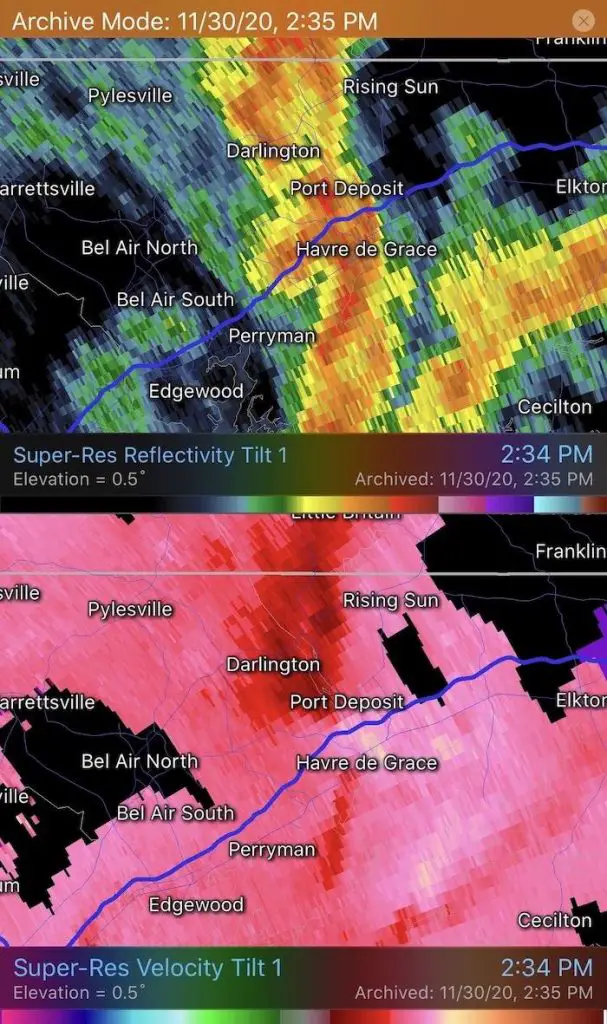 The National Weather Service Storm Report
An EF-1 Tornado was confirmed in Port Deposit (Cecil County MD) by the National Weather Service on November 30, 2020.
2:37-2:42 PM
Winds = 90 mph
Length 5.5 miles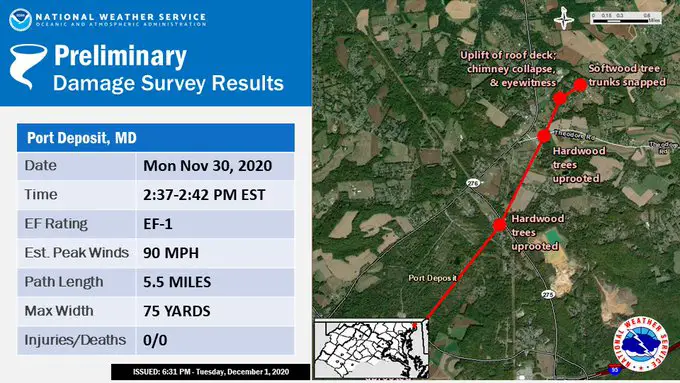 Video Of Damage
This was very compelling thanks to Andrew Patrick (shot in portrait mode)
Photos of Damage
Andrew Patrick also lost a band of shingles from his home.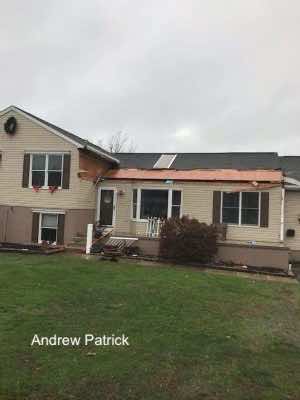 The damage was worse to Larry Sickle's roof, impaled by this large tree limb.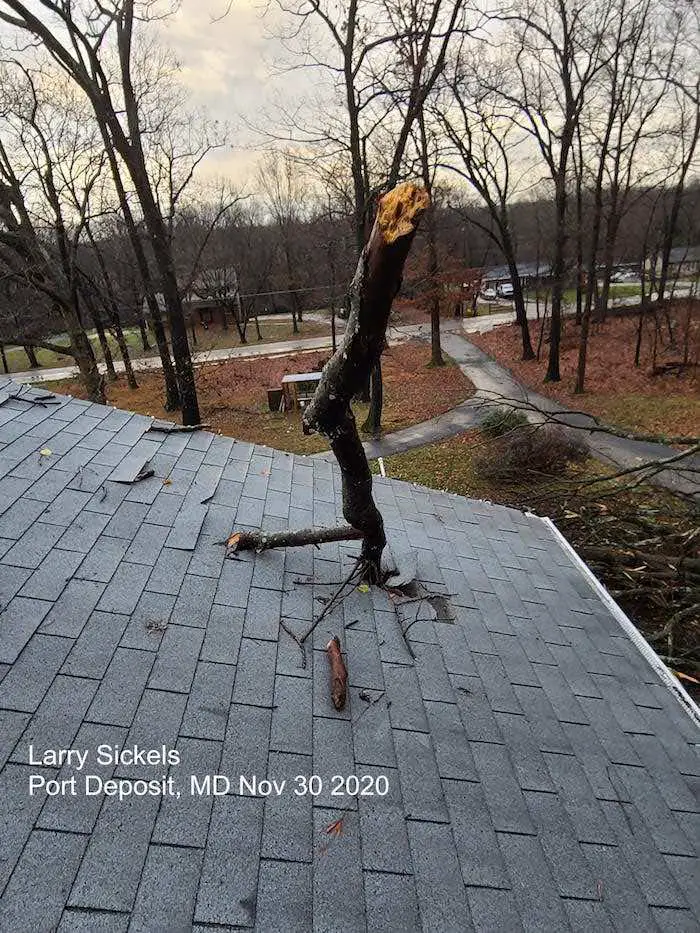 There was a very large tree this came from.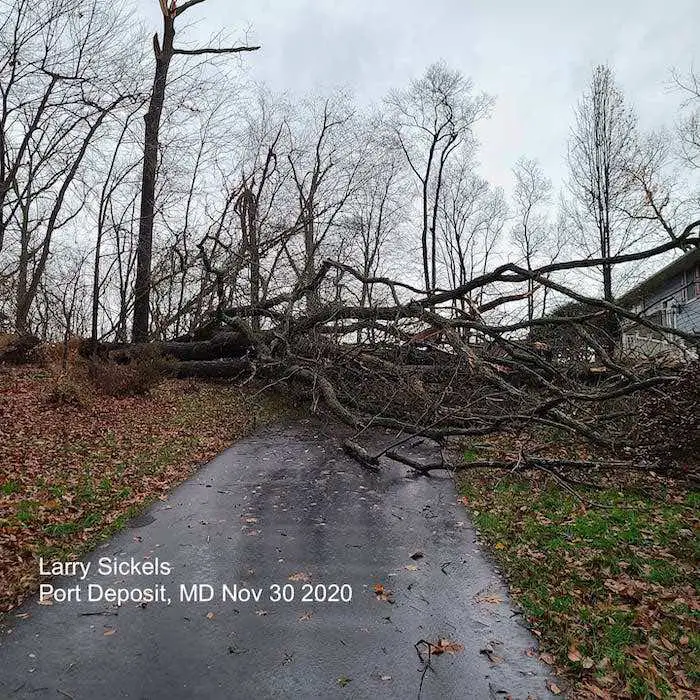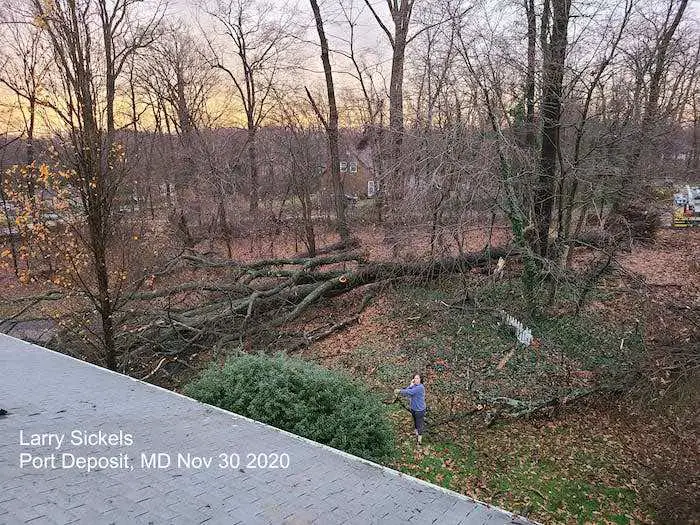 YOUR INTERACTIVE WEATHER PAGES
14 Local Maryland Pages (and York PA)
We have made a page for Maryland Weather which gives you the current conditions for 14 present area locations.
Local Hourly Forecasts and Local Radar
Central Maryland
Delmarva
Pennsylvania
My Final Winter Outlook: Snow Forecast

FAITH IN THE FLAKES STORE OPEN
My 'bonus' daughter Jaiden is showing off our popular Maryland Hoodie. Click here to see this and many other new items.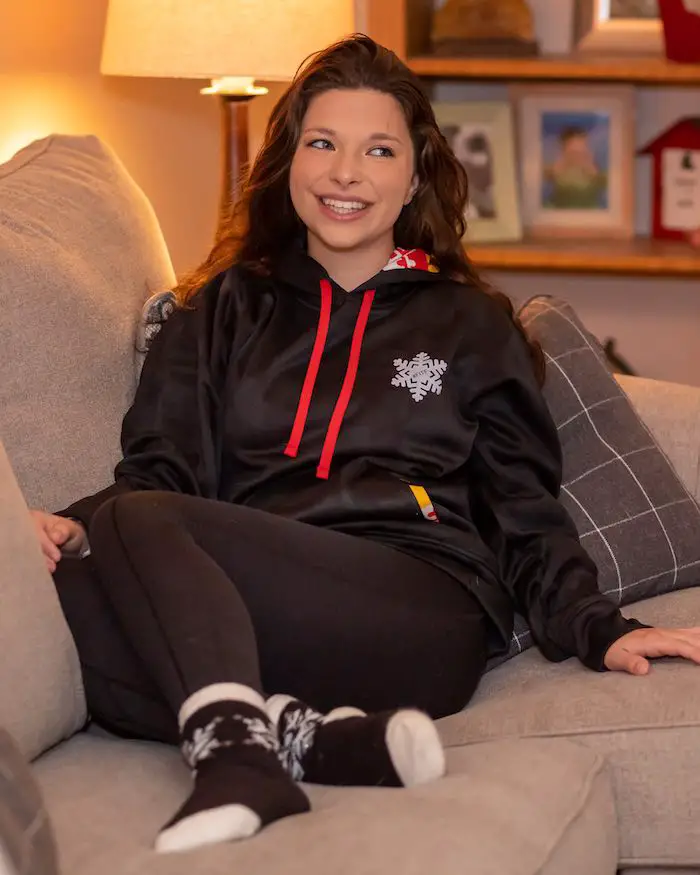 Please share your thoughts, best weather pics/video, or just keep in touch via social media
---
Email Updates
Please make sure you sign up (above or click here to sign up for email alerts…. ) for my newsletter. This way you will get an email to make sure you are notified of each post.
---
Just In Power Kids:
A portion of proceeds go to our programs Providing FREE holistic care for kids in cancer treatment and up to 5 years post treatment and caregivers.