November 18 2020
The cold lived up to the forecast for our region, with Baltimore at the center.  The temperature only hit 45ºF at BWI, making this the coldest day since February 28. On that day the high was 48ºF.
The normal high temperature is 56ºF, making this 12 degrees colder, and a little balance to the 8 days of 70 degree temps early this month.
Tonight the forecast to reach below freezing at the airport.  That would make this the first time for many urban and Bay locations since March 8th. That was when BWI dropped to 29ºF.  That weather station hit 32ºF twice in April on the 17th and 19th.
Sky Show
Crescent Moon with Jupiter and Saturn
Bundle up, this is worth it!  Shortly after sunset (4:49 PM) we will have a triad-treat.  If you look Southwest, just left of where the sun set, you will see our moon with the two largest planets in our solar system.  Jupiter and Saturn should become visible as it gets darker, by 5:20 PM to 5:30 PM.
You should be able to see them until around 8 PM. This depends on any obstruction you may have with trees, hills, or buildings to your west.
This grouping will be closer tomorrow evening.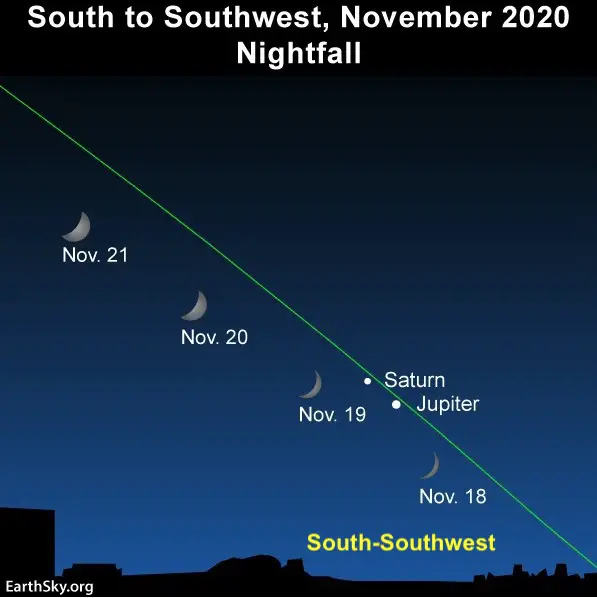 Jupiter and Saturn are approaching their great conjunction: Closest approach once every 20 years.  They will reach that mark on December 21, the winter solstice.
Plan for more sly shows this month with EarthSky
Weather Snapshot: Metro Baltimore

YOUR INTERACTIVE WEATHER PAGES
14 Local Maryland Pages (and York PA)
We have made a page for Maryland Weather which gives you the current conditions for 14 present area locations.
Local Hourly Forecasts and Local Radar
Central Maryland
Delmarva
Pennsylvania
Maryland Weather Page
I wanted to keep it simple. Just the basics for a quick view at any time.

FAITH IN THE FLAKES STORE OPEN
My 'bonus' daughter Jaiden is showing off our popular Maryland Hoodie. Click here to see this and many other new items.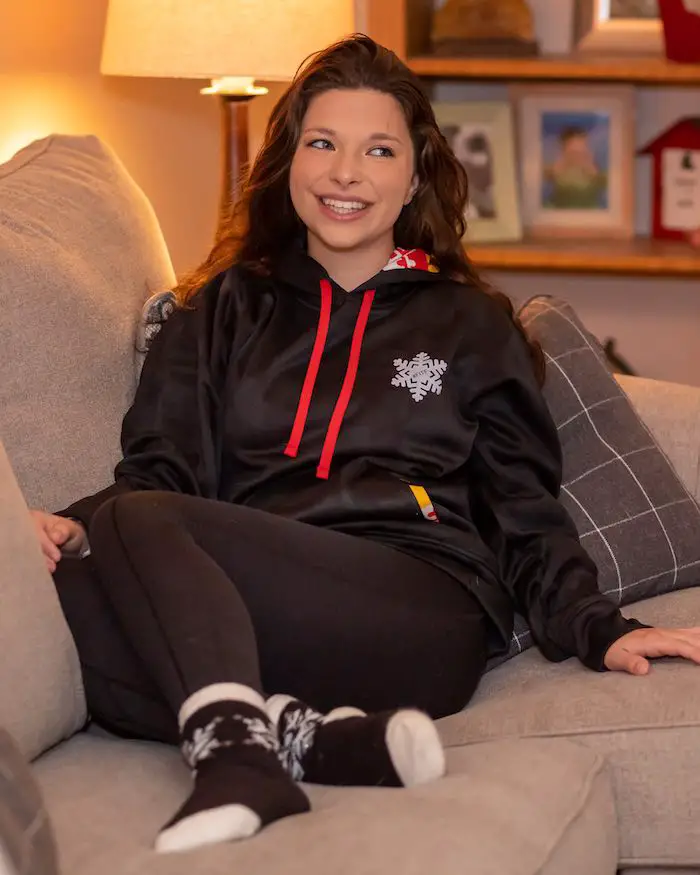 Please share your thoughts, best weather pics/video, or just keep in touch via social media
---
Email Updates
Please make sure you sign up (above or click here to sign up for email alerts…. ) for my newsletter. This way you will get an email to make sure you are notified of each post.
---
Typical First Frost and Freeze


Help Solve The Mystery
UFO, Meteor, Or Something Else Caught On Cam In Owings Mills MD This Week?
Explore More:
Autumnal Facts and Weather Stats
Record Low Tied at BWI and Frost Photos Sep 20
Also See:
July 2020 The hottest on record. Will it hint at snow this winter?
Comet NEOWISE Viewing All July (photos/video)
Other  Links:
Baltimore Weather At BWI May Not Be As Hot As Reported
Construction at the airport close to the weather station may be added artificial heat. Click here or the image for the details.
Also See:
Just In Power Kids:
Proceeds go to our programs Providing FREE holistic care for kids in cancer treatment and up to 5 years post treatment and caregivers.