November 17, 2020
To say the tropical season in the Atlantic Ocean was Blockbuster, would be an understatement.  The records include the most named storms at 30 (as of the day this was posted), 11 US landfalls, 6 of which were hurricanes tied for the most.  Louisiana was one of the hot spots with 5 landfalls. Also, the latest Category 5 with Hurricane Iota (eye-Ota) on November 16.
This seasonal summary map is quite crowded, and might not be done.  Tropical season ends on November 30 (in most years).
Named Tropical Storm and Hurricane Tracks
If viewing on a phone, turn sideways or pinch to zoom for larger view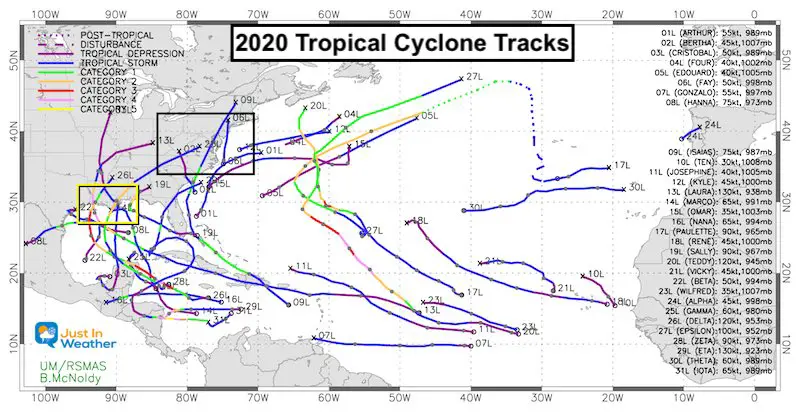 Hints From Tropics For Winter Trends
I like to explore the tropical season to see if there are signals the atmosphere is giving us for the season ahead. This falls under two aspects:
Teleconnections: When a pattern or cycle in one part of the world can impact another.  Dr. William Gray pioneered this concept with tropical outlooks in the Atlantic starting with rainfall in eastern Africa the year prior.  Eventually he noticed how El Nino in the Pacific also played a role.
Atmospheric Memory: This is a term I have been using for years in my forecasting. I see trends that repeat themselves in all seasons, and sometimes from one season to the next.  This can be common times or days of the weather for active weather. Example noticing rainy weekends, or snow mostly in early mornings.
I have also seen trends with storm tracks and frequency.  This is not an exactly replica, but can repeat months later as the ripples and waves in our atmosphere do often behave in patterns.
Clusters Of Storm Tracks
I have organized the most relevant tropical storms and hurricanes into a few slide shows below. This may help display the connection to our region and the similarity I've identified these clusters:
Atlantic Storms, Gulf/Louisiana, Yucatan, and Nicaragua
East Coast Storms –> slider
Storm List
Arthur – May 16 to 19: Cape Hatteras then offshore
Bertha – May 27 to 28: South Carolina then inland west of us.
Fay – July 9 to 11: Close Coastal
Isais – July 30 to August 5: Track Through Southern Maryland
Kyle – August 14 to 16: Cape Hatteras then offshore
Gulf Storms: The Hot Zone!
Louisiana Landfalls (5) And Gulf Storms
Image from NOLA was generated on Oct. 27 a day before Zeta made landfall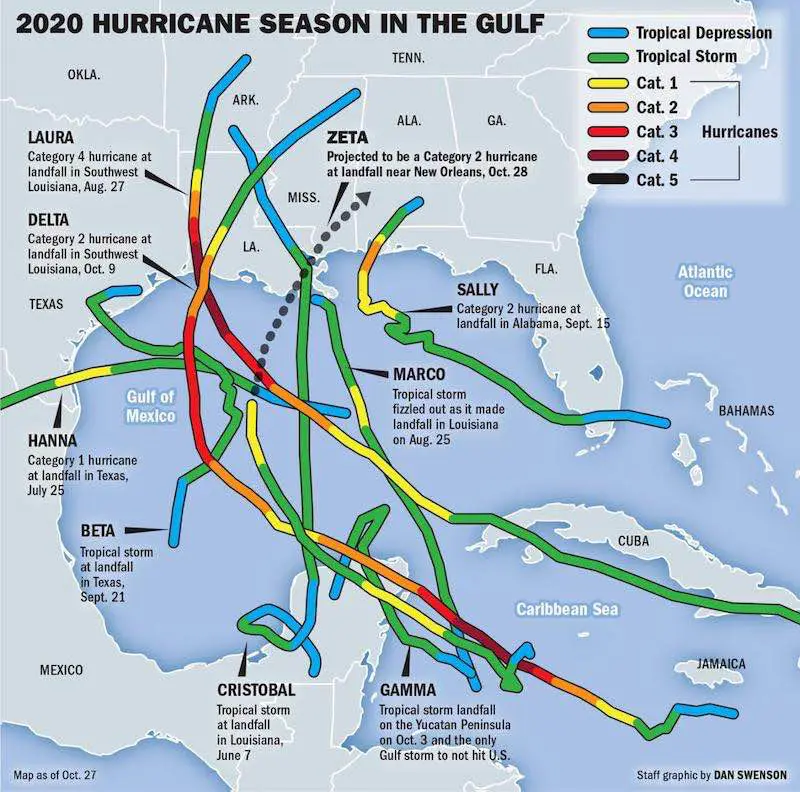 Gulf/ Louisiana Cluster —> slider
Cristobal – June 1 to June 9
Louisiana Landfall Cluster
Marco – August 20 to 25
Laura – August 20 to 29 
Sally – September 11 to 17
*Laura and Sally most similar
Beta – September 17 to 23
Delta – October 5 to 10
Yucatan Cluster —> slider
Marco – August 20 to 25
Delta – October 5 to 10
Zeta – October 24 to 29
Marco missed landfall on Mexico. This was 6 to 8 weeks prior. Delta and Zeta hit Cozumel 20 days apart.
Nicaragua Cluster —> slider