Monday November 16 2020
The wind storm and cold front that blew through last night resulted in over 70 reports of damage. It has also opened up the weather pattern to shift back to reality, with even colder air on the way.
Snow showers will fall in the mountains and flurries could reach parts of central Maryland.southern PA. Then the first freeze of the season for Baltimore at BWI could be the latest on record.
Morning Surface Weather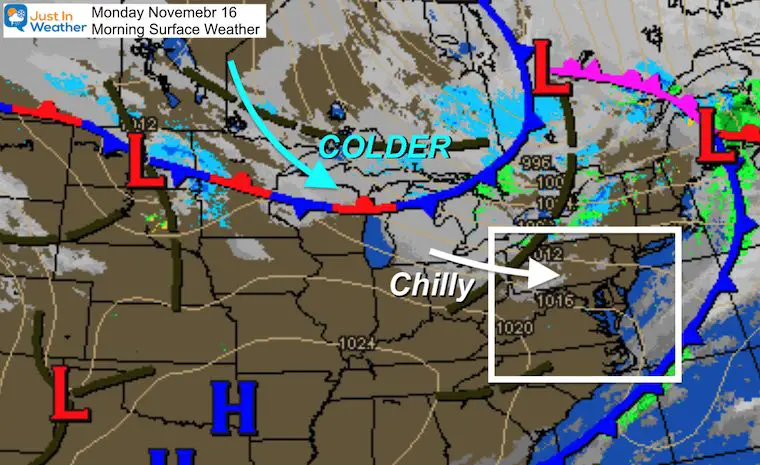 Morning Temperatures
It is already chilly this morning, and the breeze will be noticeable today. But even colder air on the way with a disturbance tomorrow into Wednesday.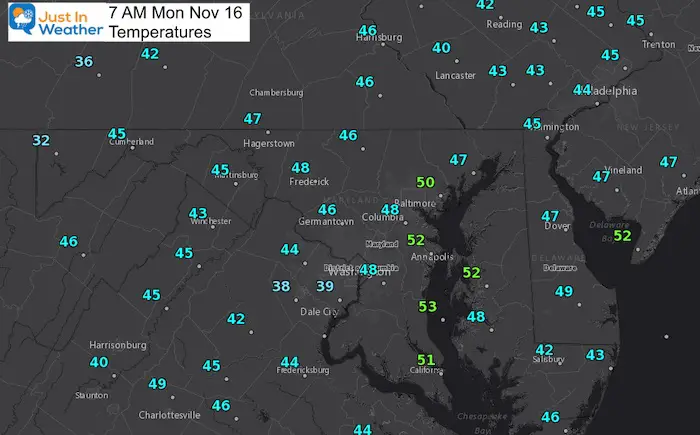 Weather Today
The peak winds will be mid morning to early afternoon. Most of the region will see top gusts up to 25 mph.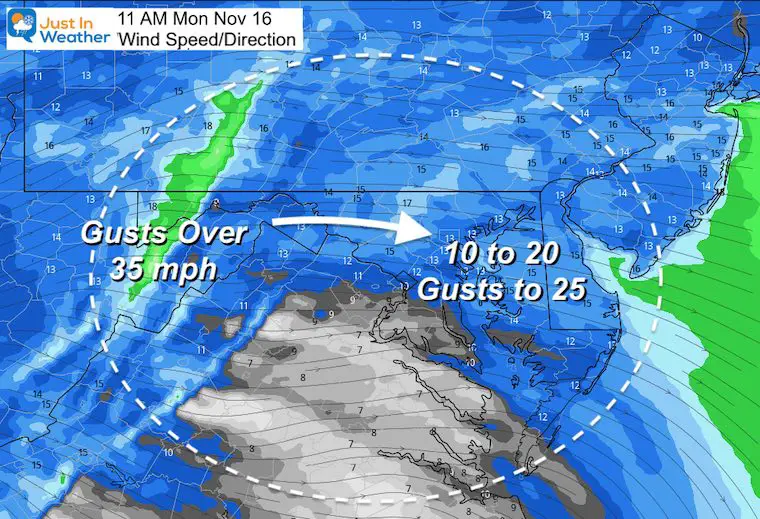 High Temperatures 
Just cool today. It will be turning even colder.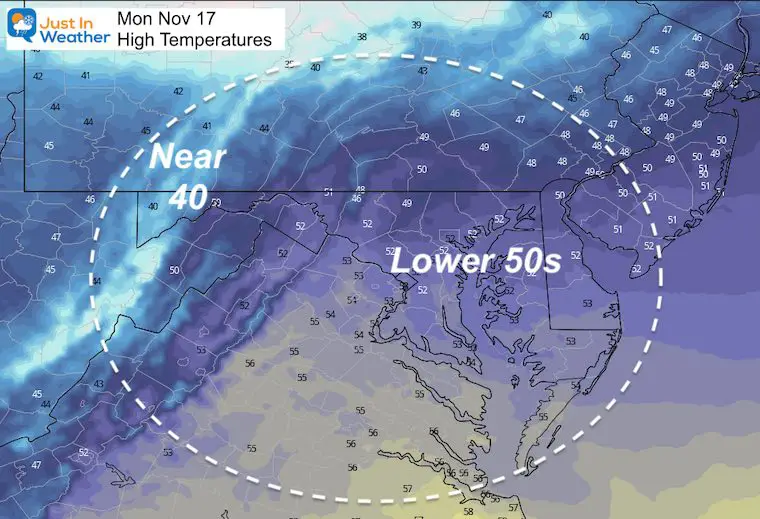 Tuesday Morning
There could be frost and freeze inland, but the urban freeze will be a day later.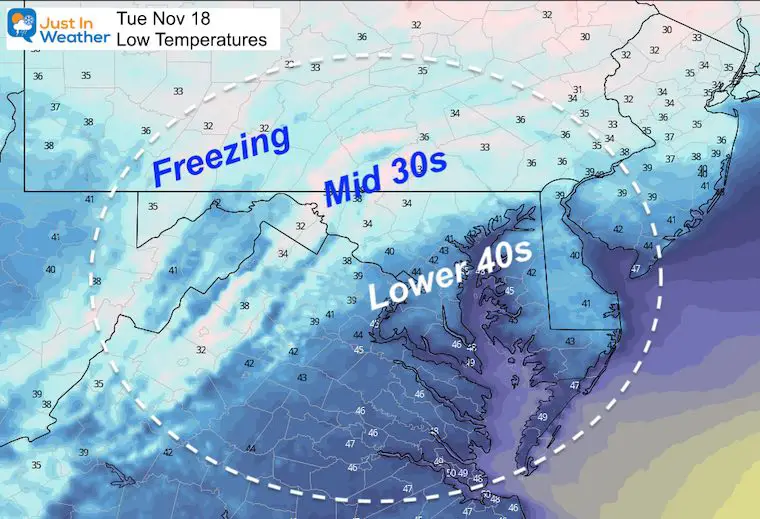 Push of Colder Air
The first coating and accumulation in the western mountains of Maryland is finally going to happen.  Snow showers may also push east of the mountains in southern PA.
While not shown on the map here, I believe flurries will fly in parts of central Maryland as well….
Upper Level Air
This plot shows the energy at 500mb (18,000 Ft) aloft. This set up brings the fastest winds and spin across central Virginia. That is a prime location to allow any Lake Effect Snow Showers to cross the mountains and reach the suburbs and perhaps metro areas.
No stickage expected, but flying snowflakes could surprise some people.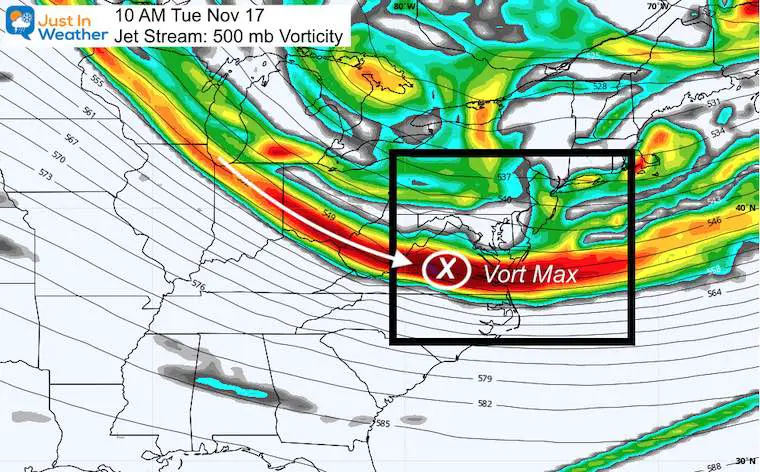 Looking Ahead
I've added 'Flurries' with a ? because it's not a promise and mainly for ambience.   The cold air is the big story, and this forecast is for central Maryland.
Freezing Temps likely Wednesday and Thursday mornings.

Is this the latest Freeze for Baltimore?
I've looked back in the past 5 decades for the latest freeze and found these dates:
November 16 in 1972
November 13 in 1986
November 12 in 1994
November 9 in 2004
November 8 in 2007
November 8 in 1984
It's been hard to look at specific dates farther back, so until I can confirm, this will be considered with that caveat: Latest first freeze in at least 50  years.
Needless to say, more than 90% of dates with the First Freeze in Baltimore at BWI are before.
The average First Freeze is October 29th. 
Typical First Frost and Freeze
Extended Temperatures
Two mornings with expected freezing temperatures at BWI will be Wednesday and Thursday.
Another warm up for next weekend, then back to reality next week into Thanksgiving.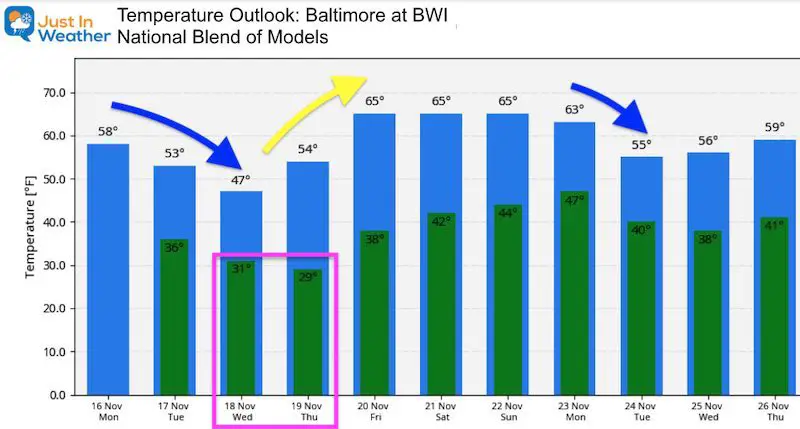 YOUR INTERACTIVE WEATHER PAGES
14 Local Maryland Pages (and York PA)
We have made a page for Maryland Weather which gives you the current conditions for 14 present area locations.
Local Hourly Forecasts and Local Radar
Central Maryland
Delmarva
Pennsylvania
Maryland Weather Page
I wanted to keep it simple. Just the basics for a quick view at any time.

Please share your thoughts, best weather pics/video, or just keep in touch via social media
---
Email Updates
Please make sure you sign up (above or click here to sign up for email alerts…. ) for my newsletter. This way you will get an email to make sure you are notified of each post.
---


Help Solve The Mystery
UFO, Meteor, Or Something Else Caught On Cam In Owings Mills MD This Week?
Explore More:
Autumnal Facts and Weather Stats
Record Low Tied at BWI and Frost Photos Sep 20
Also See:
July 2020 The hottest on record. Will it hint at snow this winter?
Comet NEOWISE Viewing All July (photos/video)
Other  Links:
Baltimore Weather At BWI May Not Be As Hot As Reported
Construction at the airport close to the weather station may be added artificial heat. Click here or the image for the details.
Also See:
Just In Power Kids:
Proceeds go to our programs Providing FREE holistic care for kids in cancer treatment and up to 5 years post treatment and caregivers.