November 12 2020
One extreme often breeds another in the world of weather.  The recent rain event, still underway as I write this report, produced record rain and flooding in and around central Maryland. This was from a cold front and moisture well ahead of Tropical Storm Eta.
This also came after a full week of unusually warm temperatures with two record highs. The purpose of this report is to document them both.
Record Weather Reports
The heavy rain on Veterans Day produced numerous flooding.
If you followed my forecast reports, the NAM 3 Km Model did the best job in this storm. It had looked like it was overestimating the rain, but it was close to on target!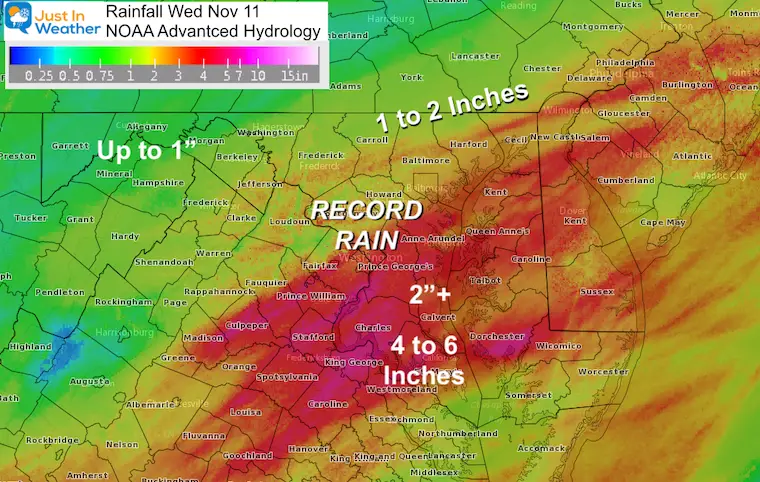 Rainfall Records: November 11
Baltimore at BWI:
1.91″ fell, breaking the old record of 1.34″ set in 1983
Washington at National
2.02″ fell, breaking the old record of 1.46″ in 1987
Washington at Dulles
1.21″ fell, breaking the old record of 1.16″ in 1995
Rainfall Around The Region
Doppler Radar Estimates (pinch to zoom in closer)
Central Maryland
The heavy rain appears to have been lined up along and east of I-95. That was the 2 inch cut off.
Less fell north and west.  More fell south and east.
Annapolis: Your bubble was evident and I highlighted it here with more rain falling all 'around' the capital.
Delmarva including Cecil County was mostly in the  to 4 inch range.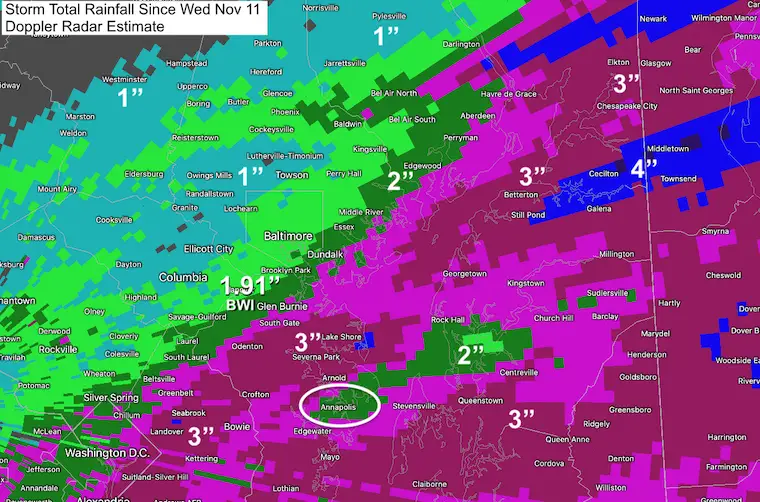 Southern Maryland
The region had widespread  inches or higher.  Note, more rain will be added to this total as the storm is not done yet.
Souther Maryland and southeast Virginia has the most rain will 4 to 6 inches.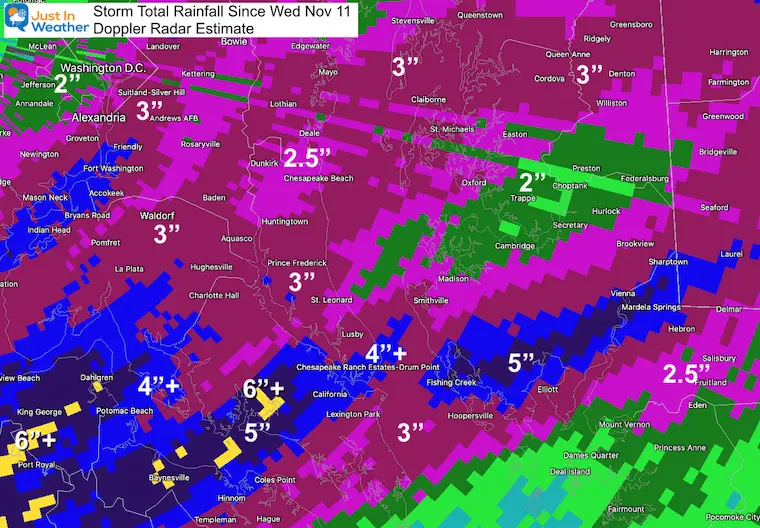 St. Mary's River Flooding
Widespread flooding was reported around Great Mills and along the river.  This peaked within 2 Feet of Record High levels.
The good news is that the water level appeared to be dropping since early this morning.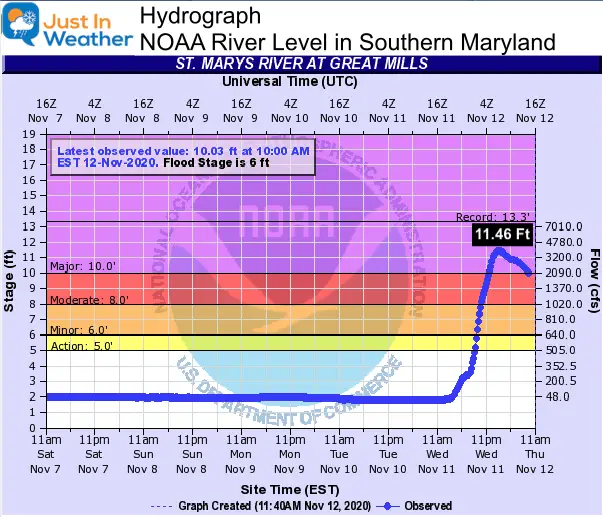 Record Heat This Month
High temperatures should be in the lower 60s in early November at Baltimore's BWI.  Instead, eight days were 70ºF or higher!  Two records were tied or set.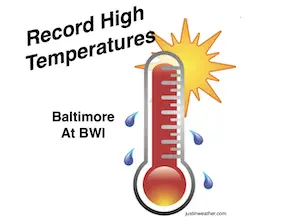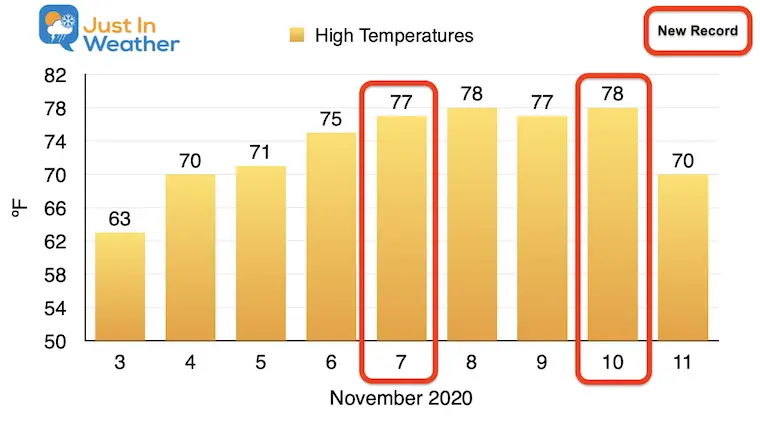 On Nov 7th, that tied the record set in 1938 AND 1975.
On Nov 10th, that broke the old record of 75ºF set in 1999.
YOUR INTERACTIVE WEATHER PAGES
14 Local Maryland Pages (and York PA)
We have made a page for Maryland Weather which gives you the current conditions for 14 present area locations.
Local Hourly Forecasts and Local Radar
Central Maryland
Delmarva
Pennsylvania
Maryland Weather Page
I wanted to keep it simple. Just the basics for a quick view at any time.

Please share your thoughts, best weather pics/video, or just keep in touch via social media
---
Email Updates
Please make sure you sign up (above or click here to sign up for email alerts…. ) for my newsletter. This way you will get an email to make sure you are notified of each post.
---


Help Solve The Mystery
UFO, Meteor, Or Something Else Caught On Cam In Owings Mills MD This Week?
Explore More:
Autumnal Facts and Weather Stats
Record Low Tied at BWI and Frost Photos Sep 20
Typical First Frost and Freeze
Also See:
July 2020 The hottest on record. Will it hint at snow this winter?
Comet NEOWISE Viewing All July (photos/video)
Other  Links:
Baltimore Weather At BWI May Not Be As Hot As Reported
Construction at the airport close to the weather station may be added artificial heat. Click here or the image for the details.
Also See:
Just In Power Kids:
Proceeds go to our programs Providing FREE holistic care for kids in cancer treatment and up to 5 years post treatment and caregivers.