November 5 2020
The Polar Vortex has been 'a thing' for a very long time. It only gained popularity in the past decade with record cold outbreaks and the desire for TV News and social media to blame it on a name.  It has since become a household name. The same happened to poor El Nino in the 90s.
The reason I say this is because tracking the behavior of the circulation is important to meteorologists for weather patterns around the globe. This river of air around the North Pole plays a HUGE role in our winter weather. So let's first look at what it is. Then when we look for how it can send surges of very cold air and influence storm pattern with snow.
Caveat: There are opposing forces and information for the winter ahead.  Long range modeling in weather is much better than that in political polling and election forecasts. But still not perfect and don't always agree. I am presenting all I can for you to see before I share my formal winter outlook (soon).
The Polar Vortex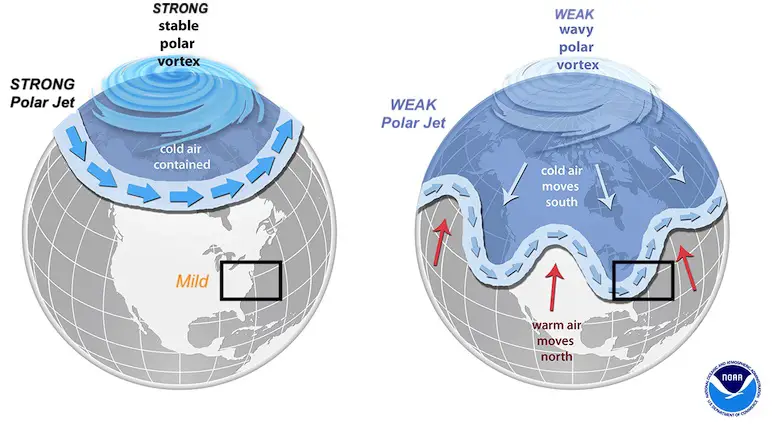 The river of air around the North Pole is the the jet stream around the Polar Vortex.  Consider spinning a top. A hard spin will appear to remain almost still for a while. But when it slows and weakens, it will wobble around from side to side and move.
When Strong:  The cold air remains locked up. It gets extreme cold, but there is little to no push southward for the jet stream.
Result: Our weather is often mild and relatively quiet.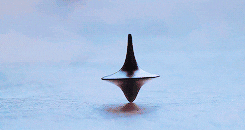 When Weak:  The cold air wobbles south of the Arctic Circle. This can drop into The USA, Europe, or Asia. 
Result is a jet stream that has larger troughs (cold air moving south) and ridges (warm air pushing north).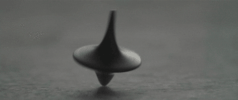 Outlook Next Week:
This was the image I showed in a recent report. It shows an active jet stream across the US with a big trough and ridge in November. 
While we will be on the warm side of that ridge, the wobble is there!  It would appear that it's only a matter of time until we get on the cold side.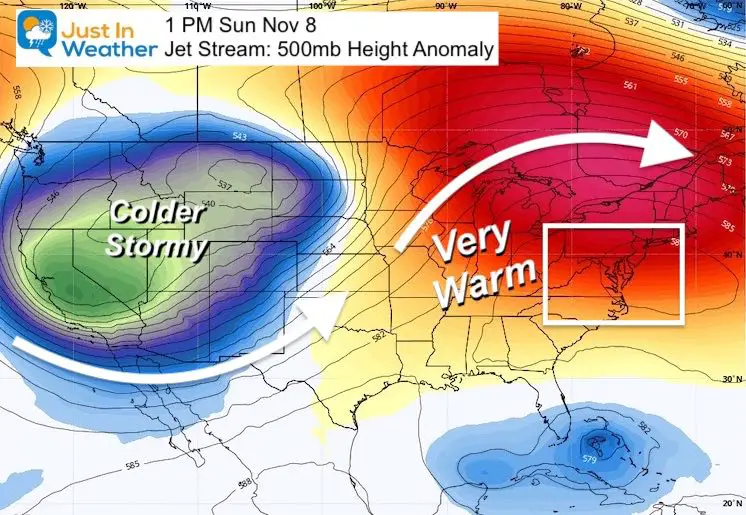 Compare To Last Year
Last winter was an absolute bust for snow and snow forecasts! The main reason was this Polar Vortex that reached record strength and locked up the cold… in the arctic!
That was good news for regenerating lost ice in the arctic, but kept the really cold air from dropping our way. The result was very little snow or storms that could produce snow.  There was no chance for it to be released and drop south, until this weakened toward the end of winter. When it was too late.
North Atlantic Oscillation (NAO)
This is a weather pattern focused only on the part of the Arctic. When there is weakness in the Polar Vortex, we often get a  Negative measurement of the North Atlantic Oscillation. The wind flow switches and allows the very cold air to drop south into eastern North America.
If you want snow, this is one index to pay attention to.
A NEGATIVE NAO often means cold with a good chance for snow.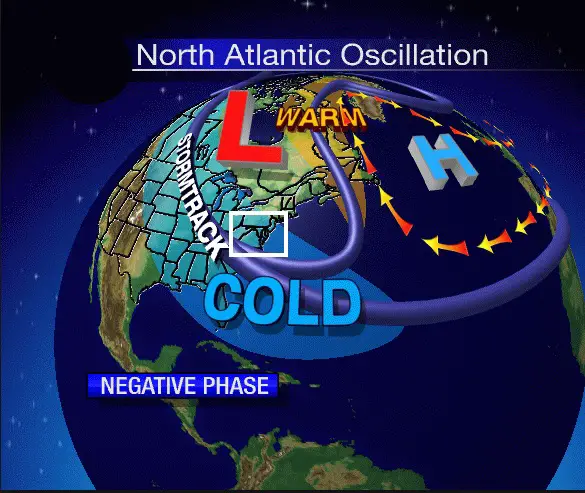 Record October 2020 Snow
Yes, we just had the most October snowfall in the continental US since 1962.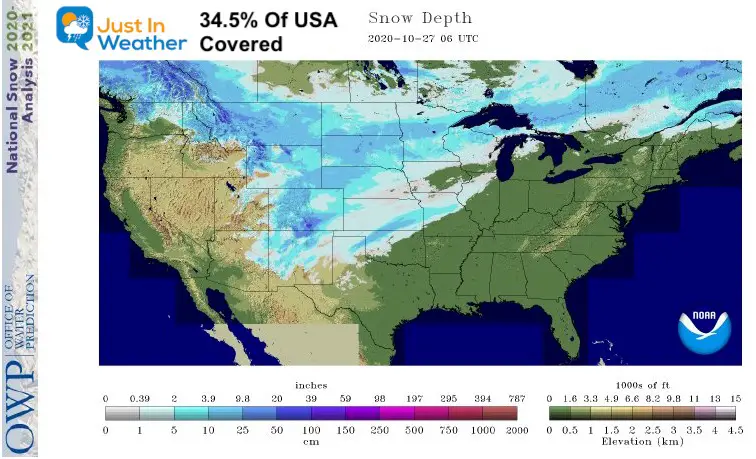 This is not a promise for our snow in the winter ahead. 
The season that followed that other record year in 1962-1963 brought 19.6 inches of snow to Baltimore's BWI. That is close to an average winter for the reporting station. Ironically that was one of the lowest snow years in the boom of a decade for the region.
So What About The Current Polar Vortex?
Looking as the current status and expectation for the next month can give us clues as to how the entire winter will go.
Recap:
A STRONG Polar Vortex and Negative Arctic Oscillation would likely result in our weather being mild with less snow.  Yes, it can snow in cold spells within a mild pattern.
A WEAK Polar Vortex and Positive Arctic Oscillation would tend to wobble and be more likely to send larger surges of cold and and more storms. 
This is what you want if you want snow. 
It doesn't mean it will happen at any time, but it means the pattern is more likely during the season.
What Other Experts Are Seeing
Here is a recent tweet from arctic science expert Dr. Judah Cohen.  He has actually been bearish on winter I believe because of the La Nina.  However, he has been sending signals of optimism like this for snow lovers.
1/ If La Niña winter translates into a strong #PolarVortex (PV), positive #Arctic Oscillation (AO) and mild winter in Eastern US (& Europe for that matter) then the latest CFS didn't get the memo. CFS predicting a weak PV & negative AO with #cold temperatures in east US & Europe. pic.twitter.com/RSnOsNLrzv

— Judah Cohen (@judah47) November 1, 2020
Here Dr. Cohen is suggesting the CFS (Climate Forecast System) was showing a Weak Polar Vortex and Negative NAO would bring more winter to our winter.
Conflicting Information
In my effort to show you everything, the respected European ECMWF Model newest seasonal outlook was rather warm!  Again, weather modeling and forecasts are better than what we have seen with the recent election, but still not perfect!
Here is what looks like a very warm November for the eastern US. It looks a lot like the jet stream map I showed above, and could be heavily weighted for the short term.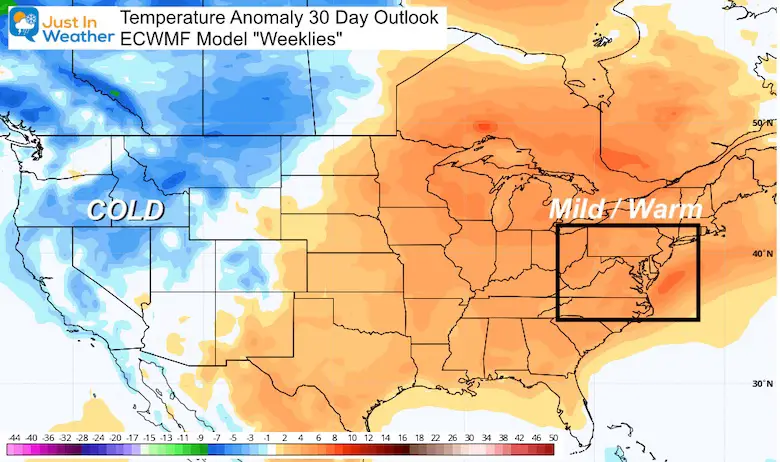 Now here is another tweet from another weather doctor friend of mine.
Dr. Ryan Maue just shared this today, showing a full seasonal outlook:
Winter cancelled? Newly dropped seasonal model shows well-above normal temperatures across much of Canada and Lower 48 with notable exception of Alaska
(December-February) pic.twitter.com/YDV2Ua6Rif

— Ryan Maue (@RyanMaue) November 5, 2020
My Take On This
If you read my full report and got to this part, you might be wondering what to think.  I don't blame you.  This is the world of weather with conflicting information that can be confusing. This is why you can get different forecasts for a storm depending on which meteorologist you listen to.  The same applies to a full season.
For what it is worth, I DO NOT trust computer models for storms more than 7 days away. They rarely verify outside of tropical cyclone tracks.  So for a full season, I think there is too much weight on the La Nina.
From what I have seen, the La Nina could break down mid winter. If there is a tug of war between the La Nina and Arctic Oscillation, then the AO and Polar Vortex could start winning later.
Also note that within a mild season, we can still have cold outbreaks and snowstorms.  THIS is what I am working on with my winter outlook. I have one more piece to the puzzle: Tropical Storm Tracks And Atmospheric Memory.  That will be in my next Winter Outlook report.
Faith in the Flakes my friends.  I have reason to be optimistic for more snow.
FITF
FITF GEAR
Thanks to my wife Shannon who wanted to bring these hats to life.
The Maryland Hoodie is high quality and a new way to show off our love of Snow and State.
New items will be added soon.
FITF Store
YOUR INTERACTIVE WEATHER PAGES
14 Local Maryland Pages (and York PA)
We have made a page for Maryland Weather which gives you the current conditions for 14 present area locations.
Local Hourly Forecasts and Local Radar
Central Maryland
Delmarva
Pennsylvania
Maryland Weather Page
I wanted to keep it simple. Just the basics for a quick view at any time.
Please share your thoughts, best weather pics/video, or just keep in touch via social media
---
Email Updates
Please make sure you sign up (above or click here to sign up for email alerts…. ) for my newsletter. This way you will get an email to make sure you are notified of each post.
---
Also See: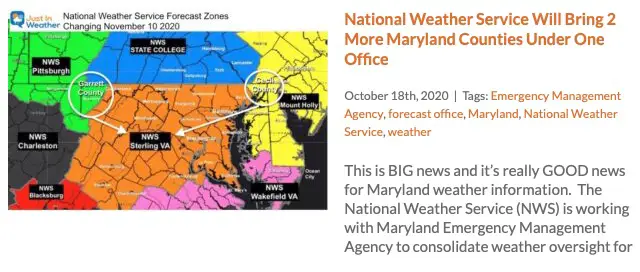 Help Solve The Mystery
UFO, Meteor, Or Something Else Caught On Cam In Owings Mills MD This Week?
Explore More:
Autumnal Facts and Weather Stats
Record Low Tied at BWI and Frost Photos Sep 20
Typical First Frost and Freeze
Also See:
July 2020 The hottest on record. Will it hint at snow this winter?
Comet NEOWISE Viewing All July (photos/video)
Other  Links:
Baltimore Weather At BWI May Not Be As Hot As Reported
Construction at the airport close to the weather station may be added artificial heat. Click here or the image for the details.
Also See:
Just In Power Kids:
Proceeds go to our programs Providing FREE holistic care for kids in cancer treatment and up to 5 years post treatment and caregivers.